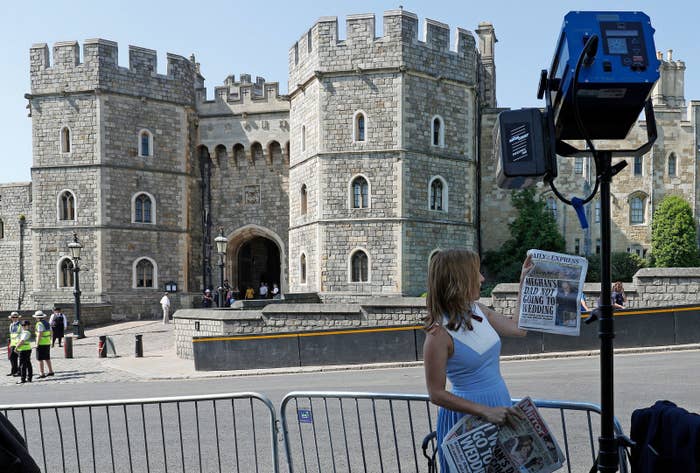 As the British press scramble to follow scoop after scoop from US website TMZ about Meghan Markle's father's attendance at the royal wedding, a consensus has set in among those in the Royal media: The palace has lost control.
"The palace press aides are like ostriches sticking their heads in the sand and they keep getting shafted up the bottom," royal pundit and ex-Sun royal correspondent Charles Rae told BuzzFeed News.
Over the last few days, TMZ has been in near constant contact with Thomas Markle, who – according to the website, which quotes him directly – has changed his mind multiple times about whether he'll appear in Windsor on Saturday to walk his daughter down the aisle.

For the royal press pack trying to cover the biggest story in Britain, the problem has been Kensington Palace – specifically the media and PR operation in charge of Prince Harry and Meghan – which has refused to comment on or been unable to verify any of the information reported by the celebrity site.
Speaking to BuzzFeed News, the Sun's royal photographer of 40 years, Arthur Edwards, said the country's news bulletins and newspaper front pages are all using second-hand reports from the celebrity website as their source.
"Nobody actually knows because it's one website in America putting out this news and it could be totally inaccurate," Edwards said. "But we don't have anyone confirming things at Kensington Palace."
"Here's a man who claims to have turned down interviews for £50,000 to £100,000," Charles Rae said. "Suddenly he's got a hotline to TMZ?"

"No one has verified anything TMZ has said."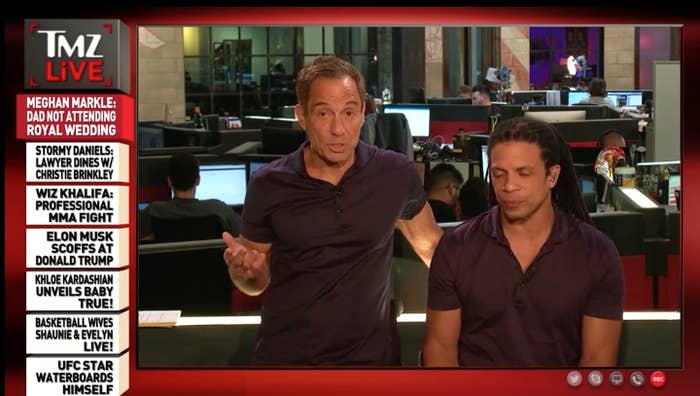 Whether the developments have been verified or not, TMZ has owned the Thomas Markle melodrama dominating the final week of wedding preparations. On Monday, the website reported Markle had made the shock decision to pull out of walking his daughter down the aisle after being exposed for setting up paparazzi photos.
By Tuesday afternoon, TMZ scooped again, this time Markle had changed his mind, expressing a desire to be part of the wedding. Five hours later the story changed once more, with Markle "pulling out because he needed a heart operation".
For TMZ, the story is just another opportunity to break news on a car-crash celebrity drama, and then follow it hour-by-hour in excruciating detail. TMZ founder Harvey Levin had boasted on a recent video segment about the website's access to Thomas Markle – reportedly in contact with him over text message – and denied TMZ had been paying him.
Phil Dampier, a former Sun royal reporter and author of Royally Suited: Harry and Meghan in Their Own Words, said many of this week's troubles were caused by Kensington Palace's failure to bring Thomas Markle into the fold, pointing to the fact Prince Harry still hadn't met his future father-in-law in person.

"They should have flown out there months ago and met her father, or a senior courtier should have gone out there, put an arm around him and told him how to handle the press," Dampier said. "Maybe given him some money for his flight and suit".
"They've left him to his own devices and it's not surprising he's cracked under the pressure."
According to Dampier, Kensington Palace's attempts to control the British press – Prince Harry has spoken out publicly and forcefully about the tabloids' treatment of his future wife – underestimate the number of times that the foreign press have broken with their conventions. For instance, Drudge Report broke Prince Harry's cover during his service in Afghanistan back in 2008.
"Kensington Palace and Prince Harry very much blame the British press and try to control it because of what happened to his mother," he said. "The irony is a lot of the problems are because of the foreign press."

Whether Thomas Markle attends the royal wedding on Saturday or not – at the time of writing, TMZ says he won't be – the intense media interest in Meghan Markle's father is unlikely to end.
"If he doesn't come on Saturday you're going to have every US photographer trying to find a photo of him while his daughter is getting married six thousand miles away," Rae said.
"That's going to be the money shot."