Australia's foreign minister Julie Bishop thinks the best way to sum up new US President Donald Trump is...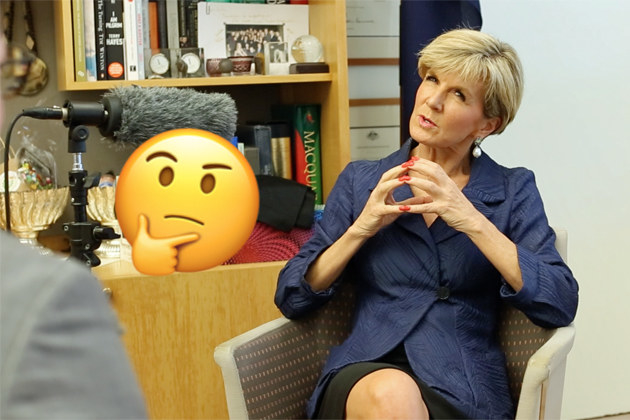 Bishop caused a strange diplomatic incident during a BuzzFeed News interview two years ago when she described the Russian President Vladimir Putin with the emoji.
Now, in the first episode of BuzzFeed Australia's new political podcast Is It On?, Bishop has suggested an emoji for the new US president.
"The one where the emoji is looking quizzically," Bishop said, doing the face.
"Like a little bit curious."
"I think it's because people generally are interested in the new administration's policies, and seeking to reconcile some of the campaign rhetoric with the administration's platform," she said.

She later confirmed via text message that she was referring to what's formally called the "thinking man" on Emojipedia.
It's probably no wonder. Fairfax Media reported on Friday that Bishop had told her Chinese counterpart during a state visit that she can't quite believe Trump's threat to tear up Australia's trade agreement with the US.
Relations with the United States took centre stage last week, as details of a rowdy phone call between prime minister Malcolm Turnbull and Trump were leaked to the media.
Asked whether Trump's tweets, especially the ones aimed at Australia, had ever caused her department to panic, Bishop said the Department of Foreign Affairs and Trade was all over Twitter.
"I think the DFAT offices are well on top of Twitter and have added that to the material that they must consider each day," Bishop said.
According to Bishop, diplomacy has kept up with technology, with foreign leaders largely ditching the old-school process of communicating through cables, and embracing text messages.
"I have the mobile phone numbers of many foreign ministers and we text each other," she said.
"Years ago there would have been quite a formal process before there could be contact between two foreign ministers."
Earlier this week the speaker of the UK House of Commons said Trump would not be invited to address the parliament during a state visit later this year because of his "racism".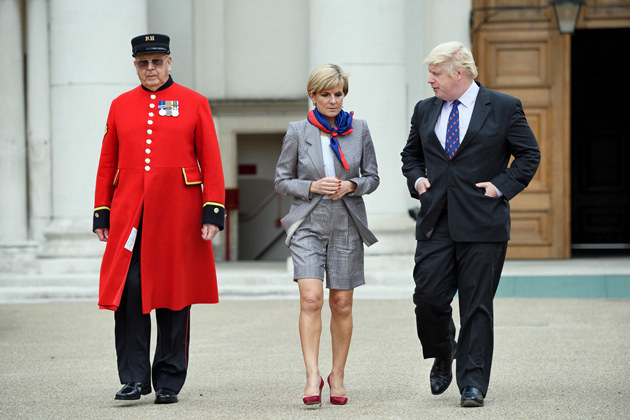 Bishop brushed off the UK's decision and recent local attempts to have Trump banned from coming Down Under.
"He is the president of the United States," she said.
"People shouldn't confuse differently personalities with the role of the president."
The full interview with Julie Bishop, including discussion of Australia's role in the South China Sea and fallout from the recent parliamentary expenses scandal, will feature in BuzzFeed Australia's podcast 'Is It On?' . Listen to the first episode this Saturday.

Looks like there are no comments yet.
Be the first to comment!