The Liberal Party has called the police and launched an internal investigation after two men wearing Klu Klux Klan-style hoods gatecrashed a youth party meeting.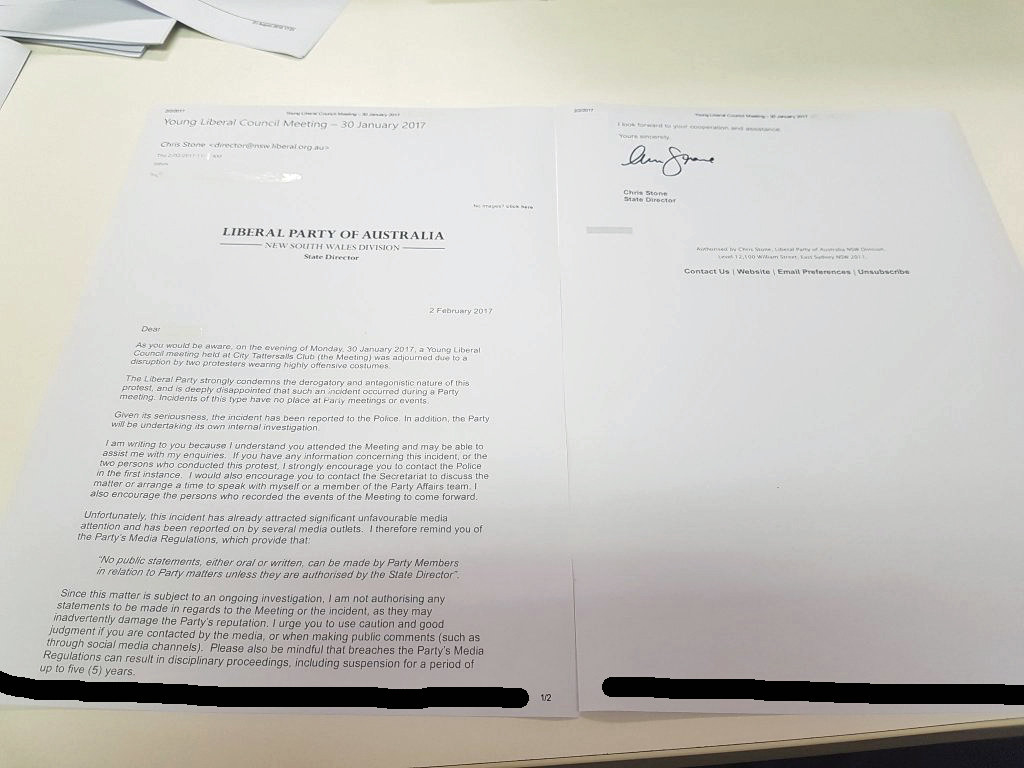 NSW Liberal director Chris Stone also threatened Liberal members with suspension from the party if they spoke to media about the "KKK" incident. The threat was made in a signed letter leaked to BuzzFeed News.
Last Monday, two men in white hoods stormed the stage at a Young Liberal council meeting in Sydney during a discussion about Donald Trump's immigration ban.
Video of the incident, obtained by BuzzFeed News, shows the men climbing onto the stage, while a group of Young Liberals in Donald Trump "Make America Great Again" hats laugh and jeer at the pair.
video-cdn.buzzfeed.com
The meeting was immediately suspended. A staffer for federal MP Trent Zimmerman is shown yelling into the microphone: "Do you actually want to be a part of that?"
It is understood the men were chased from the venue by Young Liberal members.
In Stone's letter, addressed to members of the meeting, the senior party figure revealed that the police had been called.
"Given its seriousness, the incident has been reported to the Police," Stone wrote. "In addition, the party will be undertaking it own internal investigation."
He also threatened attendees with suspension from the party if they spoke to the media: "Unfortunately, this incident has already attracted significant unfavourable media attention and has been reported on by several media outlets.
"I therefore remind you of the Party's Media Regulations, which provide that: No public statements, either oral or written, can be made by Party Members in relation to Party matters unless they are authorised by the State Director.
"Please also be mindful that breaches [of] the Party's Media Regulations can result in disciplinary proceedings, including suspension for a period of up to five (5) years."
A spokesperson for the NSW Liberal Party would not comment on the letter.