This Fitness Company Said It Needed A Receptionist Who Could Also Model
Many women said they were not tall or slim enough to be considered for the receptionist job.
Lorna Jane has come under fire for putting the call out for a receptionist with very specific bust, waist, and height measurements who would also be required to be a sizing model for the company.
An ad for the Brisbane-based "receptionist/fit model" position that appeared on online job site Seek on Friday was discovered by news website Crikey.
It asks for job candidates who would fit into the company's "small" sizing.
The ad then describes some very different requirement, such as "booking all travel arrangements for staff", "preparing folders, workbooks", and "proficiency in MS Office suite".
Some people screenshotted the ad and posted it, complaining about the message it sent to others.
The ad was then removed on Monday, with Lorna Jane telling BuzzFeed News, "We've had a fantastic selection, people are always rushing to get a position."

But it didn't stop people posting to Lorna Jane's Facebook, which had coincidentally uploaded an article about ways to "land your DREAM job".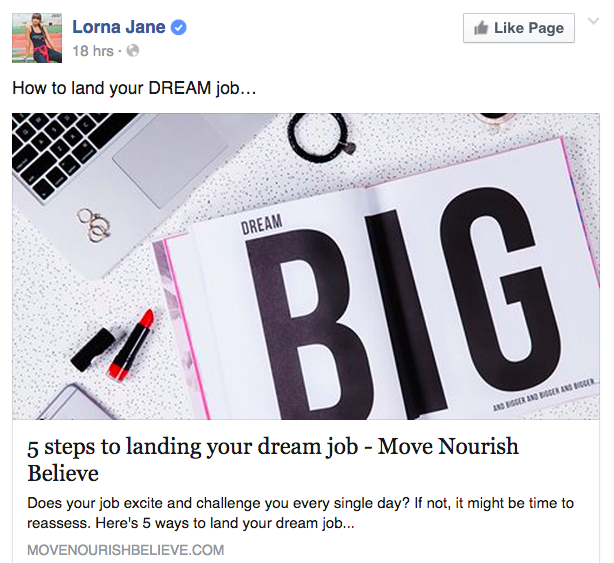 And founder Lorna Jane tried to explain that a "fit model" was not someone who was "fit", rather someone to try clothing samples on.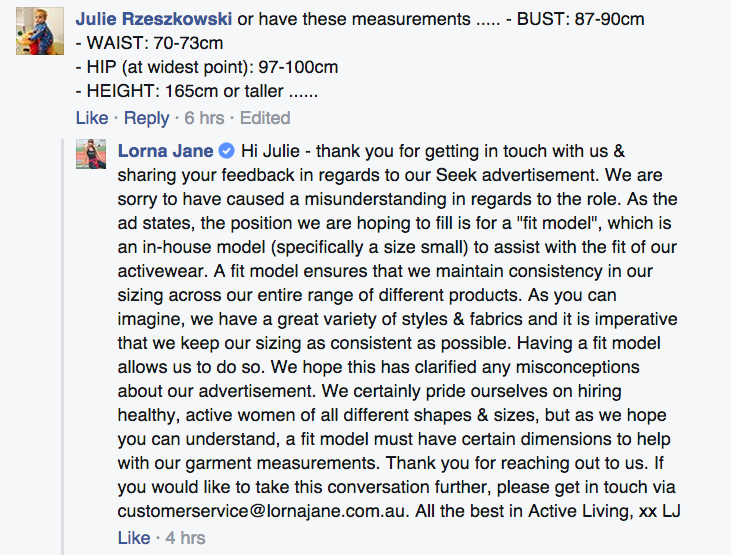 It didn't stop some newspapers splashing with the story in Tuesday's papers.
BuzzFeed News spoke to Lorna Jane about what's been described as a "miscommunication" in the wording of the ad.
"There's been some confusion about what a fit model is," said a spokesperson. "The ad was a little confusing. We are looking for a model to fit the garments to, rather than being 'fit'."
When asked whether it was appropriate for the company to be seeking someone to work as both a "fit model" and a "receptionist", the spokesperson said they combine several other part-time roles.
"It's only a part-time role and we wanted to roll them into one. We have a number of positions at the moment where we combine the two roles. For example, we have an in house hair and make-up artist who also works on the reception desk."
It led to others standing by Lorna Jane's ad for a "fit model".