Eddie "Everywhere" McGuire has drawn Australia's ire for some time. Finally and perhaps most fittingly he's been officially condemned in parliament for being a boofhead.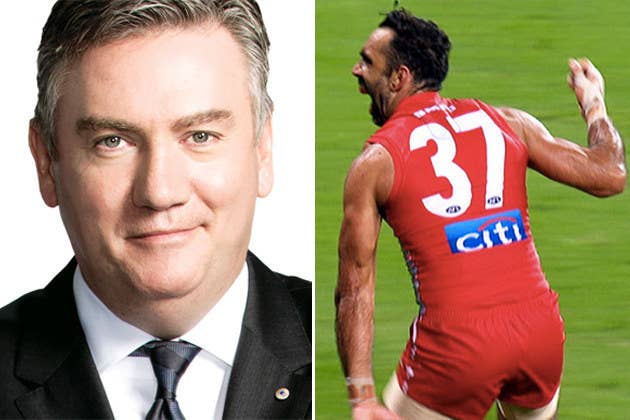 NSW Greens MLC Jeremy Buckingham brought forward the motion to condemn the Collingwood president's criticism of the Sydney Swans footballer Adam Goodes for his war dance during the indigenous round of the AFL on the weekend.
"As a lifelong Collingwood supporter, I'm embarrassed by Eddie McGuire's blunders and racial gaffes, so I'm glad the NSW Upper House has officially condemned Mr McGuire for being a 'continual boofhead'," said Buckingham according to Sydney's Daily Telegraph.
n.b. A "boofhead" is best described as someone who is a silly, unthinking, simple, baffling, idiot.
The full text of the motion was posted online and yes, really, it includes the most Australian of insults: "being a continual boofhead"
The official "boofhead" label has been a long time coming...
Last year after a Collingwood fan racially abused Goodes, McGuire joked that the two-time Brownlow medallist could play King Kong in a theatre production. He later apologised.
McGuire was also at the centre of controversy during his time as CEO of Channel 9 when he reportedly threatened to "bone" on-air presenter Jessica Rowe.
Oh and there was that time in 2011 when he called western Sydney the "land of the falafel".
Or that time, (months later), he said he'd go to war with the Greater Western Sydney Giants and "set up a tent embassy outside their tumbleweed-blown ground".
And then there was that time...