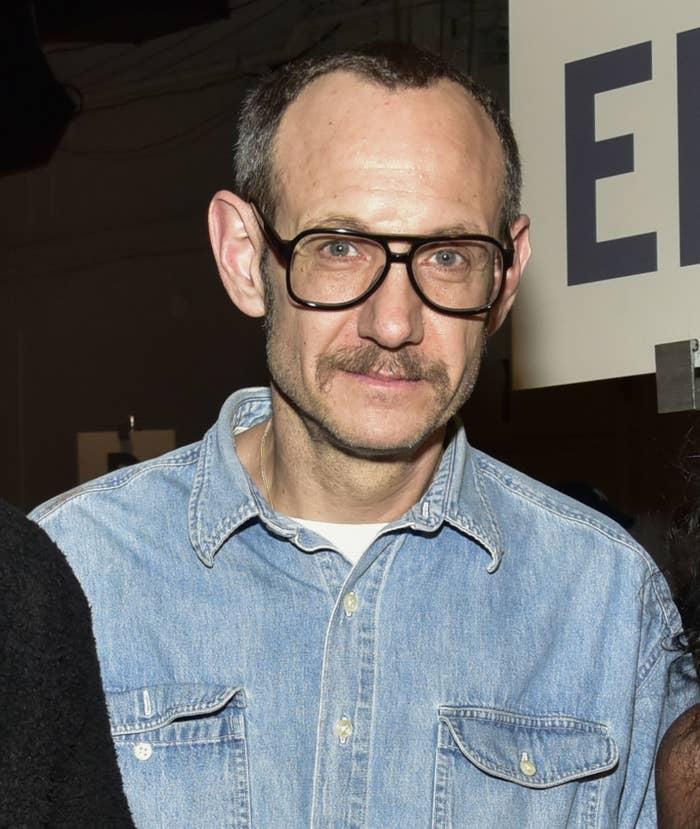 Terry Richardson has been banned from working with some of the world's top magazines, including Vogue, GQ, and Vanity Fair, amid debate around sexual harassment and assault allegations that have been levelled against the celebrity photographer over several years, according to reports today.

The Telegraph obtained an email sent to Condé Nast International staff on Monday morning from the company's executive vice president James Woolhouse that read: "I am writing to you on an important matter. Condé Nast would like to no longer work with the photographer Terry Richardson."
According to the email, Woolhouse instructed Condé Nast International — the publisher of fashion magazines like Vogue, GQ, Vanity Fair, and Glamour — that all work commissioned for Richardson should be "killed or substituted with other material".
"Please could you confirm that this policy will be actioned in your market effective immediately," the email added. "Thank you for your support in this matter."

Condé Nast International representatives refused to confirm to BuzzFeed News whether Richardson had been banned from further work, but a source at the company confirmed the details in the Telegraph report were correct.

A representative for Richardson sent a statement to BuzzFeed News, which said the photographer was "disappointed" to have learned about the email.
"Terry is disappointed to hear about this email especially because he has previously addressed these old stories," the statement read.

"He is an artist who has been known for his sexually explicit work so many of his professional interactions with subjects were sexual and explicit in nature but all of the subjects of his work participated consensually."

Richardson is best known for his work with designer brands and his distinct portraits of the world's leading models, celebrities, and political figures. In 2013, Richardson directed Miley Cyrus's controversial "Wrecking Ball" video clip, where the singer appeared naked, swinging from a large, suspended steel ball.
But allegations against Richardson go back many years. In 2014, model Emma Appleton confirmed to BuzzFeed News that tweets she had sent alleging that Richardson asked for sex in exchange for work were genuine. A Richardson spokesperson at the time dismissed Appleton's allegations as not accurate.
Later that year, a profile of the photographer was published by New York magazine called "The Perverse Case of Terry Richardson", which was seen as a response to allegations stretching nearly a decade that he'd coerced models into performing sexual acts on photoshoots.
But the Condé Nast International email to staff on Monday comes after a Sunday Times piece last Sunday associated Richardson with the situation facing film mogul Harvey Weinstein.
"Terry Richardson, known for his sexually explicit pictures, is being called the 'Harvey Weinstein of fashion' after a string of allegations by models," read the subheading to the story. It went on to catalogue years of claims and allegations against Richardson from models and fashion industry insiders.

The piece also showed Richardson arm-in-arm with British Vogue editor Edward Enninful at New York Fashion Week last month. Richardson did not respond to a request for comment but has previously insisted all encounters had been consensual.