Britain's Future Stopped, Then Restarted Its Massive Facebook Ad Campaign Just Before A Key Brexit Vote
UPDATE: Following a BuzzFeed News investigation into Britain's biggest political advertising campaign on Facebook, Britain's Future recommenced targeted ads on Monday afternoon.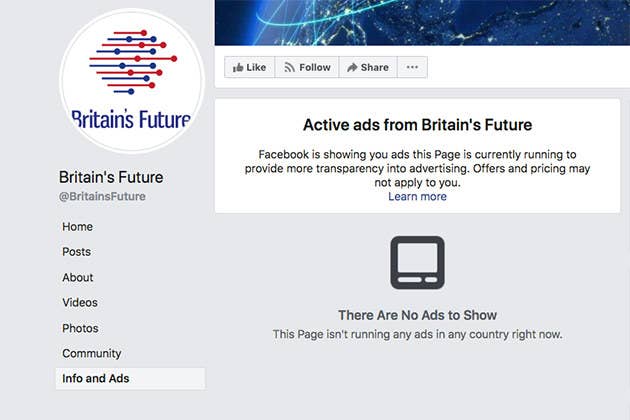 A mysterious political website called Britain's Future, which is pushing for a no-deal Brexit, paused and then recommenced its massive Facebook advertising campaign on Monday.
Days after a BuzzFeed News investigation into the website, Britain's Future temporarily stopped its adverts on the eve of a key Brexit vote.
The investigation revealed Britain's Future has become Britain's biggest political spender of Facebook advertising, purchasing more than £350,000 of ads targeting users to contact their MPs.

On Monday morning, Facebook's ad archive showed Britain's Future was not currently advertising on the platform. But hours later, the group had 43 new ads targeting Facebook users displayed on the platform's ad archive tool.
It's unclear whether the group stopped its advertising campaign as part of a scheduled or strategic decision, or whether this came as a result of recent media coverage of the group.
The only individual publicly linked to the group is a 30-year-old Tory journalist from Manchester named Tim Dawson. The revelation has sparked calls from MPs for Facebook to come clean about what else it knows about the group.
Unlike other UK campaign groups trying to influence Brexit, Britain's Future has no corporate structure or physical address, and is not registered with the Electoral Commission or the Information Commissioner's Office.
On Tuesday, a second parliamentary vote is expected to be held on a proposed deal between Britain and the EU.
Britain's Future and Tim Dawson have been contacted for comment.
Last week, Britain's Future spent £21,000 on 400 ads on Facebook. The ads encourage Facebook users to click through to its website, where they can fill out a form to email MPs.
In the wake of BuzzFeed News' story on Saturday, Damian Collins, the chair of the Commons' digital, culture, media, and sport committee, tweeted, "We need to fully identify these shadowy organisations running dark political campaigns."
Labour MP Stephen Doughty also tweeted, saying he'd raised the issue of Britain's Future directly with Facebook: "... apparently it's ok because it's registered to someone they can identify — it's not up to them where the comes from... FFS. This is how democracy dies."