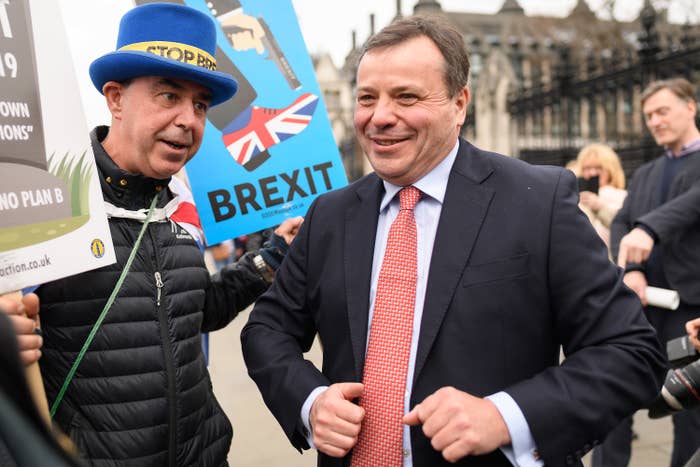 Britain's National Crime Agency has dropped a criminal investigation into Brexit's megadonor Arron Banks after finding "no evidence" that a third party was behind the millions of pounds of donations he made to pro-Brexit campaigns.
The agency opened an investigation into Banks and his Leave.EU campaigning group last year after the Electoral Commission said that there were "reasonable grounds" to suspect the insurance businessman may not have been the true source of an £8 million donation that flowed into the 2016 Brexit referendum campaign.
On Tuesday morning, the NCA issued a statement that cleared Banks and Leave.EU's CEO Liz Bilney of criminal wrongdoing, finding "no evidence that any criminal offences" were committed under UK election law.
The NCA also said there wasn't any evidence to suggest Banks wasn't the true source of the money.
"This investigation has been subject to press and social media commentary," the statement read.
"The NCA has not received any evidence to suggest that Mr Banks and his companies received funding from any third party to fund the loans, or that he acted as an agent on behalf of a third party.

"It will therefore take no further action against Mr Banks, Ms Bilney, Better for the Country Ltd or Leave.EU in respect of this specific matter."
The statement went on to acknowledge there had been "media reports alleging that Mr Banks has been involved in other criminality related to business dealings overseas." The agency would not confirm or deny whether it was investigating the reports.
In a statement, Banks said he had been "subjected to an endless media campaign suggesting that I behaved improperly" during the 2016 referendum campaign.

He said the Electoral Commission made "false, outrageous allegations" that he was not the true source of funds, and went on to add that he would "take action against those who have behaved so scandalously".

However, in its response to the crime agency's decision on Tuesday, the Electoral Commission expressed concern about what it called "weakness in the law" in the area of foreign money in UK politics.
"We are concerned about the apparent weakness in the law, highlighted by this investigation outcome, which allows overseas funds into UK politics. We have made recommendations that would tighten the rules on campaign funding and deter breaches. We urge the UK's governments to act on those recommendations to support voter confidence."