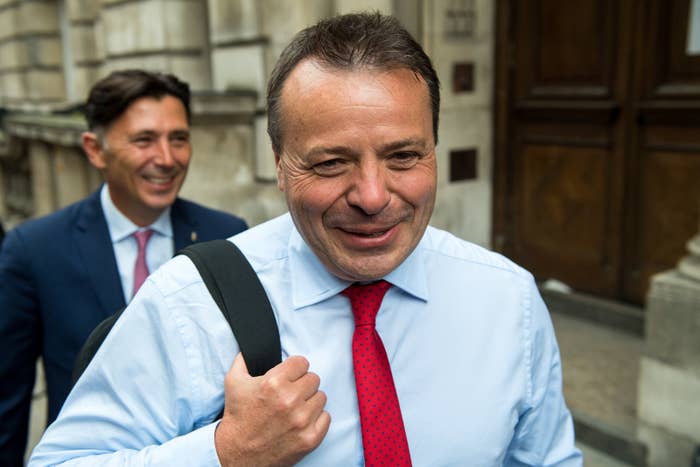 The National Crime Agency has opened an investigation into pro-Brexit campaigner Arron Banks over "suspected criminal offences" committed around the Brexit referendum.
The Electoral Commission announced Banks and other officials were referred to the crime agency after an investigation found there were "reasonable grounds" to suspect Banks was not the actual source of an £8 million loan to his Brexit campaign group.
"We have reasonable grounds to suspect money given to Better for the Country came from impermissible sources and that Mr Banks and Ms [Elizabeth] Bilney, the responsible person for Leave.EU, knowingly concealed the true circumstances under which this money was provided," said Bob Posner of the Electoral Commission.
"This is significant because at least £2.9 million of this money was used to fund referendum spending and donations during the regulated period of the EU referendum."
In a statement, Banks denied any wrongdoing, while also alleging the Electoral Commission was being pressured to act by his political opponents.
"I am pleased that the Electoral Commission has referred me to the National Crime Agency. I am confident that a full and frank investigation will finally put an end to the ludicrous allegations levelled against me and my colleagues.
"There is no evidence of any wrongdoing from the companies I own. I am a UK taxpayer and I have never received any foreign donations. The Electoral Commission has produced no evidence to the contrary."
The Electoral Commission's investigation found £8 million was given to Banks' two campaigning groups, called Better for the Country and Leave.EU, with £2.9 million used to pay expenses to support the pro-Brexit cause during the 2016 EU referendum period.

The commission suspects the money didn't solely come from Banks, as he claims, but rather from others, including from a company that's "incorporated in the Isle of Man".
It also suspects Banks, Leave.EU CEO Elizabeth Bilney, and "possibly others" had "concealed the true details" of the donations and "knowingly" made inaccurate and false statements during the investigation.