Prime Minister Just Promised Physical Violence On The Russian President
The Australian Prime Minister promises to "shirtfront" Mr Putin.
Prime Minister Abbott has stepped up his rhetoric against the Russian President, promising to "shirtfront" Mr Putin at the G20 conference in Queensland next month.
Mr Abbott continued to attack Mr Putin for dragging his feet in the aftermath of the MH17 plane crash in which 38 Australians were killed.
It emerged yesterday that Mr Putin would be allowed to attend the upcoming G20 conference on Australian soil, so Mr Abbott went on the front foot... quite literally.
"I'm going to shirt front Mr Putin, you bet I am. I'm going to be saying to Mr Putin Australians were murdered," said Mr Abbott, the Prime Minister and former university boxer.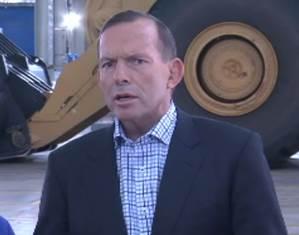 A "shirt front" is an AFL term and is considered "an illegal front on bump and usually quite aggressive".
Other AFL fans have told BuzzFeed it's a "front on hip and shoulder to the head... usually when the other player is bending down".
It seems the hard-come-fight-me rhetoric is also bipartisan. Opposition Leader Bill Shorten promised he would not meet with Mr Putin while he visits Australia.