Instagram Is Banning Face-Altering Filters That Have A Plastic Surgery Effect
It's about time.
Instagram is rethinking its approach to well-being, one change at a time. After hiding posts promoting diet and "detox" products from users under 18 (much to Jameela Jamil's and Sophie Turner's satisfaction), the company is now going after face-altering filters that have a plastic surgery–like effect.
The company that makes Instagram's filters, Spark AR, will no longer be creating "all effects associated with plastic surgery" as part of its "well-being policies."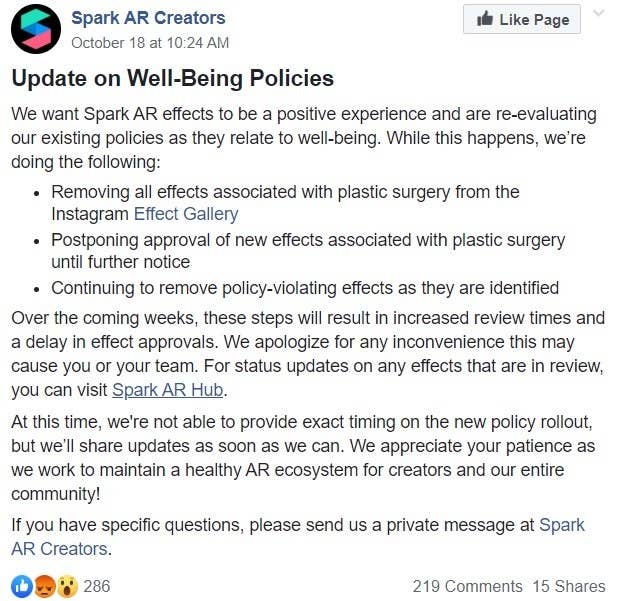 While Spark AR didn't name specific filters, Facebook users commenting on the announcement have some guesses, which includes "Plastica"...
Filters like this likely won't fly anymore either.
Considering doctors have voiced concerns over a link between face-altering filters and body dysmorphic disorder (BDD), this move makes sense. So long, filters!
UPDATE: A Facebook spokesperson sent the following statement to BuzzFeed.
We're re-evaluating our policies – we want AR effects to be a positive experience for people. While we're re-evaluating, we will: 1) remove all effects associated with plastic surgery from the Instagram Effect Gallery; 2) stop further approval of new effects like this; 3) and remove current effects if they're reported to us.