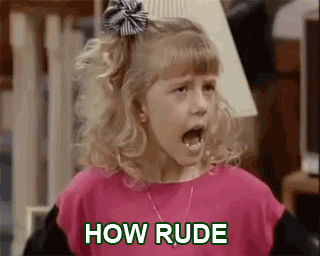 Getty

I chew with my mouth closed.

I hold the door open for people.

In public spaces, I listen to my music with headphones.

I respond to texts when I receive them

I respond to emails in a timely manner.

I don't offer unsolicited advice on someone's appearance.

I don't walk really slowly on a crowded street.

I say "please" and "thank you."

I say "thank you" when someone holds the door open for me.

If I live with other people, I clean up any hairs post-shower.

I ask questions when I'm talking to someone.

I speak at a normal volume.

I don't swear in public places when children are around.

I put away my phone when I'm talking with someone.

If I receive a gift, I don't like...I never let it show.

If I'm a house guest, I will leave a Thank You Note or gift when I leave.

I won't eat until everyone has been served.

I keep my elbows off the table.

I let people off the elevator before I try to step in.

I sit with my legs closed on public transportation, not taking up any more space than is necessary.

I always greet my roommates or family when I come home.

If someone makes me a meal, I finish all the food on my plate.

If someone sneezes I say "bless you" or "gesundheit."

On public transport I'll offer my seat to children, pregnant women, or the elderly.

I take my hat off indoors.

I don't ghost romantic partners or friends.

If I can't go to a wedding, I still send a gift.

If I'm a guest of a guest at a party, I won't invite other people.

I don't take my shoes off on airplanes.