Here's What Happens At TV's Most Exclusive Clubhouse
BuzzFeed News spent a day on the new set of "Watch What Happens Live With Andy Cohen," the smallest studio in late night with the most chutzpah.
On a hot July night in 2009, in a sliver of a TV studio in a nondescript office building just west of Soho, Watch What Happens Live made its TV debut. After a particularly heated first season of Real Housewives of New Jersey, host Andy Cohen sat down with inaugural guest and lightning rod for drama Danielle Staub, who was on the other end of Teresa Giudice's legendary finale table flip. During their live interview a week after the season ended, Cohen asked Staub everything from whether she'd had an eyebrow lift (ask a plastic surgeon to "put this to rest," she suggested), to whether or not the rumors were true about her alleged connection to the Colombian drug cartel (check her arrest papers, she offered). There was also a Skype chat with The Fashion Show contestant Reco Chapple, a celebrity "booty call" with Cohen's BFF Sarah Jessica Parker, and a lot of upper lip sweat. Most of those early staples, particularly the derided perspiration, are long gone — except Cohen's ability to get legitimate answers to uncomfortable questions.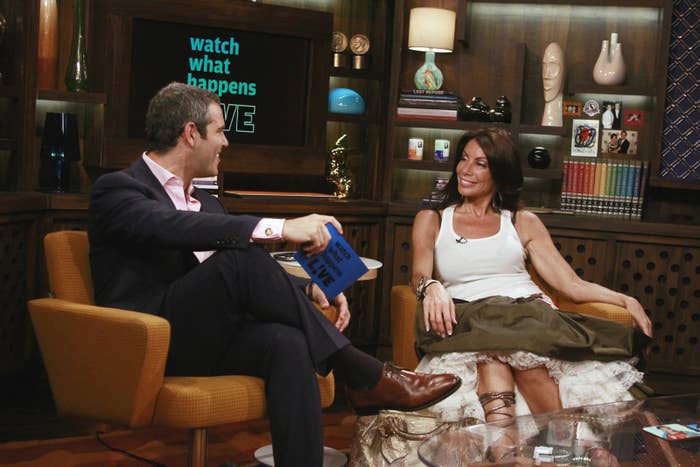 Cohen, the enigmatic godfather of the Real Housewives franchise, and a staff of four pulled off TV's still only live late-night show in less than a month. "We only prepped for the show for three weeks before we went live," executive producer Deirdre Connolly remembers. "We really didn't have proper air conditioning. The lights went out, Andy was sweating a lot, but it made it kind of fun, and feel really authentic, like we were starting this unique experience."
Eight years later, Cohen is now the voice and face of Bravo, which is all thanks to Watch What Happens Live.
In the early 2000s, Cohen, then a Bravo executive, had a habit of sending dishy emails around to other execs at the network about their series, like Battle of the Network Reality Stars and Project Runway. It wasn't long before Lauren Zalaznick, head of Bravo at the time, told Cohen to turn his cheeky commentary into a blog for Bravo. As shows like Top Chef and Real Housewives of Orange County started to take off in 2006, Zalaznick and Bravo's general manager, Frances Berwick, pushed Cohen to take on more on camera duties, including an online aftershow.
Watch What Happens Live, named after Bravo's tagline at the time, started as just that for Top Chef in 2007. It streamed on Wednesdays from the CNBC headquarters in Englewood Cliffs, New Jersey, and served as an extension of Cohen's blog. If it weren't for the web series, he may not have been the host of all of those epic Housewives reunions. "Andy already had a big social media following and presence," Connolly says. "He's so connected to pop culture, he's so connected to Bravo."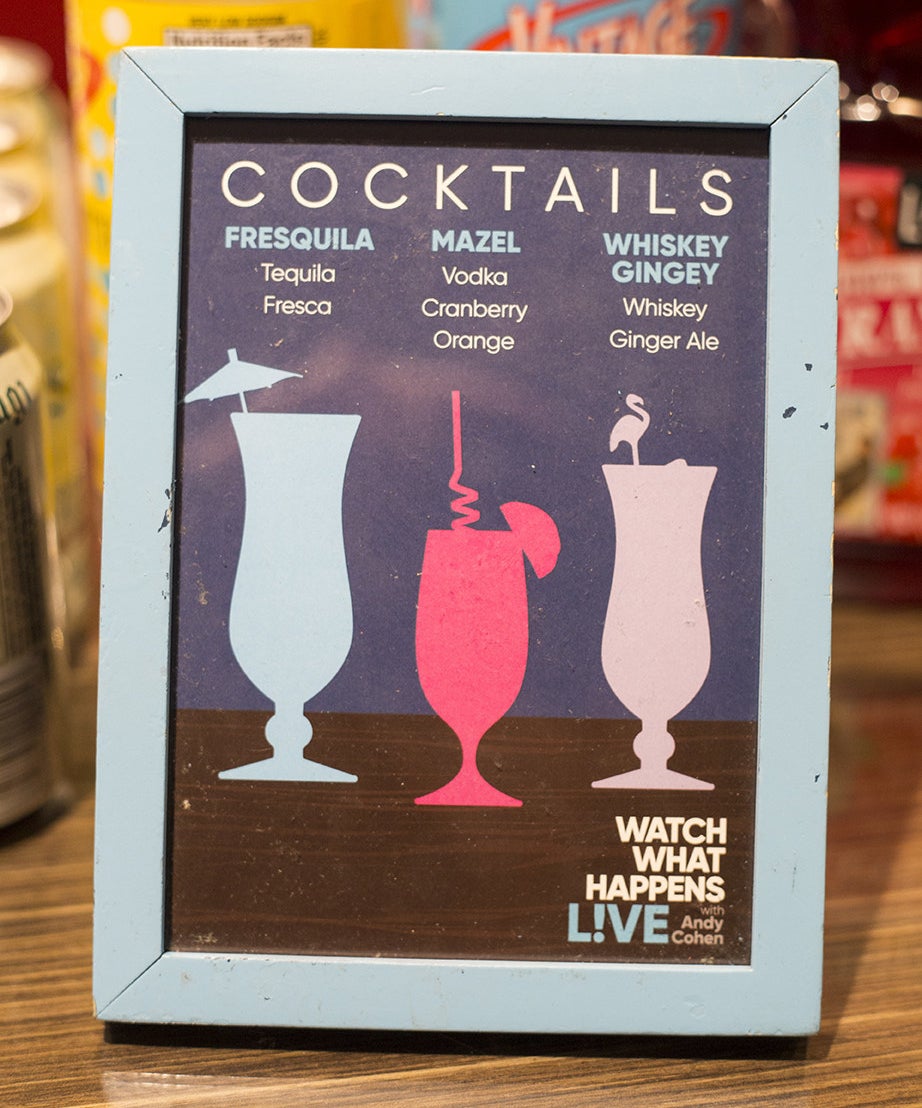 Michael Davies, a producer on Who Wants to Be a Millionaire, took notice of the aftershow, and two years after it launched online, he offered the Watch What Happens Live team a small studio to give the show a try on air. At that point, the web series was already incorporating on-camera cocktails, which have remained a staple, and non-Bravo celebrity guests.
Davies' plan was for the show to air once a week at midnight for 12 weeks, allowing Cohen and the crew to continuously experiment. "One great thing about live TV, for better or for worse, is that once it's done, it's done — there's no going back," says co-executive producer Caissie St. Onge, who's been with the show since those early days.
Their initial space was "so tiny that we were actually physically on top of each other," according to Connolly. The control room was more of a designated corner outside of the studio, open to all who walked by. The offices surrounding the area, including Connolly's, doubled as greenrooms, the floor-to-ceiling windows allowing passing glances at a Real Housewife clutching a desk for composure while changing before the show. Cohen's dressing room was basically a closet right next to the set doors, and inside the studio, there were two rows of benches and some folding chairs wherever there was room to seat an audience of 22. The clubhouse, modeled after the den in Cohen's own West Village home, was an apt name for the original Watch What Happens Live set.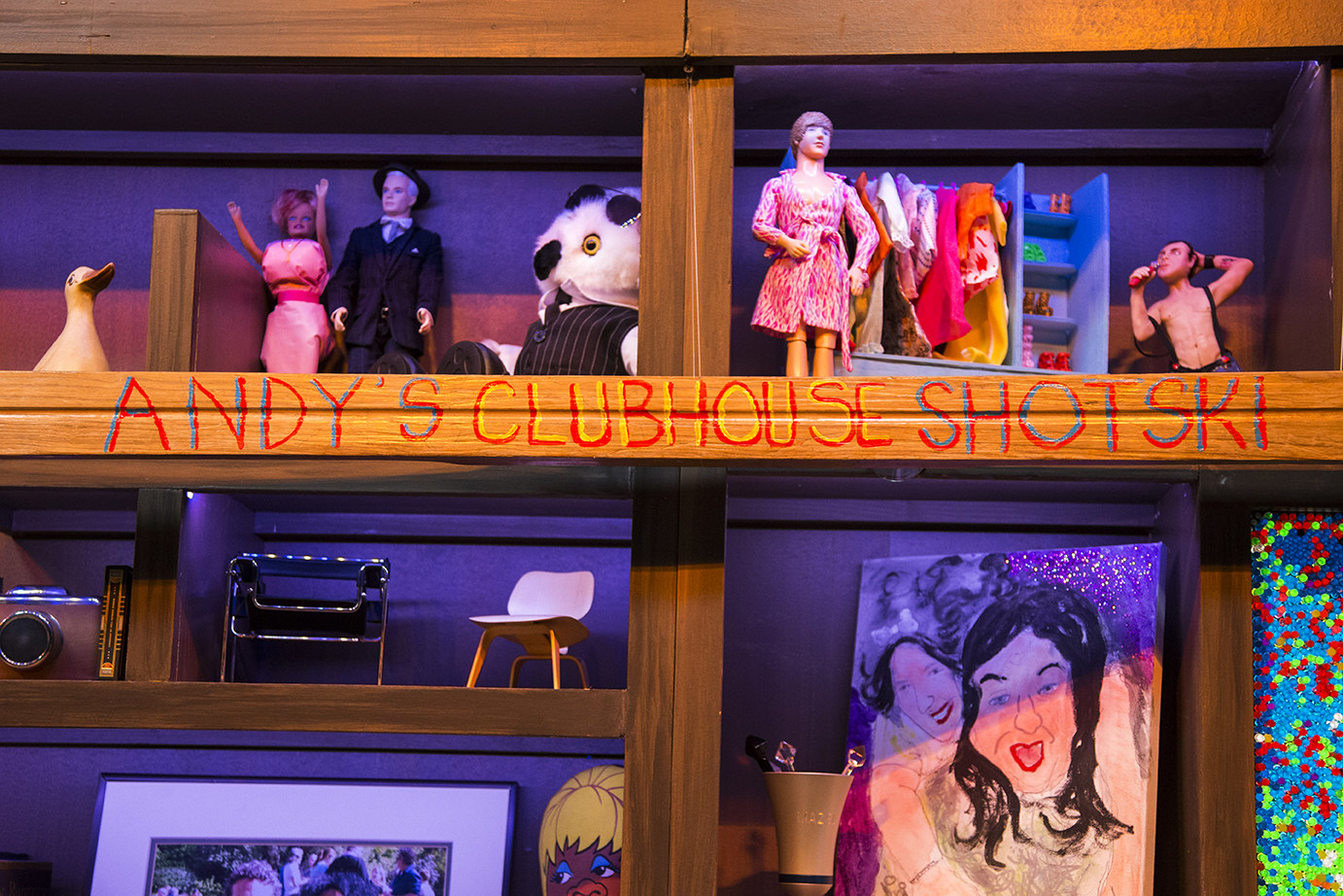 "All the things that we felt were disadvantages I think became huge advantages to us," Connolly says, including their original space. And little by little, the experimenting paid off. A gift from Jimmy Fallon would turn into the weekly shotski segment, where Cohen and his guests take shots from a ski with glasses glued to it. A game to get Real Housewives of Atlanta star Kandi Burruss to spill dirt, "Plead the Fifth" — during which guests are asked three hardball questions, and can only decline to answer one — would turn into the show's most newsworthy segment. (It was during rounds of the game, which Bravo has since turned into an app, that Cameron Diaz admitted she's swum in the lady pond — Cohen's euphemism for hooking up with another woman — and in another, Joe Jonas gave his choices for Shag, Marry, Kill between his famous exes Taylor Swift, Demi Lovato, and Gigi Hadid.)
Watch What Happens Live grew to two nights in September 2010, and then three, and eventually, after a test run, it officially went to five nights a week in January 2012. Each upgrade made St. Onge say to herself, "Oh, this is, like, a success."
And soon, other networks followed in the show's self-promotional footsteps. (See AMC's Talking Dead, HBO's After the Thrones, and many others.) "We own it," Cohen says, referring to Watch What Happens Live's tendency to feature their own talent and programming. "That's what we are a couple nights a week and then a few other nights a week we're not, so it's kind of everything, and I think it's where the world is." The series typically covers the tentpole Bravo shows the first half of the week (it goes live on Sundays instead of Fridays to recap shows like Real Housewives of Atlanta the same night they air) and A-list celebrity guest duos the second half of the week (a recent week paired Sally Field and Katie Couric, and Anne Hathaway with Sheryl Crow).
But after nearly a decade in that Soho-adjacent studio, Watch What Happens Live outgrew its space, literally and figuratively. The little late night show that could moved on up into a bigger studio and an open floor plan office two floors higher in that same building in January 2017. BuzzFeed News stopped by on a cold Monday in January to see how it all comes together.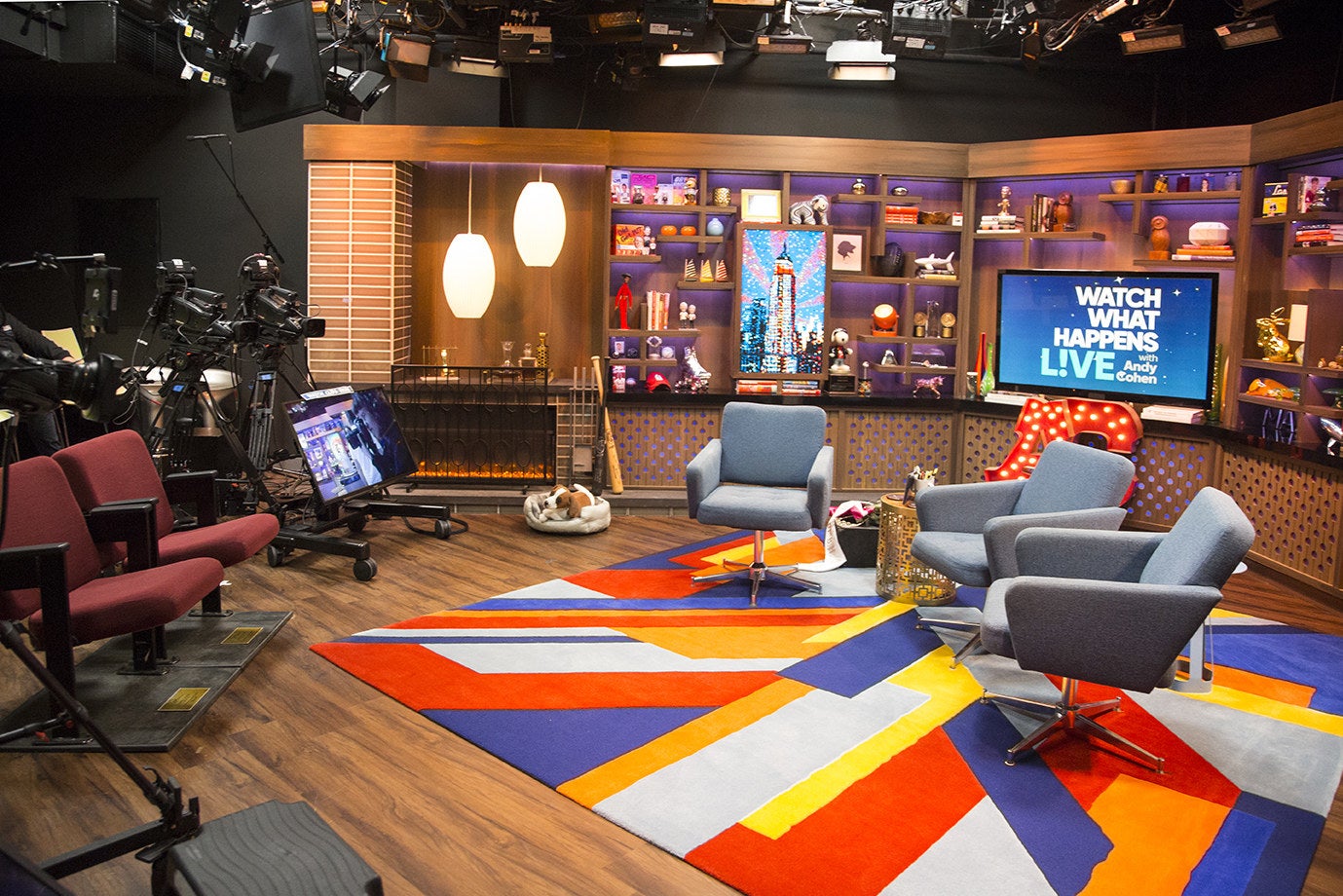 1:12 p.m. The producers are running on high after a feat the night before: Twitter's king and queen, John Legend and Chrissy Teigen, posted on social media about watching the episode, featuring Vanderpump Rules star DJ James Kennedy, and then wound up calling in.

While the rest of the staff is starting to get nestled in at their desks on the new floor, where they've been for weeks now, Connolly, in a black sweater with a satin black collar poking out neatly at the top, arrives two floors below. Her office upstairs is not ready yet, so there she sits, just her and her assistant, Rachel Titen, as the last remnants of the old studio. In her office turned greenroom turned office, Connolly spends the early part of her day in company executive meetings and on conference calls about PR, production, marketing, ad sales, etc., as well as watching and reviewing cuts of upcoming Bravo shows like the Ladies of London finale, which WWHL will air a clip of tonight.
1:23 Meanwhile, St. Onge arrives fresh from her Connecticut commute, platinum blonde hair held back in a voluminous ponytail (a long tenet of Watch What Happens Live is appreciation for a good ponytail). She is zeroed in on production, "building the show and putting the parts together and making sure everybody has everything they need for the part of the show that they're responsible for," she explains.
But there is a lot of overlap, given that Watch What Happens Live is a very collaborative environment and "still a pretty lean staff compared to a lot of TV shows," St. Onge notes. "I don't think that there's any job here that not everybody could do."
1:55 The majority of the WWHL staff come in by 2 p.m., which is when the talent department, which consists of senior talent producer Robyn Baum, supervising producer Dori Kornspan, and talent associate producer Anthony Lella, really gets going. Baum, dressed in a loose light-gray cardigan draped over a white T-shirt, picks up the phone at her desk, her brown hair hanging over her shoulders. She and Kornspan start their day planning future bookings, while Lella checks in with the day's guests and their publicists to establish himself as their main contact for the evening's show.
"There were never any parameters and still isn't."
Today Lella has it easy though: It's one of their Bravo nights with Real Housewives of Beverly Hills cast members Lisa Rinna and Eileen Davidson booked. They're regulars at the clubhouse, Rinna having been on a whopping 12 times. WWHL gives Housewives and other Bravolebrities a chance to defend themselves live, which is likely why Rinna — who's made jokes about Xanax smoothies and who told new cast member Eden Sassoon that former cast member Kim Richards was losing her battle to addiction and "close to death" this season — has been on so often.
With Bravolebrities, "it's like having a family member there often," St. Onge says. "A lot of them are really, really good sports" — including Rinna, who, during her visits to the show, has admitted to eating pot brownies and hooking up with a soap star.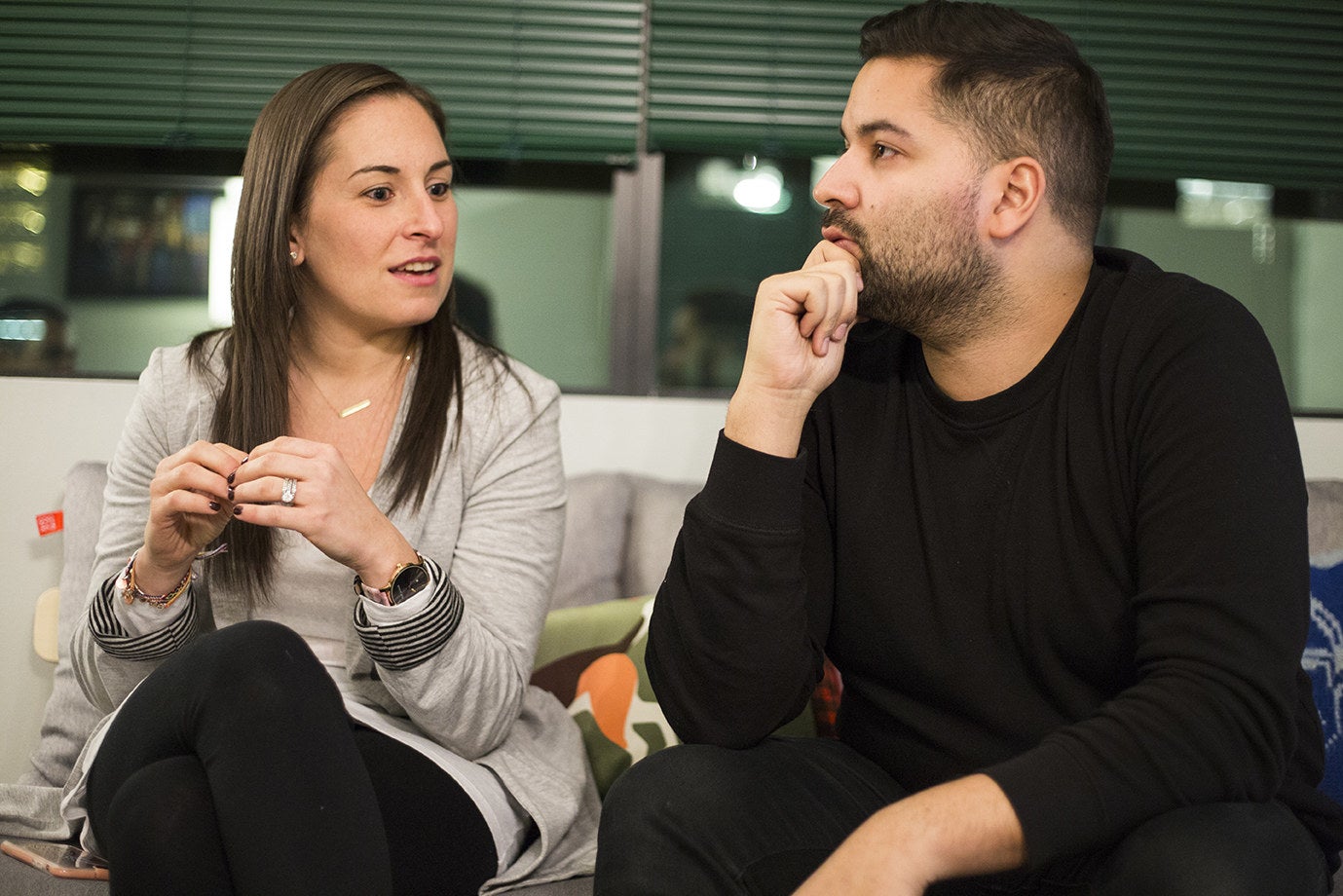 2:01 With tonight's guests, the research team — research producer Nick Rizzo, research associate producer Mariah Smith, story associate producer Danny Visconti, and story producer Megan Tuohy — is focused on finding fun and creative ways to address the issues going on this season on Real Housewives of Beverly Hills. For instance, they use a clip of Davidson and Rinna's former castmate Brandi Glanville disparaging Rinna the last time she was on WWHL in order to get a stronger reaction from Rinna than they would have had they just used a viewer tweet.
With high-profile guests though, the research team has gone to incredible lengths to find clips, photos, and items that even the celebrity guests themselves likely have forgotten about. Each of their desks has a double monitor setup, one screen on work, one screen streaming a Bravo or news program (today Rizzo has on Real Housewives of Beverly Hills while Visconti is tuned to MSNBC). They build research dossiers for Cohen and the crew, aiming to create "something that you could hand to a stranger, like a third-grader, and they could read it and be like, 'I have all the relevant info and I could write an essay on this person practically.' Like an outline of their life," Smith says of the preparation for brand-new guests. "If they're a return guest, we fill the most important gaps between when they were previously on" and now, she says. They watch as many video clips of their guests as they can find, jump back years into a guest's social media accounts, and read through dozens of interviews, pinpointing tidbits that could make for a great Plead the Fifth question.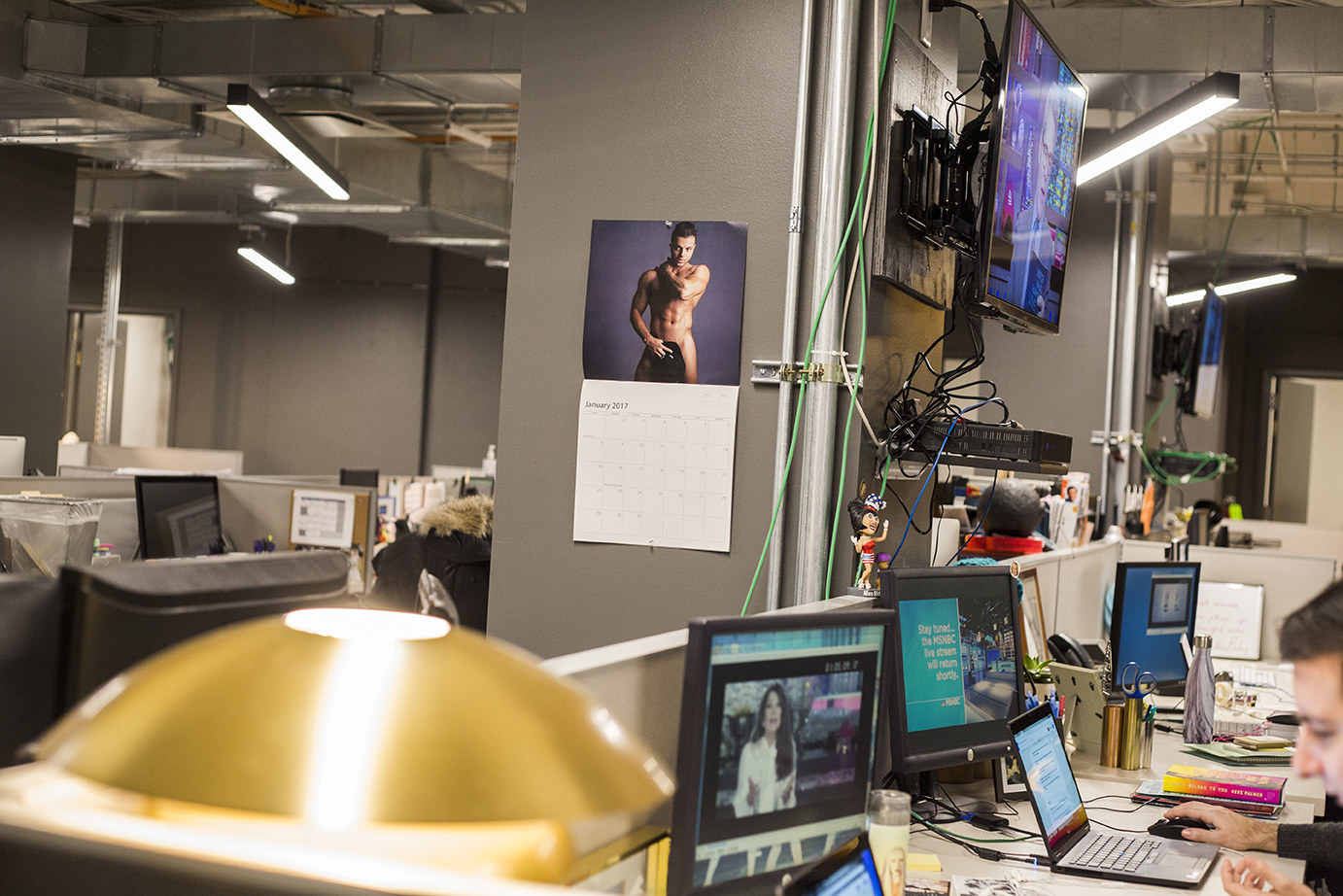 2:56 While the research team is building Housewives dossiers, Baum looks ahead toward booking some non-Bravolebrities, like Love & Basketball legend Sanaa Lathan. Typically, she and Kornspan schedule guests two months out, and Lathan's latest show, Shots Fired, has a late March premiere date.
While booking was difficult initially for the midnight cable talk show (Baum says in those days, her job was "a lot of explaining to people what the show was"), things changed by the time they were on five nights a week. Suddenly, famous Bravo superfans, like Jennifer Lawrence and Tina Fey, approached them to come on the show, and to push their new projects, peaking with Meryl Streep in 2012, who was promoting Hope Springs.

"The studio wanted her movie to reach female viewers, and she knew this was the way to do it," Cohen says. "So that was a turning point." Using Streep as a calling card "opened up the gates" to book higher-profile, more elusive guests, Baum notes, citing Cher, Oprah Winfrey, and Mariah Carey as examples. These days, the celebrity guests are a healthy mix of people who want to come on the show to have fun, whether they're plugging something or not.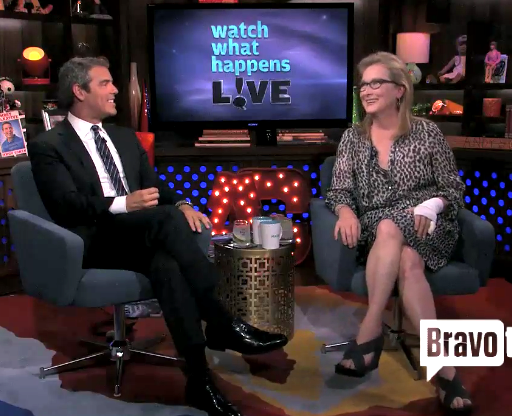 And when the talent team does lock in a huge celebrity, the research team has a lot of digging to do. "We take a lot more time with them because their career, it's massive," Rizzo says. Referring to Streep, he notes, "She's doing every talk show. What are we going to do that will be like no other show?"
He also remembers trying to find footage of Connie Britton in one of her high school plays when she was a guest in 2013. "I was just calling up schools [in Virginia] and trying to figure out exactly who would have any sort of video," Rizzo says. "And I got the high school drama teacher, and he was like, 'I don't have any video footage, but I do have her Playbill,' and he sent it to us, and it's not a normal Broadway Playbill. It was an 8×10, huge, of just Connie Britton with the whole Hello Dolly! getup."
3:28 Baum, Kornspan, and Lella are looking at who might be in town promoting projects in the next two months. They create a list of possible talent, keeping in mind who's expressed interest in coming on the show and who's a known Bravo fan. Then they start unpacking the puzzle that is pairing guests.
The most important question they ask each other is: "Is it good weird or is it bad weird?" "You can't really know," Baum says. "Which is scary, but then it's so satisfying, you know, to see people hitting it off." Lella's favorite thing is "when people come on and they're paired and then they become friends," citing success stories like Chloë Grace Moretz and Meghan Trainor, and Jenny McCarthy and her now-husband Donnie Wahlberg, who met for the first time as guests on WWHL in 2012. If Ethan Hawke had been in Wahlberg's seat instead, a real possibility that week, "things would be very different," Baum says.
"We get really excited when we realize it's going to be an amazingly weird pairing and the stars align and they're both available at the same time, and it's magic," says Baum. They also get a rush from seeing people tweet about a pairing. Longtime WWHL fans use a specific early episode as the high bar for guest duo magic. "We constantly will see people say, 'This is the best episode since Regina King and Jackée,'" Baum says of the 2011 episode that started as a sweet reunion between the 227 costars and turned into quite the drunken party.
The producers' aims are to make Watch What Happens Live the most comfortable late-night show experience a celebrity can find. Baum says they "understand if someone has limitations and they don't want to sort of go to a certain place or discuss certain things, but also viewers want to see someone sort of loosen up on our show and to see them, like, have fun." She adds, "It's negotiating that a bit at the beginning and just letting them know, like, we want everyone to walk out of here happy, and we want guests to be comfortable. That really is incredibly important to us."
That extends to the women of the Housewives franchise, who are no strangers to public invasiveness and onscreen drama. Still, the talent team is careful not to pair rivals. "As opposed to on Housewives where it's like, you want the drama, we don't gain anything by putting two enemies on together," Baum says, noting they want to avoid a mini version of one of the reunion specials.
And if someone cancels, they do have a backup plan: "Jump on an email, jump on a call with Andy, and just brainstorm mainly people that we had already discussed the week," Baum says. The replacement guest can be anyone from another celebrity who's in town for press, a local standby, or even another talk show host — especially a friend of Cohen's, like Anderson Cooper or Kelly Ripa.
But there is still definitely a wish list — Katy Perry, Taylor Swift, and Beyoncé, according to Cohen — and some people they haven't managed to persuade. "Justin Timberlake," Cohen uses as an example of the latter. His team said "it's not a fit." "I would love him to reconsider," Cohen says.
3:51 In their Urban Outfitters–esque winter wear — Rizzo and Visconti go the T-shirt and cardigan route, while Smith has on a fuchsia sweater with a chunky Navajo scarf to match — the research team is checking in on one of their most legendary finds that has reared its head today. Rizzo was on Twitter while the show was live in 2013 with Glanville and FOA (friend of Andy) Mark Consuelos. He saw Real Housewives of Miami cast member Joanna Krupa tweet to a fan, "No wonder her husband left her." "So I told the control room and they told Andy in his ear, and she said some things about Joanna's private parts that there is still a pending lawsuit [over]," Rizzo recalls. "There are now court-ordered gynecological documents that need to be sent over four years later."
Each researcher has their area of expertise, or "specialty," as Smith calls it: She loves the Kardashians, Visconti is well-versed in politics, Rizzo is a noted Real Housewives of New York scholar, and the list goes on. But of course, as Smith notes, they're all "constantly looking at the Bravolebs."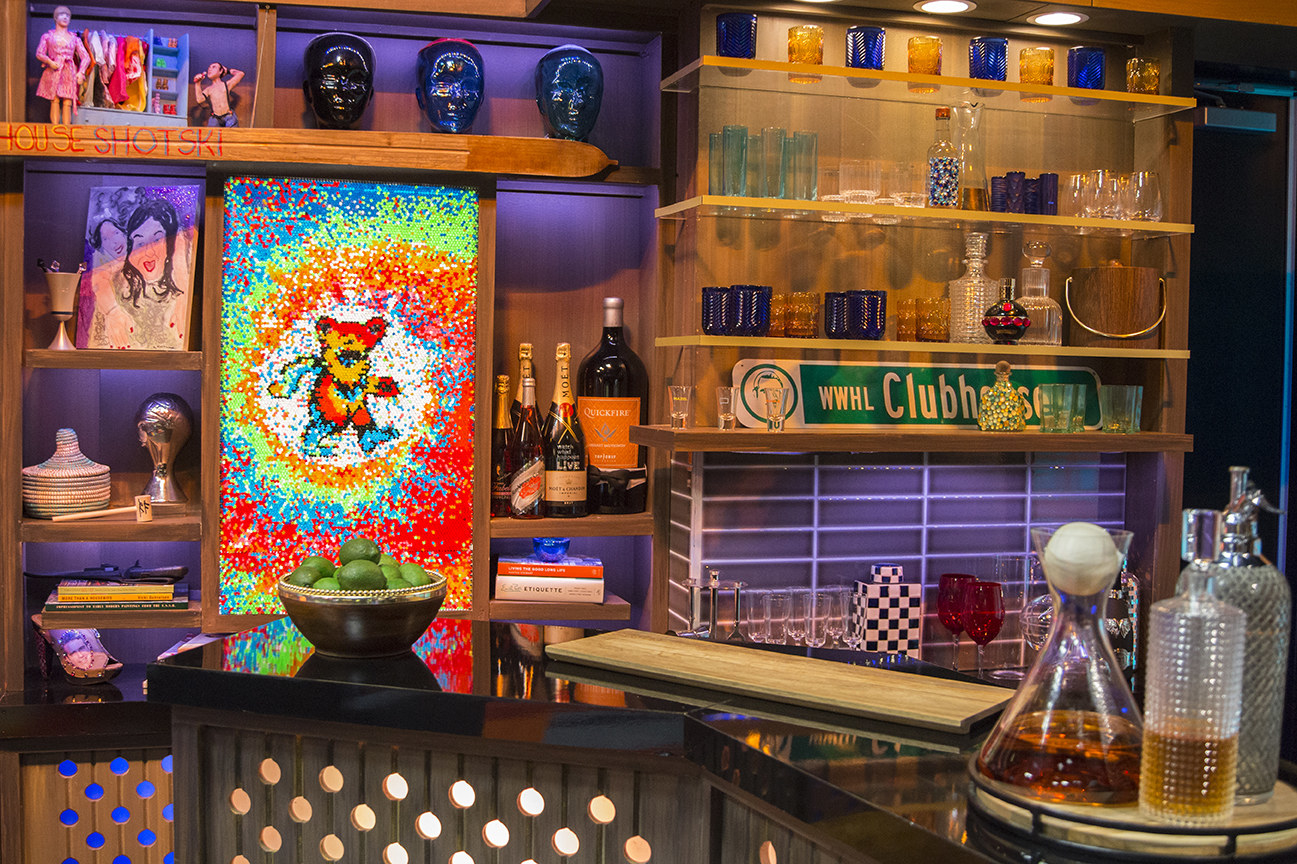 4:17 Lella is also in charge of booking the bartender, and tonight, they're double-booked. The first half of the show will be dedicated to three Puppy Bowl puppies up for adoption, wrangled by Rufferee Dan Schachner, while the second half will see drag queens surrounding the bar for a "Real Queens of Beverly Hills" segment where each of the queens is dressed as a Beverly Hills housewife — Chelsea Piers is Davidson, Jackie Cox is Rinna, and Marti Gould Cummings is Lisa Vanderpump.
The bartender spot is a total wild card — it'll be filled by Fifth Harmony one night, and Cohen's parents the next. "It's sometimes somebody that's promoting a book or a Broadway play, or sometimes it's just like a hot model or a drag queen," says Lella, wearing all black with his dark hair styled in a medium fade under a baseball cap. While the choice of bartender was random in the show's early days, he notes, "Now we try and tailor them more toward our guests that are seated in the chairs."
"When we went five nights a week, we revamped the set a little bit and we decided that because people are already drinking cocktails on the show, that one of the things that we would add is a bar. But it's weird to have a bar with no bartender behind there, so let's just have people occasionally bartend," Connolly recalls.
It was supposed to be a once or twice a week thing, but then they saw how well it worked. "In our first week we thought, 'No, we need to do this every single night, and it could be a cardboard cutout, it could be a bartender from a local place, it could be a celebrity, it could be a fan of the show,'" Connolly says. "There were never any parameters and still isn't."
The guest bartenders can even try to make a drink if they want to, though the actual bar the crew uses for Cohen, talent, and audiences members is in the lobby. Like most of what happens on WWHL, there are no rules. "Anything is a possibility for the bartender!" Lella says.
4:33 Throughout the afternoon, graphics producer and game master Paul Stack is building all the graphics in Adobe After Effects, making the GIF of the Night (always lifted from producers watching the Bravo shows on that day), and animating games in Flash. The one on today's show is called "Bravo in the Balcony," for which he's building a balcony graphic featuring Rinna and Davidson. They're like Statler and Waldorf, barbing on scenes from different Bravo shows. It's an original game, but recurring ones, like "Bravowood Squares," are all tracked in a document that includes what the game was, who played it, and when, "so research and segment producers can all try to figure out like, 'Oh, OK, well, we did this with them in the past, so then maybe we'll do it with them again and call it Round 2 or something.'"
Typically, the name of the game comes first; the concept comes later. "That's really what makes it, working backwards like that," says Stack of creating games like "Name That Pussy," where guests try to figure out a cat's name based off their photo, and "Let's Do Lines," during which guests yell random movie lines at each other for 45 seconds (his personal favorites). Stack doesn't try to come up with a high concept — he jokes that his pitches often start with, "Let's just rhyme their name with something and that could make for a really interesting game." (Exhibit A: "Who's in the Shower With Matt Lauer.")
But generating ideas is a team effort that expands beyond Stack and the research team. "The great thing is that everybody contributes… from the production assistants all the way up, anyone can come up with a name," Stack says, though he does take on a lot of tasks himself. "And once it's thrown out there in the ether, it just becomes something, a beast all its own."
"One thing that everyone knows about this show is that I go there."
5:39 By now, Cohen has been emailed the script and is sending notes back, but one of the final preparations during show day involves WWHL's social media accounts. "We start to prep Facebook and Twitter to bait the audience to 1) tune in, but then also to let them know who's on the show so that they can start sending their questions and start getting noticed," says digital producer T. Kyle MacMahon, who's also the creator of the popular RealityTVGifs Tumblr. One of the first things he does when he comes in is check "which guest has a bigger social following, because some guests actually don't — and if the guest doesn't have a social following, then fans aren't going to be there," MacMahon says. A big part of his job is figuring out what can drive the social conversation around the show, and a guest with few followers does not help with that. (Of course, tonight, Rinna can do her own promo.)
7:09 Baum and Lella are deep into preparing for talent to arrive, double-checking their emails to make sure there aren't any questions unanswered on their end and making sure they don't have any missed calls from publicists. Meanwhile, Rizzo, Smith, Visconti, and Tuohy are emailing each other pitches for Mazel/Jackhole, a segment where Cohen names a hero and a villain of sorts regarding something that happened that day. They try not to default to Trump too often for the latter.
7:24 Stack is making sure the balcony frame is formatted correctly for both guests to be on camera and that graphics are cued up in the control room, while MacMahon is at his desk watching the social conversation, gauging the interests in tonight's guests.
7:37 The roughly three dozen members of the WWHL staff file into the studio for the nightly production meeting, parking themselves in the seats that will soon be filled by the studio audience. There's a definite college recitation vibe as everyone carries a green packet of the script. Sitting in one of the guest chairs facing the staff and crew, Connolly looks down at the script and sweeps her chestnut brown bangs to the side as she leads the crew through the rundown of tonight's show along with executive producer John Jude. Their audience sits heads down, flipping page by page, noting game-play specifics and highlighting important camera angles and logistical moments. The only real question that comes up today is St. Onge's about whether or not drag queen Cox can fit the rack of QVC clothes from Rinna's collection that she brought with her for the "Real Queens of Beverly Hills" segment. (The answer, it turns out, is yes, thankfully.)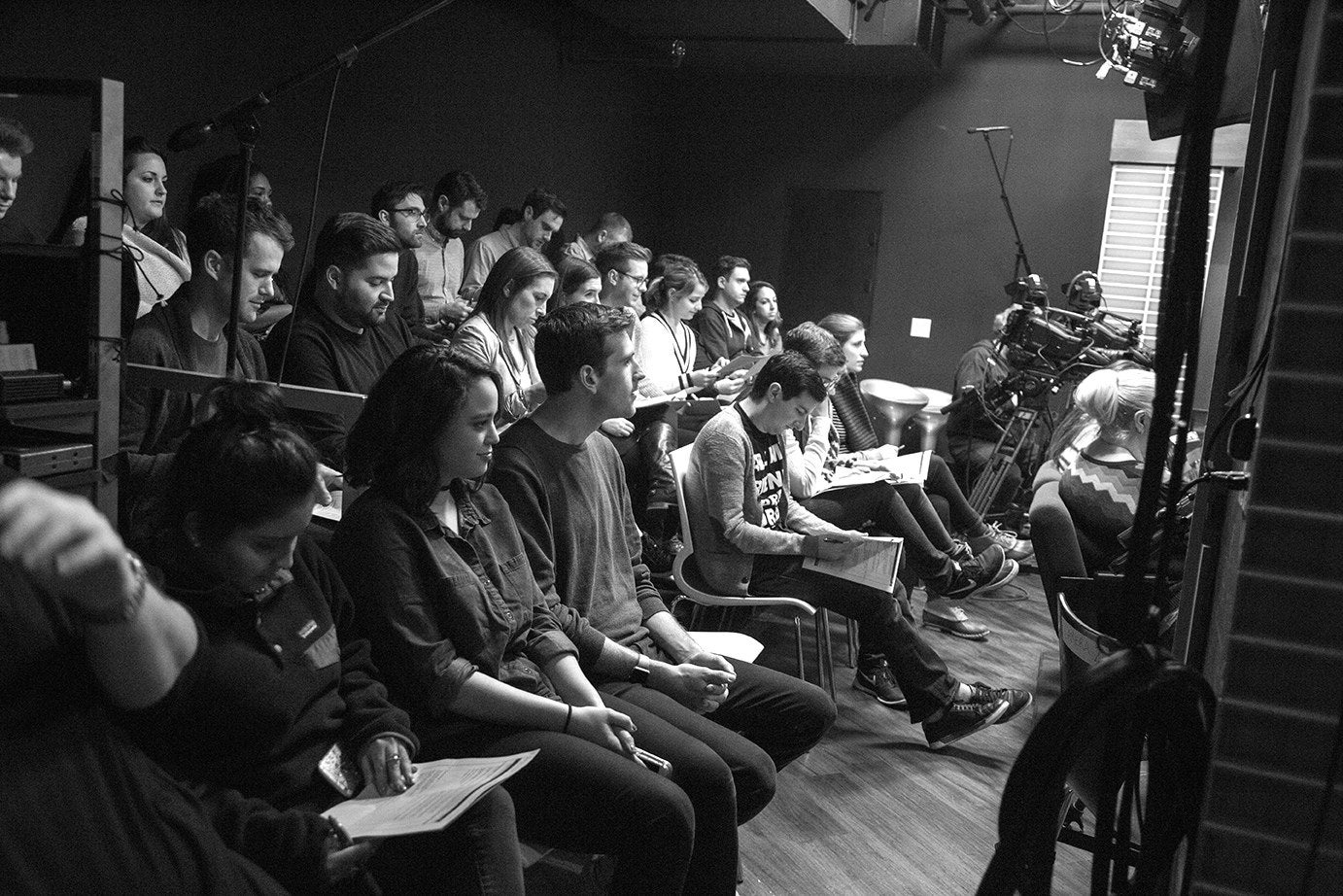 7:53 The meeting breaks and everyone goes back to their respective tasks, while Jude, Connolly, St. Onge, and a couple other producers stay in a huddle to prepare for the tech rehearsal. There are three production assistants sitting in place of Cohen and the guests to check if the graphics are set up right before Cohen enters the building.
9:18 Lella is preparing the greenrooms for tonight, making sure everything is clean, the television is on the right channel, and, most importantly, the drinks are ready. Outside the studio, off in a northeastern corner of the office that can feel like Siberia, there are three greenrooms. The smallest and farthest is used mainly by the bartender to check themselves out in the vanity mirror and have a seat in a director's chair, since those are the only two activities the room has space for.
Next to that is the biggest greenroom, complete with a two sizable gray upholstered couches: On one sits two Bravo logo throw pillows framing a mint green one embroidered with the image of Cohen's beagle mix and his name, Wacha; the other couch has a wide gingham-piped throw pillow with another cartoon beagle as well as a navy one with a caricature outline of Cohen's face. The coffee table is of the standard glass variety, but it covers about a sixth of the floor's square footage, and there are two iron nightstands with shelves holding books written by Bravo and Bravo-adjacent talent, like Cohen's recent diary, Superficial, and the late Joan Rivers' book I Hate Everyone...Starting With Me. While one wall is covered by a 50" flatscreen TV, showing Bravo's Real Housewives of Beverly Hills, the other has a vanity mirror and director's chair for the guest to sit and get prepared.

Finally, next door and closest to the studio is the medium greenroom: It fits everything the big one does with less square footage and an L-shaped gray couch rather than two separate ones. It's luckily not a worry tonight as to which of the Housewives will get the bigger room, since Rinna and Davidson are arguably the franchise's pairing that's least likely to get into a catfight. But what's unclear is if three drag queens and the three puppies can all fit together in one closet.
9:30 Cohen arrives at the studio show-ready in a brown suit with a white and navy vertical-striped shirt and colorblock tie displaying bold shades of pine green, midnight blue, and marigold. He's testing a new look: tortoiseshell wayfarer glasses. And while he certainly has a command of the office, it's not a Devil Wears Prada situation: No one is skittish about saying hello, let alone girding their loins.
"Andy will come in before the show and he's just been at some amazing event and he'll always have a story for us, like, 'I just saw this person, we had this awesome conversation, you know I'd love for them to come on,'" Baum says. While he hasn't been on the show yet, Baum uses Chris Pratt as an example. "Andy recently met him somewhere and they were talking and Andy came away from that being like, 'I love him, I feel like we really clicked, like I feel like this might happen now.'" With the Guardians of the Galaxy 2 release a few months away, Baum may be using that leverage sooner rather than later.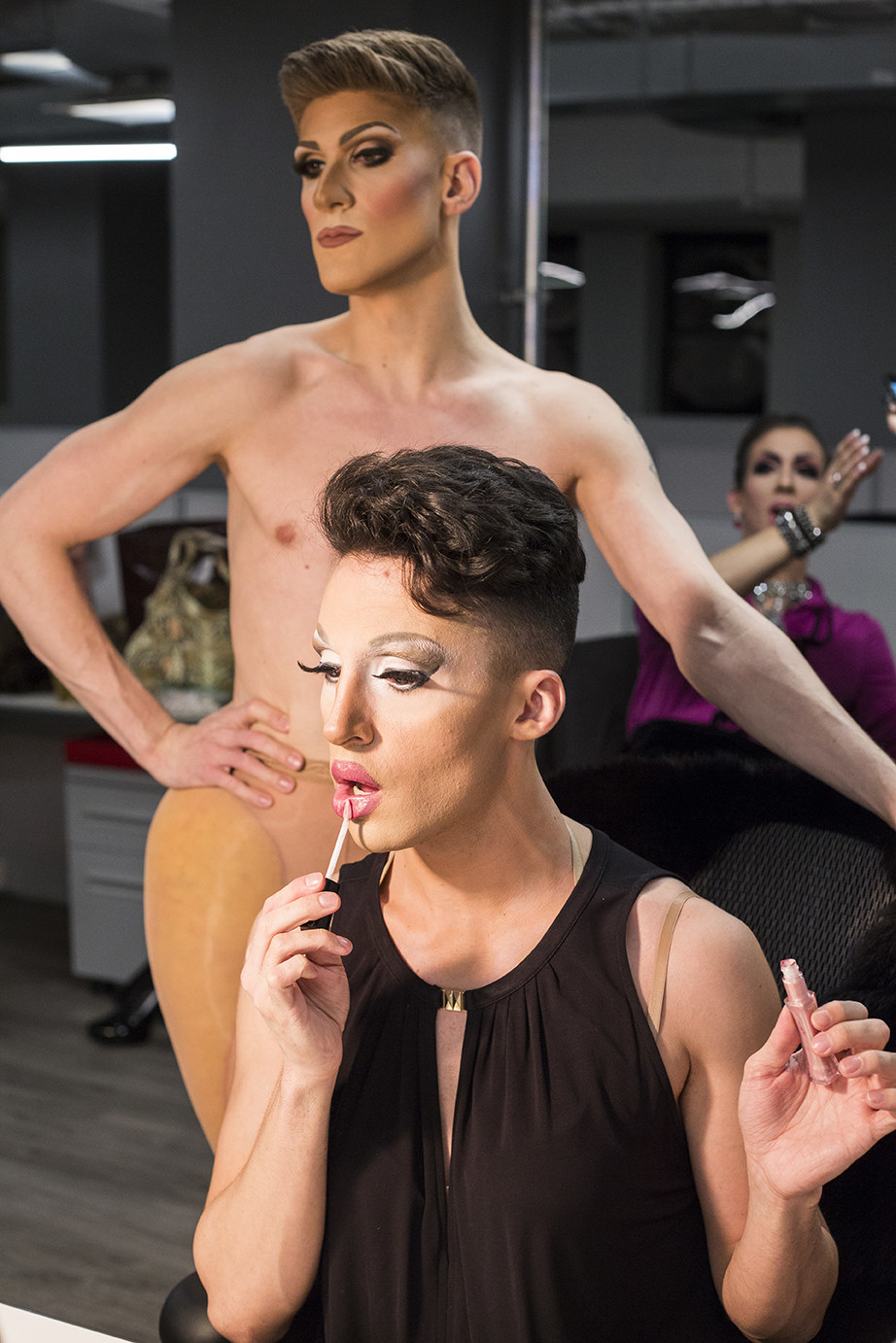 9:39 The queens arrive and choose to change in the middle of everyone's desks instead of with the puppies, while the crew and control room rehearse their roles for the live show.
9:47 Taking a seat in the host's chair for rehearsal, Cohen gives one last look at the hard copy of the script (based off a set format with interchangeable jokes that a senior producer like Lauren Smith or sometimes Visconti will write). St. Onge has a writing background from her days on The Late Show With David Letterman and The Rosie O'Donnell Show, but she gives the most credit to Cohen for the words that eventually appear on the teleprompter. Cohen, she says, is really good at saying the right things on the spot once they go live less than two hours later. Today's rhyme for the show's intro though — "She works three jobs to pay her bills" (re: Davidson), "and she works out by carrying that huge bag of pills" (re: Rinna) — is something St. Onge came up with.
As Cohen gets settled, Cummings, not yet in full Vanderpump pink, pops in the studio during the rehearsal to snap a quick picture of her name on the teleprompter.
With his new spectacles on and earpiece in, it's clear how expertly Cohen switches between executive producer and host. He goes through the lines on the prompter in a sort of soft singsong, and then shifts immediately into a regular tone as he speaks to producers through an earpiece, outlining some cuts he wants to make. "I don't know how he does it," St. Onge says. "He's really good at dividing his attention. Like the whole time that he's rehearsing, he's picking questions and thinking about whether he wants to go this way or that way… He's just really good at keeping everything in mind and having this ticking clock in [his head]."
Changes Cohen makes today include dropping the audio out of the "Bravo in the Balcony" game (which editor Michael Seils handles), and he also pitches different polls. Before the show was revamped, there was one poll a night that viewers could text their answer to, and at the end of the episode, they would show the results. Now in the new studio, they test a bunch of different polls and are able to track results on WWHL.tv in real time. Like games, polls can be pitched by anyone, and at this rehearsal, Cohen pitches "Which Housewife was dressed the best at the Housewives' Great Gatsby party that night?" to the producers in his ear. After a bit of back-and-forth, they eventually land on "Would you rather attend Kyle Richards' White Party or Great Gatsby party?"
9:50 As St. Onge sits in the second row of the audience taking notes, easy to spot in a navy sweater with an embroidered rainbow bouncing in frequency waves around her shoulders, Baum and Stack are in the control room watching the rehearsal. Stack makes sure all the graphic elements are put together, while Baum writes down what talent should be briefed on when they arrive — in Rinna's case, it's anticipating backlash for all the negative comments about Kim Richards' battle with addiction. Meanwhile, MacMahon is patrolling Twitter. From the looks of it, most of what the viewers are tweeting about are the women's Gatsby party outfits, but MacMahon finds standouts like (surprise) a question about Kim Richards and Rinna's ongoing feud.
10:07 Rehearsal is over, and Cohen moves to the makeup chair in his new dressing room west of the studio. It's just a couple doors down from the bathrooms and about double the size of his last one, complete with at least 50 ties, a box of orange Tic Tacs, and an electric shaver.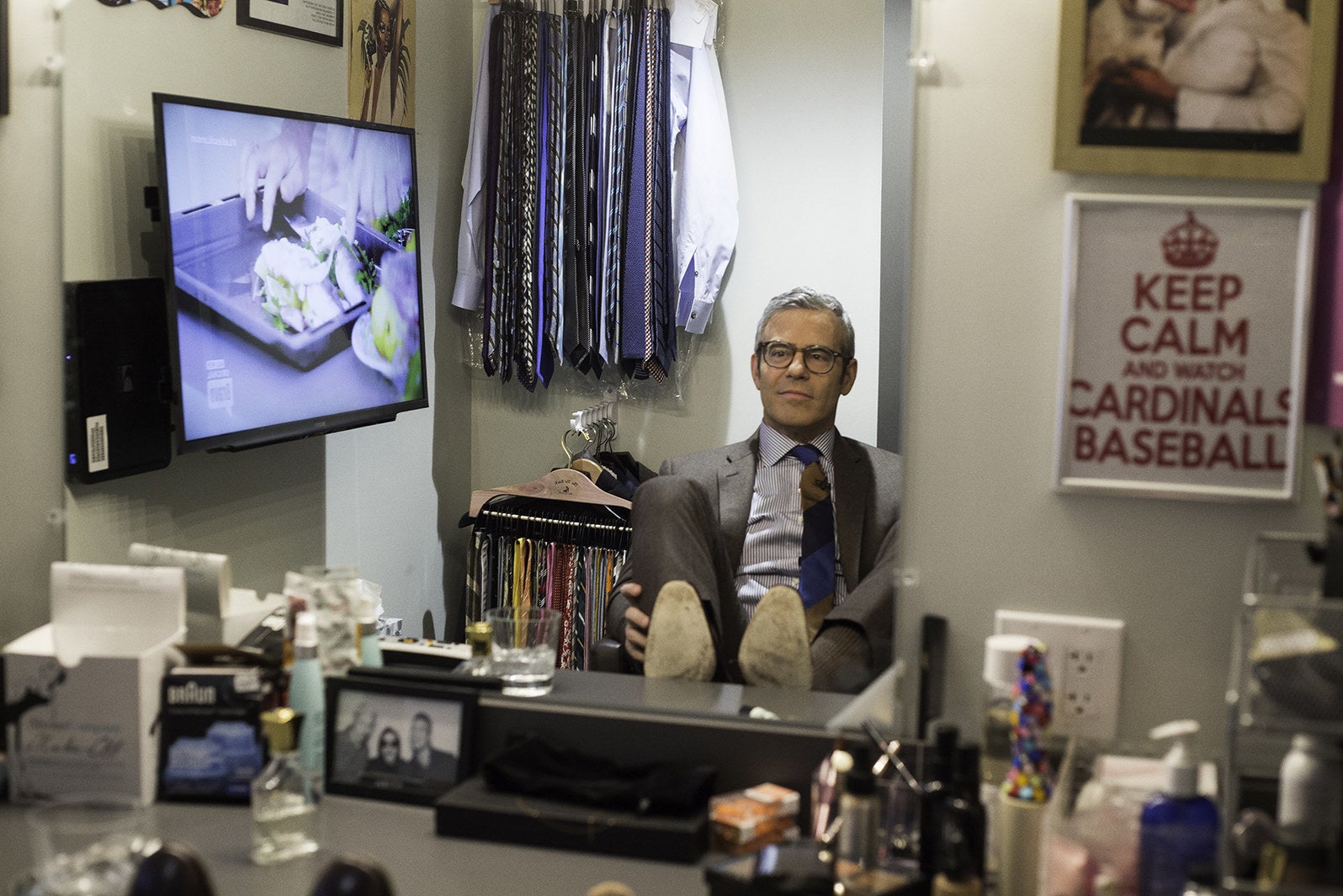 10:10 Lella heads downstairs to pick up the talent and returns about five minutes later with Rinna, who's in an outfit Cohen will die over (a black Mark Zunino jumpsuit with nude illusion slits framing her curves), and Davidson, looking very '80s with her blonde hair on one side and wearing a black Zhivago dress with diagonal cutouts across her torso and some quilted pointy shoulder pads. Lella shows them to their greenrooms before grabbing them a drink: for Rinna, a Fresquila (Cohen's preferred drink) and for Davidson, a white wine (the preferred drink of most Housewives).
Baum enters their rooms for a quick chat about tonight's show, sharing with the ladies that there will be a lot of talk of Richards tonight. "A lot of times guests prefer to be surprised on the show and don't want to know too many details, which we love," Baum says. But Rinna and Davidson are not those kinds of guests. "We don't do any pre-interviews ahead of time, which really keeps things more spontaneous, which I think is obvious to the audience at home," Baum says, aware of the show's reputation for spilling the tea.
"I think one thing that everyone knows about this show is that I go there," Cohen says. "So I think people have to be prepared to go there if they're coming on the show, and so it just takes that moment where they have the trust in me where they're ready to do it."
Basically, as Rizzo puts it, "There's no other talk show in late night where you can literally extend the narrative of pop culture in the way that we do where things that are talked about on our show become front-page headlines the next day" — for example, propelling the what-feels-like-decades-long "I don't know her" feud between Jennifer Lopez and Mariah Carey.
"A reality star is now president of the United States and the election was a reality show, so it would be hard for me not to talk about it."
The fact that Cohen came from a news background (he was a producer at CBS This Morning and 48 Hours) also makes him particularly savvy at getting guests to share stories or opinions they'd, in some cases, been silent about for decades. Nothing is off-limits in his eyes, politics included. "We talk about whatever is in pop culture, and politics are now in pop culture," Cohen says. "A reality star is now president of the United States and the election was a reality show, so it would be hard for me not to talk about it, but I try not to go overboard. And I certainly, in terms of my own views, I try to — with the exception of when gay rights are threatened — be a little quieter."
It is not lost on Cohen that he is TV's only gay late-night host at a time when LGBT rights are in jeopardy. "I just feel like being gay is one of the things that I am, and the show is not a gay show, but I like it if I can kind of be a gay best friend to people who never had one," Cohen says. "I think that's valuable because then when they start hearing about gay rights being threatened, maybe they think, Well, he's not so bad. I've met a lot of mothers and sons on book tours who've said, 'It helped that my son could see you were having fun and that you exactly who you are every night.'
"It's an honor for me… I feel like, as a gay American with visibility, I do speak out when our rights are threatened or I feel like a voice is needed. I think that's my responsibility."
10:18 Smith and Rizzo are parsing through Twitter questions for Rinna and Davidson, while Visconti heads off to, as Rizzo describes it, "fluff the crowd." He's the show's "audience warm-up extraordinaire." These not-quite-side hustles are common among the Watch What Happens Live staff, whether it's Rizzo hosting Housewives video recaps on WWHL's YouTube channel or Stack building physical elements for the set, like the iconic Dwheel from the classic game "Dwight or Dwrong," named after early RHOA friend Dwight Eubanks.
But staffers also maintain gigs outside of the show. MacMahon, for example, was first noticed for the Tumblr he still runs. Smith too gained internet fame for her Kardashian recaps, "Keeping Up With the Kontinuity Errors." "Our whole staff, from top to bottom, really want people to have a quilted sort of lifestyle," she says. "Have your life be as full as it can be and work on personal, no matter what that means."

10:22 The audience begins to spill out of the elevators into the lobby with the reception desk turned bar. Visconti and the show's audience coordinator, Jenn Dunn, begin handing out Fresquilas, Whiskey Gingeys, and Mazels (vodka with cranberry and orange juice). There is a coatrack and a facade with a cartoon cityscape separating the audience from the greenrooms and the red carpet where talent takes photos (aka the step-and-repeat). There is also a Cohen cardboard cutout in the corner that crops up in many an Instagram the following morning.
Having a live audience in the studio became customary after one early taping when Cohen invited a couple of his friends. "He thought, Oh, I really like having guests in here. I really like having people to bounce off of and laugh at my jokes and clap,'" Connolly remembers. "And then we thought, Oh, that's kind of a good idea, so let's, when talent comes, have their friends sit in there."
Tonight's audience, while pretty evenly split across gender lines, is for the most part upper-middle-class white folks in their late twenties and early thirties, the kind of group who would frequent the West Village bars a 10-minute walk away from the studio.
10:38 Connolly is preparing to air the live promo where Cohen invites Bravo viewers to watch the show and send in questions for Rinna and Davidson, including a phone number to call. As soon as that hits airwaves, "phone lines start lighting up and we start fielding questions and making sure that they are not something that's already been asked on the show," Connolly says. She's looking for "something that we know lots of other viewers are wanting to know and that's not so obscure." Some questions that get in are "Why do you feel comfortable talking to Eden about Kim behind her back?" and "Since you worked with Donald Trump on Celebrity Apprentice, I was just curious what your opinion was about him?" Both are, as expected, directed at Rinna.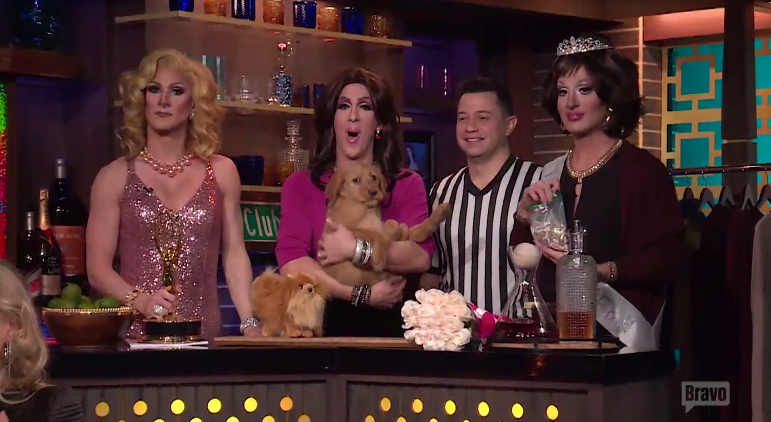 10:49 Visconti starts to escort the audience from the lobby bar into the studio doors. It's a pretty "exclusive" experience, he notes. "There's really no way to get tickets unless you've won a charity auction, unless you are a sponsor, or maybe are a friend of someone on the staff," he says. With that makeup, there's never unruliness among the crowd. "I think most people who are there are really excited to be there and are on their best behavior really," Visconti says. "The one thing I do have to warn them about is not participating, because they get so excited, they want to play the games along with the guests, and so I have to say ... 'Don't get so excited that you get up and walk and go sit on someone's lap.'"
10:51 In the greenroom, Lella prepares the bartenders. Depending on who they are, he usually explains to them that "Andy is going to chat with them at the top of every act." In the case of the puppies, that's doubtful, but the drag queens can fill in the gaps. They're instructed to stay pretty silent, but they all brought props, like an Emmy award, stuffed swans, and adult diapers, to command the camera's attention.
10:55 While Visconti gets the audience loose and cheery, Rinna, Davidson, and Rufferee Schachner, who's holding Malcolm, just about the cutest Labrador retriever you've ever seen, follow Lella to set. Now that the guest entrance is a sliding door behind the bar, each arrival feels like an exciting surprise. Even if the Housewives audience has soured on Rinna, there are still cheers for her. But of course it's Malcolm who gets the biggest reception. Lella, whose black ensemble is perfect for quietly popping in and out of set, plays with the two other puppies right outside the studio before checking on the queens, who are still preparing in the middle of the office floor.
10:59 Cohen, Rinna, and Davidson make small talk before the camera operators press record. Visconti makes one last push for applause from a now sufficiently buzzed audience who get to keep their drinks. As the floor director's countdown ends, Cohen flows right into his hosting duties without missing a beat: "She works three jobs to pay her pills, and she works out by carrying that huge bag of pills..."
"There really isn't anything that he could interpret as catastrophic, so it makes even behind the scenes feel fun."
11:09 MacMahon is at his desk with his team doing all the social media for the show, including live-tweeting, as well as parsing through Getty Images from the on-set photographer and downloading those photos for tweets and Facebook posts. Research too is on social media, sourcing more questions for the guests that viewers are asking in real time — like one from David Banyan, who asks Rinna, "Why do you keep stirring the pot? You used to be much chiller." Meanwhile, Stack, in a black graphic T-shirt and gray striped hoodie, high-tech wireless headphones around his neck, is perched on a bench in the back of the studio running Flash on his computer for the Statler and Waldorf game.
11:15 Cohen, live on air, calls on José to ask a question via phone, except Connolly informs him that the caller's name is actually Josie. She and/or Jude are in the host's ear during the show, giving him information about callers' names and hometowns, and telling him if a segment is getting cut or if there are any malfunctions, like the phones being down.
"There really isn't anything that he could ever interpret as catastrophic, so it makes even behind the scenes feel fun," says Connolly. "And when things happen, I just quickly communicate to him, like, 'This is happening, go with it,' because there is always little things that go wrong."
11:18 Cohen has a teleprompter flub where he stumbles on the name "Theresa" and blames it on the glasses — it's clear he's been at this gig long enough to know how to spin those kind of blunders into comedy.
11:21 Lella and Baum are escorting the puppies and queens back and forth between the greenroom and the sliding secret door behind the set bar, while in the control room, Connolly is asking Cohen via earpiece to approve a caller's question about how Davidson would rate cast member Erika Jayne's Young and Restless guest appearance.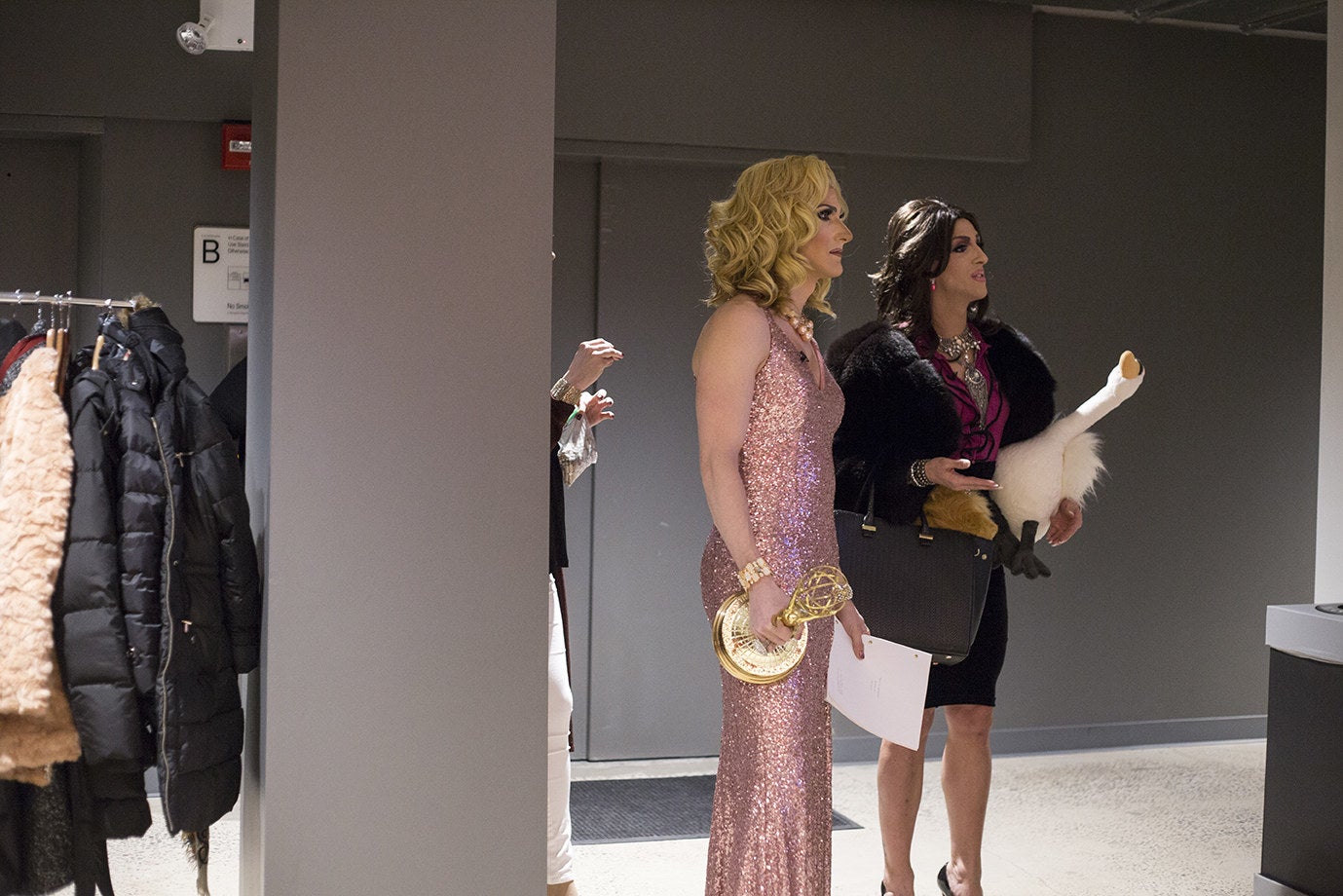 11:28 The "Real Queens of Beverly Hills" segment is over and the results are in: Cox, rack of Rinna's QVC clothes and all, ends up winning with a landslide 81% of the audience vote. Everyone is so caught up in the excitement of her coronation that there is no time to announce a Mazel and/or Jackhole of the day. Cohen barely has time to spill what the Word of the Night was ("Vanderpump") before the credits end.
11:30 By the time the cheering dies down, the talent is back in place to do the live aftershow. Schachner now joins the three queens behind the bar with the third adorable dog, Lane, who unfortunately didn't make it to air.
11:34 During the aftershow, Cox whips out another prop: an exact replica of the bag of pills Rinna pulled from her purse and showed to Sassoon and Dorit Kemsley on an earlier episode of Real Housewives of Beverly Hills. The studio audience gets a huge kick out of it, but Rinna never turns to notice the joke — she's too busy responding to a tweet that research found and put on a card for Cohen: It's from Kim Richards and she wants Rinna to zip it.
11:43 The calls run out, the aftershow ends, the drag queens all take pictures with their Beverly Hills counterparts, and the puppies leave the building. Baum says talent is consistently telling her, "That was the most fun I've ever had on a talk show." "When it's someone you know has been doing press for so many years, that's like the ultimate compliment," she says. Of course, sometimes a guest doesn't turn out being the best fit. "I think that almost always those people are people who wouldn't necessarily want to come back anyway, like I think it's a mutual thing," Baum says.
11:46 The audience is escorted out of the studio except for a select number of names Visconti calls from a clipboard — those lucky few are getting a photo with Cohen. One quartet crowds the host in different combinations: first the ladies, then the group shot, then one with just the guys.
As Visconti leads the last remaining audience members out of the studio, he says there is always at least one person who says to him, "Do you know you have the best job in the world?"
11:54 After taking his last photo, Cohen leaves through the talent entrance to say one last goodbye to Rinna and Davidson before cleaning off his makeup and heading out. He takes some of his guests to a bar for a nightcap afterward — the Cubbyhole, one of New York's last remaining lesbian bars, is one of his favorites — but he forgoes that tonight given that A) Rinna and Davidson are WWHL veterans, and B) as he often says, it's good for him to keep boundaries with the Housewives.
12:03 a.m. As the majority of the crew heads out, MacMahon and the digital team have their most important task ahead of them: choosing what part of the show to clip and send out to press and YouTube, in the hopes of coverage. Their most successful clip in recent memory? "When Melissa Etheridge wrote that song and performed it live" — about how Angelina Jolie's lawyer made a threatening call to her for saying that Jolie may have ruined her friendship with Brad Pitt — "that was something that was so spontaneous, like it happened before the show, she wrote it, and then she performed it live and we pushed it out and everyone loved it," MacMahon says. "I believe it was the most digital press we got from a clip across the board."
1:48 Tonight, the clip they end up choosing for YouTube is of the drag contest. Not only does drag have a big audience on YouTube, but Housewives fans will really get a kick out of Cox nailing her Rinna impersonation. For the rest of the highlight clips on BravoTV.com, they always feature the aftershow, so that those who did not watch it live can catch up. They also include Rinna blowing her drink out of the straw as a gesture to Glanville and flipping her off, as well as the "Bravo in the Balcony" game, and finally, Rinna talking about her daughter working with the Hadid sisters, which hits on multiple sweet spots: Anything involving Gigi and Bella is celebrity news site clickbait, and it adds to a continued Housewives plot point. Rinna is worried about her oldest daughter, Delilah Belle, walking in the fashion show for Gigi's Tommy Hilfiger collaboration after Rinna accused Hadid's mother, Yolanda Foster, of having Munchausen syndrome while she was still on the show last season.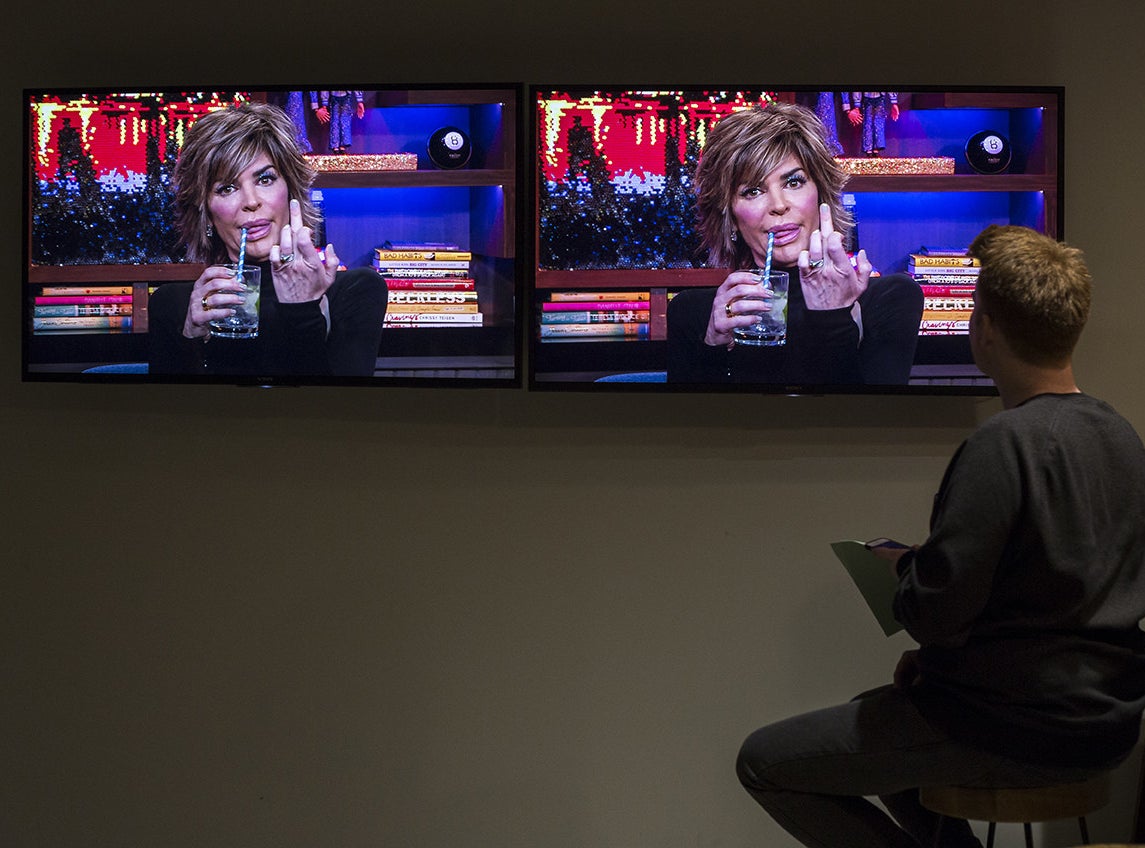 And that is still the type of drama the show lives for. While booking Streep, Cher, and Winfrey have been huge accomplishments, Watch What Happens Live is, at its heart, about its own. After all, with the don of the Housewives franchise as its host, those shows will always be a huge part of the WWHL DNA.

"I think one of the things that we're really pioneers in is the shift in not having a show that we fit a host into, but rather making a show that fits around the host," Connolly says of Cohen. "Lots of other shows popped up that did that, that built around a person, and that sort of shift — it's no longer shoehorning a host into a format, but rather making a format for the host — I think that for that reason, we've put ourselves on the map in late-night TV."
That's in part why they changed the name of the series to Watch What Happens Live With Andy Cohen when the series graduated from the cramped downstairs space to their current one. "I guess after this long time, they figured every other late-night show has the host's name," Cohen says. "The new studio was very energizing and we now have a terrace, we have more space, we can do performances, so I mean I feel like creatively the world is our oyster. … We're just doing new things every day."
Connolly says the revamp is "really indicative that it's here to stay." "It's a hugely important property to Bravo, and Andy is here to stay, hence the name change," she said. "It's part of him and always was, but it's sort of like officially official."
And while WWHL is Cohen, Cohen's become more than WWHL. He has his own Sirius radio channel called Radio Andy; he's a New York Times best-selling author and has his own imprint; and he's hosting a reboot of Love Connection, which premieres on Fox in May. "I've never been very deliberate about where I'm going next," he says. "I mean, I have a radio channel that I love. If this stopped, I'd probably be on the radio a lot more." But at the end of the day, he says, "This is really my main thing and I love it." ●