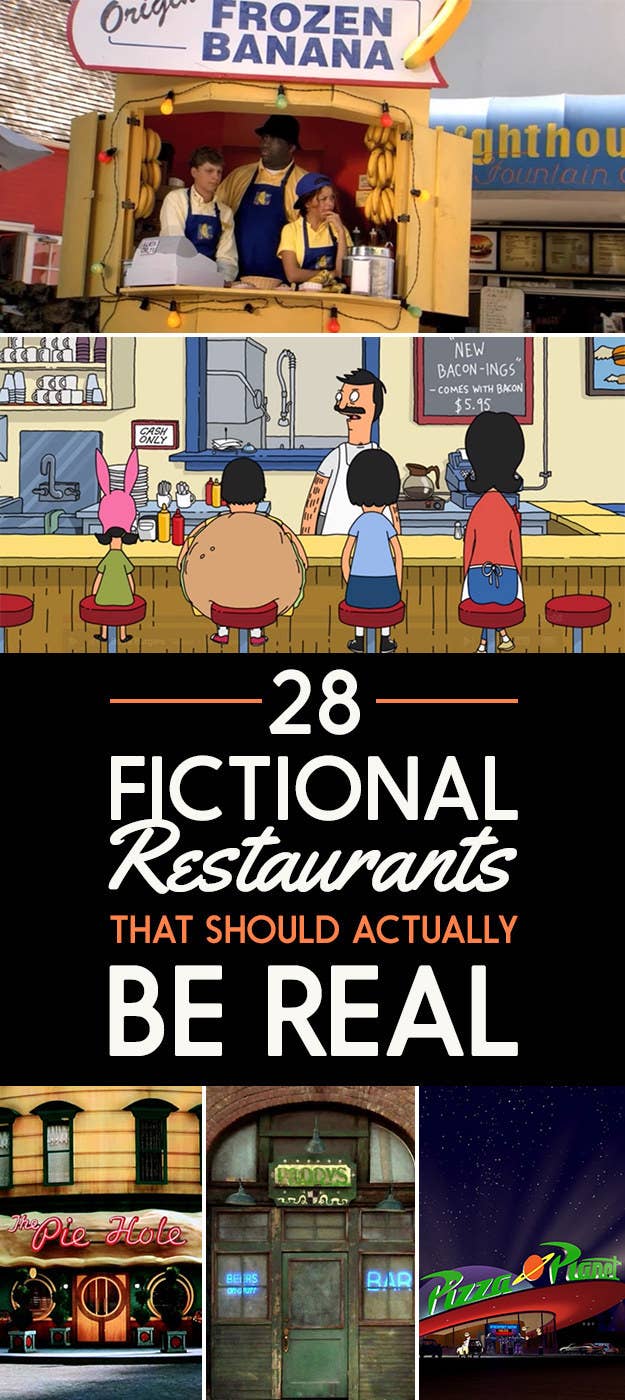 1.
Bluth's Original Frozen Banana Stand from Arrested Development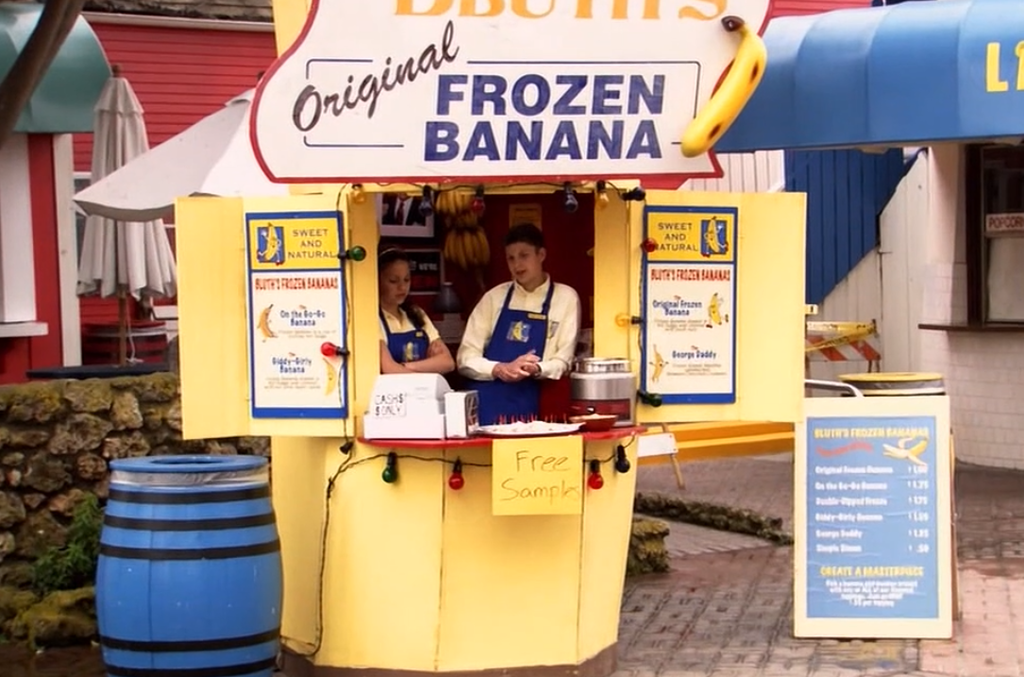 The Establishment: Started by George Bluth, Sr., the banana-shaped banana stand has been serving frozen bananas to the residents of Balboa Island since 1953. During the 1970s, the stand became known as "the big yellow joint" and you could buy pot there (along with some munchies). There's always money in it.
Why You'd Want To Go There: To purchase the "G.O.B." special (a frozen banana with double the chocolate, nuts, and two sticks) and apply for the Mr. Manager position.
2.
La Ratatouille from Ratatouille
The Establishment: A Parisian bistro funded by famed food critic Anton Ego, La Ratatouille is probably the only restaurant in the world where you can enjoy a meal prepared by a gourmet chef with four legs.
Why You'd Want To Go There: To see if the cuisine prepared by Remy the Rat lives up to the rave reviews.
3.
JJ's Diner from Parks and Recreation
The Establishment: A traditional American diner, JJ's has been serving the Pawnee community for ages. Their biggest fan? Leslie Knope. She's been known to drop over $1,000 on JJ's waffles over the course of a year and prominently featured the restaurant in her book, Pawnee: The Greatest Town in America.
Why You'd Want To Go There: To foolhardily attempt to beat Ron Swanson's egg-eating record (51 eggs, 10 of which were still in the shell).
4.
Paddy's Irish Pub from It's Always Sunny in Philadelphia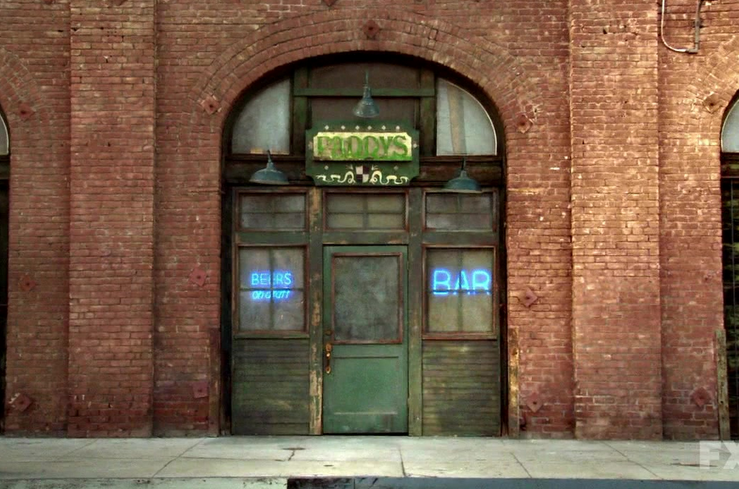 The Establishment: The bar of your nightmares, it's amazing that the gang running Paddy's haven't permanently destroyed the place. Be warned: if you forget anything in the bar, they own it after 24 hours.
Why You'd Want To Go There: Not to eat or drink anything (dear god it would not be safe to eat or drink anything), but to experience the "sexual magic" of Dennis and Charlie's band: Electric Dream Machine. After the show you could invite Charlie out for a milk steak and ask him for rat killing advice.
5.
The Frosty Palace from Grease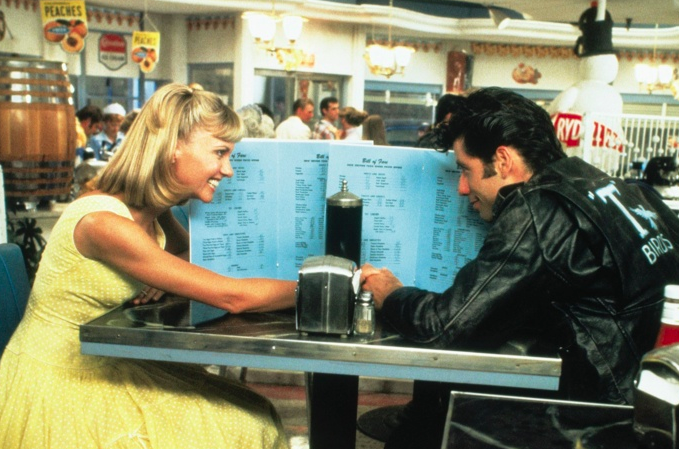 The Establishment: If a hickie from Kenickie is like a Hallmark card, then a milkshake from the Frosty Palace is like.... well... a really good milkshake. Pink Ladies, T Birds, beauty school drop-outs: everyone loves getting a Dogsled Delight at the Frosty Palace.
Why You'd Want To Go There: To listen to "La Bamba" on the juke box and eat a double Polar Burger before heading to the drive-in.
6.
Lulu's Pies from Waitress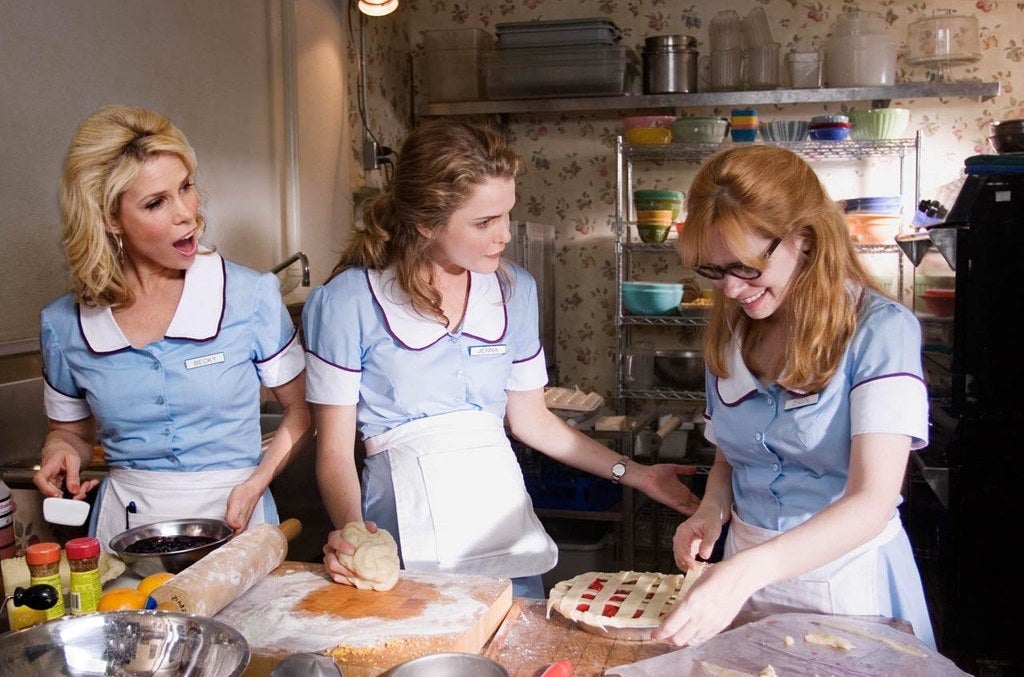 The Establishment: Originally known as Joe's Pie Diner, former waitress Jenna Hunterson purchases Joe's after being left almost a quarter of a million dollars in the will of one of her most loyal customers. She renames it Lulu's (after her daughter).
Why You'd Want To Go There: To taste one of Jenna's scrumptious pies: each one she makes has a special name and is inspired by whatever's going on in her life at the moment. For example, she once made "Earl Murders Me Because I'm Having An Affair Pie": smashed raspberries and blackberries baked into a chocolate crust. Dark, but delicious!
7.
The Soup Nazi's restaurant from Seinfeld
The Establishment: A small soup stand owned by a draconian chef who will deny you access to his food for the smallest mistake made when ordering. It's likely you'd leave the shop empty-handed with the phrase "NO SOUP FOR YOU!" ringing in your ears.
Why You'd Want To Go There: The soup is supposed to be *so good*... how could you not try to get some?
8.
The restaurant with penguin waiters from Mary Poppins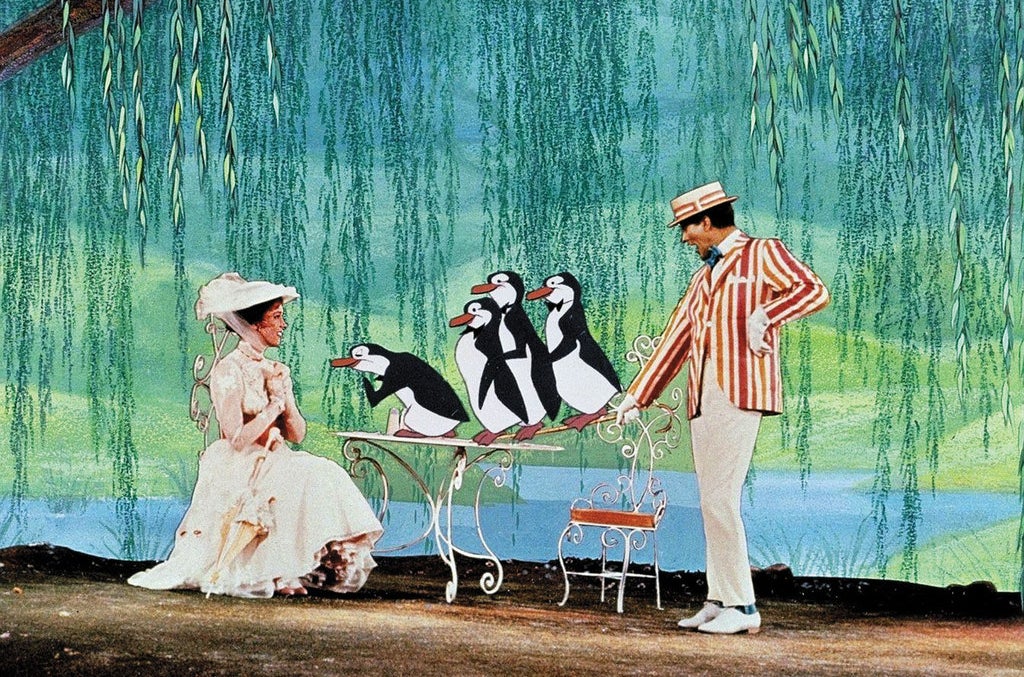 The Establishment: An al fresco restaurant owned by a troupe of bow tied penguins. It's located inside of a street painting, so good luck getting a reservation there without the help of the practically perfect Mary Poppins.
Why You'd Want To Go There: To have a "jolly holiday" while nibbling on some raspberry ice and enjoying the penguin's dance routine.
9.
Emerald City Bar (Joe's Bar) from Grey's Anatomy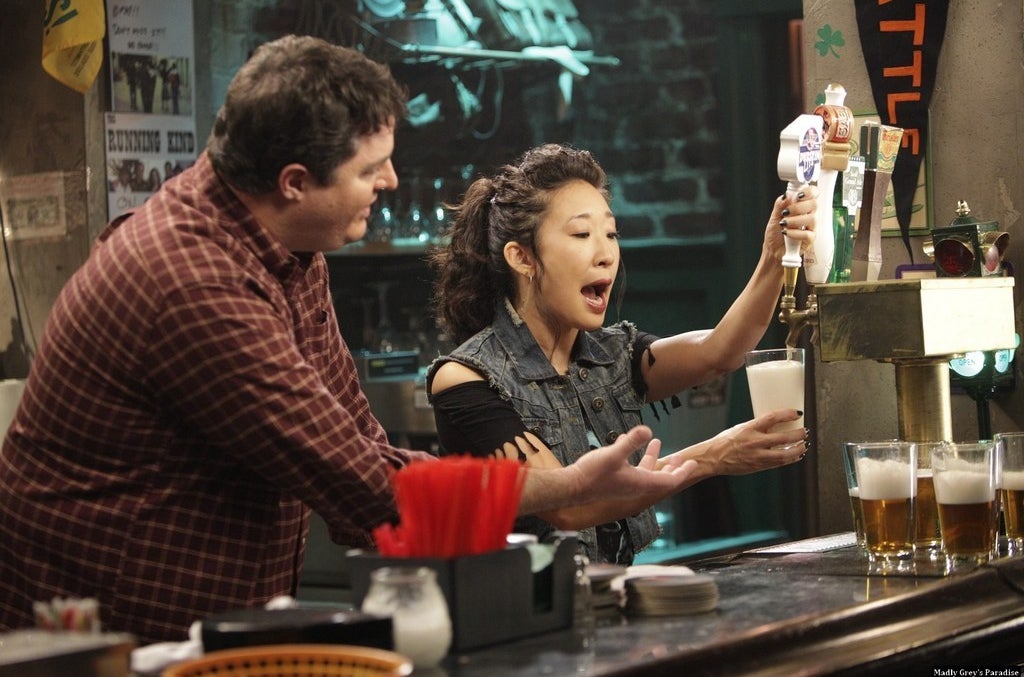 The Establishment: The go-to hangout spot for all the doctors of Grey Sloan Memorial Hospital (other than Meredith's house, that is).
Why You'd Want To Go There: To get tipsy with "your person" and/or find a hot McDreamy of a surgeon to hook up with.
10.
The Bronze from Buffy the Vampire Slayer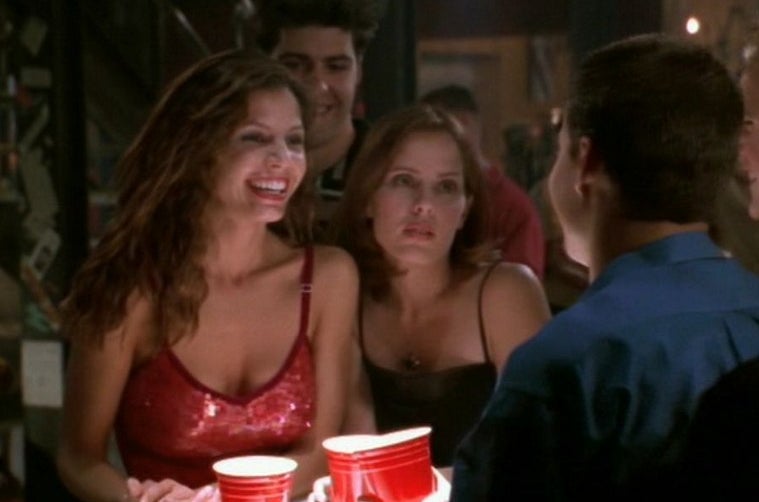 The Establishment: The Bronze may be in the bad part of town (by the shipping docks and railroad tracks), but it's still the only club worth going to in Sunnydale. There's coffee for people under 21, booze for people over 21, and music for everyone.
Why You'd Want To Go There: To try that "onion thing" Spike is so crazy about and see who's onstage (past performers include Michelle Branch, The Breeders, and Aimee Mann).
11.
Cake Baby from Bridesmaids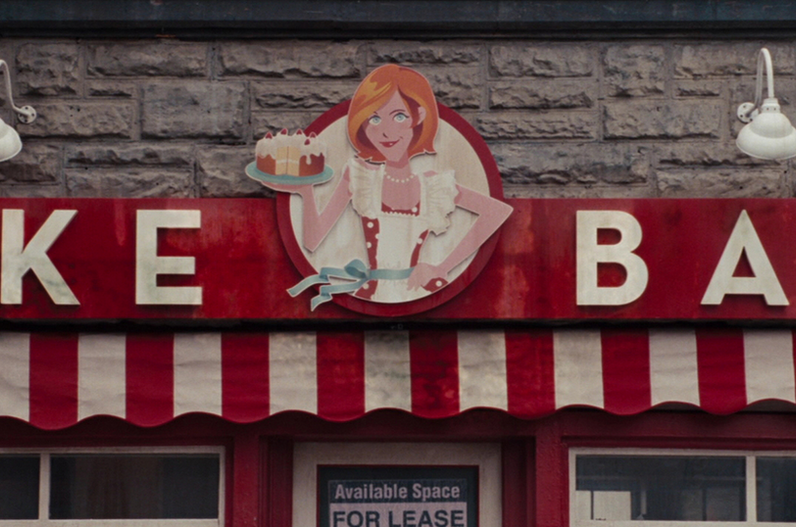 The Establishment: When Bridesmaids begins, Annie Walker is working as a sales clerk at a jewelry store due to the fact that her bakery went out of business. That's a shame—not only did Cake Baby look adorable, Annie appears to be an amazing baker (the raccoons who ate the cake she baked for Officer Nathan Rhodes sure thought so).
Why You'd Want To Go There: To buy a few of her elaborate flower cupcakes.
12.
Jack Rabbit Slims from Pulp Fiction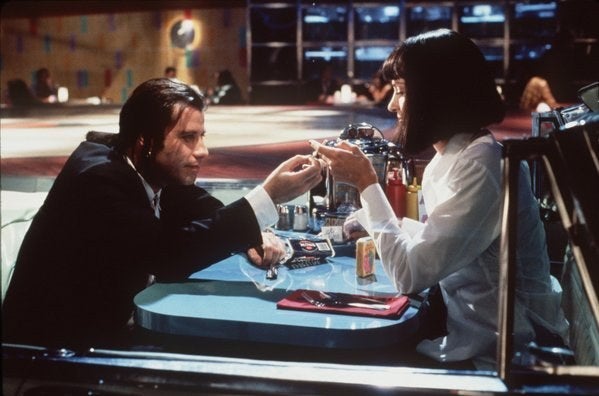 The Establishment: When Vincent arrives at Jack Rabbit Slims (a 1950s-themed diner) he refers to it as "a wax museum with a pulse," but his opinion seems to change: shortly after that comment he's having a great time out on the dance floor.
Why You'd Want To Go There: To order a bloody Douglas Sirk steak from a waiter dressed like Buddy Holly, sip on a milkshake that's worth every one of the $5 you spent on it, and enter the twist contest.
13.
Bob's Burgers from Bob's Burgers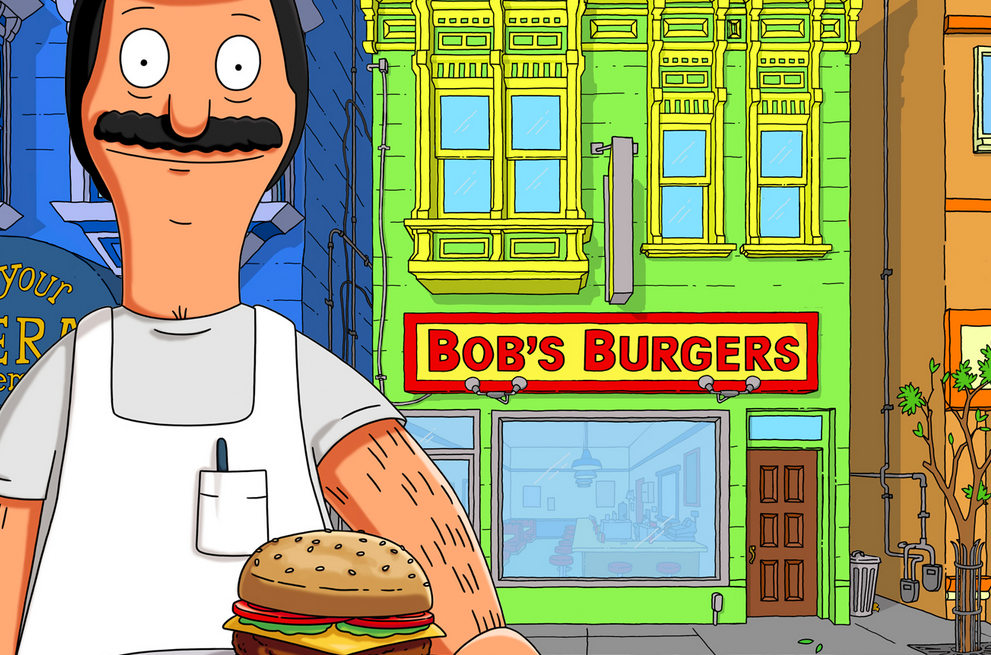 The Establishment: Bob Belcher grew up working at his father's restaurant (Big Bob's Diner) and eventually went on to open his own place, the aptly named Bob's Burgers. His wife (Linda) and children (Gene, Tina, and Louise) help him run the business in their own unique ways.
Why You'd Want To Go There: To try one of their signature burgers of the day (here's hoping for the "I've Created a Muenster Burger") and discuss butts with Tina.
14.
The Whistle Stop Cafe from Fried Green Tomatoes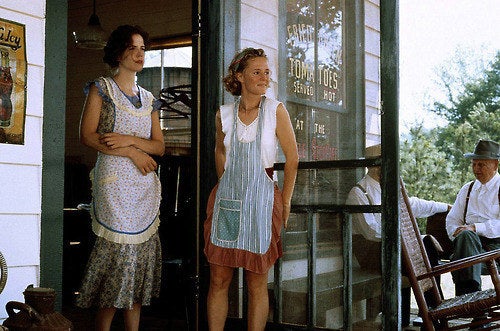 The Establishment: Most restaurants have one specialty, but the Whistle Stop Cafe (run by Idgie Threadgoode, Ruth, Sipsey, and Big George) manages to have two: their fried green tomatoes *and* their barbecue ("the secret's in the sauce").
Why You'd Want To Go There: To have a heaping plate of barbecue (just as long as it's made from animal flesh and not human).
15.
Central Perk from Friends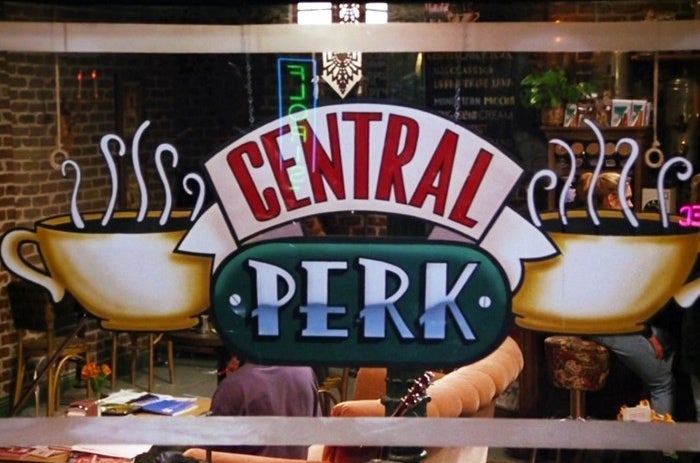 The Establishment: A coffee shop located somewhere in New York (probably in Greenwich Village), Central Perk has pastries, huge cups, a comfortable velvet couch, musical performances by Phoebe Buffay, and a very patient manager with peroxide-blonde hair.
Why You'd Want To Go There: Monica, Ross, Rachel, Chandler, Phoebe, and Joey seem to spend 85% of their time there... so the coffee must be pretty damn amazing.
16.
Tiana's Palace from The Princess and the Frog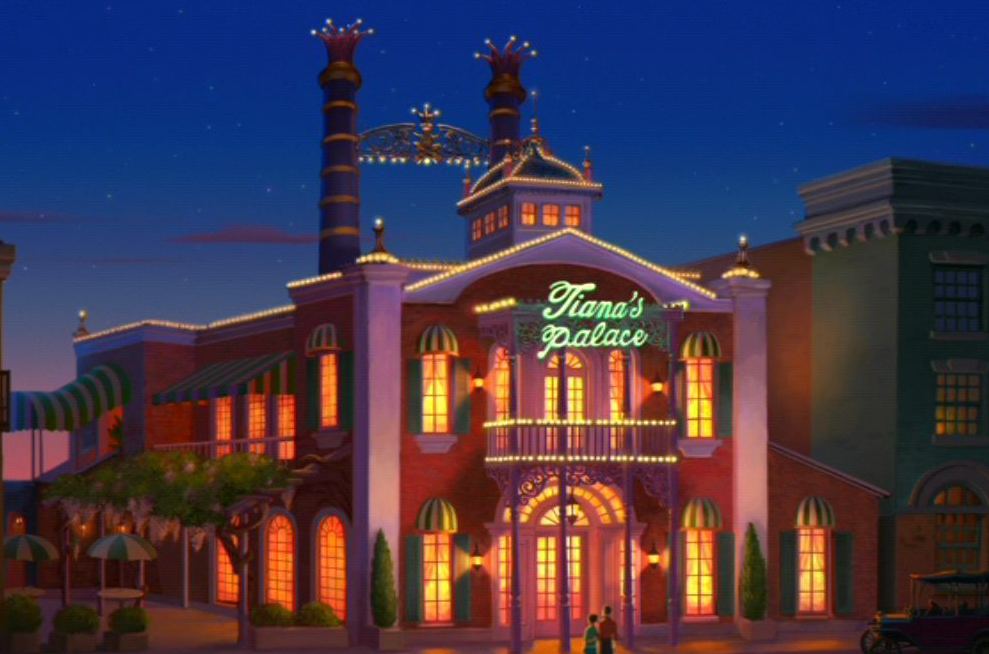 The Establishment: Located in an old sugar mill, Tiana's Palace is the realization of a dream Tiana's father had when she was a child: he longed to open a restaurant and sell gumbo with his daughter. While he never made enough money to open the restaurant himself, eventually Tiana was able to purchase the property and make his dream a reality.
Why You'd Want To Go There: To listen to the Firefly Five play while eating a couple (or twenty) beignets.
17.
La Chocolaterie Maya from Chocolat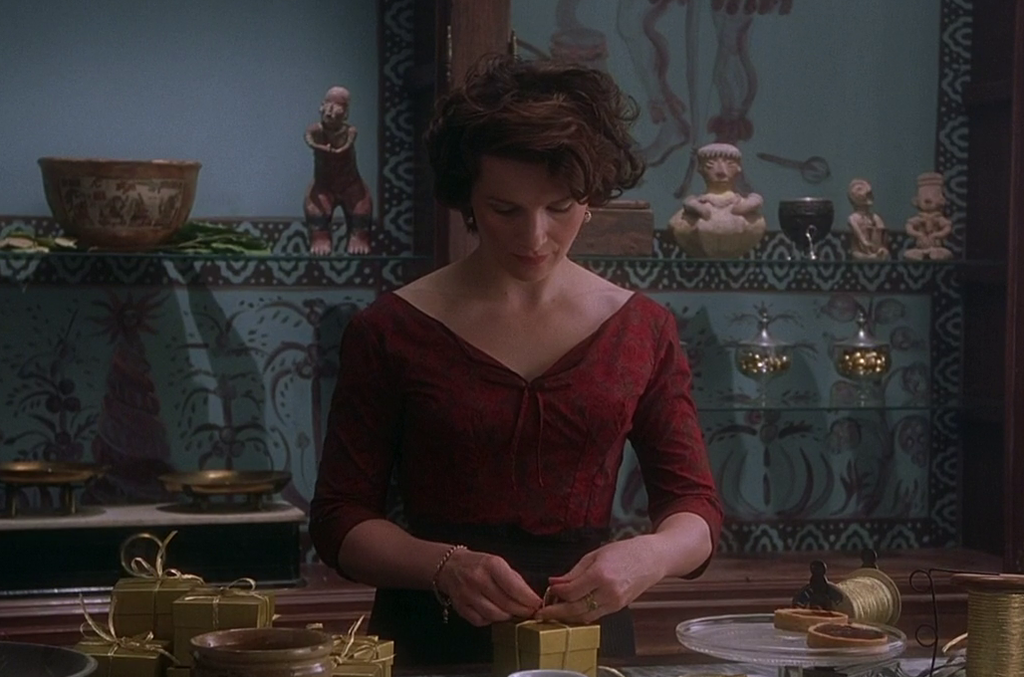 The Establishment: The residents are skeptical when Vianne Rocher arrives in a small French town and opens a chocolate shop, yet she soon manages to win everyone (well, almost everyone) over with her winning personality, her adorable daughter, and her amaaaaaaaaaazing chocolates.
Why You'd Want To Go There: Chocolate seashells. Hot chocolate (with chili pepper). Truffles.
18.
The Double R Diner from Twin Peaks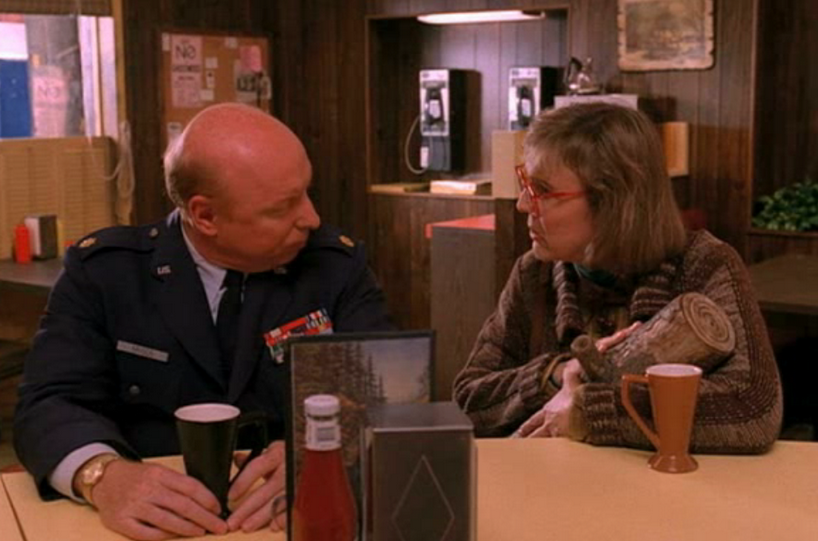 The Establishment: Twin Peaks is a pretty eerie place to visit, but no matter how bizarre things get—as Dale Cooper says—"that cherry pie is worth a stop".
Why You'd Want To Go There: To get a damn fine cup of coffee and have a conversation with a log.
19.
Cafe Nervosa from Frasier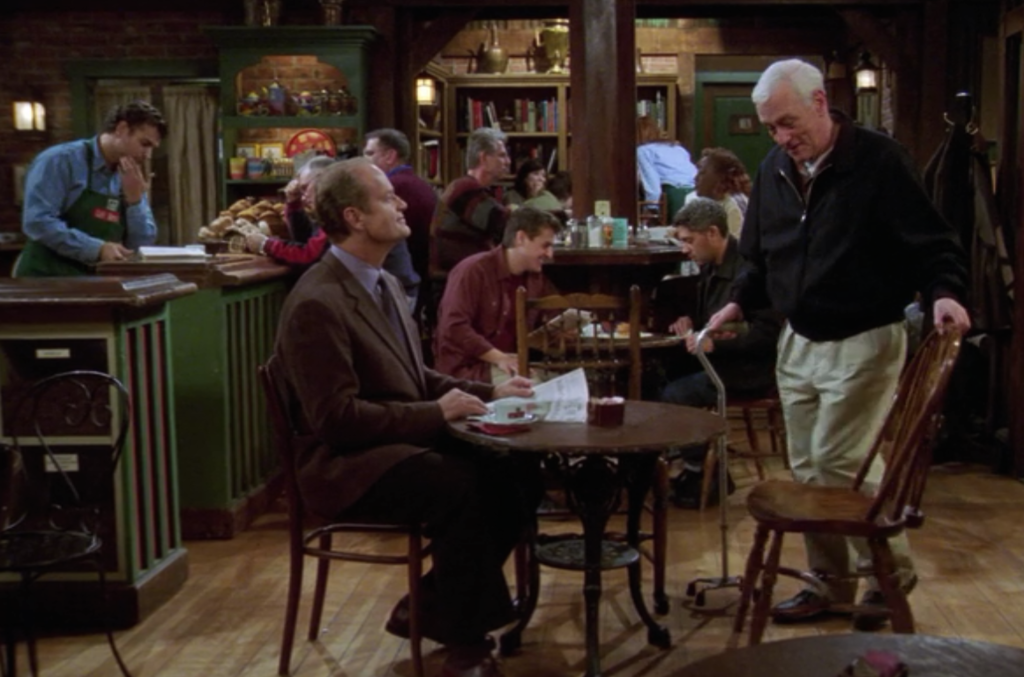 The Establishment: A coffee shop that snobs (Niles and Frasier) and non-snobs (Roz and Martin) alike can enjoy.
Why You'd Want To Go There: To help Niles correct the graffiti on the bathroom walls with a red pen and maybe get an autograph from Frasier (he'd be so pleased).
20.
Soul Food Cafe from The Blues Brothers
The Establishment: Sure, this greasy spoon diner has the best fried chicken in the state, but it also has musical employees (and patrons).
Why You'd Want To Go There: Aretha. Franklin.
21.
Pizza Planet from Toy Story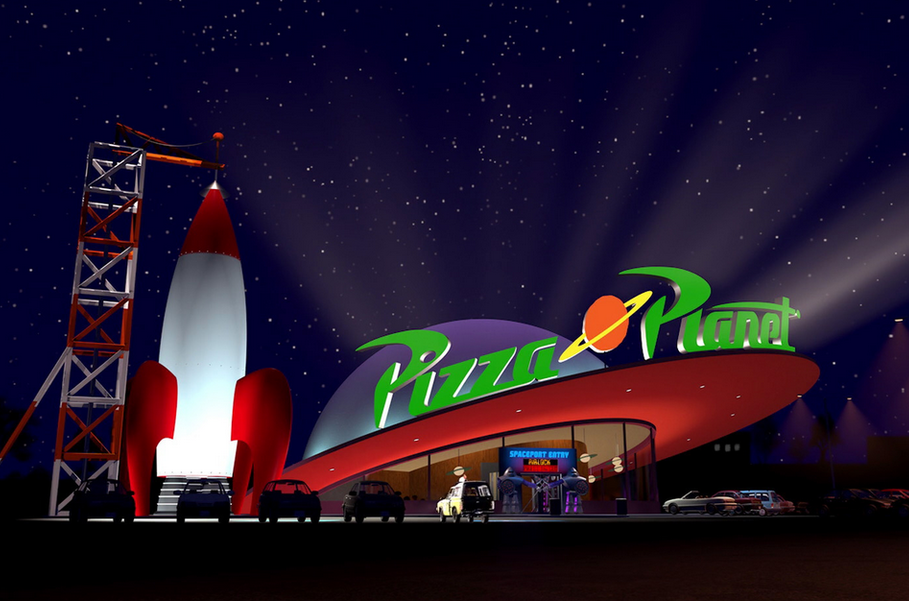 The Establishment: Every child's dream restaurant, the space-themed Pizza Planet has a variety of deliciously unhealthy food choices, "alien slime" beverages, and rows and rows of arcade games.
Why You'd Want To Go There: To try your luck at "the claw" in an attempt to win a few alien toys.
22.
Luke's Diner from Gilmore Girls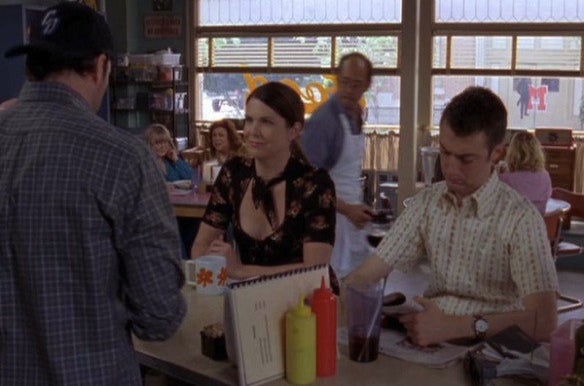 The Establishment: Luke Danes (the owner of Luke's Diner) claims to find feeding people somewhat disgusting, but that hasn't stopped him from filling the stomachs of the residents of Stars Hollow for years and years. Don't be confused by the hardware store sign—Luke never removed it after changing the store into a diner.
Why You'd Want To Go There: While eating a meal prepared by Sookie St. James at the Dragonfly Inn would undoubtedly be delicious, for the ultimate Gilmore Girls eating experience you'd have to get some fries and a few cups of coffee at Luke's. Just remember: no cell phones allowed.
23.
Chubbie's Famous from Boy Meets World
The Establishment: Frequented by the students and faculty of John Adams High, Chubbie's Famous is an inexpensive burger restaurant where you have to order in code (Chubbie is very particular).
Why You'd Want To Go There: To be like Cory Matthews and start a collection of the little hats that come with the Clown Burger.
24.
Jane's bakery from It's Complicated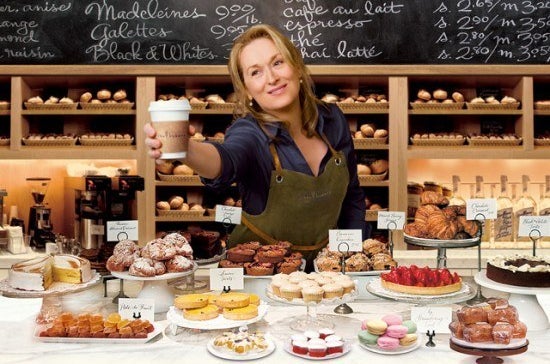 The Establishment: A bakery in Santa Barbara, California that's so beautiful you'll want to move in. Immediately.
Why You'd Want To Go There: No matter how gorgeous a restaurant is, if the food isn't good, who cares? Thankfully Jane Adler's baked goods look as great as her shop does.
25.
Freddy's BBQ Joint from House of Cards
The Establishment: Frank Underwood is such a good customer that Freddy will open his restaurant for him at almost any hour of the day (or it could just be that Freddy's afraid of suffering Frank's wrath if he doesn't).
Why You'd Want To Go There: To get ribs. So many ribs.
26.
MacLaren's Pub from How I Met Your Mother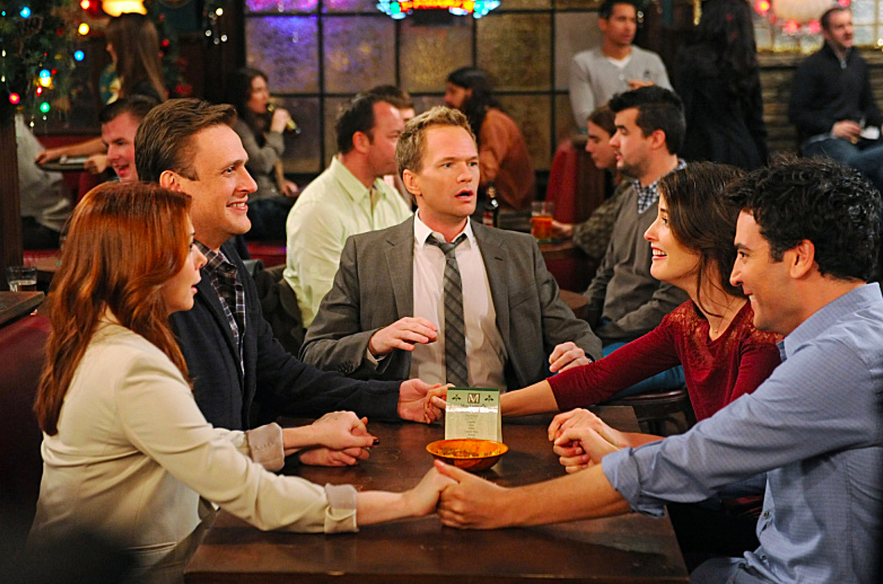 The Establishment: The characters on How I Met Your Mother began hanging out at MacLaren's Pub because they lived above it, but eventually they grow to legitimately love the bar; hanging out there together even when it's no longer as convenient.
Why You Want To Go There: To eat several of the 11 deep-fried appetizers on the menu while acting as wingman for one of your friends: "So, have you met _____?"
27.
Mendl's Bakery from The Grand Budapest Hotel
The Establishment: A patisserie located in Zubrowka (also the home of the elegant Grand Budapest Hotel), Mendl's is famous for their Courtesan au Chocolat (and their beautifully designed pink boxes).
Why You'd Want To Go There: Have you ever seen a pastry so beautiful? It's obvious why you'd want to go there.
28.
The Pie Hole from Pushing Daisies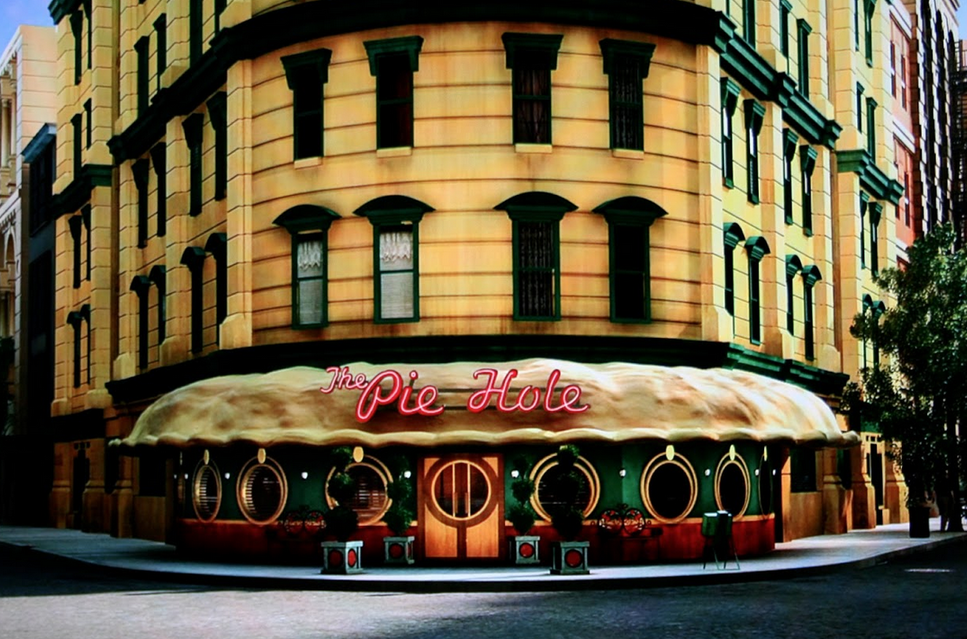 The Establishment: There are many interesting things about The Pie Hole. For one, it looks like a giant pie. It also happens to be run by a man (Ned, "the pie maker") who can bring dead things back to life. This is relevant to his business because it saves him a *lot* of money on fruit: he can instantly make rotten produce fresh again.
Why You'd Want To Go There: To eat some pie and maybe have Ned, Emerson, and Chuck solve a crime for you.