HELLO there! Us folks at BuzzFeed are always trying to get to the bottom of serious issues. Today, whilst discussing things like the current political climate, how we can solve the issues facing health care in America, and the science of gravity and black holes, a debate arose when I said to my colleague, "IMHO." She asked me what I'd said and I repeated: IMHO, aka "in my honest opinion."
At this point I was attacked from coworkers to my right and left claiming that it doesn't stand for "in my honest opinion," but actually "in my HUMBLE opinion."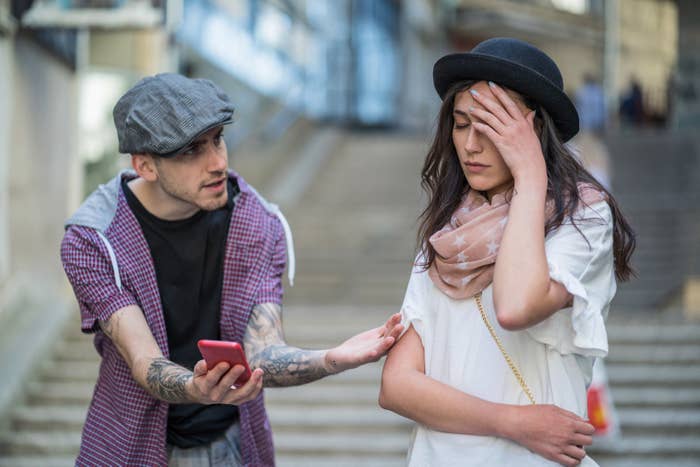 None of us could agree, so I took it to Slack, where I asked a small sample size what they thought was the truth. At first I got a few "humblers"...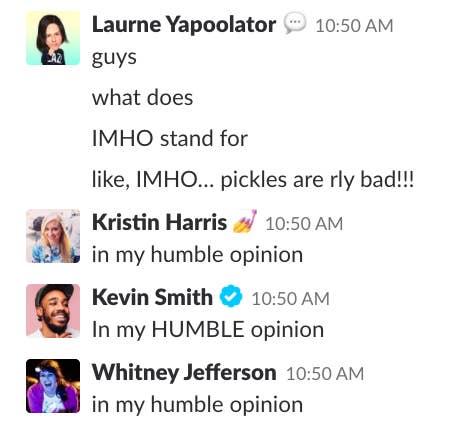 But then the honesties started to come through!!!!

Some of my very smart friends knew the truth!

But we had started a fight.
So, we decided to ask a larger sample size. A Slack group for our floor, with 158 people to argue over what they thought. THE RESULTS WERE COMIN' IN HARD AND FAST.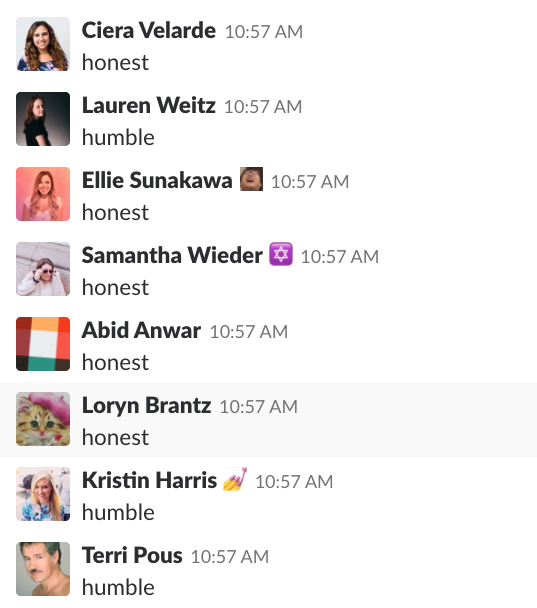 Things were...gettin' heated!!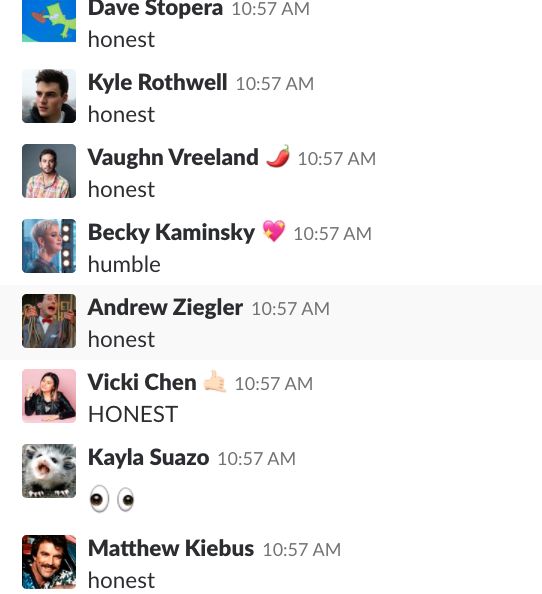 So, why keep it to only 158 people? WE DECIDED TO TAKE IT TO A SLACK GROUP THAT INCLUDES A VERY LARGE PORTION OF OUR NYC OFFICE. 743 people.

And it was then we realized — we were an office divided.

Shit had, as they say, hit the fan.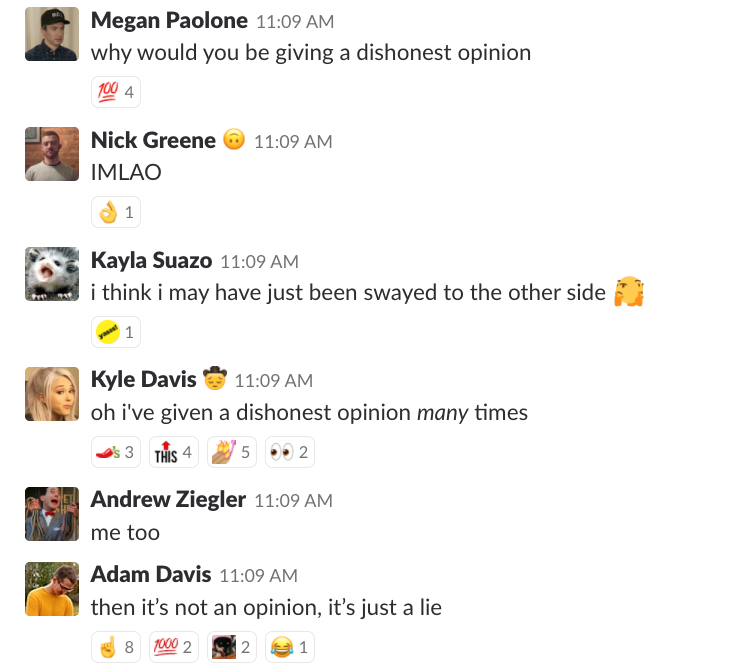 The BuzzFeed employees were ShOoKeth!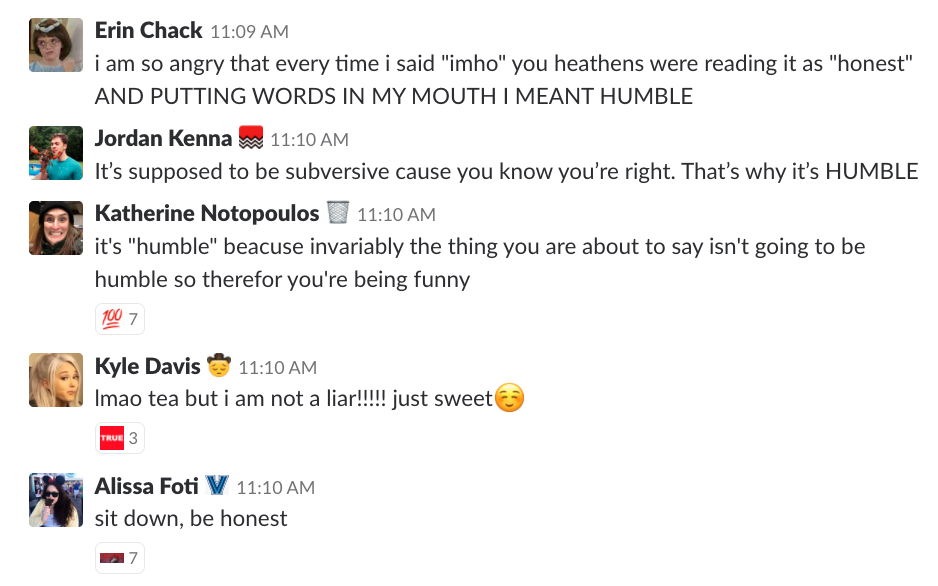 And after a few extremely chaotic minutes of polling, the results were in. "In My Honest Opinion" was the clear winner.

But, people were not satisfied, and even though it has been, like, 10 minutes since the question was posted, it is still being argued about!!! So, now I turn to thee, good people of the interweb, to use your voice and speak the truth on this matter!!!!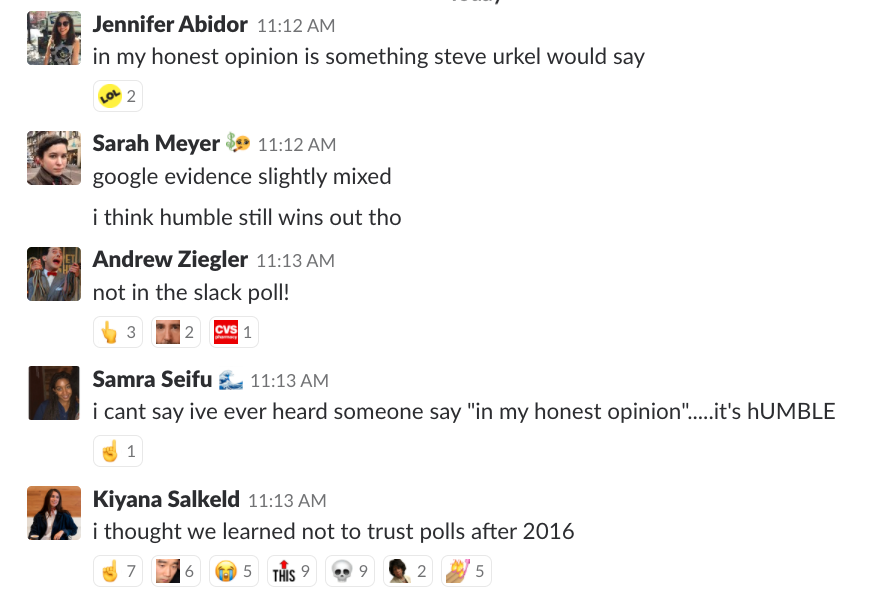 Thank you for your service, I look forward to seeing your thoughts.