18 Tweets About THE Relationship In "The Wilds" (You Know The One) To Satisfy Our Desperation To Talk About It
MAJOR SPOILERS, OBVIOUSLY. DO NOT READ IF YOU HAVEN'T SEEN BEYOND EPISODE 7.
I'm giving you one chance to leave this post now because there are major spoilers for The Wilds beyond this warning. So unless you want to be spoiled, STOP NOW or don't get mad at me in the comments.
Okay, finally! Now we can speak openly about SHELBY AND TONI. My new favorite TV couple.
Obviously, I'm very invested in them now. And I'm not the only one. Someone else made this, not me, but clearly it's perfect and necessary.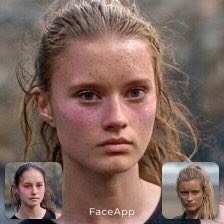 Anyway, here are a bunch of tweets about Shoni? Telby? Shelboni? — we'll work on a name for them — that are required viewing for anyone just as consumed with their storyline as I am:
1.
2.
3.
4.
5.
6.
7.
8.
9.
10.
11.
12.
13.
14.
15.
16.
17.
18.
In conclusion:
Please give us a Season 2 and make it only about Shelby and Toni (okay fine AND Dot and Fatin). THANK YOU.