Hi we're Lauren and Jack. We are literal idiots from New York City who don't know a goddamn thing about NASCAR. But when we got an opportunity to see the the Daytona 500, aka The Great American Race, we decided to go and see what all the fuss was about.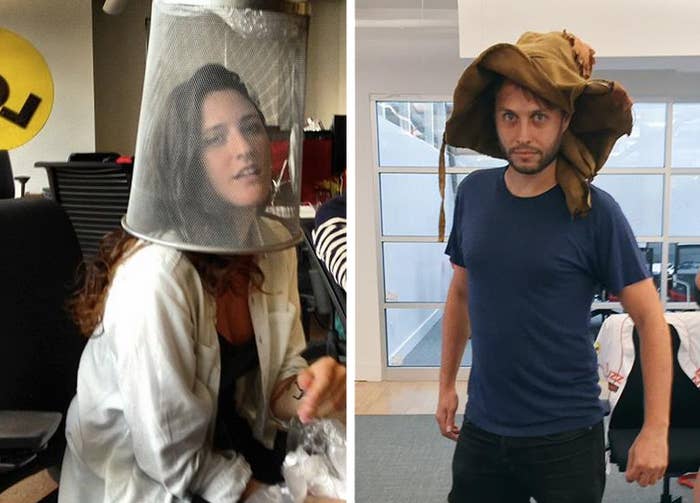 Because for every person who says this joke (which is a lot of people for how dumb of a joke it is!):

There is someone else who feels this way: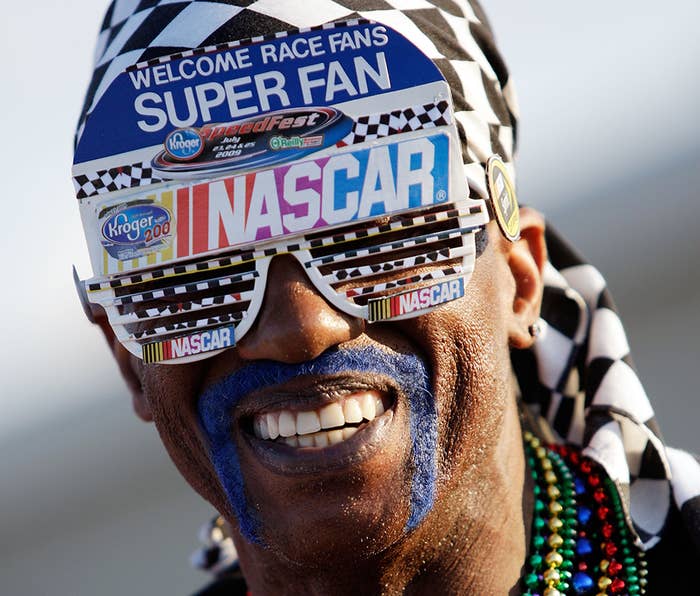 Anyway, spoiler alert: After 24 hours of nonstop car stuff, we went from being skeptical and confused to loving NASCAR like Kyle Busch loves being a sore loser (that's a NASCAR joke!) This was our journey: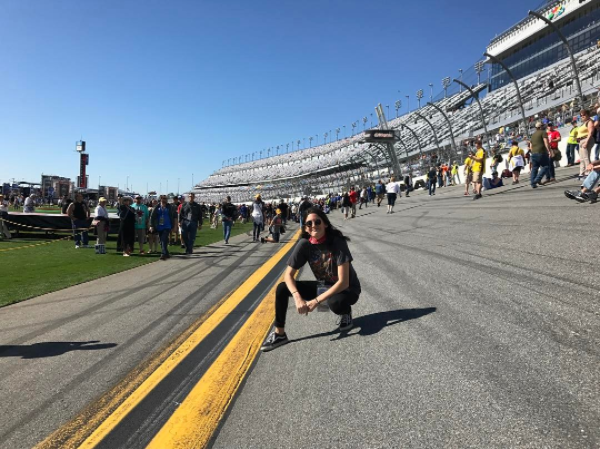 First we learned a whole bunch of shit. We rode around the track at 120mph in a pace car. It was scary and exhilarating and the start of our love affair with car racing. It turns out that the need for speed is real.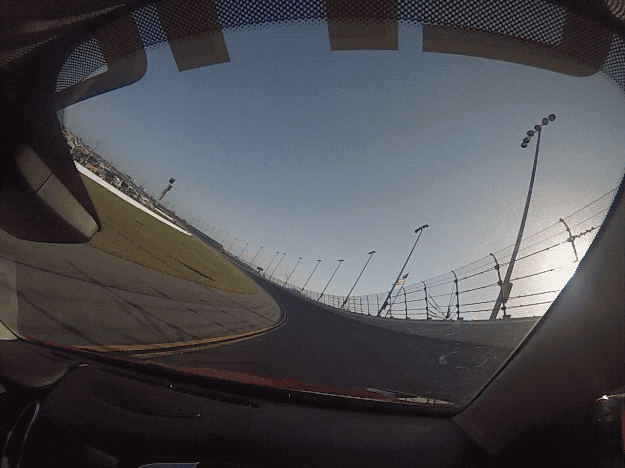 We also got to take a tour of well, literally everything, and it turns out THERE IS SO MUCH TO KNOW ABOUT CAR RACING.
We learned that each one of these Haulers carries 1-2 million dollars worth of equipment.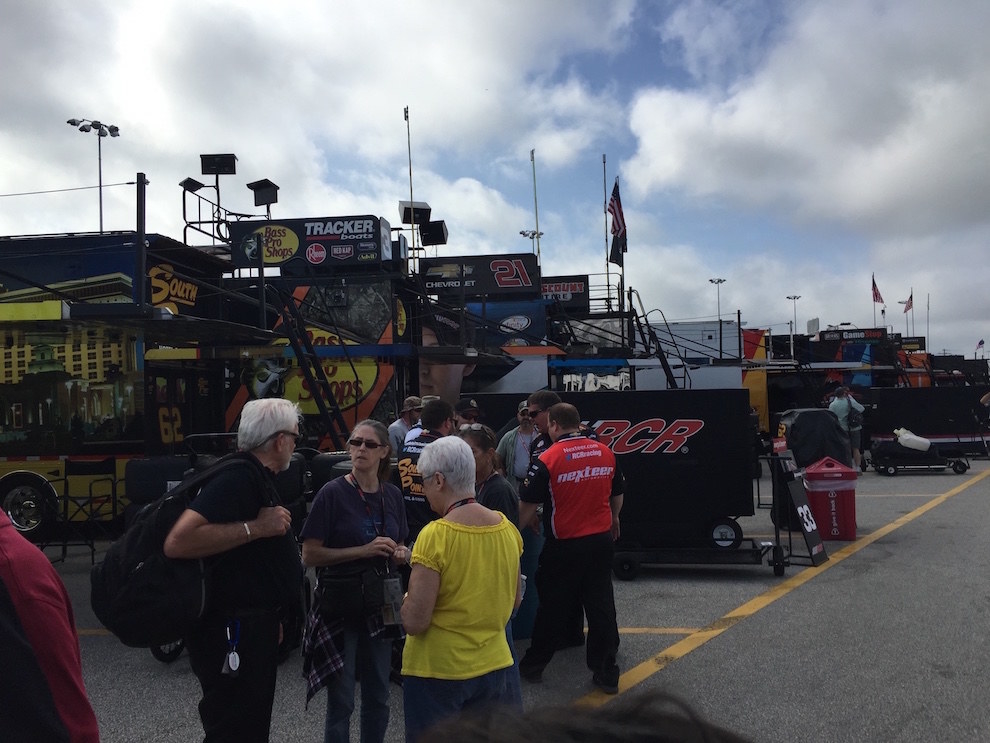 Inside the hauler everything is organized and labeled meticulously.
Everything is just so. It's a neat-freaks dream come true.
There's also an office inside where all the ~speed secrets~ are kept. We've very carefully colored over anything that might reveal any speed secrets. Also, saying speed secrets is fun.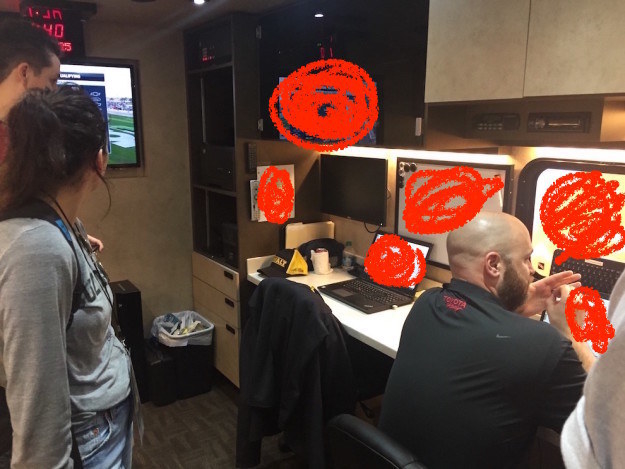 Later on we got to meet some of the drivers. This guy, named Aric Almirola ended up coming in fourth place in the race and he designs his own firesuits. Not too shabby.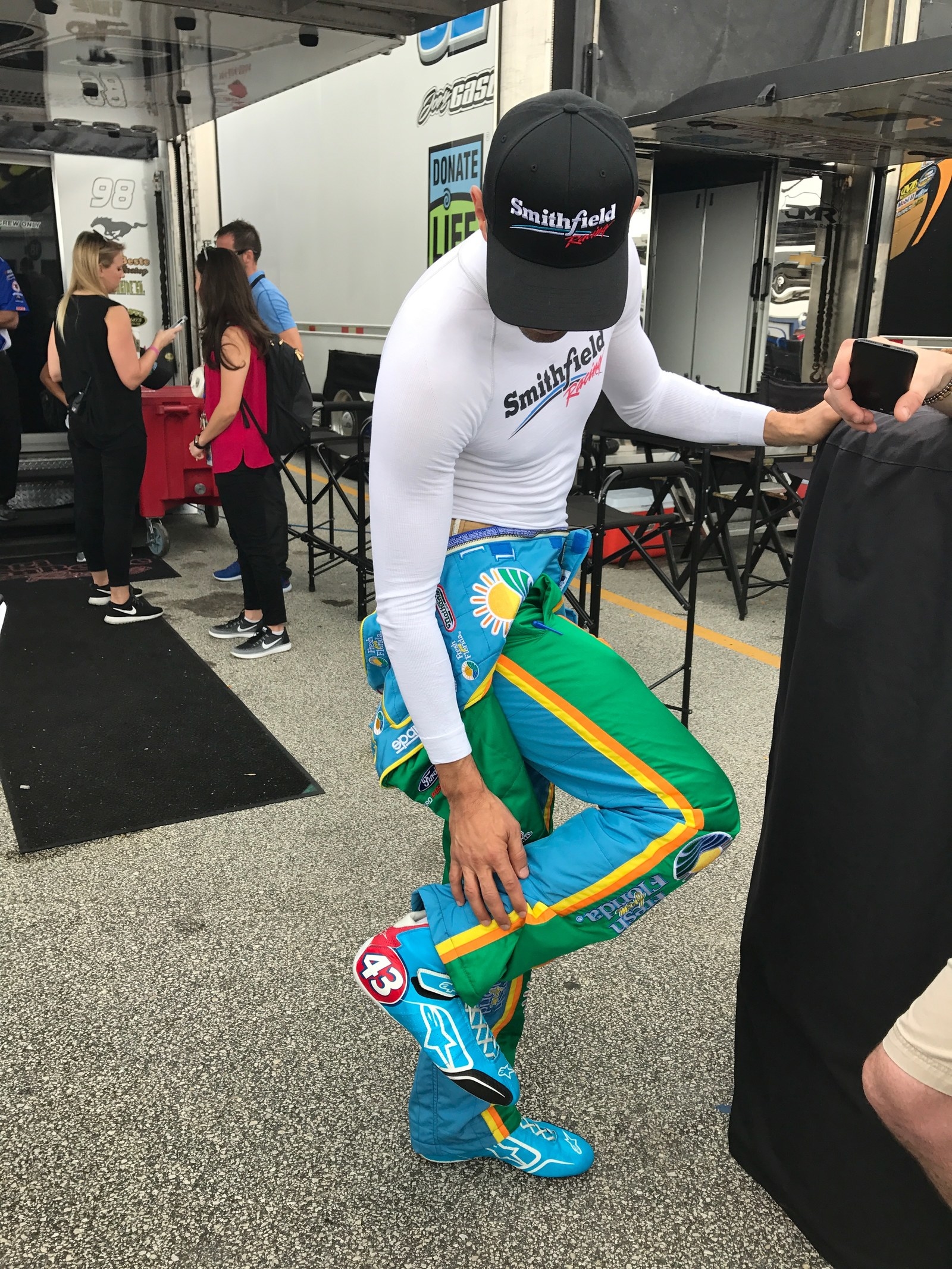 Hot tip: Don't refer to the firesuit as a "jumpsuit." We made that mistake with NASCAR Xfinity Series driver Bubba Wallace and he said "I've never heard it called that before" and made us feel pretty dumb even though he was very nice about it.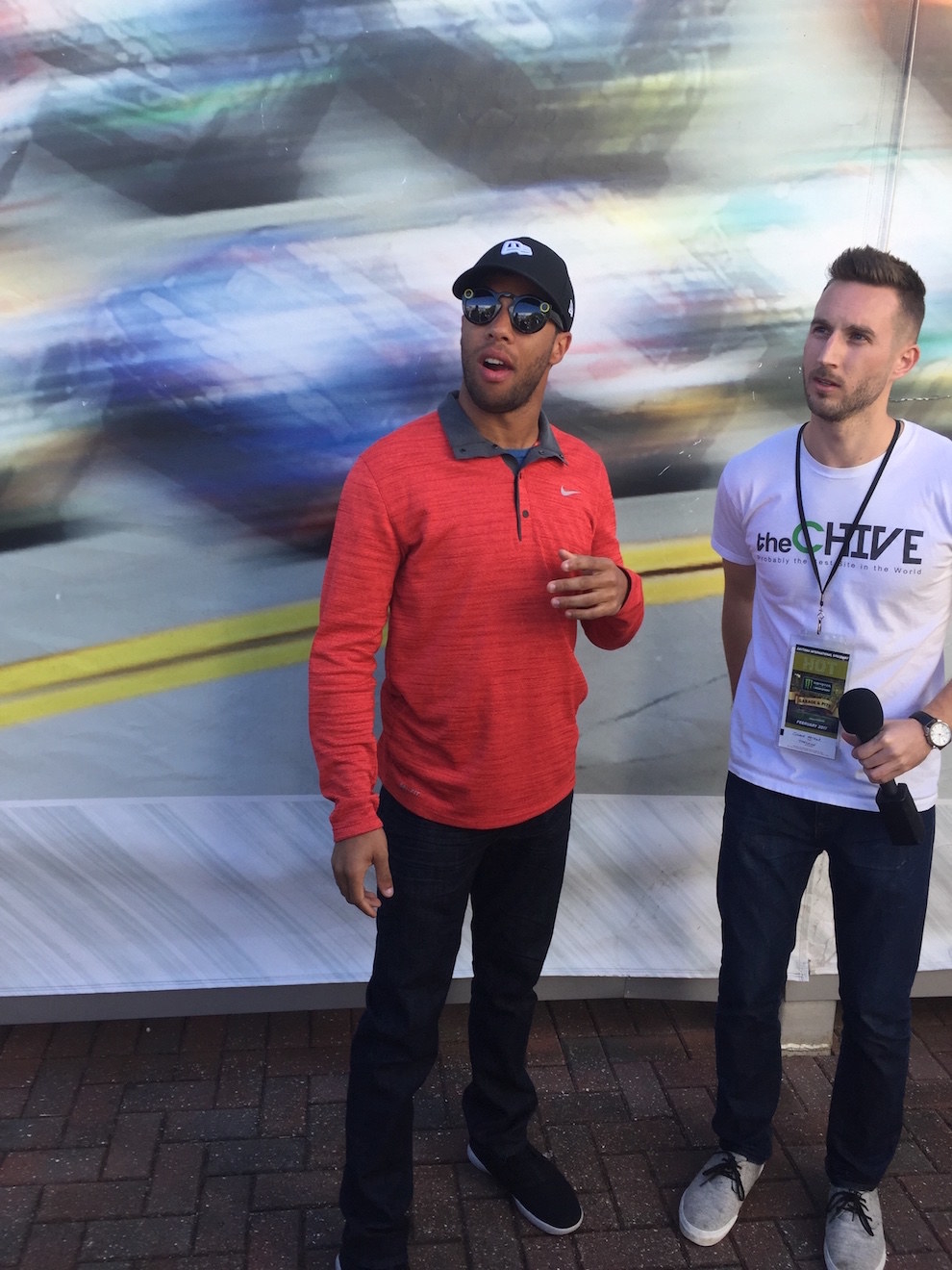 This driver, Brennan Poole, told us about his strategy for name-dropping his sponsors during interviews. It's something NASCAR people take very seriously.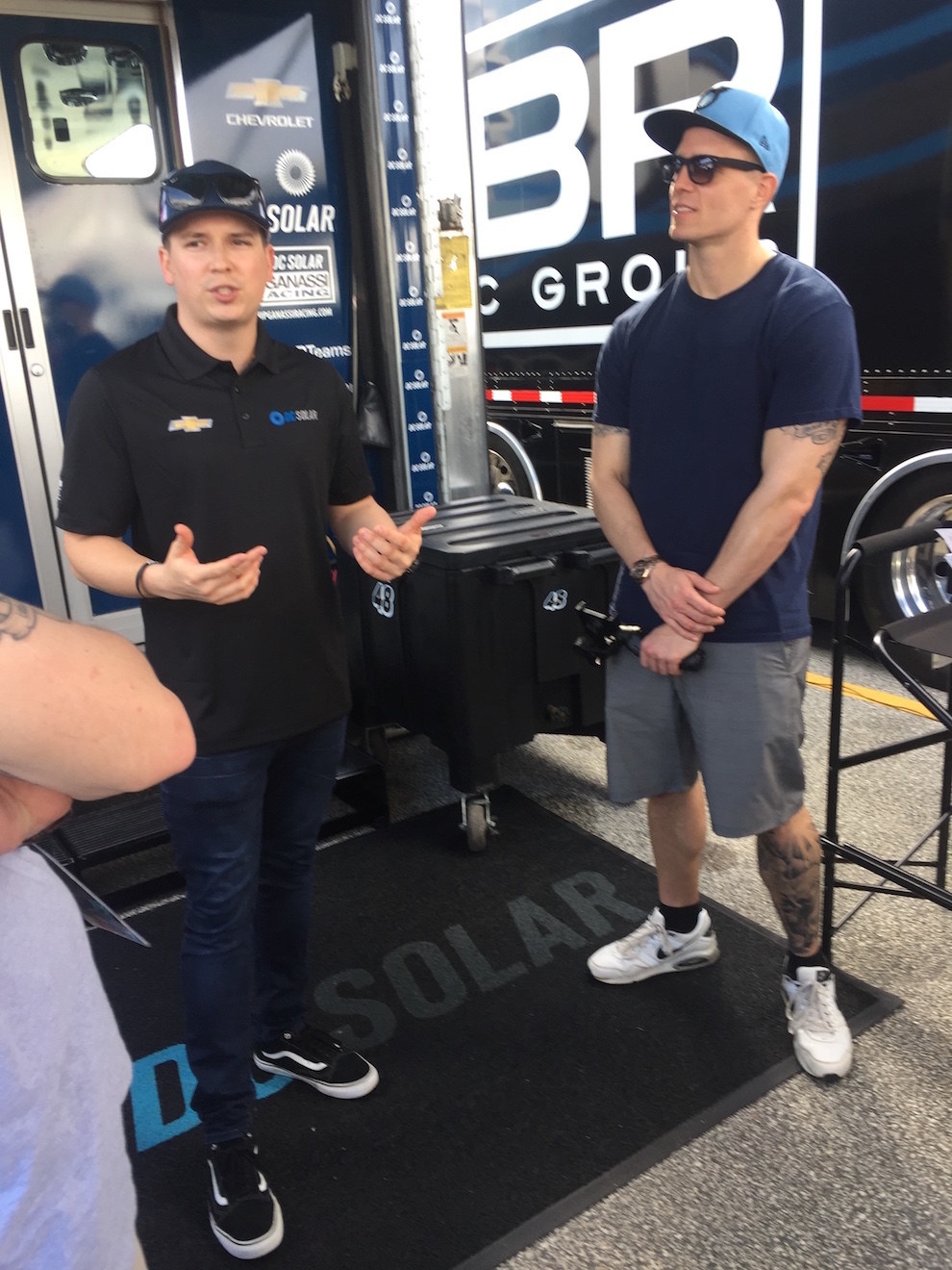 But it's not just the fact that there is so much shit that goes into race car driving. Raceday itself is just fun as fuck. Before the day even starts the infield of the speedway gets packed with RVs and cars who camp out and basically party nonstop. They have tiki bars.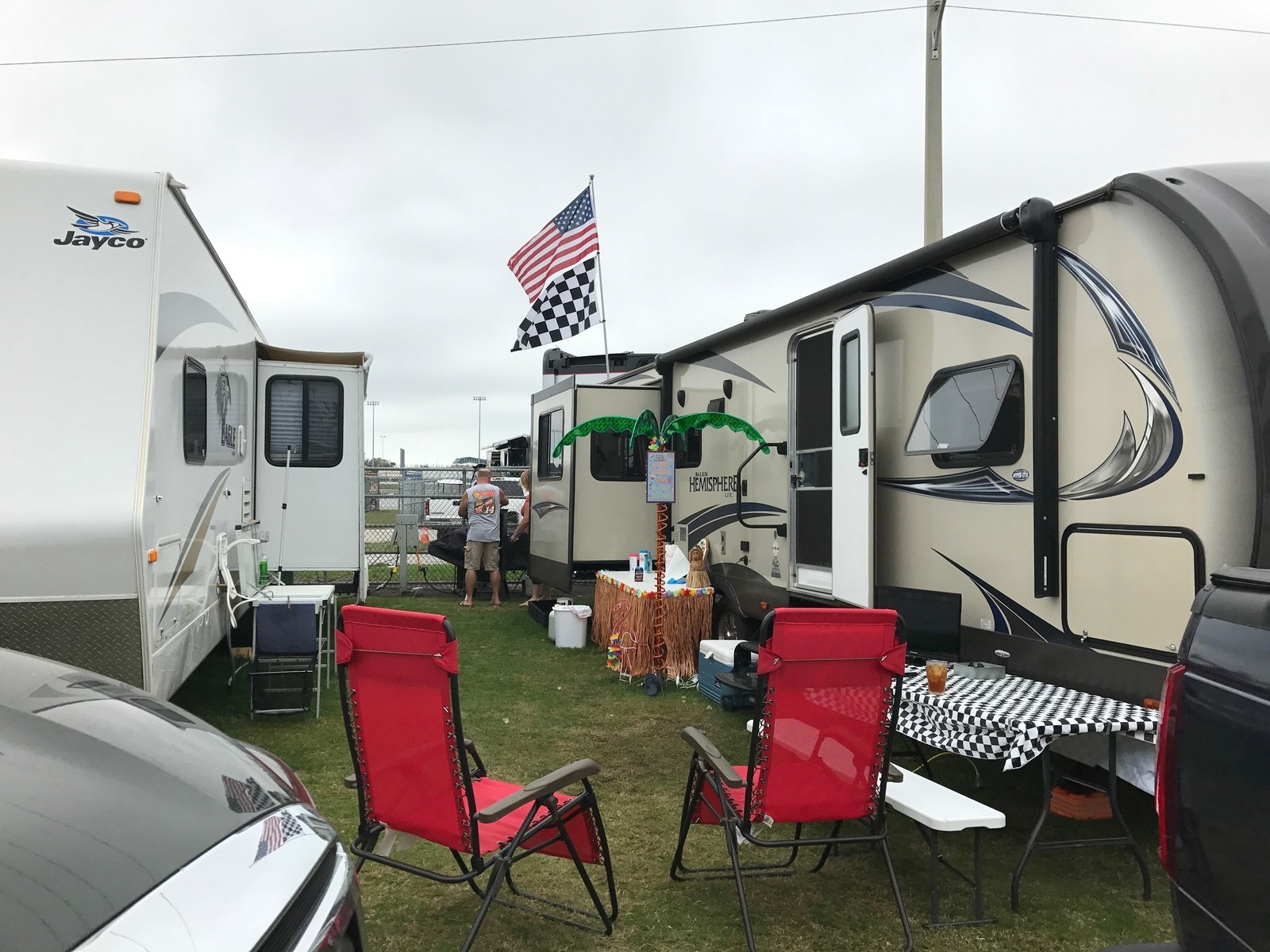 Firepits and deer heads…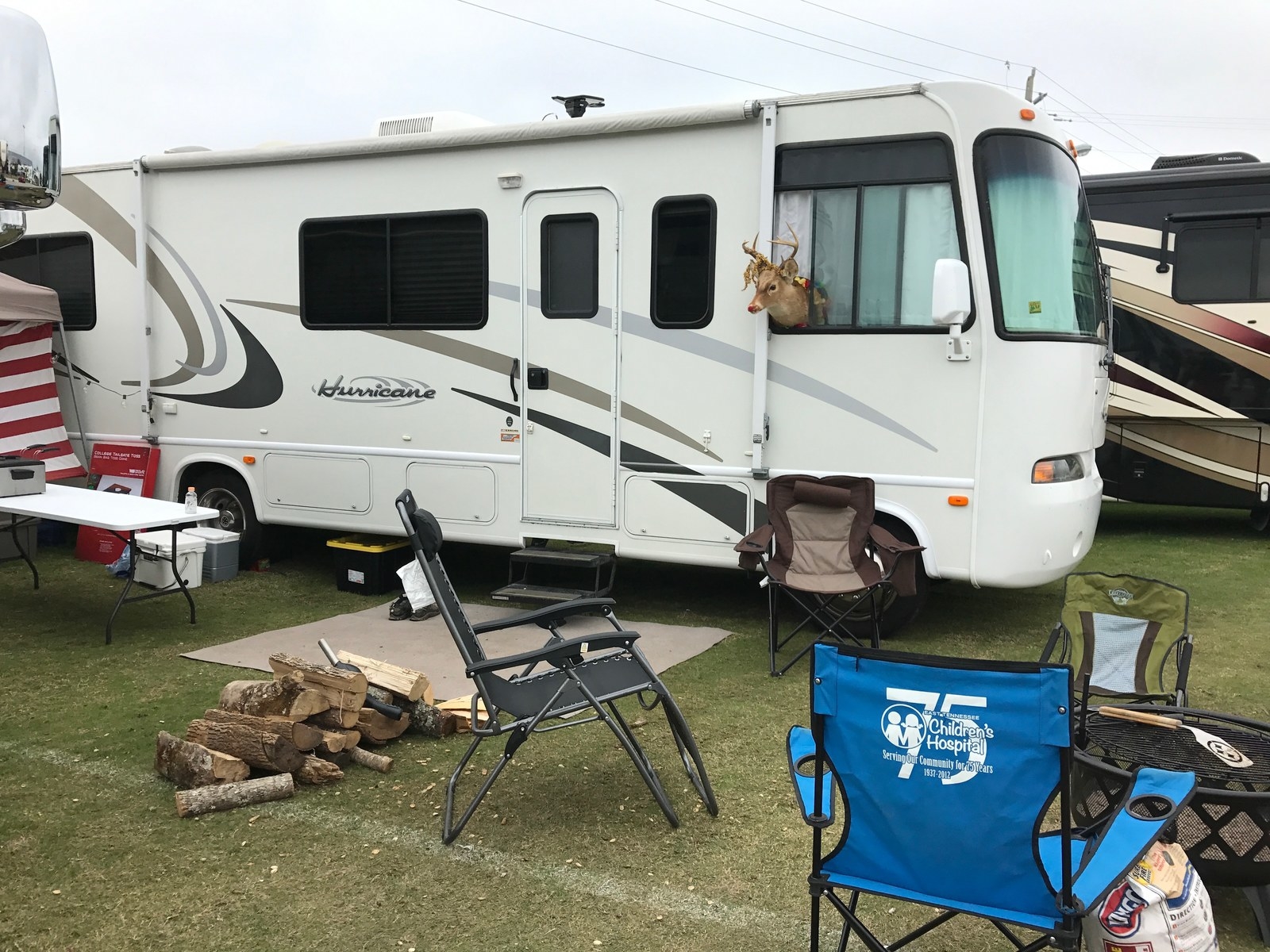 And THESE PEOPLE HAD AN INFLATABLE POOL. It was hawt.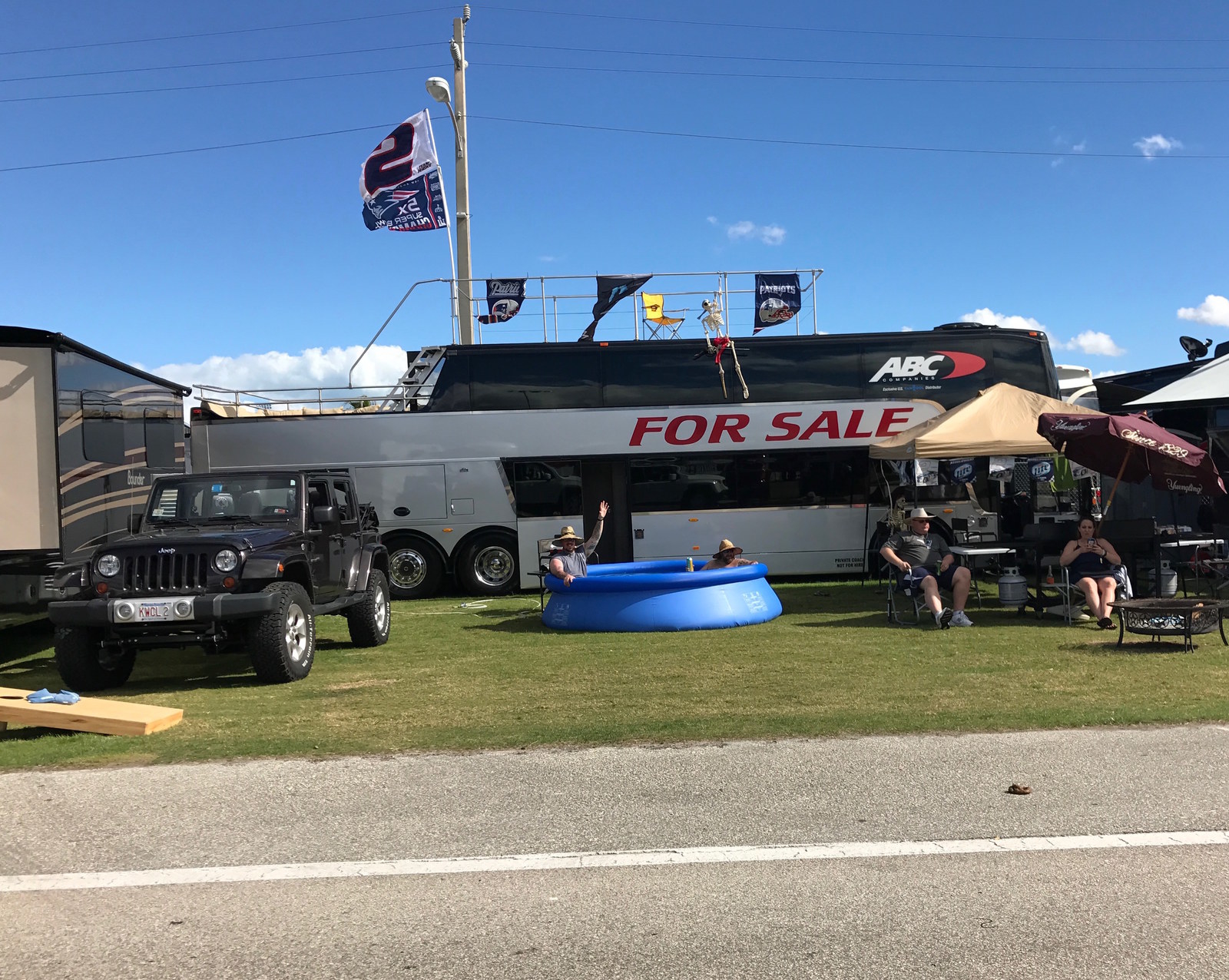 There was even a pop-up coffee shop. It's like a tiny town inside a stadium. TBH it seemed pretty comfortable and like a nice place to live and raise a family.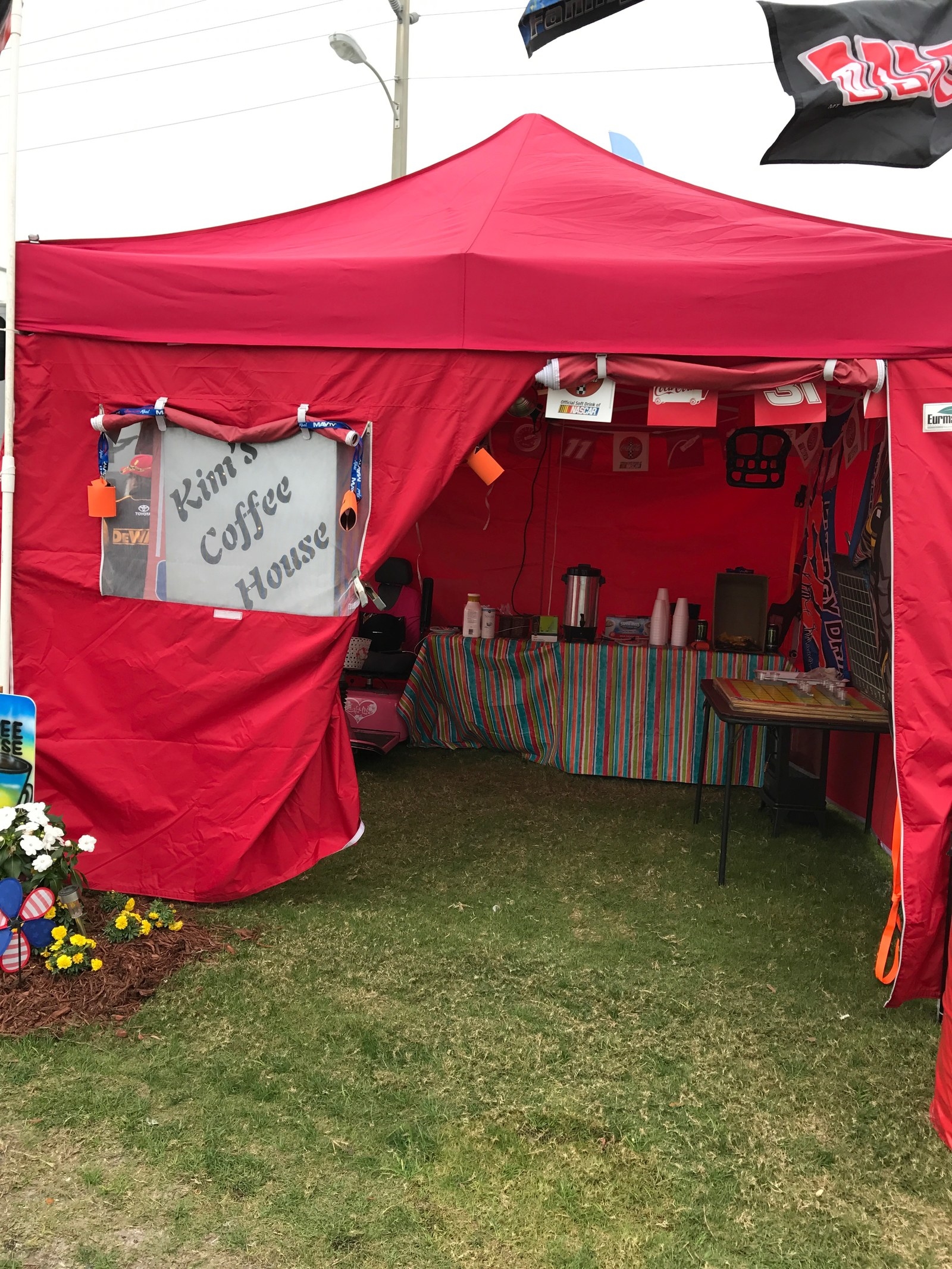 By now you might be thinking "OK, but the race can't be THAT fun." And you'd be wrong. It can be, AND IT IS.
Literally up until like 15 minutes before the race begins, fans have an opportunity to go walk around certain area of the track. This is us touching that sweet, sweet pavement.
The grass in the middle of the track is also weirdly so, so nice, and everyone was making the same joke that they wished whoever was responsible for it could come over and mow their lawn.
Which is a real shame. Because this is what happened to it at the end of the race. This driver did this crime against grass DELIBERATELY because he was very, very pleased to have won the Great American Race.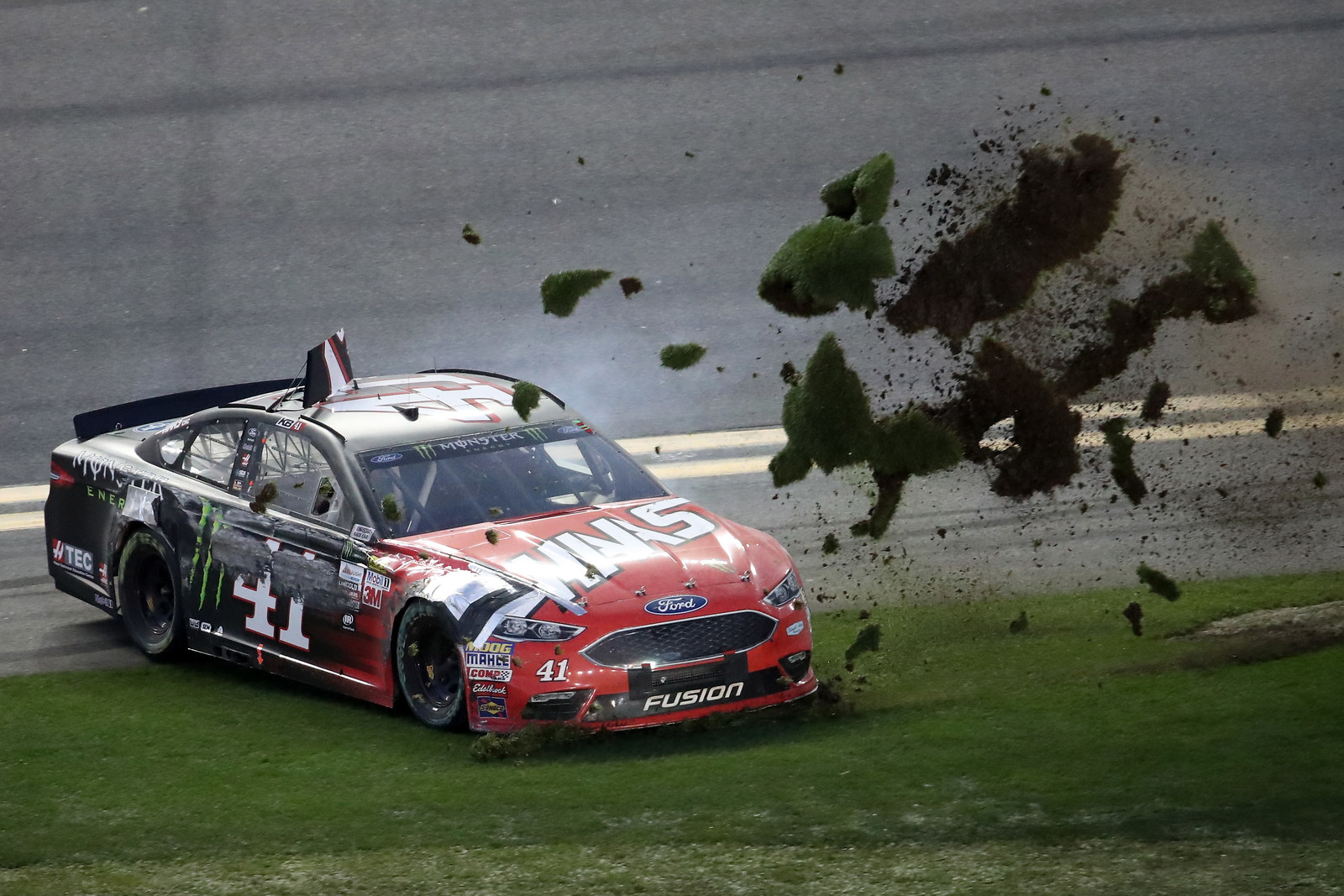 Not only did we get to casually hang on the speedway, but upon closer inspection, we realized there were hidden messages all over the track.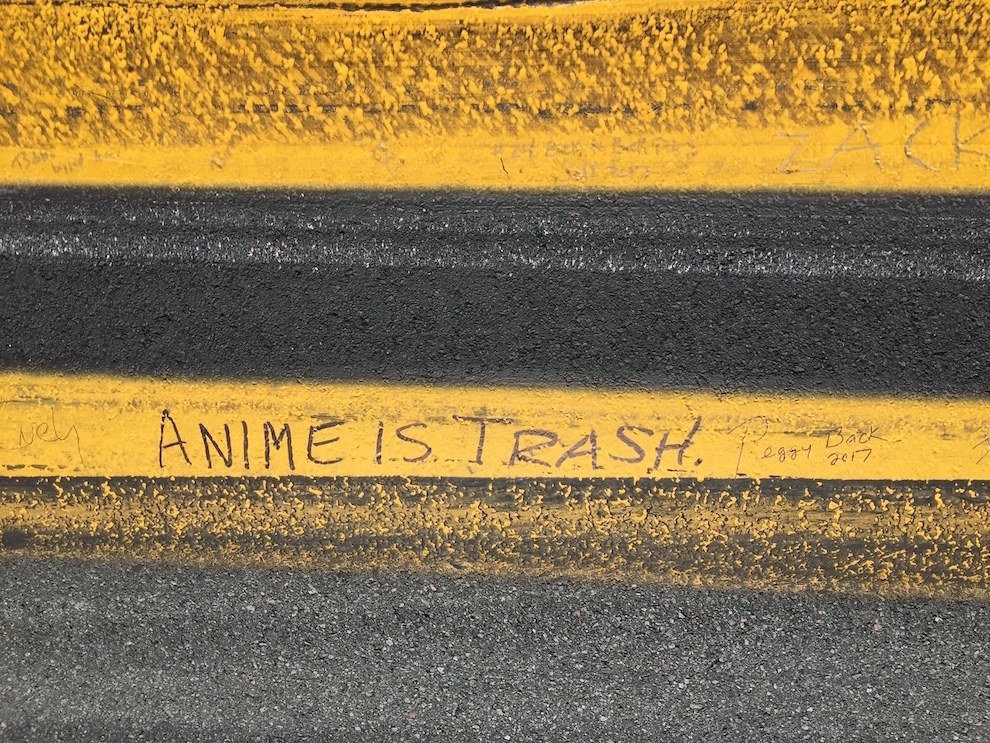 We weren't sure if this was actually allowed or not, but it seemed like a thing so we found someone to stealthily hand over their sharpie and we left our marks on the track.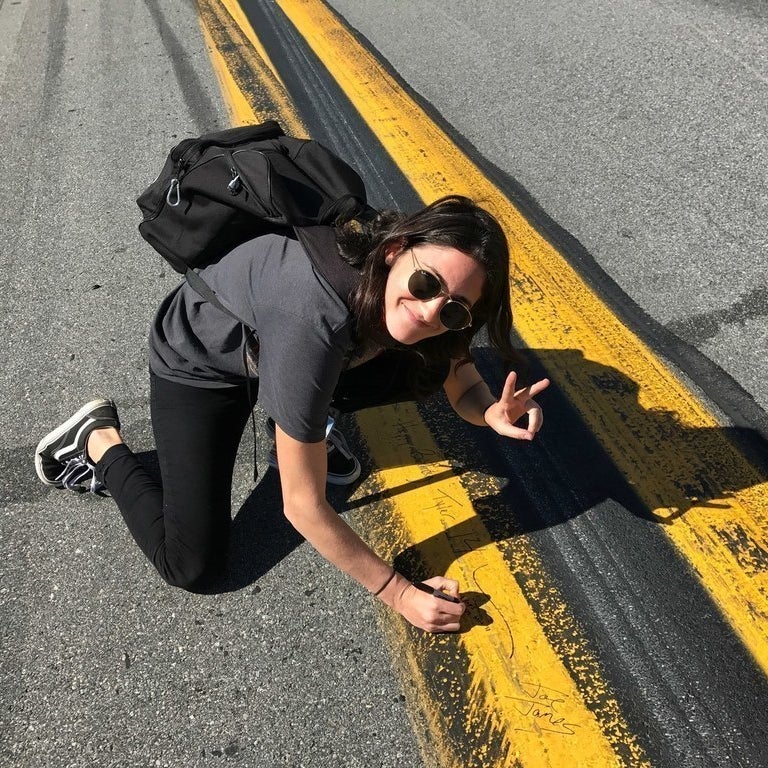 Everyone at NASCAR races is super friendly and there is a team spirit amongst the spectators, so we gave our clandestine sharpie to another track-vandalizing ne'er-do-well as soon as we had finished our graffiti crimes.
And then...right before heading to the field, we witnessed something spectacular. A couple was getting married at the start/finish line RIGHT BEFORE OUR VERY EYES.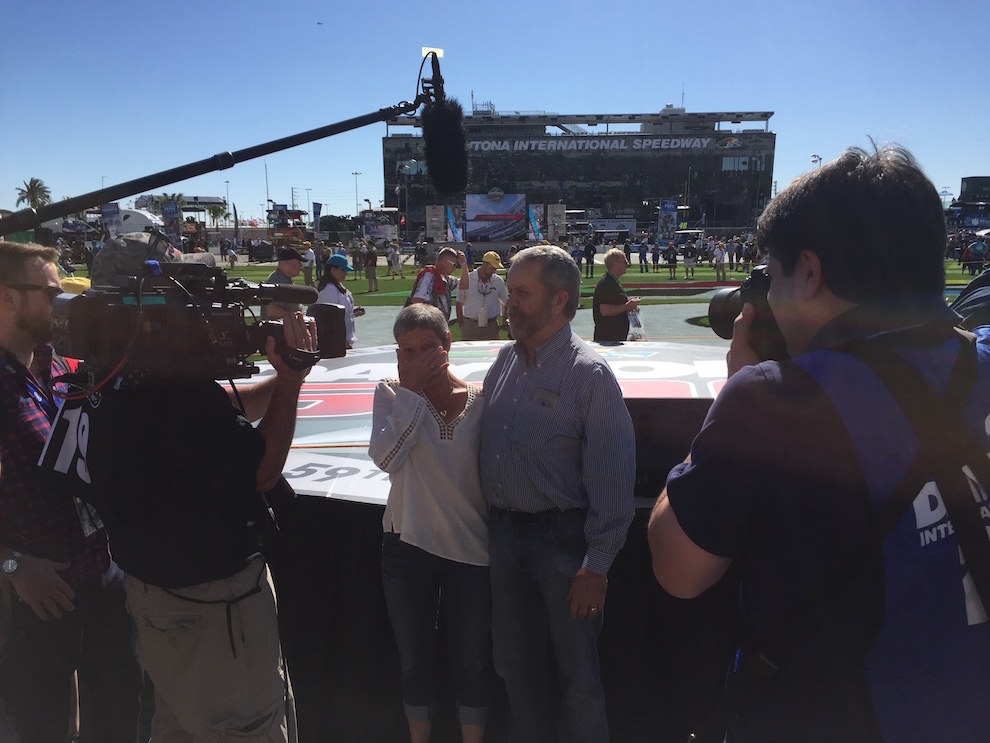 Their names are Ian and Jodi. They both love NASCAR and sealed their vows by signing the track. Ian said that the start and finish line of the track was symbolic of the finish of their old lives and the start of their new ones.
Now that we believed in love again, we headed towards the field to watch the driver introductions.
Along the way we saw these dudes reppin' America.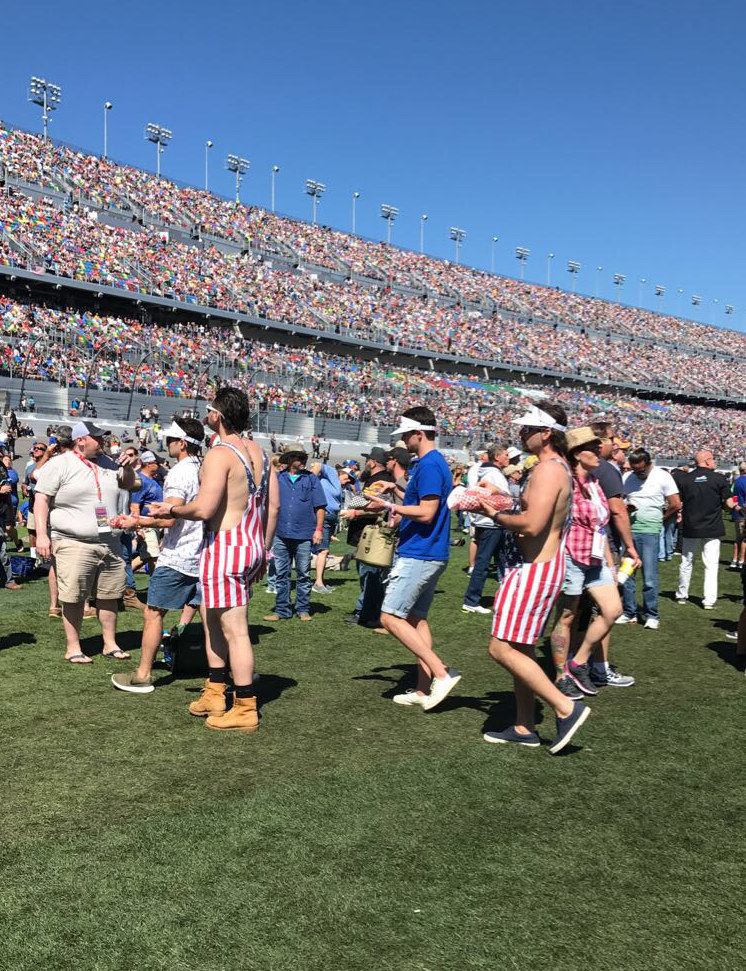 These people wearing cowboy hats made of beer cans: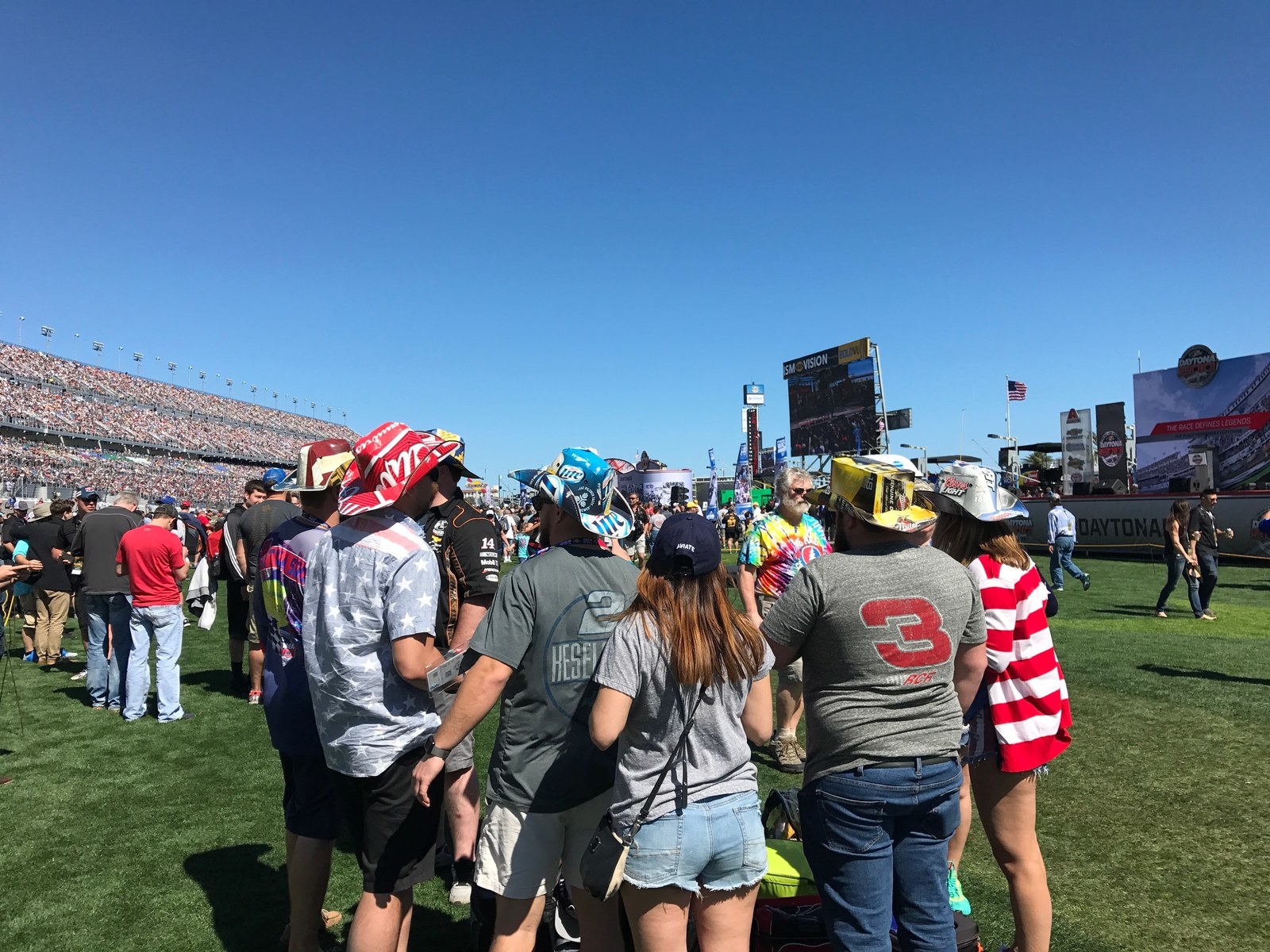 And a gaggle of overall wearing men with mullets. It is hard to describe the emotional feeling you get when you see a gaggle of mullet-men like this, except to say that it is a warm feeling that fills you up and makes you feel safe.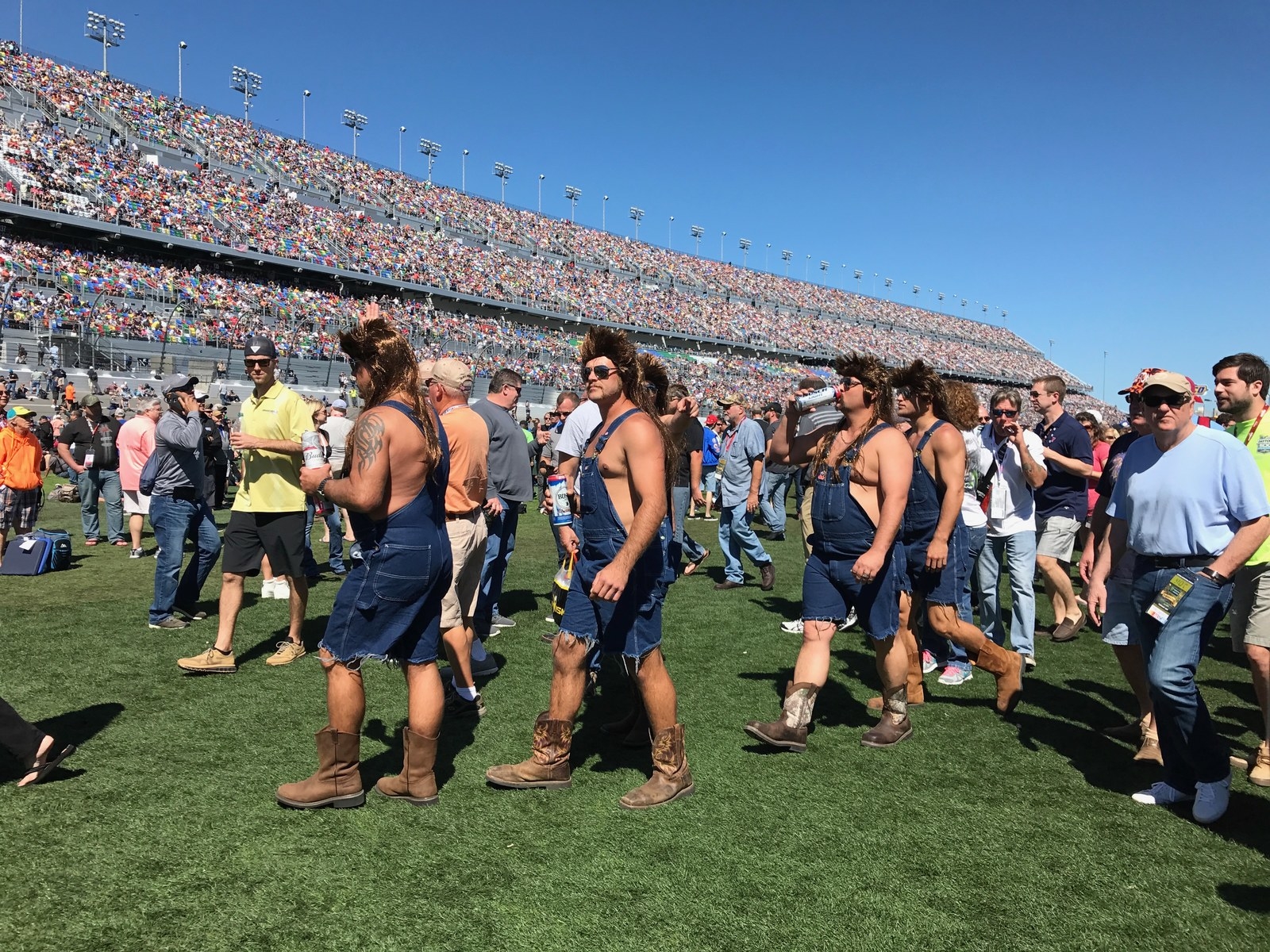 And on the NASCAR version of the Hollywood Walk Of Fame, we learned that Jack's hands and feet size are pretty much identical to Dale Earnhardt Jr.'s. NEAT!
We got to meet vegan racecar driver Leilani Münter, who literally races to save animals.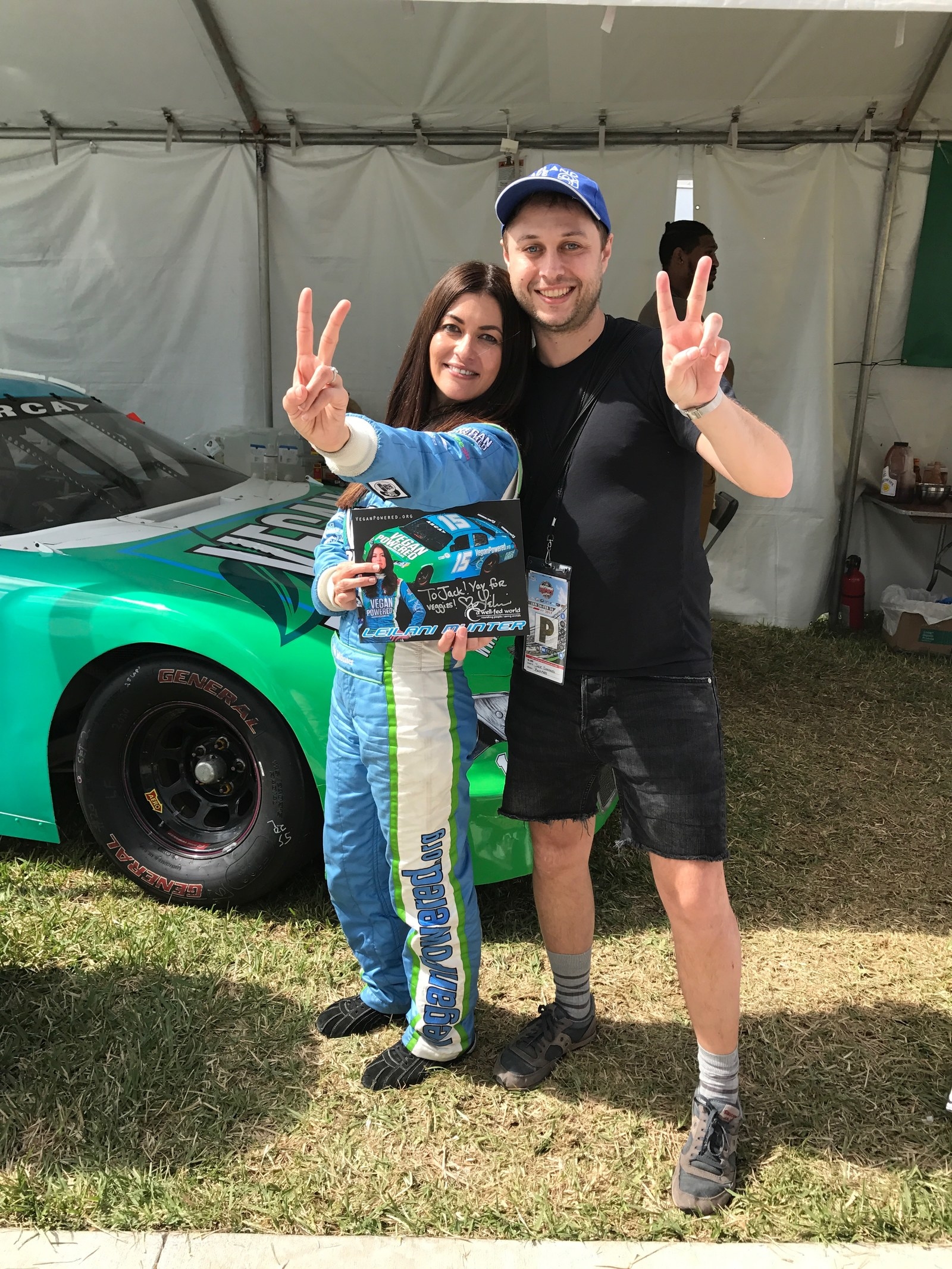 After touring the track, we went to Pit Road. It's where we got to watch the race from, and yes we realize that we are very lucky and this is an insane thing.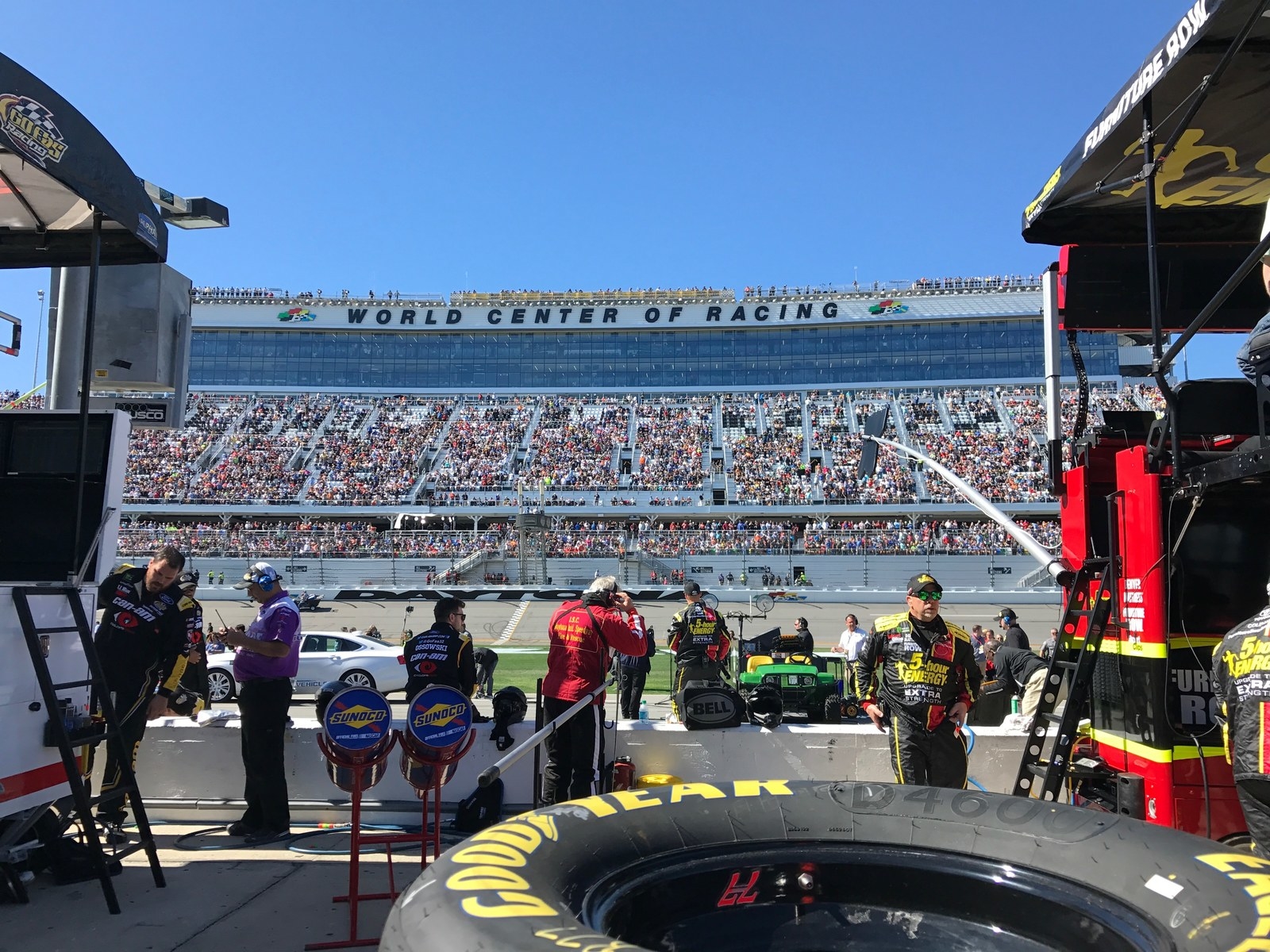 Because we were pretty much a part of the pit crew. Except for the fact that if we touched anything or came too close they'd probably hate us forever.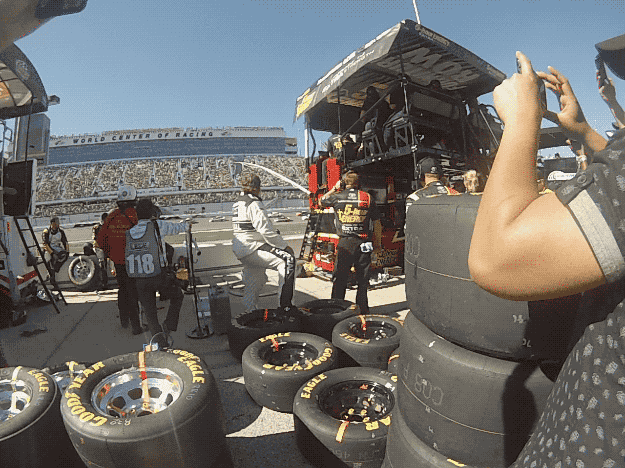 The coolest thing was getting to watch a car make a pit stop up close. The crew gets ready and puts their marker out so that the car knows when to stop.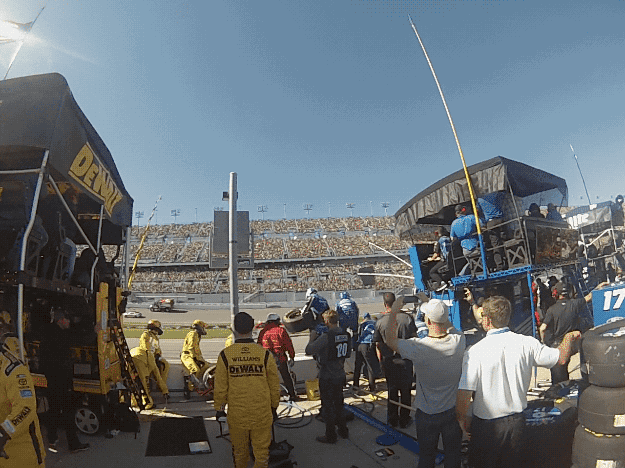 You can design your own marker and this was one of them. It was for the driver Kevin Harvick. Allegedly it's a smiley face because he's always grumpy, so his pit crew nicknamed him "Happy."
Later on in the race Kevin Harvick got involved in this insane wreck (his car is the one with the 4 on the roof), which may explain why he's always such a debbie downer.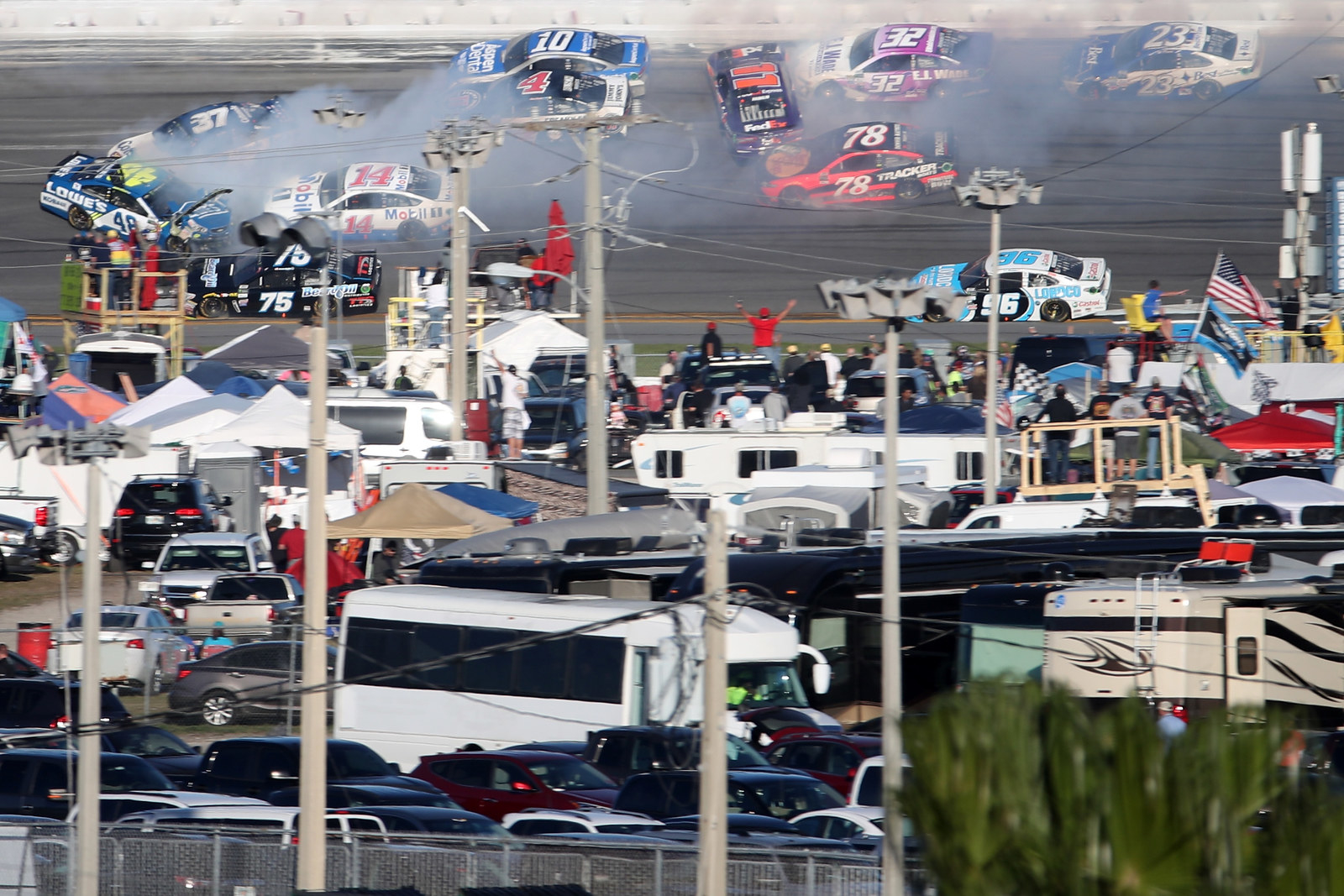 But anyway, back to the pit stop. The car comes and goes so fast it's like it's happening in fast forward. Not even kidding when we say this gif is probably the exact same amount of time as the actual pit stop. IT'S INSANE.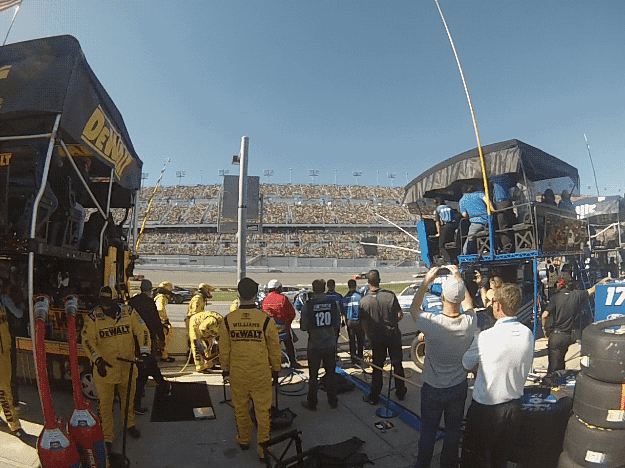 They literally have to change tires and pump the car full of gas in like 10 seconds. We were sweating for them.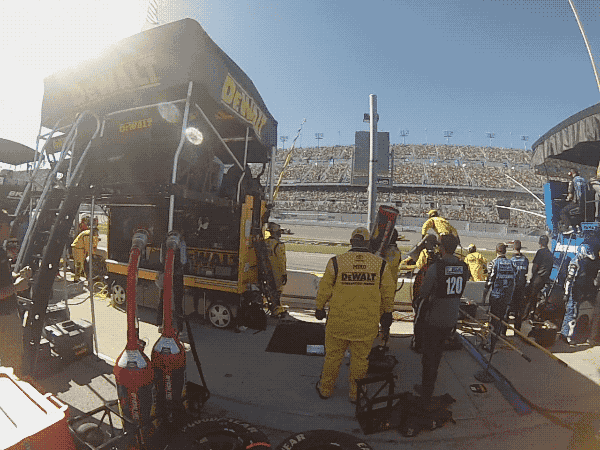 After hanging by the Pit Road for a bit we left to watch the race elsewhere. Now we were invested. The speed got to us. Watching the cars go around the track was addicting.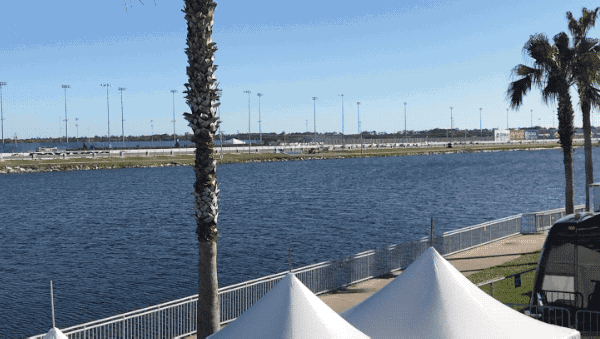 Even though the race is 200 laps and goes on for hours, it was flying by. One minute they were on the third lap, the next minute it was lap 80.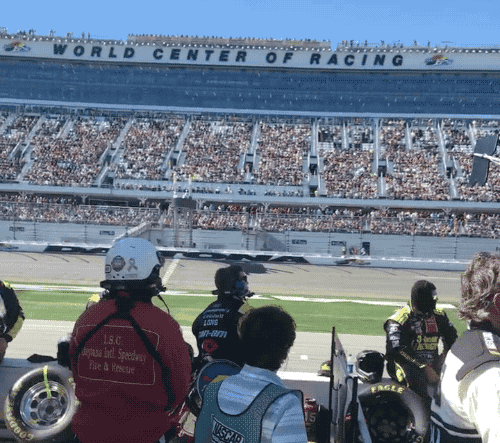 And then things actually got … really interesting, racewise? The guy at the front of that pileup is Kyle Busch, who we made the cool ~insidery~ joke about being a sore loser earlier. He blamed the crash on Goodyear making shitty tires.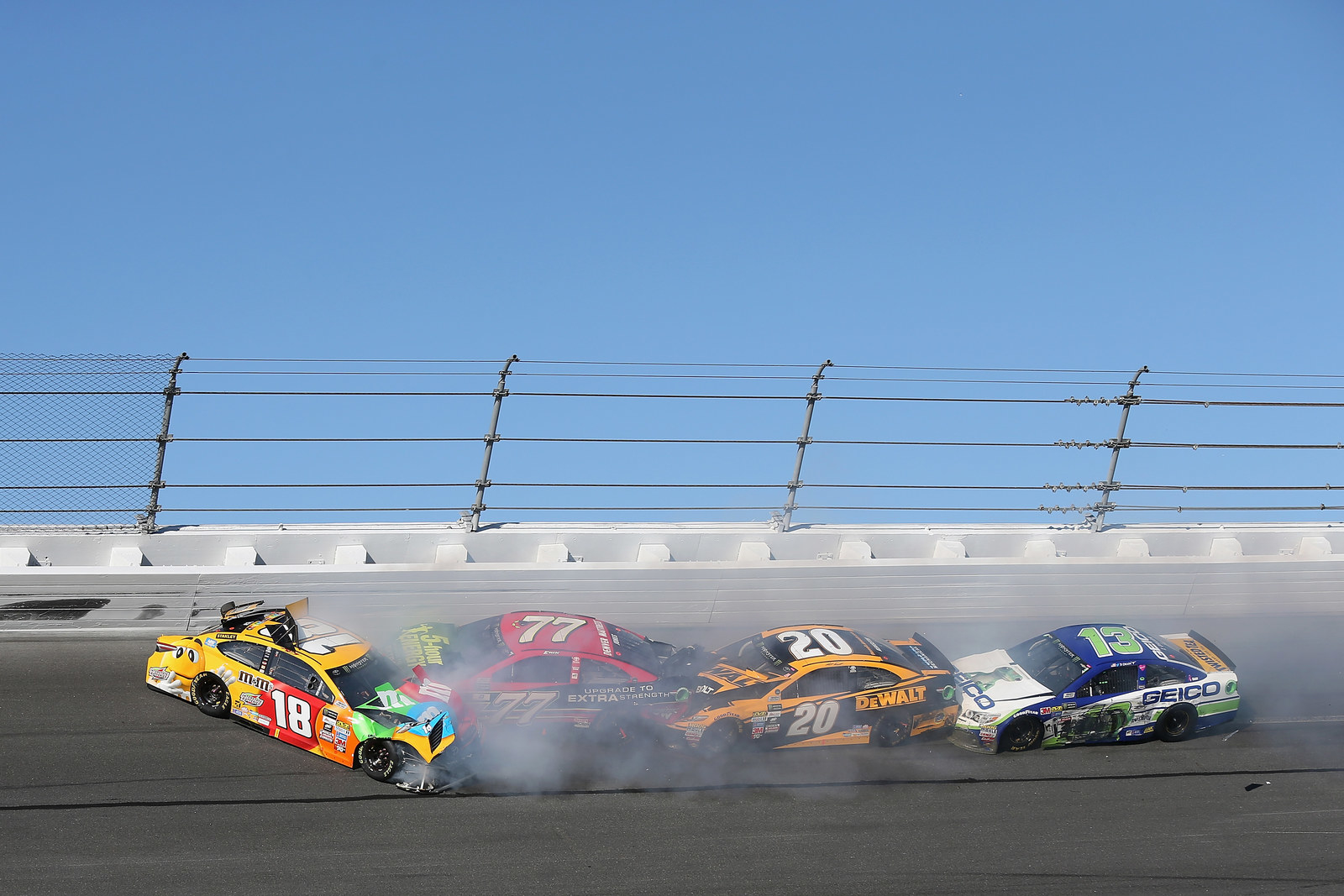 Right after that crash happened and they'd cleared the track up, this happened. It is INSANE to watch something like this happen up close.
The race came right down to the wire, when a bunch of dudes ran out of gas at the last minute and Kurt Busch made a crazy move to take the lead on the last lap. Our hearts were in our throats.
Anyway, in conclusion, NASCAR is SO MUCH FUN and we didn't get it before but now we do.
And that's how you go from not caring to being a big ol' ~NASCAR head~ in the course of one weekend. ¯\_(ツ)_/¯