Last night Chrissy Teigen posed a question to her followers. She asked them what they thought Trump could lie about and NOT get away with.
The poll was simple: could he get away with saying hot dogs are not a sandwich which would mean the truth is that hot dogs ARE a sandwich. Or could he not get away with saying hotdogs are a sandwich, meaning that in reality hot dogs are NOT a sandwich. Follow?

Again. The question is simple. Obviously hot dogs are...NOT A SANDWICH. However. I guess it actually isn't that simple.
Because at approximately 1:49AM EST Chrissy Teigen revealed that with 17,000 votes so far...the poll was 50/50.
Meaning that half the voters think that hotdogs ARE a sandwich.
Today, at roughly 12:20PM est. I took the poll myself. For the sake of this post and also cause I believe it, obviously hot dogs are NOT a sandwich so I voted that he could not get away with saying hot dogs are a sandwich (choice B).
The results shook me to my core.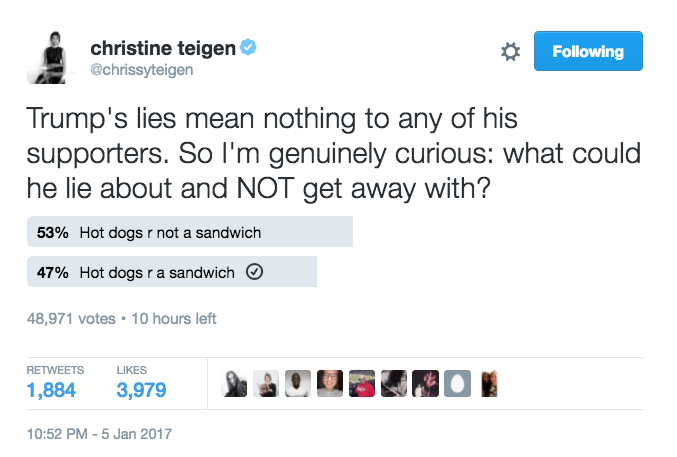 At this point in time 48,971 people had voted and 53% SEEM TO BELIEVE THAT HOTDOGS ARE SANDWICHES.

Because I believe in due diligence and second opinions, I would like to offer up this poll, in case the first one was confusing. Straight up:
Hot dogs are not a sandwich
Oops. Something went wrong. Please try again later
Looks like we are having a problem on the server.
What is the truth?
Hot dogs are not a sandwich