1.
A hand-operated vegetable chopper that slices! Dices! And does it all in one fell swoop! It comes with four blades — a small dicing blade, a larger chopping blade, and two spiralizers — so all you need to do is fit the device with the blade of your choice, sandwich your veggies in the middle of it, and bring the top down firmly. It cuts your prep time down to mere seconds, according to reviewers.
Check out a TikTok of the veggie chopper in action. 
Promising review: "Makes life so much easier. I can't imagine chopping onions or bell peppers by hand anymore, and it does so much more. We used to have a Prepworks chopper which was a similar idea, but you had to press so hard to chop, and it broke after not too long. This one requires very little effort to cut through the food and it has a generous container." —Amazon Customer
Get it from Amazon for $23.99+ (available in three colors).
2.
A jar of The Pink Stuff cleaning paste, because there's almost nothing this stuff can't get shiny and new. From tile and glass to furniture and cookware, this playful pink scrub does it all.
If you're a fan of Magic Erasers, a number of reviewers consider the Pink Stuff to be a paste version of one of those – FYI, if that's your particular cleaning jam.
Promising review: "I used this product for my stove because it's one thing I dislike cleaning. I have used multiple degreaser sprays and they all are so toxic and don't work for me. The Magic Eraser was okay but I used several at a time and I had to scrub so hard. But this product oh my goodness, legit a miracle. It doesn't have any type of smell. I put the paste on a cloth, clean the area then wipe it off with a damp cloth and voilà, magic!" —May
Get it from Amazon for $5.97.
3.
A set of shockingly affordable wireless Bluetooth earbuds that prove you truly can have it all — at least, as far as your tunes and podcasts go. Durable, water-resistant, and super comfortable to wear, these lil' music makers pack a ton of sound into a tiny, wallet-friendly package. They'll fit just about any ear size, too, thanks to the array of different size silicone buds included.
The earbuds can play for about four hours on a single charge, and come with a charging case that lets you bring up to 14 hours of power with you wherever you go.
Promising review: "Best decision! These are the greatest headphones ever! I saw them on TikTok months ago and added them to my wishlist. I got a new phone that doesn't have the headphone port so I decided it was time to finally buy them. They are amazing and I probably won't ever take them out of my ears! 😂" —Katlyn D Arnold
Get it from Amazon $23.99+ (available in five colors).
4.
A teeth-whitening pen to make your pearly whites, well, pearly white again. Each pen is good for up to 20 uses and can lighten stained chompers between four and eight shades. Not to mention that it's a whoooole lot easier to use than messy and complicated whitening strips.
Promising review: "I bought this on a whim when I saw someone review it on TikTok. After using it several times over the course of a week, I immediately noticed the difference in the color of my teeth. I'm a smoker and a heavy coffee drinker. I'm finding that this product will be a lifesaver in terms of what my smile looks like. I would definitely recommend!!" —Mully
Get a two-pack from Amazon for $13.59.
5.
A tub of E.l.f.'s Poreless Putty Primer that'll prep your face for whatever else you feel like layering on top of it each day — and help it stay put all day long, too. Lightweight and hydrating, this primer helps reduce the appearance of pores, giving you a smooth canvas to kick your routine off with.
Promising review: "I saw this on TikTok and thought I'd take a chance. I have sensitive skin and have to watch what I use. I LOVE this product! Goes on smooth and you don't need to use a lot. I put it on before I put on my foundation. Makes a huge difference. Highly recommend and will buy again!!" —Leslie Mattingly

Get it from Amazon for $9.
6.
A squee-worthy, octopus-shaped blackhead scrub stick that's so cute, you won't be able to help but smile every time you reach for it. Don't be fooled by its adorable appearance, though; this little scrub stick is super effective for battling excess sebum, gently exfoliating, and helping pull out blackheads and other pore-clogging impurities from your skin.
Promising review: "I saw this on TikTok, it works great so far." —MarMarManuel
*Another* promising review: "After just two days of use, this adorable little octopus has done wonders for me, smells great too. Here's how I used it: I wore down the stick just a little to where the texture from the salt is visible, scrubbed around on my face so there was plenty of product, then I used my fingers to gently massage all the gunk away. Rinse, pat dry, and enjoy the softness. Highly recommended for people with sensitive skin like myself." —LuckLocust
Get it from Amazon for $12.50. 
7.
A Shark Tank-famous Bug Bite Thing, because the great outdoors are lovely, but itchy, irritating bug bites are not. This suction tool works by literally sucking out the insect saliva or venom from the bite, eliminating — or at least greatly reducing — the cause of the itching. It's good for a huge variety of insect bites, too, from mosquitoes and biting flies to wasps and bees.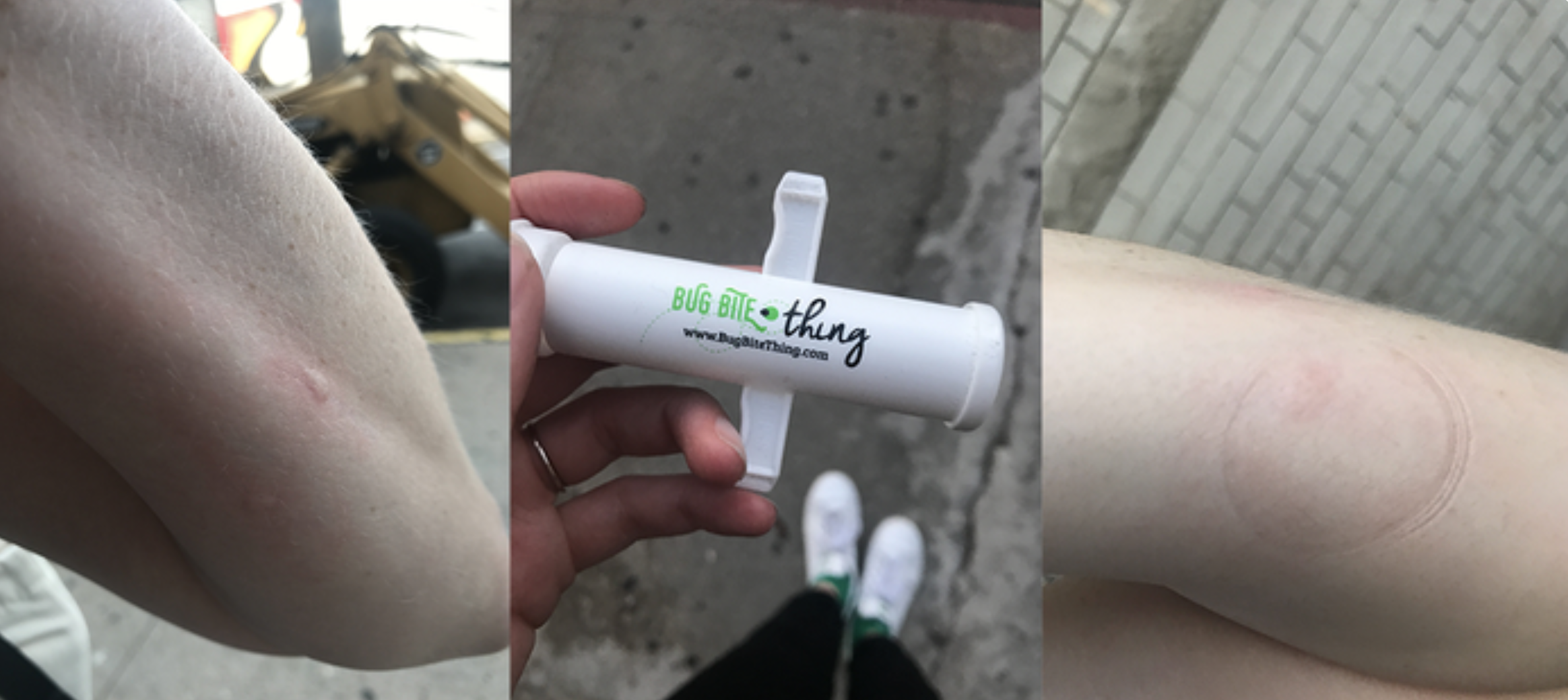 Rebecca O'Connell / BuzzFeed
Promising review: "I bought this because I saw it on TikTok, and have been having issues with mosquito bites. Used it a few times to relieve itchiness and I am convinced it works! Have been recommending it to my family and friends.  Read the directions and follow them carefully. Don't use this on your face or neck, or other sensitive areas. Don't do a lot of suction, just a little bit. And do it a few times if needed. Great invention!" —Joe

Get it from Amazon for $9.99+ (available in individually and in multi-packs and in three colors). 
8.
A carton of popcorn salt that'll let you experience the joys of movie theater popcorn right from the comfort of your own couch. Just add a sprinkle of this internet-beloved seasoning salt to your freshly-popped corn and you're good to go. Movie night will never be the same again — in the best way possible.
Our family recently unearthed this because beloved To All The Boys I've Loved Before author Jenny Han mentioned that it was her secret to delicious popcorn, and it may have just wrecked me for other at-home popcorn for the rest of my life. It genuinely tastes just as salty and buttery and savory as fresh movie theater popcorn. I inhaled it so fast that every single one of my organs lit up in mild alarm.
Promising review: "I am a person who will make myself sick eating buckets of popcorn (I have no self control). This has by far been my favorite 'TikTok made me buy' item. My at-home popcorn is now my favorite thing to make and I don't need to go the theater for popcorn. Very much worth the purchase and this will last me such a long time." —S Martinez
Get it from Amazon for $9.60+ (available in two flavors).
9.
A Bread Buddy sandwich bread dispenser, so you can be sure your sandwiches are always the freshest they can possibly be. It even makes storing bread easier, thanks to its ability to rest vertically or horizontally, depending on what your pantry space situation is like.
Check out a TikTok of the Buddeez sandwich bread dispenser in action. 
Promising review: "The Buddeez Sandwich Bread Dispenser is great! It does exactly what it was intended for. I live alone and I don't quite go through bread often enough before the last quarter section of the loaf starts to go stale. I was originally looking for something to put a loaf of bread in as a shell for my vacuum sealer, that would keep the bread from getting crushed from the pressure. This dispenser solved all of my problems. Thank you!" —DRMcQuaig

Get it from Amazon for $12.49. 
10.
A collagen-coating hair protein treatment that'll breathe life back into parched or damaged strands. Both super affordable and super effective, this deeply nourishing treatment is formulated with soy protein extract, allantoin, and ceramide 3 to give your locks the babying they need.
This is designed to work on all hair types, with reviewers with 2b to 4c curls mentioning it worked for them! 
Promising review: "I saw this on TikTok, and in between other compares products that were four times the price, I decided to bite the bullet and buy this — let me tell you, best decision ever! I shampooed my hair, then heavily massaged this in, from ends to scalp. The carton says 5–20 minutes... But I ended up leaving it in for two days! And after washing it out, my hair was so shiny, bouncy and CURLY! My curl recovery journey has been long, but this has helped restore so much vibrance and shape to my hair. My mom has been stealing it from my bathroom every couple of days, after having similar results on her hair. Going to need to buy a few more to ward her off." —chisso
Check out BuzzFeed's full review of the Elizavecca hair treatment for more deets!
Get a bottle from Amazon for $7.38.
11.
A two-pack of Dan-O's seasoning that will supply buckets of flavor to literally anything you add it to. Each of these little jars of gustatorial happiness get their oomph from a combo of dried herbs, onion, garlic, and citrus — but you've also got options with this set: You can pick the OG version if you're looking for something classic, or the hotter version if you're feeling a lil' ~spicy~.  
Dan O's seasoning is a small business established in 2017 that gained popularity after taking to TikTok during the pandemic, where the company now has 1.5 million followers with plenty of droolworthy food content.
Promising review: "I became interested in this product while watching TikToks. I have been adding it to so many things. I use it in spaghetti, on fish, and one of my favorites is to add it to popcorn. My husband had to ask why my popcorn smelled like steak. I love the fact that it is low sodium as well. I am not a fan of extra salt and most foods already have plenty of salt but need some seasoning. This should be your go to seasoning." —Heartcri
Get a pack of two from Amazon for $13.90.
12.
Some Globbles that pack all the fun fidget fuel of slime, minus the mess. The six stretchy, colorful balls included in this set give you something satisfying to squish when you just need to find something to do with your hands — but they're also a blast to throw at flat surfaces: They'll stick where you throw 'em, seemingly defying gravity Elphaba-style. BUT, they also pull off again with ease, leaving no residue behind. Everybody wins!
Check out a TikTok of the Globbles in action. 
Promising review: "Bought a six-pack for my neurodivergent family. We are all either ADHD or autistic. I struggle with compulsive hair pulling and bought these to help keep my hands busy. They are the perfect size, more satisfying than a stress ball, clean easily, fun to hurl at the wall or ceiling, and so far have lasted very well. I did test the durability of one and did break one when I pulled it as hard as I could —the inside looks something like shaving cream and didn't smell or anything. But if you have a kid who is an aggressive chewer, perhaps keep an eye on them." —Amazon Customer
Get a set of six from Amazon for $9.99.
13.
A bottle of nail and cuticle repair oil to give your digits a little TLC. A quick brush-application of this stuff to your nail beds once a day can help condition your cuticles and strengthen your nails, letting you say "buh-bye!" to brittle, broken tips and painful hangnails. The before and after photos are truly astonishing.
Promising review: "Found it on TikTok and I'm so pleased with the results. My nails are getting stronger and growing. And the best of all not chipping. Love it." —sidna saavedra
Get it from Amazon for $9.90+ (available in three sizes).