This Giant Gator That Snacked On Farm Cattle Was Killed By Two Hunters
The gator weighed 780 pounds.
Two hunters in Okeechobee, Florida nabbed what they said is the biggest alligator they've ever captured in the wild — a gator measuring under 15 feet long and weighing 780 pounds.
Lee Lightsey, the owner of Outwest Farms in Okeechobee, and a hunting guide, Blake Godwin, came across the gator in a cattle pond on Saturday, according to Fox 13.
Godwin said they saw the gator as it surfaced about 20 feet in front of them and Lightsey shot it.
They believe the gator had been attacking the farm's cattle.
A 14 foot and three inch gator killed in November 2010 holds Florida's state record for the alligator taken from the wild. It weighed 654 pounds.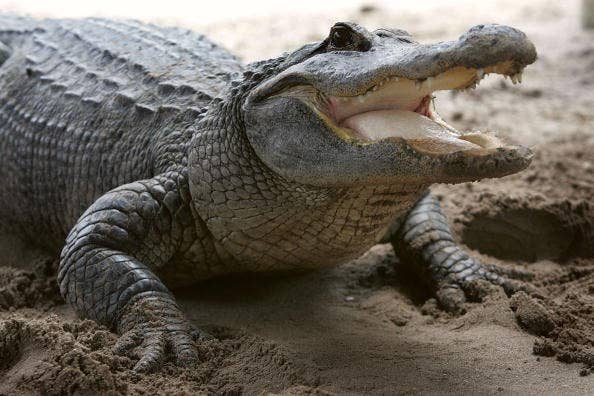 Lightsey told Florida Fish and Wildlife Commission authorities that he knew the gator was not big enough to beat the state record and did not request an official measurement, Tony Young, the commission's hunting spokesperson, told BuzzFeed News.
"It's a big alligator nonetheless," said Young.
The gator's body is currently over ice at a processing facility. Once the hide is thawed, the commission will take official measurements.
Lightsey has been leading hunts for over 18 years and says on the farm's website that he has hunted all his life.
"It is hard to believe that something this big exists in the wild," Godwin told Fox 13. "Hunting is a way of life for us and we are very proud of it!"
The hunters plan to donate the gator's meat to charity and have its hide taxidermied for display at hunting shows.