Former prime minister Kim Campbell is known for having a personality on Twitter, but some recent commentary about women's wardrobes isn't going over well.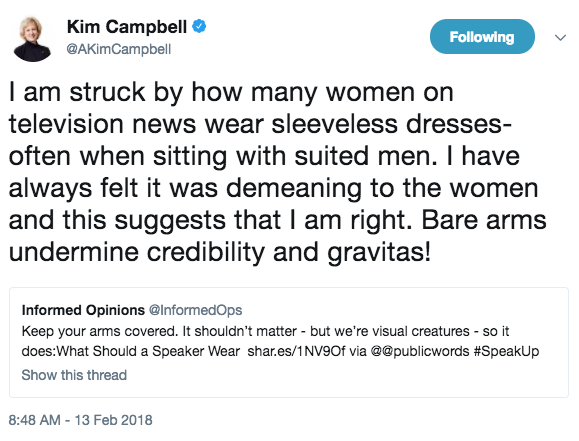 Well, women journalists across Canada were none too pleased. Here's Dawna Friesen, anchor of Global National.
And this is Tammie Sutherland with CityNews. "If ppl find 2cms of my upper arm that distracting, there are bigger issues at play for them."
And Angie Seth from Global News.
And Halifax anchor Andrea Dion.
And tech reporter and host Amber Mac.
And Janice Dickson from iPolitics.
And columnist Tiffany Jean Gooch, driving the message home with Michelle Obama.
Pretty much any Canadian woman who's brought you the news on TV had something to say.
There were suggestions to go sleeveless on purpose.
A literal rocket scientist also weighed in.
And it appears Ontario's premier did too.
Campbell defended herself with studies about how men and women are perceived differently based on their clothing.
Nevertheless, the tweets persisted.
CORRECTION
Dawna Friesen's name was misspelled in an earlier version of this post.