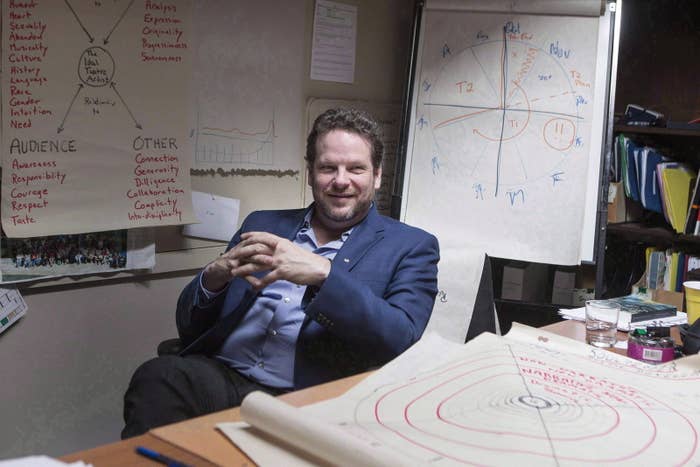 Canadian theatre star Albert Schultz resigned a day after four women filed a lawsuit alleging incidents of sexual harassment and assault that spanned years.

After the suit was filed on Wednesday, Schultz stepped down as an actor and the artistic director for Soulpepper Theatre Company. It's Toronto's largest nonprofit theatre company, making Schultz one of the most powerful men in performing arts in Canada.

The theatre's board of directors released a statement on Wednesday saying it had instructed Schultz to "step down from all his Soulpepper responsibilities" while the board investigates the allegations.
"As a responsible organization, Soulpepper's priority is to create a workplace where all its employees feel safe. It therefore takes all allegations of harassment very seriously," the statement said. "It has policies and procedures in place that prohibit harassment anywhere in its workspace, and that provide a clear process to report harassment, in a safe, private and respectful way."

On Thursday, the Board released another statement saying they had accepted the resignation of Schultz, and said it would allow them to focus on their "core mission: to provide a safe community for its exceptionally talented group of professionals."
Soulpepper said the Board has replaced him with Alan Dilworth as the Acting Artistic Director.

The four female actors — Patricia Fagan, Kristin Booth, Diana Bentley, and Hannah Miller — are suing Schultz, and, according to the Globe and Mail, refer to Schultz as a "serial sexual predator." Combined, they're seeking $3.6 million from Schultz and $4.25 million from Soulpepper in damages.
CBC reports their claims contain 30 separate incidents, including inappropriate sexual remarks, groping, and Schultz exposing his penis.
Fagan, who started at Soulpepper at age 23, said in her claim that Schultz created an atmosphere of "mocking, belittling and bullying," CBC reported. In one incident, Fagan alleges Schultz reached under her skirt and groped her thigh. In another, she says he flashed his genitals at her before she went on stage.
Booth, who, like Fagan, started at Soulpepper in her early twenties, said in her claim that Schultz engaged in nonconsensual kissing, touching, and sexualized comments.

"There were times in some of the hugs where I could feel his genitals against my body," she told CBC.
Schultz has not yet commented on the allegations.
In a statement to the Canadian Press, the women's lawyer, Alexi Wood, said the theatre company failed to protect the women.

"Mr. Schultz abused his power for years," Wood said. "My clients fully intend to hold him and Soulpepper Theatre Company accountable. Their brave lawsuit is the first step towards righting this incredible wrong."

In the meantime, members of Toronto's theatre community have been expressing their support for the women involved.
Actor Rick Roberts said he stands "in solidarity" with the actors.

Other theatre companies have also shown their support.
In addition to his role at Soulpepper, Schultz is an executive producer of the CBC comedy Kim's Convenience, helped set up the Young Centre for the Performing Arts, and has appeared in Canadian television shows. He was appointed to the Order of Canada in 2013 and named one of Toronto's 50 most influential people in 2012.

The women are expected to speak at a press conference on Thursday.