People Are Dragging The Shit Out Of These Chateau Laurier Renovations
"Let's just stack shipping containers and attach it to the side of a castle."
The Château Laurier has been an iconic part of Ottawa's skyline for more than a century. It basically looks like a castle perched over the Rideau.
Which is probably why locals are so very salty about a proposed expansion that, shall we say, is a more modern look. Like a spaceship.
Or stack of shipping containers.
The reaction from Ottawa can be described thusly:
People are having a very hard time understanding the design choice.
"Ugly" seems to be a common descriptor.
And the word "no" is being said a lot.
Also "non." This is Ottawa, after all.
Even Ottawa's mayor, Jim Watson, doesn't seem to be on board.
According to Larco Investments Ltd., which owns the hotel, the expansion will add long-term stay suites to the property.
The firm also says the expansion fits in with the building's current look:
The addition will offer a modern interpretation of the heritage character of the Château with a vocabulary of Indiana Limestone, glass and copper. The separated wings, massing and set back upper floors are compatible with the Château's existing roofscape silhouette, providing a dignified and deferential response to this iconic building.
But good luck finding someone on Twitter who agrees.
The Chateau posted on Facebook that they are reviewing the comments and appreciate "the passion in the community." Someone then showed that passion by calling the plans "fugly."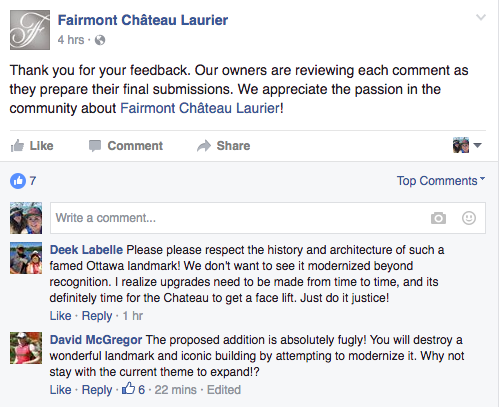 But don't forget the real victim here — the feelings of the architect after checking Twitter.