A car was found dangling from a bridge in Toronto, but no one seems to know how it got there or why someone would do such a thing.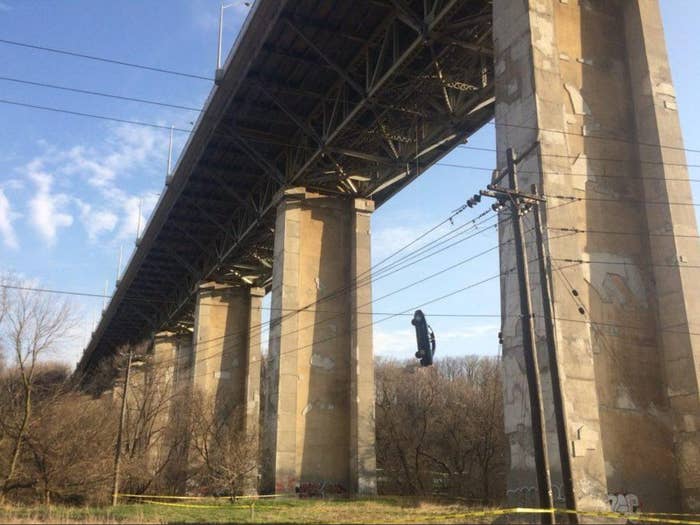 Police got the call about the car shortly after 7 a.m. on Wednesday. They found the car hanging from the Millwood Overpass Bridge in the city's east end.
Constable Jenifferjit Sidhu told BuzzFeed News the car had been emptied out and had no engine or license plate. It was also surrounded by caution tape when police arrived. It appeared to be a blue sedan.
"One thing I can say is: It was done very skillfully," said Sidhu.
There was originally some speculation that this was part of a movie shoot, but police said there were no permits issued for the area.
It's now being treated as a mischief investigation, and Sidhu said police believe it was intended as some sort of prank.
"It did involve significant usage of police resources and fire resources this morning, which is why we're using this as a mischief investigation," she said.
Police cut it down later that morning, sending it plunging to the ground.
Basically everyone's pretty confused.
Capt. Adrian Ratushniak of Toronto Fire Services told CBC News he hasn't seen anything like this in his 30 years on the job.
Toronto Mayor John Tory told a press conference he was "mystified" by the whole thing.
Police are appealing to the public for any information on just how the car ended up hanging from a bridge.
One theory is that some university students took a prank too far, since it's been done before in other cities.
In the meantime, it remains a mystery.