"It's always been Liberal round here, but I think the government we've got at the moment is the safest bet to take us through what's coming ahead," Bob Sewell, who voted to leave the EU, told BuzzFeed News in Yate, South Gloucestershire, this week. Though a lifelong Liberal or Liberal Democrat voter, Sewell plans to vote Tory on 8 June.
The constituency of Thornbury and Yate, one of the party's top target seats in this election, is firmly in the traditional Lib Dem South West heartlands. It and its predecessor were held by Steve Webb – Lib Dem pensions minister in the coalition government – from 1997 until he was ousted by the Tories in 2015.
But in last year's EU referendum South Gloucestershire mirrored the national mood by voting for Brexit by 52%.
The Lib Dems' leader Tim Farron had hoped in this election to rake in Remain voters stuck in an electoral no-man's land after Labour broadly signed up to the government's Brexit plan. But how do you win back votes from people who want to leave the EU if your campaign is built around staying in it?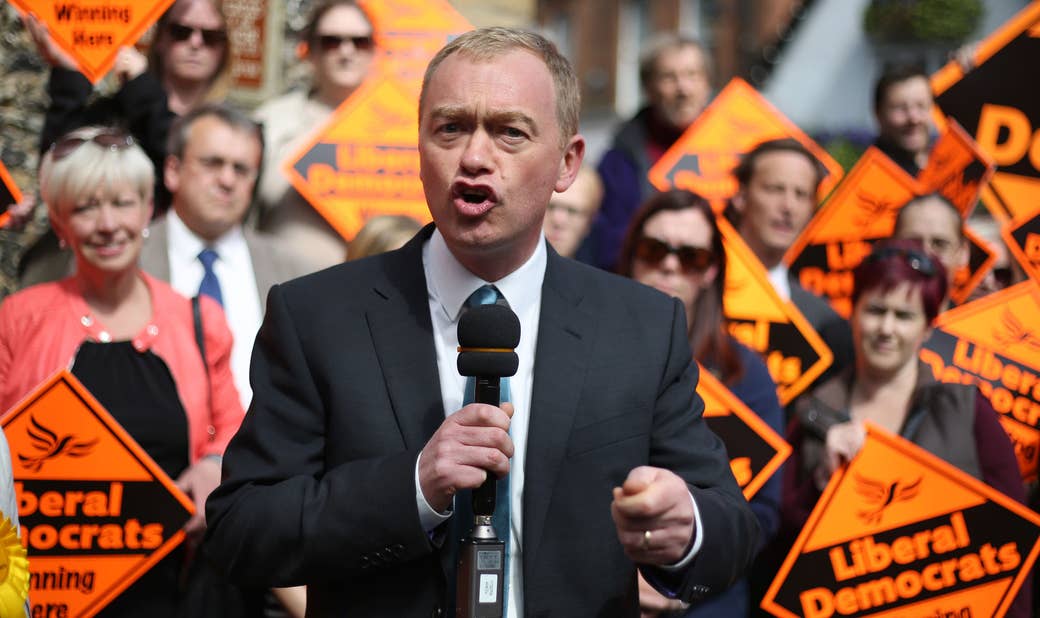 Sewell said the Lib Dems' desire to remain in the single market and commitment to holding a second referendum on the final Brexit deal were behind his decision to switch to the Tories.

"The Liberals definitely aren't strong enough – they lost so much in the last election and it's going to take them a little while to come back," he said, using a name for the party that has not been officially used since the Liberal and Social Democratic parties merged in 1988. "The Lib Dems have got good ideals but they're for Europe, and I think we're out now, we've got to give it a go."
Several others in Yate seemed to back up this narrative.
A man waiting for his wife outside Tesco who gave his name only as Mr Henley told us he voted for Leave last year, and was also switching his vote from the Lib Dems to the Tories on 8 June. "I have voted Liberal in the past but they've lost it," he said. "They believe in staying in the Commonwealth, and we're paying for the privilege to buy goods from them."
A pair of elderly men sat together on a bench outside Boots who referred to themselves as "the two Colins" said they were usually Labour voters but planned to vote Tory in the coming election.
Both were bypassing the Lib Dems for one reason: Brexit. "Everyone I know voted Leave," Colin Mead said, adding: "That Tim Farron is an idiot. Liberals just want to spoil everything with the Brexit vote. We won the Brexit vote."
Colin Hobbs nodded in agreement. "No matter what [the Lib Dems] think, Brexit was decided by the population of this country."
Neither were particularly fond of the Conservatives overall, but both said Theresa May has so far done a good job on Brexit, despite several reports from Europe to the contrary.
"She's not a woman who's going to get pushed around," Hobbs said.
"She's honest, or as honest as a politician can be," echoed Mead. "She didn't want this election. She was forced into this by the 'remoaners'."
"If she don't win 140 seats, there's fiddling going on," he added.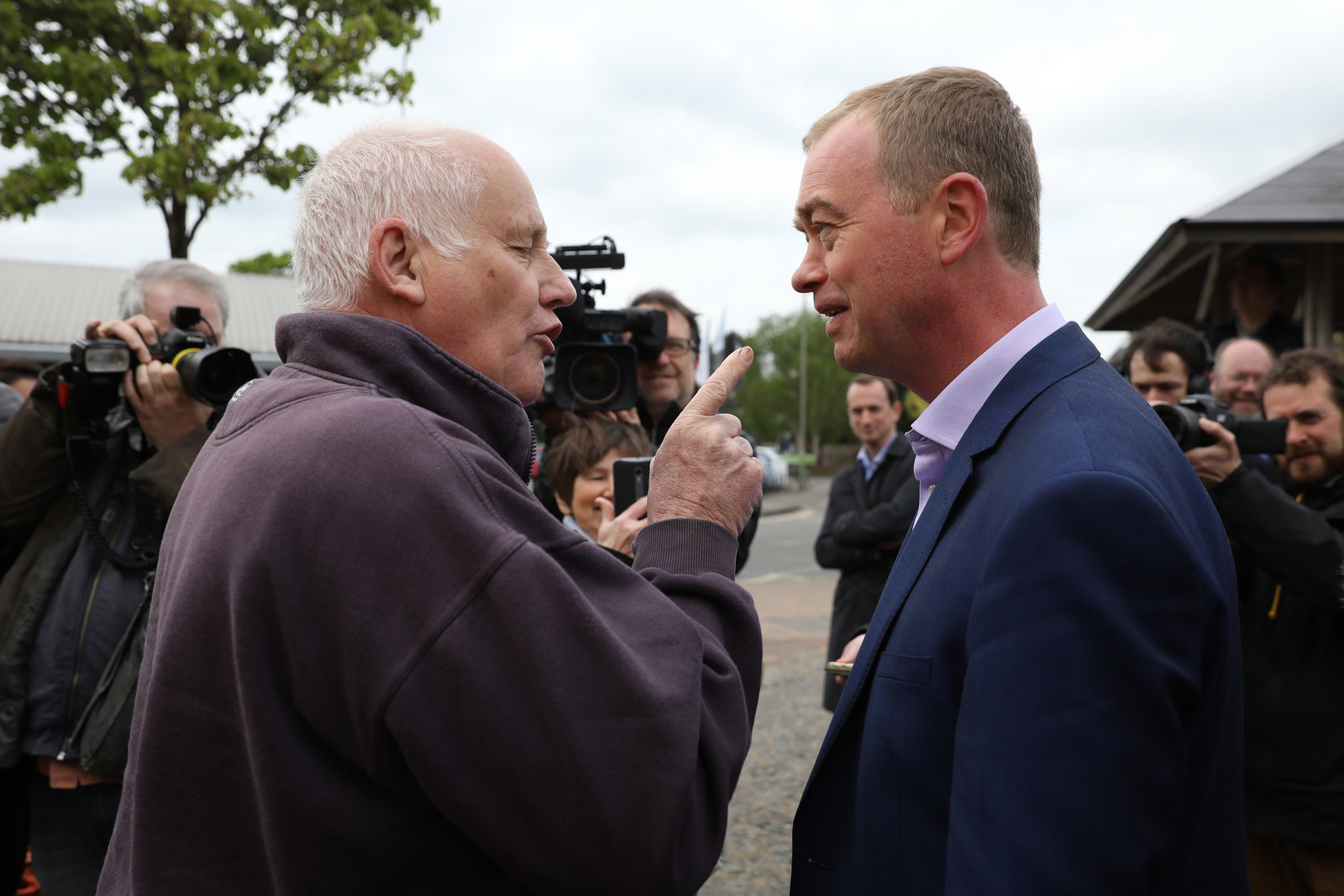 While out on the campaign trail near Oxford earlier this week, Farron was accosted by a Leave-voting pensioner who took exception to his Eurocentric campaign. "You're an absolute disgrace," Malcolm Baker, 65, bellowed at Farron. "I voted Leave and I'm proud to have voted Leave and I knew what I was voting for." Farron took the opportunity to engage in the debate, cannily noting that Theresa May wouldn't have had such a chance because she wasn't talking to voters at all. Farron and Baker later kissed and made up, but former Labour supporter Baker said he would still be voting Tory on account of Brexit, and Thursday's local election results suggest there are many more like him.

In the council and regional mayoral elections that took place on Thursday – an unusual occurrence during a general election campaign – the Lib Dems did make some significant gains, particularly in St Albans, where their vote share increased by 44%, but there were equally significant losses in Somerset and Northumberland.
While the Lib Dem share of the vote did increase nationally, the party lost council seats in county elections where the Remain vote was not so strong.

In last year's EU referendum, 63% of voters in St Albans voted Remain, while in Northumberland 54% voted Leave. Somerset meanwhile was split between Leave in rural areas and Remain in urban centres such as Bath.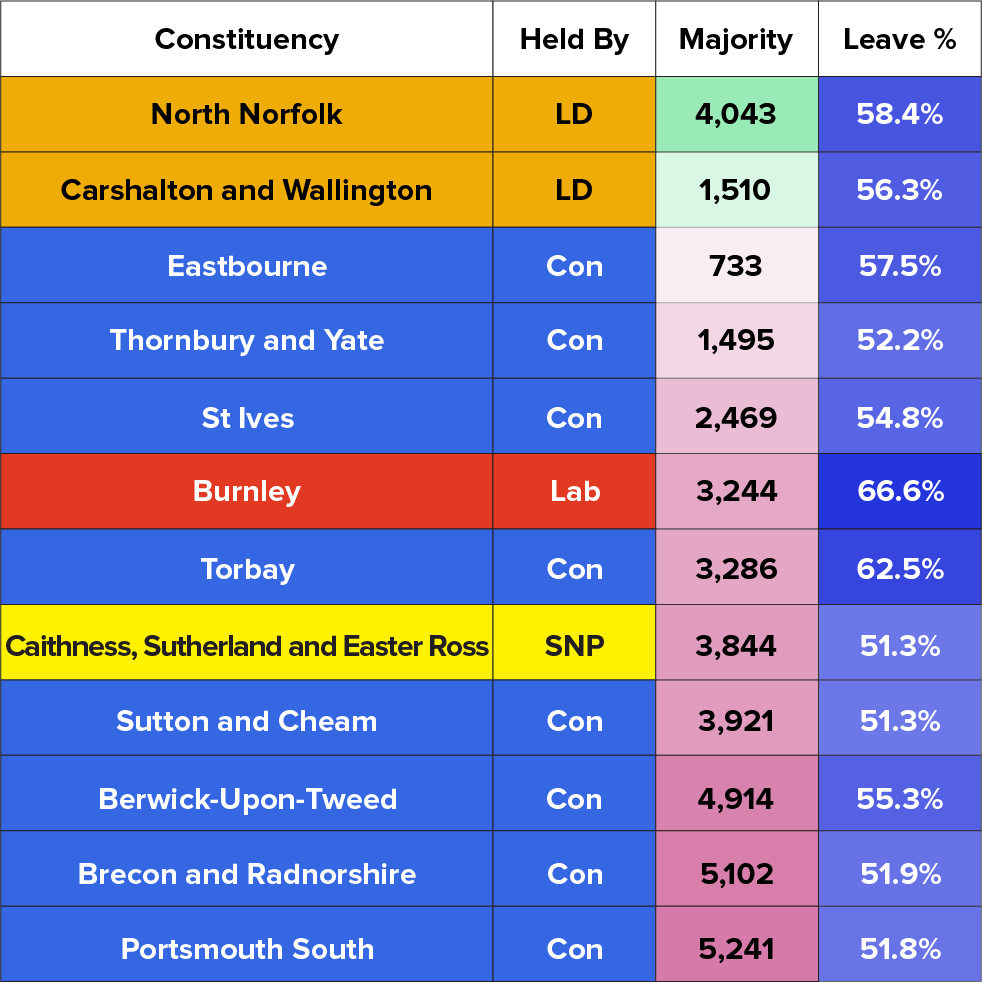 Two Lib Dem candidates are attempting to defend their seats in Leave-voting areas: former health minister Norman Lamb in North Norfolk and Tom Brake in Carshalton and Wallington.

But Lamb told us voters didn't need to agree with him on everything to see the country needed a strong opposition to hold May to account.
"If the Conservatives win a landslide, it will allow them to take people for granted, including in the many Leave-voting areas that have been woefully neglected by this government," Lamb said.

"Across the country patients are lying on trollies in hospital corridors, children are being taught in overcrowded classes, and the elderly are being denied the care they need.
"But the Conservatives just don't care."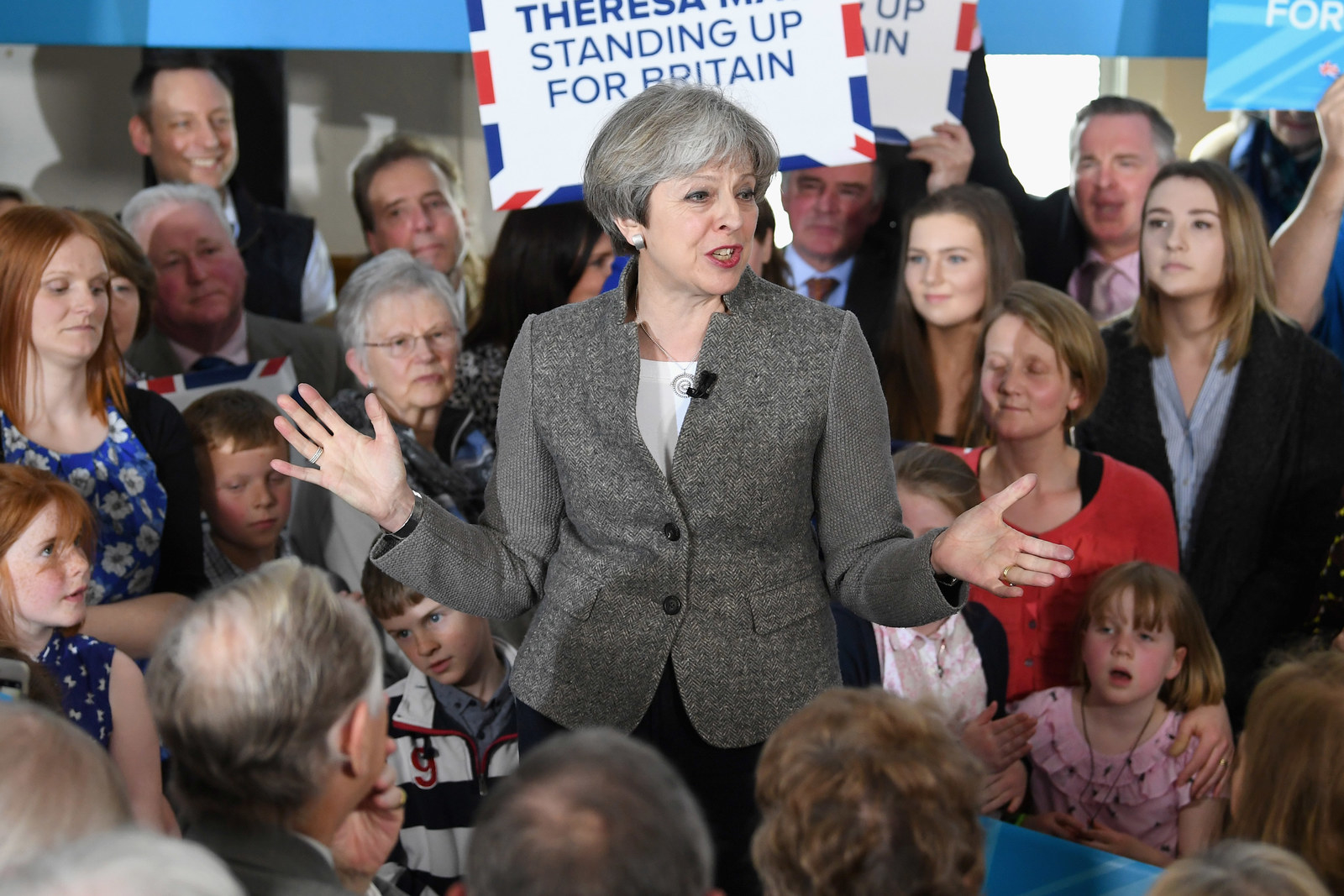 Since calling the election three weeks ago, May has run a militantly closed campaign, preferring to deliver carefully constructed soundbites rather than ad libbing with members of the public. But her almost comically repeated use of the phrase "strong and stable leadership" and insistence on spotlighting Brexit over any other policy issue has certainly resonated in Yate at least.

Even those who told us they had always voted Tory praised May specifically rather than the party generally, and noted Brexit when explaining why they would continue to do so.
"We're paying an exit fee but what about the money we put in? We should get some of that back," Brian, who was out shopping with his wife Christine, told BuzzFeed News. "I think her heart is in the right place, Theresa May. I hope she gets a majority or it makes things difficult. I'm sure she will."
Phil Martin, another long-term Tory supporter, to the horror of his young sons, felt similarly. "I feel the country needs a strong leader, especially with what's happening now," he told us. "I think the way May's been so far is brilliant."
Martin voted Leave but felt that younger Remain voters might lean towards the Lib Dems in this election – if they get out to vote at all that is. "I've got no faith whatsoever in Corbyn," he said, "and I think the Liberal chap is a joke."
Many of the younger voters we spoke to in Yate weren't planning to vote. "I know it's bad but I just don't want to get involved in politics and all that," one young mum told us.
"I haven't got a scooby doo about it," said a man working on a fruit stall who didn't give his name and appeared to be in his early twenties. He didn't vote in the EU referendum and doesn't intend to vote in June. "One person's not going to make a difference," he said. "That's just my opinion."
Fellow fruits stall worker Elliot voted Leave in the EU referendum, but doesn't think he would vote in June's general election. "I don't really trust any of them to be fair," he said.
Nonetheless, Elliot wasn't worried by May's hardline stance on Brexit, nor did he think being out of the EU would do his fruit business any harm. "In terms of fruit prices in Europe, nothing's changed – at the end of the day, they still need our business," he said. "If anything we'll get more local English stuff, which is good for this area."
Among the many people at Yate's shopping centre, only one, Lucy, who was watching her toddler son in the play area, told us she was voting Lib Dem. Protecting public services like the NHS was her deciding factor. "I think people here care about medical care so they will go for a soft Brexit," she said.
But Tory-voting Martin believed the NHS was safe under whoever was elected. "I hope the Tories don't get rid of the NHS, but I can't believe for a minute that the country would let them," he said.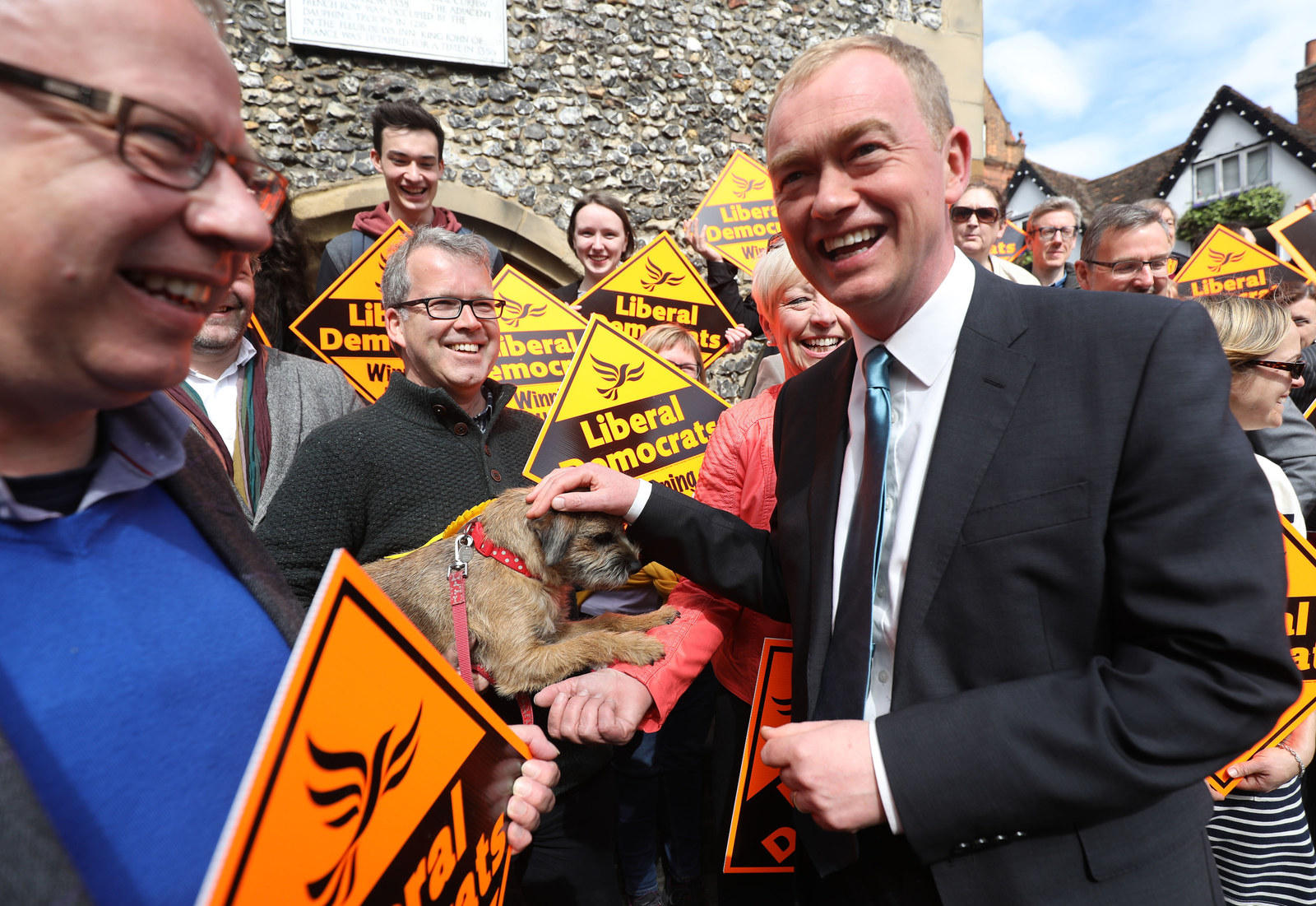 In Hawkesbury Upton, a village just north of Yate with a population of around 1,000 where BuzzFeed News spent Thursday morning with the local Lib Dem parliamentary candidate Claire Young, the party's Remain message seemed to receive a warmer reception.

Several residents told her they would be voting Lib Dem on 8 June, although one said she did so reluctantly since she was still angry at the party for going back on promises it made not to raise tuition fees in the run-up to 2010's general election. People in the village largely supported Remain, and many mentioned Brexit when Young asked about their concerns at the doorstep.
"You can't really say just because South Gloucestershire as a whole voted Leave that it's a Leave area," Young said, "because it was quite narrow."
While Young's campaign leaflets do mention Europe, promising to "protect local jobs and keep us in the single market" and warning that Theresa May wants to "force through a hard Brexit that will put jobs at risk and damage our economy", they are local in focus. "Everyone knows the Conservatives are going to beat Labour nationally, but we need a strong local voice to stand up for our area," is spelled out in thick white capital letters on a bold black background.
Young did not believe she should distance her local campaign from the wider Lib Dems pledge to fight a hard Brexit, saying: "It is a hugely important issue. If that hadn't happened, this election wouldn't have been called, would it? We're fighting the same issues as the Lib Dems are nationally, so Brexit, the health service, education."

She felt resisting Brexit might actually be the driving reason people will drag themselves to the ballot box next month.
"In the last two years, our party's nearly doubled in size," Young said. "There's been a real reaction every time something has gone wrong from the point of view of those who have a liberal outlook on life – it's driven more and more people to take an interest in politics and get involved again."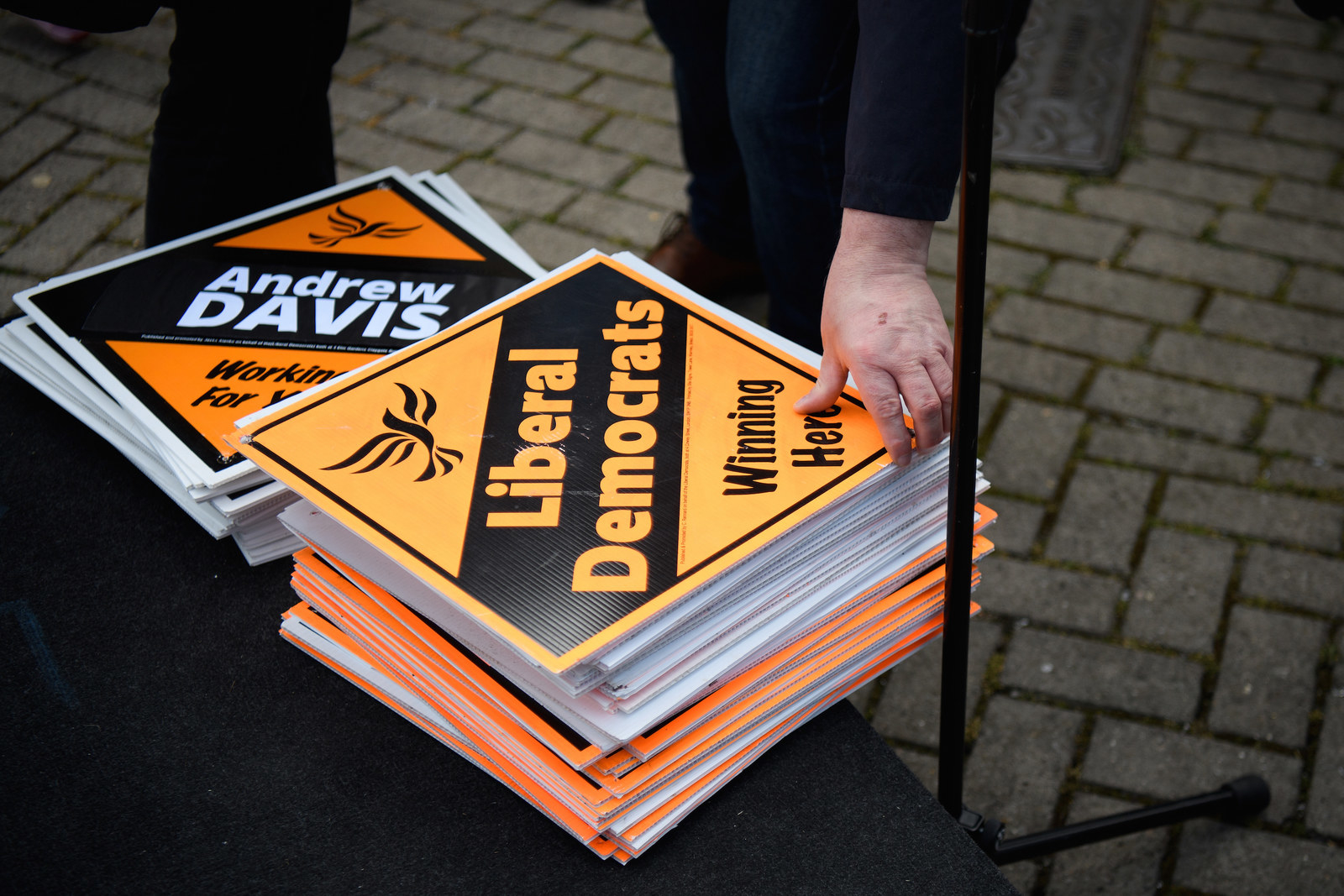 But even among residents who seemed broadly supportive of her message, many, especially older people, said they still hadn't decided who to vote for, or thought they might not bother.
"It is all very confusing," a woman who didn't give her name said. An elderly man, who also didn't give his name, recounted how wonderful the nurses were when he was recently admitted to hospital in Gloucester, but said voting wasn't for him.
Young said: "There are always people who don't vote," but argued that the high turnout for the EU referendum – in which 76% of eligible people voted in South Gloucestershire – showed that people had become more motivated for change over the last two years.
"So much has happened, what with Brexit, and Trump," she said. "If Theresa May gets a landslide she will feel she's got carte blanche to do whatever she wants, not just on Brexit, on the NHS, education and all the other issues. We're finding some people are saying to us, we don't want one person having so much power."
But former Lib Dem activist Jennifer Aldershaw, an elderly resident of Hawkesbury Upton, was not so hopeful. "I really don't know who we'll see in Number 10 in June," she said. "I suppose it will be Maggie… No, not Maggie, I mean Theresa May!
"I think we're just going the wrong way, it's going to be a terrible disaster."
Aldershaw said she didn't think that the Lib Dems' message would deter voters in the village where she lived, but that it could in the wider South West region. "I think people are so misinformed, that's my concern," she said. "Or just plain ignorant of what the EU is for. Certainly it needs reforming, but you can't reform anything by leaving it."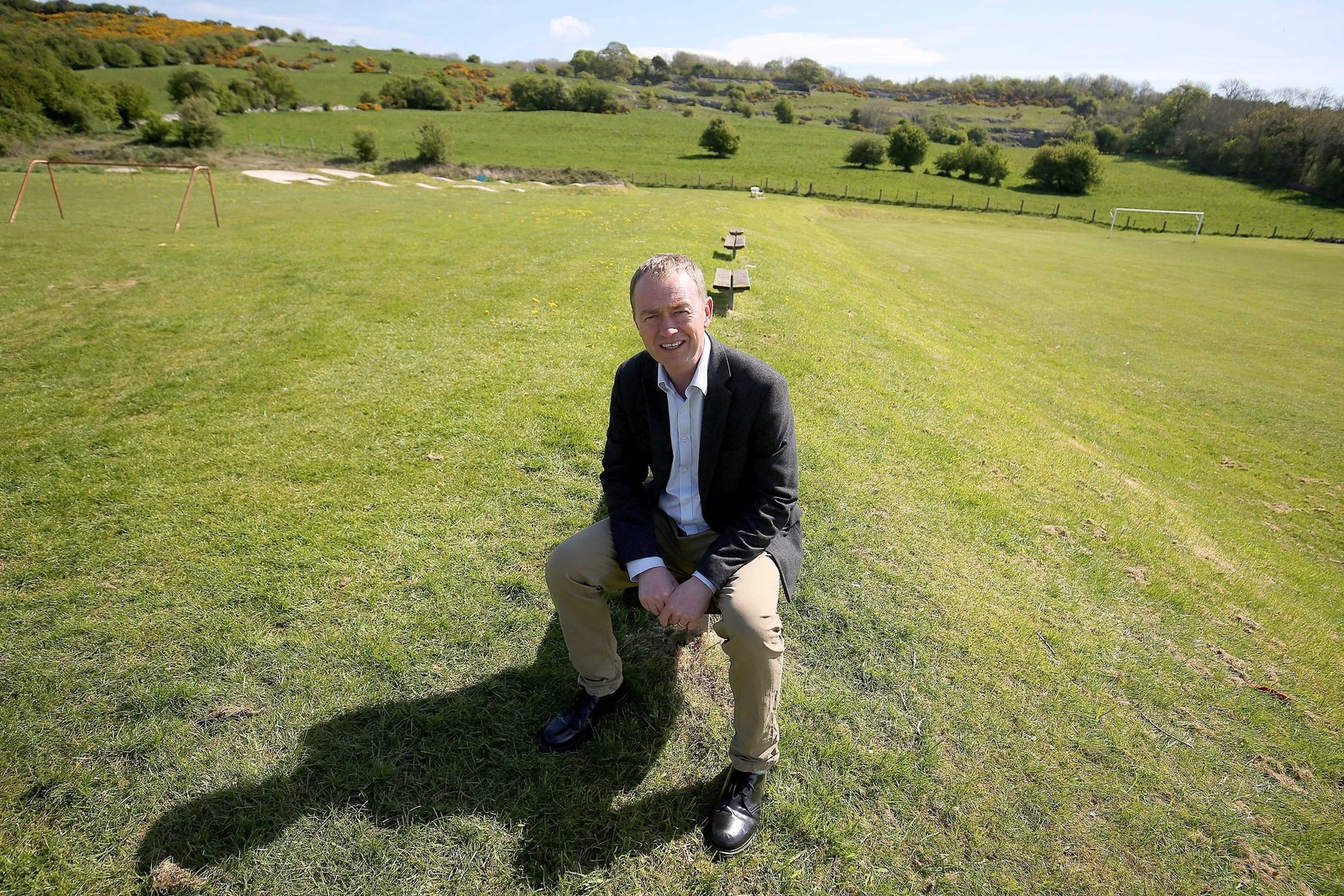 A spokesperson for the Lib Dems did not offer a response to a request for comment on how their pro-Europe message would play out in Leave regions, but warned that May was "on course for a coronation" and said they were the only opposition strong enough to stop her. "A strong opposition is vital to a healthy democracy," the spokesperson said. "A strong opposition is vital to rescue the NHS from Conservative neglect, to stop Theresa May cutting schools to the bone [and] to fight for you and your community. We will be the strong opposition that will stand up for you."

Speaking in Hawkesbury Upton, Young said May's "mythical strong leader" mask might still slip as the election campaign rolls on. "If she was a strong leader she'd be taking part in the debate," Young said, "and she'd be out there on the high street actually talking to people, not hiding behind closed doors and having meetings with friendly people."
Right now, Young added, the Lib Dems still have all to play for: "We've still got five weeks to go and I'm not sure May's going to be able to keep it up."