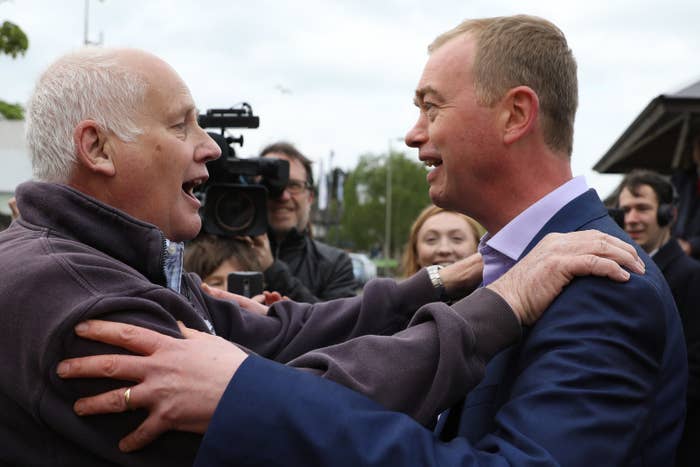 Liberal Democrat leader Tim Farron came face-to-face with the Brexit support he seeks to challenge in this general election when he was accosted by a pro-Leave pensioner on the campaign trail near Oxford this morning.
"You are an absolute disgrace," Malcolm Baker, a 65-year-old local resident who emerged from the crowd at the rally, told Farron. "I voted Leave and I'm proud to have voted Leave and I knew what I was voting for."
The Lib Dems, who Farron described during an event at Westminster Synagogue yesterday as the only party to "stand against policies of nationalism and
division", have put a desire to remain in the European Union at the heart of their 2017 general election campaign.

Farron has proposed a referendum on whether or not to accept Theresa May's final Brexit deal, which he hopes to achieve by securing more Lib Dem seats in Westminster. The party currently holds nine seats, down from 57 in 2015.
But Baker was not impressed by the party's pro-Remain message.
"They said we didn't know what we were voting about, but we did know," Baker said. "I knew what I was voting for."
Farron responded by asking Baker if he had grandchildren, and if he did, if he was he proud that they would "inherit a poorer country".
"I'm proud that they'll be coming out of Britain … out of Europe, and that we'll have our own destiny and not have people telling us we're going to pay £100 billion to get out," Baker retorted.
"If that's your policies, I hope you get beaten. I hope you only get six seats."
The altercation follows reports that Britain's departure from the EU could cost the country up to €100 billion, a bill which Brexit secretary David Davis has said the British government would not be willing to pay.
"I've always voted Labour but I'll be voting for Theresa May," Baker added, which led to someone in the crowd calling him a "fucking idiot".
Baker and Farron reportedly made up following the heated moment, and Farron later tweeted that he was "happy to meet and debate with anyone", but the incident demonstrates the challenges the Lib Dems will face in trying to win over traditionally Labour- or Tory-leaning voters who may have supported Brexit.
During Wednesday's synagogue event, Farron accused Labour, the Tories, and the "right-wing media" of using a "dog-whistle discussion" about immigration to appeal to Brexit-supporters.
"Labour and Conservatives alike have either pandered to, or fallen under the spell of the notion that immigration in this country is a curse," Farron said. "The Liberal Democrats are unique and alone in proudly saying that immigration is a blessing and not a curse."
"Within Oxford West and Abingdon there is huge anger at Labour and Labour's handling of the Brexit campaign – as well as Theresa May's approach," Andy McKay, a local Lib Dem activist told BuzzFeed News.
"We will need to address the entire issue. I think we know that not 100% of the population will agree with us, but no one else is speaking for the Remain side of the argument."
A Lib Dem spokesperson told BuzzFeed News that the exchange should be of greater concern to Labour, which had lost a lifelong voter.
"This election is a chance to change the direction of our country," the spokesperson said. "On one side it's Theresa May and on the other is the Liberal Democrats. If you want to change the direction, you need to vote Liberal Democrat."