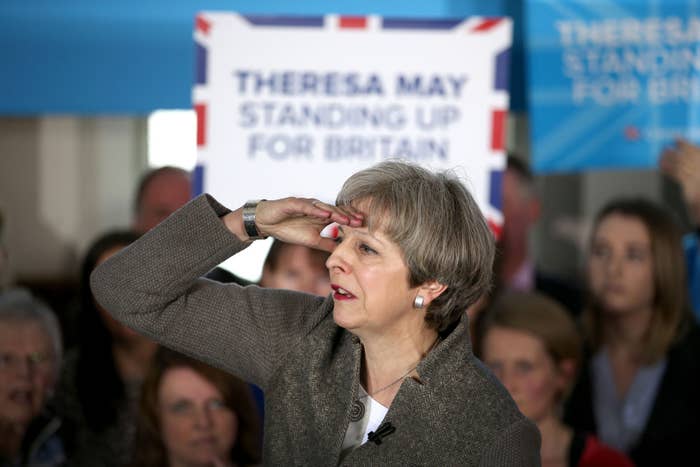 Theresa May has rubbished a searing account published in a German newspaper of her dinner meeting with European Council president Jean-Claude Juncker last week which painted a bleak picture of the inevitable Brexit negotiations.
The damning report – allegedly leaked by senior EU officials to the Frankfurter Allgemeine (FAZ) – said Juncker and May clashed over a number of key issues, including the British PM's unrealistic expectations that Brexit could be a quick "success".
"I leave Downing Street ten times more skeptical than I was before," Juncker reportedly told the PM as he left the two-hour meeting on Wednesday.

But during a visit to Mawdesley, in Lancashire, this evening the PM told reporters that she believed the account was nothing more than "Brussels gossip".
"I have to say that from what I've seen of this account, I think it's Brussels gossip," May said. "And just look at what the European Commission themselves said immediately after the dinner took place, which was that the talks had been constructive."
She added: "But it also shows that actually at times these negotiations are going to be tough. And in order to get the best deal for Britain we need to ensure we've got that strong and stable leadership going into those negotiations."
Earlier in the day, a spokesperson for the PM had also rubbished news of the report.
"We do not recognise this account," they said in a statement to BuzzFeed News. "As the Prime Minister and Jean-Claude Juncker made clear, this was a constructive meeting ahead of the negotiations formally getting underway."

Following the report, both Labour and the Liberal Democrats criticised May.

Lib Dem leader Tim Farron said the account blew a "massive hole" in Tory arguments, and told the BBC: "It's clear this government has no clue and is taking the country towards a disastrous hard Brexit."
Meanwhile, Labour leader Jeremy Corbyn said May was sending "mixed signals".
Another point of contention detailed in the German publication's account was UK-EU debt. Without paying up – as May appears unwilling to do – Juncker allegedly told the PM a working trade deal would be unlikely to materialise.
It is also reported that he poured cold water on the British government's attempt to "cherry pick" elements of the EU, under a similar agreement successfully negotiated by May as home secretary. That negotiation, much trumpeted as a Home Office success, relied on previous opt-outs and, crucially, was far less complex than Brexit.
The newspaper also claimed the two leaders disagreed over May's wish to keep negotiations under wraps until a final deal is agreed.

The following day, Junker rang German chancellor Angela Merkel to say May was "deluding herself" and "living in another galaxy" in regards to Brexit.

Merkel, in comments made later that day, warned the UK should not be under any "illusions" regarding Brexit, and that Britain would not be granted any special treatment during negotiations.
"I'm not in a different galaxy," May told the BBC's Andrew Marr on Sunday. "I think what this shows and what some of the other comments we've seen coming from other European leaders show is that there are going to be times when these negotiations are going to be tough.
"That's why you need strong and stable leadership in order to conduct those negotiations and get the best deal for Britain."