"Resign Cameron" Protest Targets Conservative Spring Forum As PM Tells Party To Blame Him For Tax Fallout
The demonstration was a response to revelations in the Panama Papers that David Cameron had benefitted from his late father Ian Cameron's interests in an offshore investment fund.
Thousands of protesters in London called on prime minister David Cameron to resign on Saturday, after he admitted owning shares in his father's offshore fund that avoided paying corporation tax in Britain.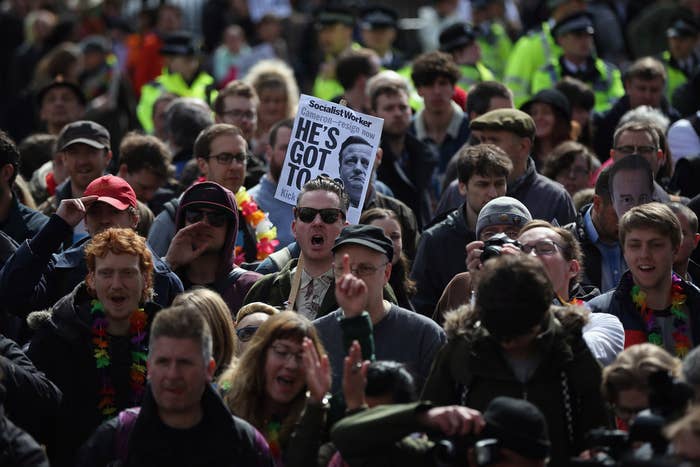 The admission by Cameron on Thursday came days after the Panama Papers exposed the prime minister's late father Ian as being a client of secretive law firm Mossack Fonseca.
After four statements from Downing Street dismissing David Cameron's involvement in his father's financial affairs as a "private matter", and mounting public pressure, the prime minister finally revealed: "Of course I did own stocks and shares in the past, quite naturally because my father was a stockbroker.
"I sold them all in 2010, because if I was going to become prime minister I didn't want anyone to say you have other agendas, vested interests. Samantha and I had a joint account.
"We owned 5,000 units in Blairmore Investment Trust, which we sold in January 2010. That was worth something like £30,000."
While Cameron's involvement in the fund came before he was elected prime minister, many protesters believe holding interests in offshore funds to be hypocritical given the Conservative party's alleged commitment to closing tax loopholes.
Lily Allen, Josie Long and Jarvis Cocker were among celebrities who joined the protest.
Protesters chanted "David Cameron must go" before the crowd marched to Covent Garden in a surprise diversion to the Grand Connaught Rooms where the Conservative spring forum was being held.
Jack, a junior doctor from London, told BuzzFeed News he had joined the protest to "show my opposition to a government of millionaires. How can you have one rule for the rich and another for the rest of us?".
He condemned Cameron for "dodging questions" in the wake of the Panama Papers scandal.
Emma Tallis told us she felt the situation might have been better "If Cameron had been honest from the start, but it's the lying that bothers me the most."
While Louise, another protester doubted the demonstration would result in Cameron's resignation, she still felt it was important to "create enough noise" to prevent the situation from simply blowing over.
"If he doesn't resign then it would at least be good to see reform," she added. "If he resigned that could be it blowing over, so maybe it would be better if he stays and is forced to make changes."
Police said they were "surprised" that the protest diverted to the Grand Connaught Rooms, but appeared to have the event under control as a large number of them blocked the entrance to the conference.
Protesters gathered at several entrances to the building where earlier Cameron had given a speech to party members, his first public appearance since his revelations on Thursday.
He admitted that it had "not been a great week" and that he could have handled things better.
"I know there are lessons to learn and I will learn them," Cameron said. "Don't blame Number 10 Downing Street or nameless advisers, blame me."
He said he acted as he did because he was angry about things being written about his late father, to whom he was extremely close.
"But I mustn't let that cloud the picture. The facts are these: I bought shares in a unit trust, shares that are like any other sorts of shares and I paid taxes on them in exactly the same way.
"I sold those shares. In fact, I sold all the shares that I owned, on becoming prime minister," he said.
He promised that he would publish his most recent tax return, as well as those from previous years, because "I want to be completely open and transparent about these things".
But in a statement responding to Cameron's admission, leader of the opposition Jeremy Corbyn said the prime minister had "lost the trust of the British people".
"After years of calling for tax transparency and attacking complex offshore tax arrangements as "morally wrong", the prime minister has been shown to have personally benefited from exactly such a secretive offshore investment," the Labour leader wrote.
"It is extraordinary that after pocketing the profits from his offshore investment trust, the prime minister was lobbying the European Union against transparency in the ownership of trusts.
"Once again the message has gone out that there is one rule for the wealthy and another for the rest of us."
During a Q&A session at a Scottish Labour event in Edinburgh on Saturday, however, Corbyn said he didn't want to be "too personal" about some "dodgy individuals" exposed by the Panama Papers.