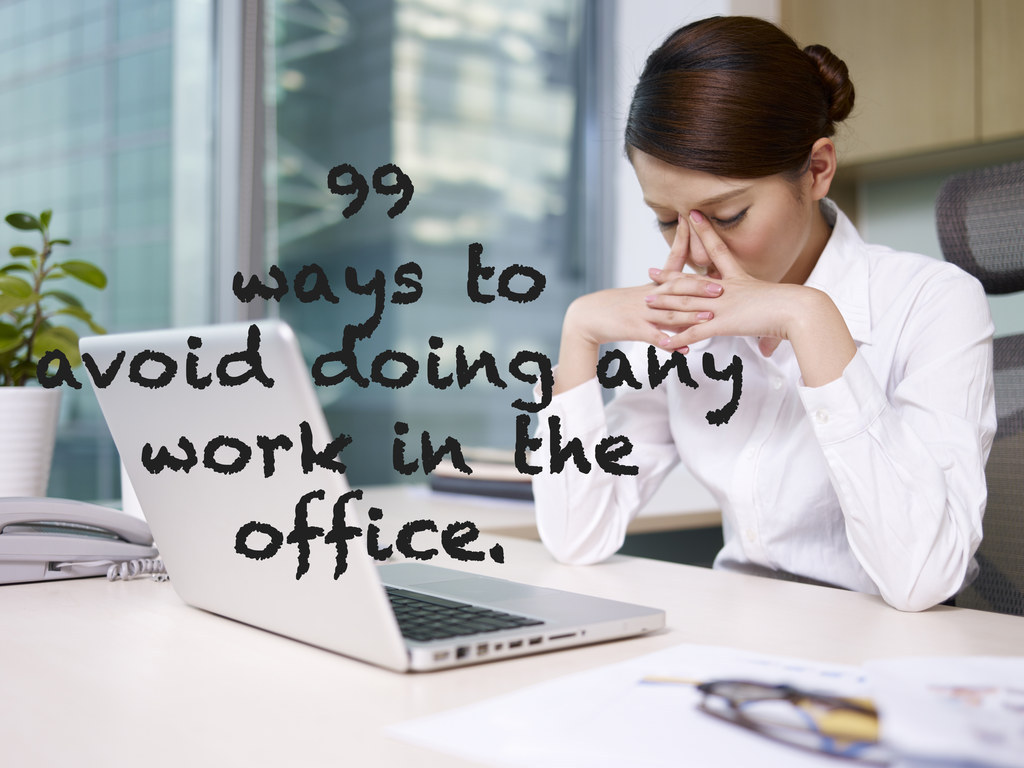 1. Make a show of describing your "terrible" journey to work.
2. Go to the canteen to buy toast to recover.
3. Bump into your mate from accounts and gossip about your nemesis in marketing.
4. Make a cup of tea.
5. Have a quick look at the news on the internet while you eat your toast.
6. Check Facebook.
7. Check Twitter.
8. Check Instagram.
9. Check Facebook again.
10. Have a look at your emails. 382!
11. Decide you need to "get on top of your inbox" before you get stuck into work.
12. Think you could probably do with another cup of tea before you crack on.
13. Offer your whole department a cup of tea.
14. What, no milk left? Sure, you don't mind nipping out for some!
15. Instagram a funny pub chalkboard you see on the way to the shop #bants.
16. Swing by accounts on your way back up to ask about an invoice…
17. …and show them your funny picture.
18. Make tea for your department.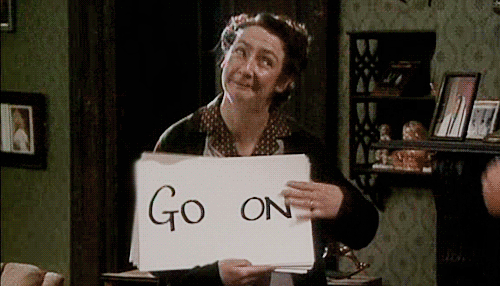 19. Announce that you are "snowed" and can't do anything until you've sorted these emails.
20. Mark the important-looking ones as unread and come back to them later.
21. Why not make a load of folders and categorise them before reading too?
22. Tweet about what a nerd you are for making your "geeky email folders".
23. Make another cup of tea.
24. Check your Twitter notifications to see if anyone's favourited your email geek joke.
25. Have a look at Facebook and see a notification that it's a friend's birthday.
26. Google image search 'happy birthday lol' to find something good to post on their wall.
27. Click on a quiz link your mate's posted.
28. Tell your Facebook how psyched you are that an Otter is your spirit animal.
29. Look at Twitter notifications for RTs and favourites on your nerd joke again.
30. New emails since you've last checked – organise them in your new folders.
31. Have a look at the intranet to see what's on the canteen menu today.
32. Tweet "Burgers for lunch! #getin #foodofchamps".
33. Read "urgent" email from your marketing nemesis about a brief you've apparently missed.
34. Go and talk to your marketing nemesis who has obv not made what they want clear if you've not done it.
35. Insist to them that you've never seen said brief before.
36. Call all brief "stakeholders" to a meeting to go over it again.
37. Go to the canteen for meeting snacks.
38. Go to the bathroom while you're up.
39. Make tea for the meeting.
40. Stop off at your friend in design's desk afterwards to bitch about marketing nemesis.
41. Check Facebook.
42. Check Twitter.
43. Check Instagram.
44. Check Facebook again.
45. Follow up meeting with an email to project "stakeholders" about the process of the brief.
46. Colour code it.
47. Categorise your new emails into folders so that you can get stuck into working through them after lunch.
48. Go for lunch.
49. It's been a mad morning, Take an hour.
50. Pick up post for your department from the post room on your way back.
51. Chat to a couple of people as you distribute it.
52. The burgers were nice weren't they?
53. Make tea.
54. Check Facebook.
55. Check Twitter.
56. Check Instagram.
57. Check Facebook again.
58. Pretend to be going to the bathroom but actually go and bitch to your friend in accounts about your boss reprimanding you for being on Facebook and taking a long lunch.
59. Actually go to the bathroom on the way back but hide in the cubicle for a bit.
60. Give yourself a pep-talk in the cubicle so that you come out like a badass and your boss won't know they've upset you.
61. Delete all the emails in your folders that you were copied in on, but aren't asking you for anything specific.
62. Print out the brief you're supposed to be working on.
63. Head to the stationery cupboard to re-stock the paper in the printer.
64. Ask around your department if anyone wants any pens or Post-its while you're down at the stationery cupboard.
65. Charmingly ask your marketing nemesis if you can get them anything too – keep your friends close, your enemies closer…
66. Distribute stationery, bringing some extra pens for your office crush, who you thought might need them anyway.
67. Write a list of what you need to do from the brief you've printed.
68. Tweet about what a hectic day you're having now your boss has left. "3pm and so much of my to-do list left, aaaghhh! #snowed".
69. Make tea – need fuel to smash the rest of the day!
70. Go and ask your marketing nemesis' assistant to send you the documents you need to get on with your brief.
72. Mutter something about how you cannot do your job if other people don't do theirs while they search their folders.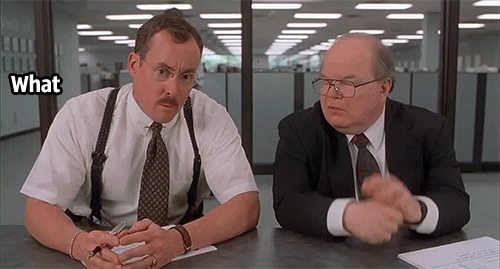 73. Go to the toilets on the way back.
74. Take advantage of empty toilets and fluorescent lights to pick blackheads in the mirror.
75. Also have a look for rogue grey hairs.
76. Tweet your dismay at finding a grey hair "#feelold".
77. Check Facebook.
78. Click on an enticing link about a celebrity.
79. Tell your desk-mate that you really can't guess what North West is crying about today.
80. Hate-read the site you've ended up on for the next 20mins.
81. Put newly received emails into folders to work on when you get a minute.
82. Organise everything you need to work on your brief now that your marketing nemesis' assistant has finally sent you those documents.
83. Sign the birthday card that's going around, "make sure you get pissed, lol".
84. Offer to go and collect the birthday cake from reception while everyone else signs the card.
85. Go to the floor above to get candles from someone.
86. Hide in the kitchen with the cake and candles while everyone gathers.
87. Compliment the birthday girl on the cute flowers her boyfriend has sent her.
88. Quietly tell your deskmate that you think it's gross when guys send flowers to a womans' work.
89. Realise your own birthday's coming up and have a sneaky look at Tinder.
90. Make tea to have with your cake.
91. Check Facebook.
90. Check Twitter.
92. Check Instagram.
93. Check Facebook again.
94. Sigh that you can't believe it's 5pm already when you've still got so much to do.
95. Email around to see if anyone's going to the pub since it's a birthday.
96. Tick "organising emails into folders" off your to do list.
99. Tidy your desk and take your tea mugs back to the kitchen ready to tackle tomorrow head on.
98. Check Facebook.
99. Tweet, "phew, wine O'Clock! #whataday"