78 Thoughts You Have In Topshop When You're Over 30
"Where are all the clothes for grown-ups?"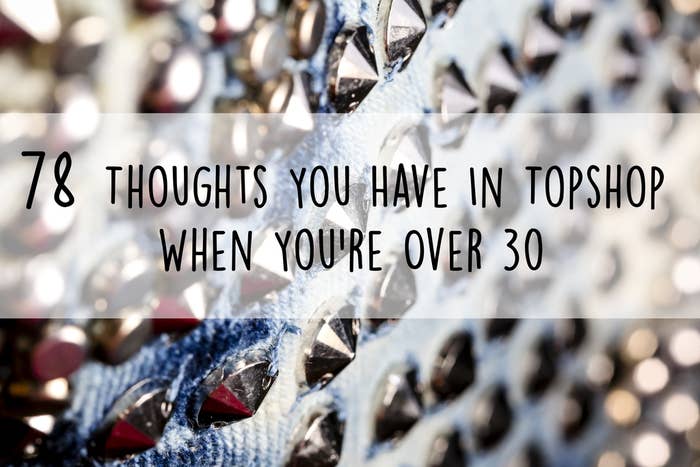 1. Ah Topshop, my old friend. Whatcha got for me today?
2. Ugh, so busy.
3. Are these girls even shopping or are they just purposefully obstructing my access to denim?
4. This isn't a fictional mall! This isn't 1995! Go to Starbucks where you belong.
5. Man, they probably weren't even born in 1995.
6. Speaking of 1995, pretty sure that's when I last wore a button-down suede mini skirt just like this one.
7. I loved that skirt.
8. Snogged a boy at the school disco in that skirt.
9. Mmm, nice heavy suede that, well lined, impressive.
10. Dry clean only though.
11. Maybe I'm enough of an adult for dry-clean only clothes…
12. Hang on, is that a ribbed T-shirt?
13. Everything's taken a distinct turn for the mid-90s in here.
14. God, is the mid-90s actually retro now? I was already shopping at Topshop in the mid-90s!
15. Totally bought half of this before.
16. "This collection was inspired by Candida Doyle of Pulp."
17. Bet these youths don't even know who she is.
18. What a woman.
19. OK, where's the stuff that won't make me look like a walking #tbt?
20. Why are there so many playsuits?
21. Hmmm, maybe I've wandered into the playsuit section…
22. Actually I think this whole shop might just be a playsuit section.
23. When did playsuits become such a big deal anyway?
24. Who's got time to get fully undressed every time they need a wee.
25. You could hardly wear it to work.
26. "Oh this? Yeah, that's my arse – so er, when do you need that report by?"
27. Ooh, these silk camis are nice.
28. That'd be nice with my black tailored trousers and some ballet flats.
29. Chic. Like Audrey Hepburn at the office.
30. Hang on, these aren't real silk, they're polyester.
31. Ugh, Audrey was never sweaty.
32. Wonder if Whistles has any nice silk camis…
33. Yes, makeup!
34. Topshop makeup is so good. And so cheap!
35. Why didn't they have this next level selection of glitter nail varnish when I was a teenager?
36. What are all these pearly-looking sticks? Are those sparkly face-stickers?
37. Oh it's "Festival" makeup.
38. Lol being arsed to wear makeup at a festival.
39. Bit of sunscreen and a pair of sunglasses will do me fine thanks.
40. Speaking of festivals it looks like Burning Man has shit itself in here.
41. So. Many. Flower. Crowns.
42. Imagine actually trying to take yourself seriously in a flower crown.
43. Surrounded by a load of other bellends wearing flower crowns.
44. Yep, there's the politically incorrect feather garments.
45. Why are people still making these things?
46. Couldn't even dry-clean a feather waistcoat.
47. Good luck if you spill WKD on that.
48. Ahh, it's a Kylie and Kendall Jenner collection.
49. Reigning queens of Coachella.
50. The only festival where people spend more time looking at the clothes than they do the bands.
51. Seriously, where are the clothes for grown-ups?!
52. I just want something that doesn't have suede fringing, feathers, sequins or superfluous rips.
53. Why is it so hard to find anything that doesn't look like a wardrobe reject from "Almost Famous"?
54. Yes, Boutique – this is where the good stuff is.
55. Mmm, that cream silk wrap blouse is dreamy.
56. (Note to self, never drink red wine in it if you buy).
57. Totally looks like something Victoria Beckham would wear.
58. Topshop has basically been keeping me in things that look like Victoria Beckham might wear them since she was an Adams.
59. Strappy black dresses when they were selling 90s clothes because it was actually the 90s.
60. Chic tailored things that don't cost as much as her actual clothes now.
61. The less said about the distressed denim and jewell-encrusted vests in the mid 00s the better.
62. For both of us.
63. Wonder if VB has ever bought a pair of Baxters…
64. I could totally do with a black pair actually.
65. Topshop should get a Nobel prize for services to jeans for designing those Baxters.
66. Kate Moss could accept it for them in her classic light grey pair.
67. Man, what jeans did any of us wear before 2005?
68. *Shudder* Bootcuts *shudder*.
69. OMG I have to have those high-waisted shorts.
70. They would look so good with a shirt.
71. Hmmm, the are certainly short though.
72. Can I still get away with wearing shorts that short?
73. I'm more Kardashian age than Jenner age after all.
74. What would Kim do?
75. Kim's not one for subtlety, is she?
76. I think she'd want me to have them.
77. you're never too old to look good after all…
78. ¯\_(ツ)_/¯