Jeremy Hunt was crowned "Dick of the Year" on Channel 4's current affairs comedy show, The Last Leg, on Friday after he confirmed he would impose a controversial new contract on junior doctors.
Nominees also included American presidential candidate Donald Trump, who came second, Martin Shkreli, who increased the price of AIDS drugs, and Walter Palmer who shot Cecil the Lion.
Co-host Alex Brooker called for an honorable mention for a former Dick of the Year, Justin Bieber, suggesting that after Bieber backed doctors in their successful bid to reach Christmas number 1, he had done more for the NHS than Jeremy Hunt.
Many cast their vote using the hashtag, #DickHunt...
...which during the show's airing on Friday night, trended nationally.
One doctor used the opportunity to invite people to sign a petition to ask parliament to consider a vote of no confidence in Hunt over the contract dispute.
After receiving 80% of the vote, Hunt took the dick title, crushing Trump into second place.
Several junior doctors joined the audience of The Last Leg on Friday, but declined the opportunity to hit a Jeremy Hunt piñata.
So members of the public in the audience battered it instead.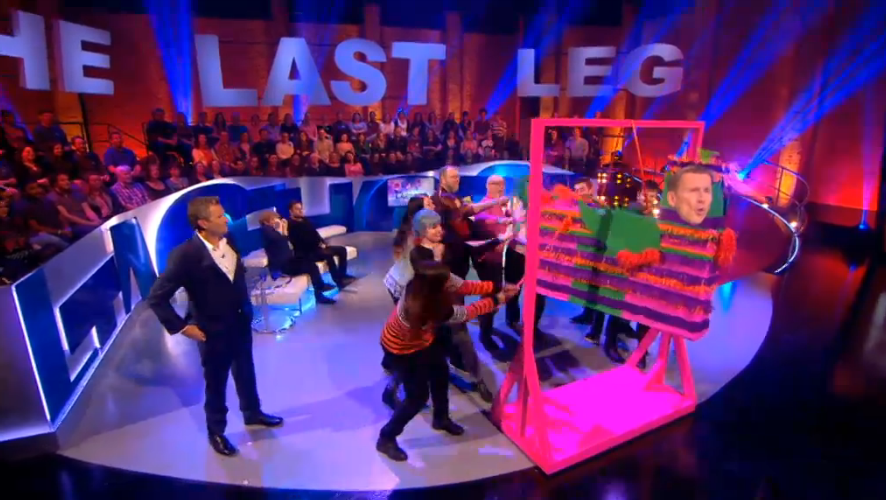 When asked to raise their hands if they would treat Hunt if he came into their hospitals, each one of them did, "because that's the kind of good people you are," host Adam Hills said.
Joking about this week's contract announcement, Hills citied an inquiry that Hunt has launched into the morale of junior doctors, an issue the health secretary felt had been highlighted by the dispute.
"That's like Harold Shipman launching an enquiry into patient mortality rates," he said.