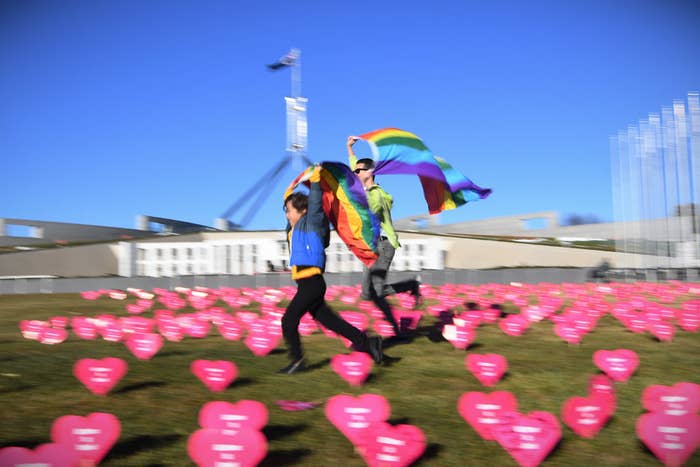 As the sun thawed the frosty grass outside of Parliament House early on Tuesday morning, a small group of people — mostly lesbians, armed with screwdrivers — stabbed holes in the hard ground.

Into them, in neat rows, they placed paddle pop sticks with hearts affixed to the top, slowly creating a sea of flapping pink cardboard. It was a protest, aimed squarely at the Australian government, to say: please don't hold a public vote on same-sex marriage.
Playing among the hearts were two boys — twins Jasper and Rufus, in school uniforms and with tousled brown hair — wresting a rainbow pride flag from one another as they tumbled through the rows.
Their dad, Archie Clements, told BuzzFeed News he was there because in a few weeks time, a ballot form asking whether or not he and his husband, Javier, should be legally allowed to marry under Australian law could "rock up in the mailbox of every family in my kids' school".
"I just find that very threatening," he said. "It's a process over which we've got no control. It's certainly a process we didn't ask for."
Jasper, who had been insistently hammering on Clements' stomach, looked up. "Daddy! I'm trying to play the drums!"
Unfazed, Clements continued: "I just want this sorted out before my kids are really old enough to know what's going on. I want them to take the rights of their family for granted, so there's a lot of urgency from my perspective.
"My boys are nearly seven, and I don't want them living with this throughout their childhood."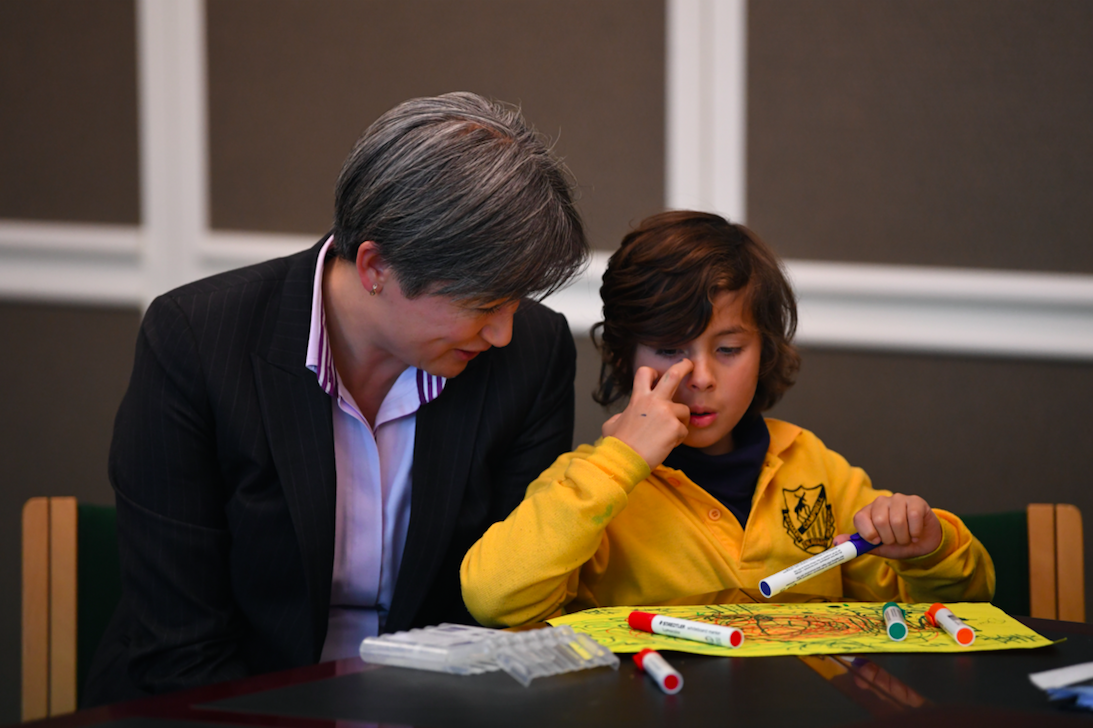 There were few groups watching the outcome of Monday afternoon's Liberal party room meeting more anxiously than LGBT parents.

Felicity Marlowe, convenor of Rainbow Families Victoria, told BuzzFeed News that it's people like her and her kids who are "on the frontline" of campaigns about marriage.
Arguments over same-sex parenting featured heavily in the marriage referendum in Ireland, the only other country to hold a public vote on the issue. Posters stating "Two men can't replace a mother's love" and similar were plastered the streets of Irish cities and towns.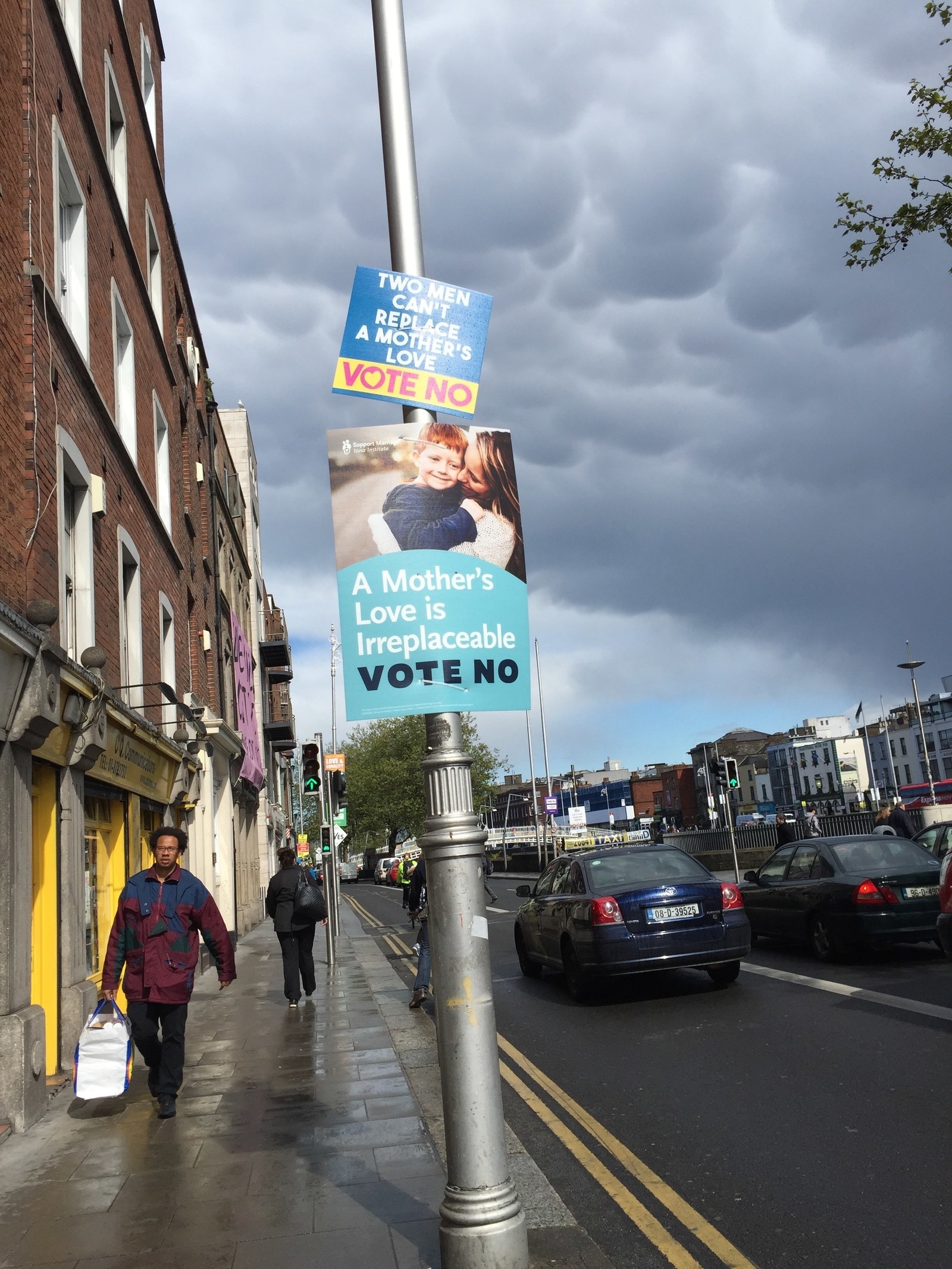 Meanwhile, in Australia anti same-sex marriage activists have said same-sex marriage takes gender out of parenting and has a detrimental effect on children.
"It should be grown-ups teaching our kids how to be respectful of difference," Marlowe said. "But it will be grown-ups standing up on telly, on ads, on the radio, telling our children their families are not valid and their parents' love shouldn't be recognised."
For this reason, Rainbow Families campaigned to block the government's plebiscite the first time around, and breathed a sigh of relief when it was defeated in the Senate in November 2016.

But on Monday, the government came up with a brand new wedge for its political enemies: if you don't pass our compulsory attendance plebiscite, we'll bypass the Senate and run a postal vote.
The Senate knocked back the compulsory plebiscite on Wednesday. Shortly thereafter, same-sex marriage advocates and independent MP Andrew Wilkie announced a legal challenge to the postal vote. Now, only the courts can stymie the ballot.
(That is, bar an extraordinary floor-crossing moment from four government MPs dubbed "the Marriage Rebels" — however the renegade group has signalled it no longer plans to take such action.)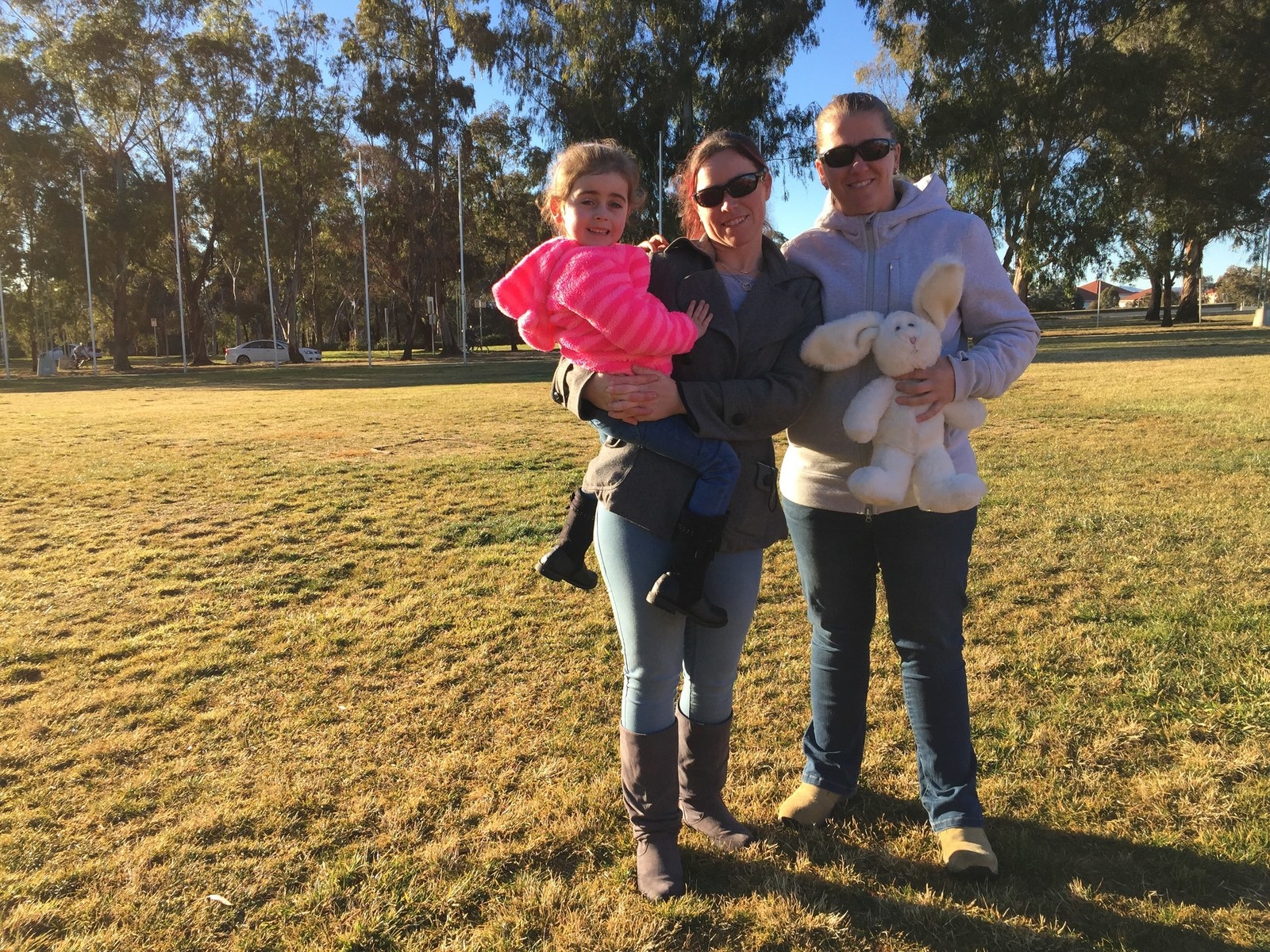 Back on the lawn, Stacey Graham was with her partner Tanya Grobbelaar and their daughter, Allegra, who is four.

"Kids are so...they take in everything," she said. "Everything they see in the media, on the news. Even from her age, they just take in everything they see, so of course it's going to have an effect on them."
Allegra, who clung on to a large plush bunny rabbit while her mum spoke to BuzzFeed News, will start school next year. Graham does not want her to feel different because of her mums.

"I want her to know that her family is the same as every other family," she said. "We get up, go to work, pay bills. We're not all that exciting."
Later, Graham found herself in conversation with opposition leader Bill Shorten, who strode down to the front lawn flanked by Labor bigwigs, including deputy Tanya Plibersek, shadow attorney general Mark Dreyfus, and senate leader Penny Wong, who has a rainbow family of her own.
A gaggle of photographers and cameramen stumbled to catch the moment the politicians made their own contributions to the sea of pink.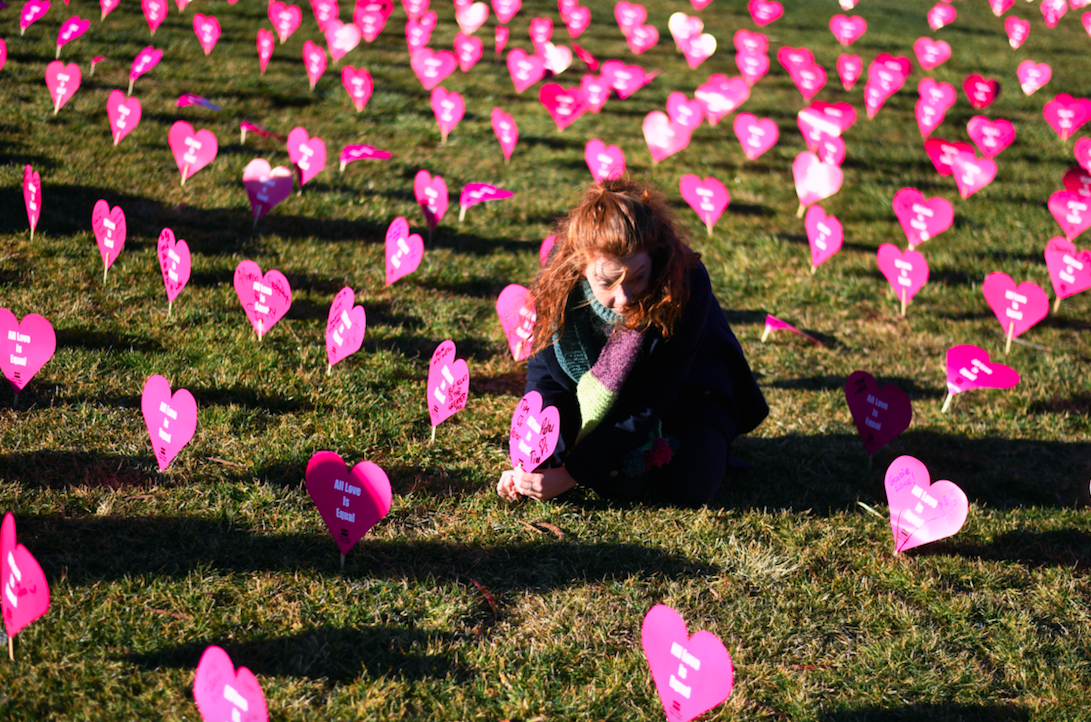 Later that morning, Sue Webeck was sat at a table outside the Parliament House visitors' cafe, sporting an intricately carved wooden bow tie. Six-year-old daughter Maya was on her lap.

As Webeck and Maya spelt out their names for the dictaphone, Webeck's partner Sam and Maya's twin, Elliott, arrived: "Ee double el eye oh double tee," Elliott offered, smiling.
Webeck said they were at Parliament House to talk to politicians because "we can be".
"We recognise there are lots of people involved in the debate around marriage equality who don't have the opportunity to attend sessions like this, who may not have the personal support networks or the resilience to front up time and time again for this argument," she said.
She believes the government's way forward is a "cowardly approach to the conversation," and is wary of the media attention that will come with a concerted campaign.
"As a parent of young children, it's hard to engage with that media in a positive and proactive manner with your children," she said. "But if we get swamped by a funded campaign, it's going to be a really rough few months."

"The girls might get questions on our relationship at school and it's not anyone else's business, and that's what's frustrating," Sam added. "They shouldn't have to answer questions like that."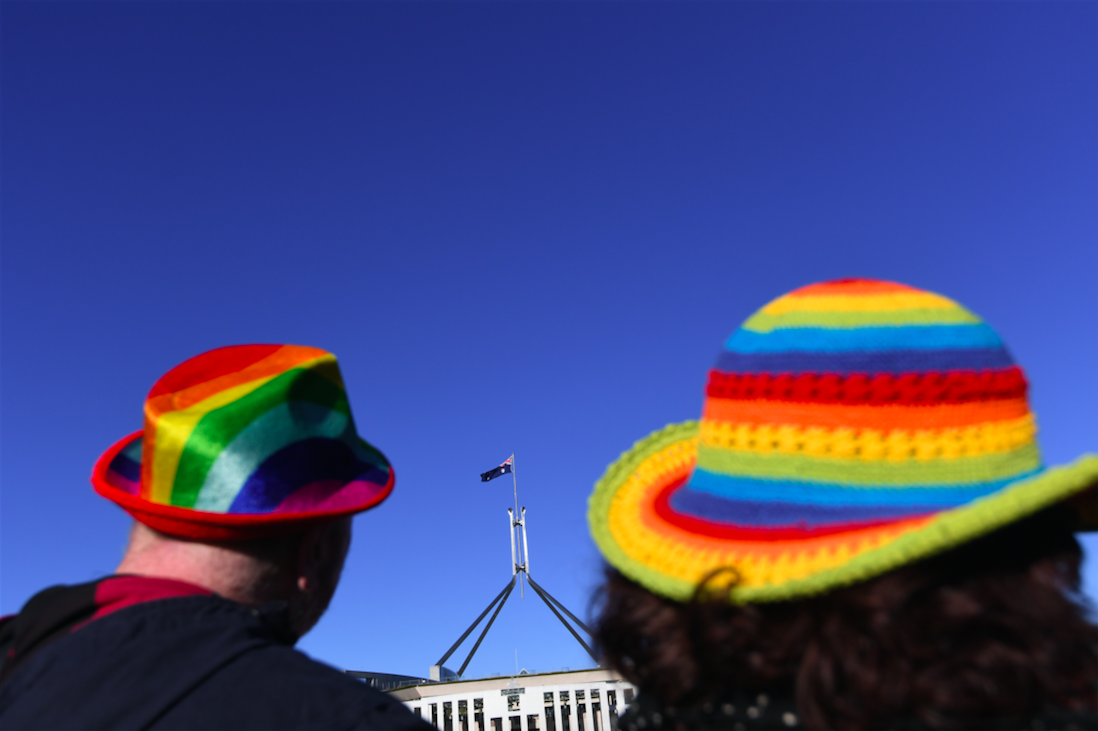 BuzzFeed News understands the postal plebiscite would likely contain no funding for either side of the campaign. Both sides are fervently preparing to fight a full-blown national campaign in just five weeks time — with the "yes" side also organising a legal challenge.
If a court challenge is unsuccesful, the government aims for ballots to arrive at houses by September 12, be returned by November 7, and for a result to be known by November 15 — in time for a bill to be considered over the final two sitting weeks of the year.
12-year-old Riley, from South Australia, told BuzzFeed News: "I am so mad at the government."

"Even the fact that we might have to vote in a plebiscite is stupid," she said.
Riley is well-acquainted with her family not being legally recognised. For almost 10 years, her mothers fought to have her non-birth mother's name listed on her birth certificate. (South Australia was the last state in the country to allow retrospective changes under which both parents could be listed.)
"It was really upsetting for Riley at the time," her mother, Sophie Pointer, said.
Riley said that people might think straight people hate her family, "but almost all our friends are straight, and they treat us equally".
"I believe it is very important that my mothers should get married," she said. "I want to be the perfect bridesmaid walking down the aisle at their wedding."