TV Guest Defends Sunrise Host After "Racist" Comment
"I would be mortified if anyone thought I would say or think anything racist."
Update: Samantha Armytage has responded to accusations that she made a racist comment on Channel Seven's Sunrise last month.
"I would be mortified if anyone thought I would say or think anything racist. It's not in my nature. To anyone who I might have offended, I'm sorry," she said.
Sunrise producer Michael Pell also issued a statement "to avoid further misunderstanding" about the comment.
"Sam has always admitted that her own fair complexion was a disadvantage in the Australian environment. We apologise if anyone misunderstood or if they were offended."
One of the women at the heart of the controversy has spoken out in support of the Sunrise host.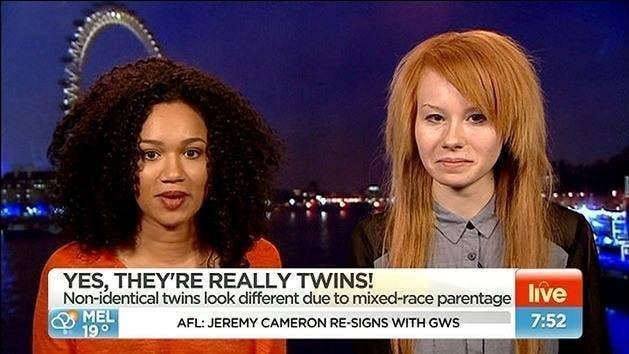 In early March, Armytage and co-host David Koch interviewed twins Maria and Lucy Aylmer, who have very different appearances and skin tones due to a genetic anomaly.
While introducing the twins, Armytage congratulated Lucy on her pale skin.
"The Aylmer twins come from a mixed race family in the UK," she said.
"Maria has taken after her half-Jamaican mum with dark skin, brown eyes and curly, dark hair, but Lucy got her dad's fair skin – good on her – along with straight red hair and blue eyes."
The "good on her" comment has since sparked criticism and a petition with about 3,000 signatures calling on Armytage to apologise.
Maria Aylmer has since written on Facebook that she wants the petition taken down, saying "Sam is not a racist".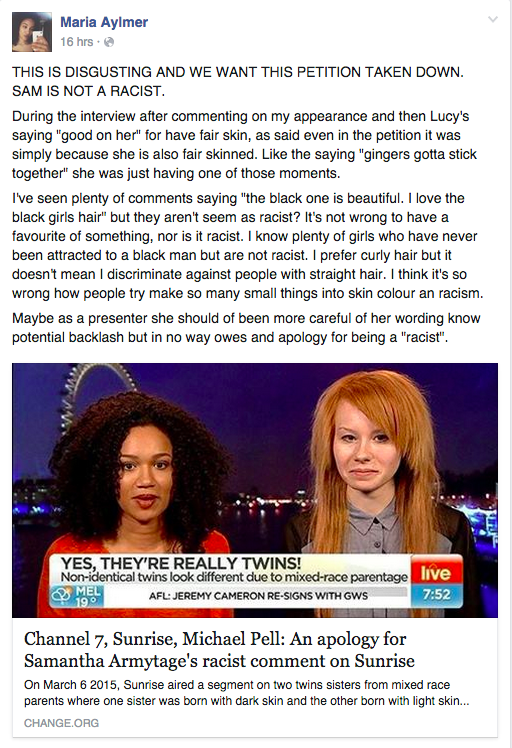 Armytage's praise for Lucy was "simply because she is also fair skinned," wrote Aylmer. "Like the saying 'gingers gotta stick together' she was just having one of those moments."
Aylmer wrote that "it's not wrong to have a favourite of something, nor is it racist".
"I prefer curly hair but it doesn't mean I discriminate against people with straight hair. I think it's so wrong how people try [to] make so many small things into skin colour and racism."
"Maybe as a presenter she should of been more careful of her wording, [knowing] potential backlash, but in no way owes an apology for being a 'racist'."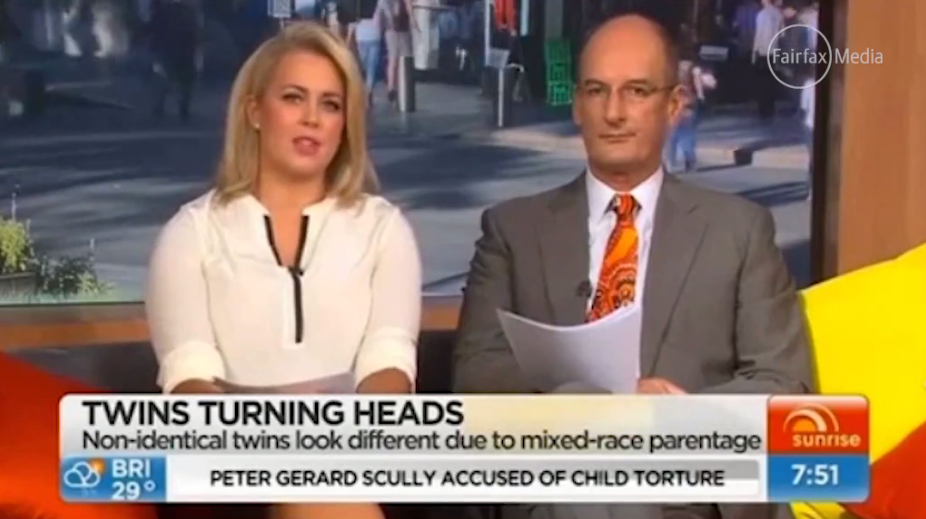 Channel Seven defended Armytage in a statement to Fairfax, saying the comment was a self-deprecating joke.
"Regular members of the Sunrise audience or anyone who has seen the clip in full will know that Sam was taking a dig at herself," the spokesperson said.
"She frequently jokes about the fair skin that runs in her family and how difficult it can be to manage in extreme environments."
Like BuzzFeed Australia On Facebook