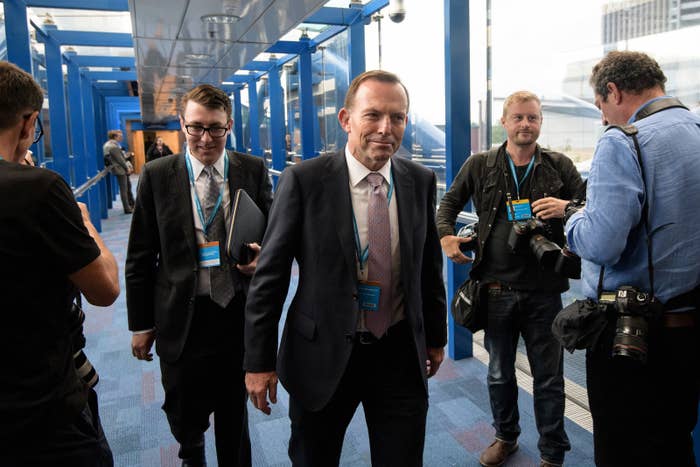 A 38-year-old North Hobart man had been charged with one count of common assault after Tony Abbott alleged he was headbutted by a man wearing a "vote yes" badge on Thursday evening, Tasmania Police said in a statement on Friday.
Police said the man was granted conditional bail to appear in the Hobart Magistrates Court on October 23, and that no further comment would be made on the case.
Prime minister Malcolm Turnbull condemned the alleged headbutting.
"We have a great tradition of resolving our political differences in Australia peacefully and respectfully," Turnbull said in a press conference on Friday.
Abbott claims he was headbutted by a man wearing a pro same-sex marriage badge in Hobart on Thursday afternoon.

Asked if he accepted responsibility for the incident given he had prompted the divisive postal survey on same-sex marriage currently taking place in Australia, Turnbull said: "The responsibility for violence is with those who commit the violence, and they should be brought to justice."
Turnbull added that he is sure there are "lots of witnesses" and "no doubt CCTV" footage of the incident.
He also said that he had called Abbott about the incident last night, but did not get through and left a voicemail and sent a text instead.
Last night Abbott told 2GB radio he was walking to his hotel when a man wearing a "vote Yes" same-sex marriage badge yelled out "Hey Tony!"
"I went over to shake his hand, and then he headbutted me," Abbott said. "He wasn't very good at it, I have to say, but he did make contact. The only damage was a very, very slightly swollen lip.

"I was with a member of my staff, a member of my staff briefly grappled with this guy and then he ran off swearing his head off basically."

He described the incident as "politically-motivated violence".
Tasmania Police said in a statement that it had contacted Abbott after being made aware of his claims, and it was only then that Abbott made a formal complaint.
In a press conference earlier on Friday before the man was found and charged, police called for eyewitnesses to the alleged incident on Morrison Street opposite the Customs House Hotel.
The spokesperson said Tasmania Police had spoken to some witnesses and was working to secure CCTV footage of the incident.
He did not clarify whether Tasmania Police had first found out about the incident via the Australian Federal Police or through the media.
On 2GB Abbott linked the incident to the same-sex marriage debate, saying "it was just a reminder of how ugly this debate is getting".
"You want to understand the position that others might have been in, but you know, the days when we were cruel to people on the basis of their sexuality, I think, have long gone. That's why I think the nastiness in this debate is so unfortunate.
"There was homophobia, but I think the world has changed absolutely dramatically and that's why it is so distressing to see the boot, as it were, on the other foot now.

"What I underestimated on the streets of Hobart today is just how angry and intolerant some of the same-sex marriage people are."
Abbott said he wouldn't seek to make too much of the incident, but warned that more incidents like this could happen if the "yes" side wins.

"My thought is that if the actual debate about same-sex marriage is producing this sort of intolerance and bullying, how much worse would it get if same-sex marriage — the brave new world of same-sex marriage — actually came to be?" he said.
Politicians of all stripes and leading "yes" campaigners were quick to condemn the alleged assault.
Longtime LGBTI rights advocate Rodney Croome said the alleged attack was "beneath contempt".
"[Violence] has no place in Australian public debate, especially when that debate is about love, commitment, tolerance and respect," he said.
"But I also urge Australians not to make a judgement about marriage equality on the basis of the [alleged] delinquency of one person whose only link to the 'yes' campaign was wearing a badge."