Over 50,000 Guns Were Handed To The Government In Australia's Gun Amnesty
"It is vitally important we maintain our gun control laws. They are among the strictest in the world."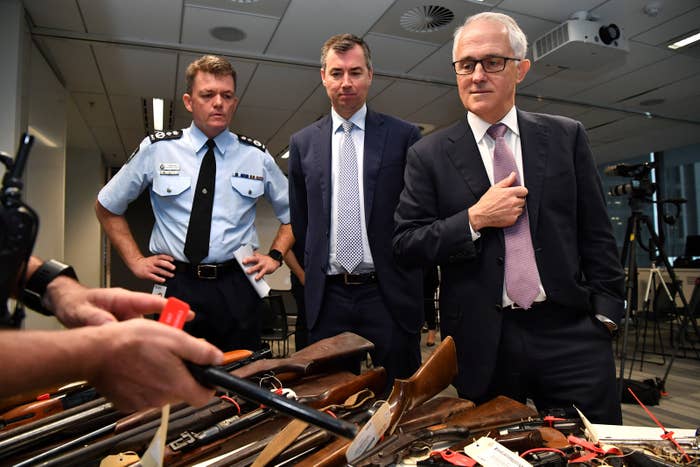 Fifty-one thousand unregistered firearms were handed in to the Australian government during the country's first national gun amnesty since the Port Arthur massacre in 1996.

During the amnesty, which ran from July 1 to September 30, people could hand in unregistered firearms or related items to police with no questions asked and no fear of penalty or prosecution.
It is an offence punishable by up to 14 years in jail and a fine up to $280,000, along with a criminal record, to have an unregistered firearm in Australia.
In a press conference on Friday morning, prime minister Malcolm Turnbull said it was "vitally important" Australia retain its gun laws, which are among "the strictest in the world".

"Our National Criminal Intelligence Commission estimates there are 260,000 unregistered firearms in Australia," he said.
"That is obviously an intelligence estimate of what this amnesty has done, it's taken 51,000 of those unregistered weapons off the streets, out of harm's way, so they can't be used in a crime or be misused in an accident, which ... is very common."

The recent mass shooting in Las Vegas occurred just days after the Australian amnesty ended, leading to a heightened interest in the amnesty.
But Turnbull rejected a proposal from Labor leader Bill Shorten to extend the amnesty in the wake of the US massacre.
"I'm not suggesting we won't have gun amnesties in the future, but this one has been very effective because it has, as I said, a beginning, a middle and an end," he said.
Australian Federal Police commissioner Andrew Colvin said some of the firearms handed in were "very old".
"They've probably been sitting in sheds or cupboards in basements for a very long time," he said, thanking Australians who had brought them in.
Colvin added that people who still have unregistered firearms should contact police.
"There are continuing amnesties across jurisdictions," he said. "If you have a firearm, the fact the amnesty has ended is not an excuse to [not] declare that firearm to police."