The Coalition Just Said No To A Conscience Vote On Marriage Equality
Approximately two thirds of the party room said no.
A push to allow Liberal and National members of parliament a conscience vote on marriage equality has failed, with approximately two thirds of the Coalition party room against.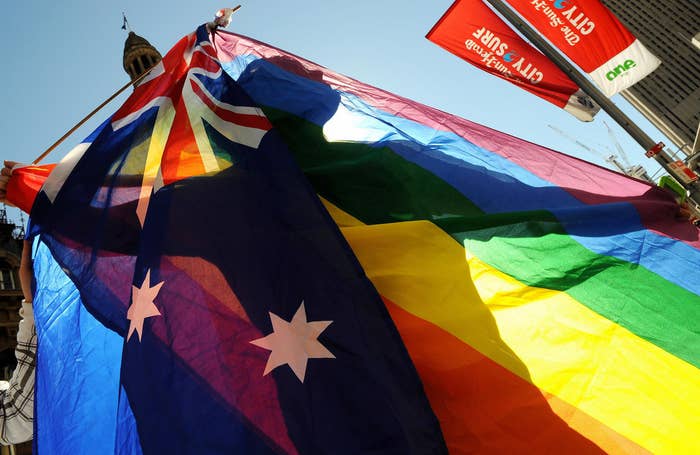 The decision, made in a special joint party room meeting that ran for over five hours on Tuesday afternoon and evening, could delay the reform until after next year's election.
The highly anticipated debate was provoked this morning by Liberal MP Warren Enstch, who brought up the issue of same-sex marriage in a Liberal party room meeting.
However, prime minister Tony Abbott suggested the matter should be discussed by the entire Coalition government, not just Liberal MPs, and called the afternoon meeting.
Speaking after the debate, Abbott suggested the Coalition would pursue a popular vote in the form a referendum (vote for constitutional change) or plebiscite (non-binding national vote) after next year's federal election.
"I've come to the view, I believe this is the party room view, that this is the last term in which the Coalition party room can be bound," Abbott said.
"The disposition of the party room this evening is that our position going into the next election should be that in a subsequent term of Parliament, this is a matter that should rightly be put to the Australian people."
However, while Abbott focused on the possibility of taking same-sex marriage to the people, he also said a free vote was an option for the Coalition in the next term of government.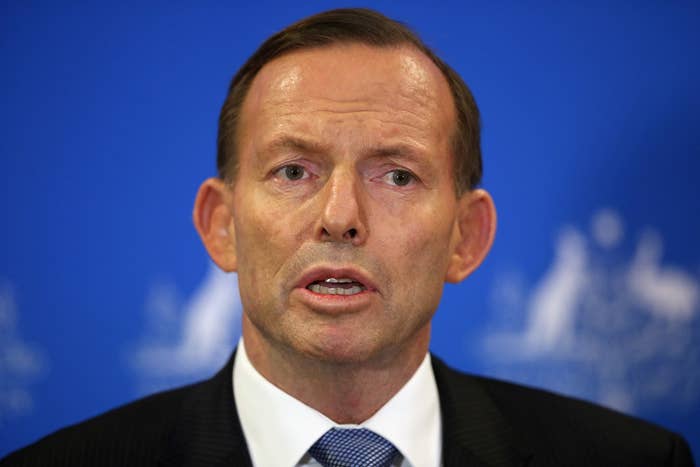 The decision comes after months of sustained pressure on Abbott to allow his MPs a conscience vote on same-sex marriage.
Abbott has repeatedly attempted to delay the issue, saying marriage equality is not a priority and the government has other reforms to focus on.
Currently, government policy supports the definition of marriage as between a man and a woman.
While backbench Coalition MPs can vote against party policy without consequences, frontbenchers – some of whom support marriage reform – must resign if they wish to cross the floor. A conscience vote would allow them to do so without consequences.
Opposition MPs have a conscience vote on marriage equality until 2019.
Speaking to ABC's Lateline program, Christine Forster, who is an elected Liberal councillor and Tony Abbott's sister, expressed disappointment at the result.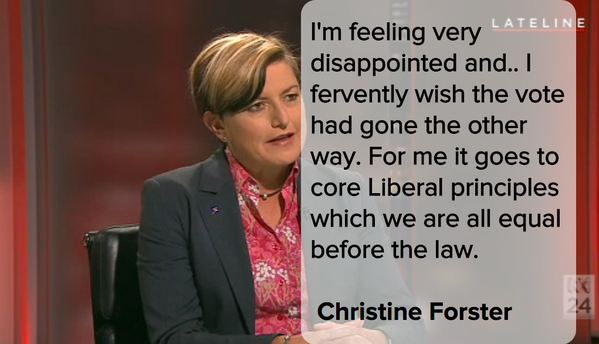 Forster, who is openly gay, told the program she no longer feels like marriage equality is inevitable and likely to be passed by end of the year.
Anti-marriage equality groups responded to the decision with jubilation, while Australian Marriage equality said the government has "disappointed and angered millions of Australians".
"This decision is a win for responsible government, but above all a win for future children who are now more likely to benefit from the only institution that guarantees them a mother and a father," said Dr David van Gend of the anti-marriage equality group, the Australian Marriage Forum.
"The Abbott government has disappointed and angered millions of Australians by deciding to remain on the wrong side of history, but momentum will only build and love will win out," said national director of Australian Marriage Equality Rodney Croome.
"We urge supporters of marriage equality in parliament to press ahead with legislation in both houses and we urge Coalition members to be brave and cross the floor."
Prior to the joint party room meeting, it was speculated that the push for a free vote would fail.
In a press conference, prime minister Abbott stressed that a conscience vote on same-sex marriage would be a decision for all Coalition MPs, not just the Liberal party.
"I reviewed my pre-election statements and what I said pre-election was that, if same-sex marriage, were to come up in the next Parliament, it will be dealt with by the Coalition party room in the usual way," Abbott said.
Given that people in the party room meeting this morning suggested same sex marriage should be dealt with swiftly, Abbott said, he decided to reconvene the party room at 3.15pm.
Fittingly, a rainbow appeared outside the Coalition party room just prior to the debate. Twitter loved it.
National director of Australian Marriage Equality Rodney Croome urged the Coalition to adopt a free vote.
"The founding principle of the Coalition is individual freedom, which is why there have been many Coalition free votes on a wide range of issues," he said.
"We call on Coalition members to extend this proud tradition to marriage equality."
Earlier today, Liberal backbencher and long-time marriage equality advocate Warren Entsch gave notice of a highly-anticipated cross-party bill.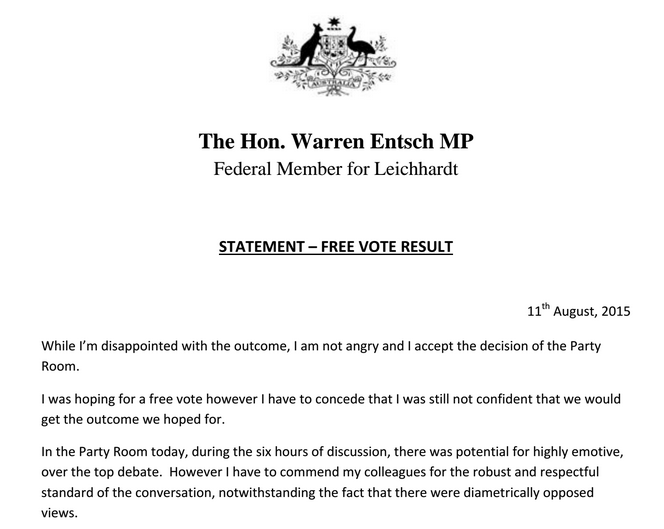 The parliamentary selection committee will decide whether the bill will be introduced to parliament for a debate next week.
Support for marriage equality among federal members of parliament is on a knife's edge, with the free vote among Coalition MPs crucial to the passage of any bill.