Australian tennis legend Margaret Court says tennis today is "full of lesbians" and accused the lesbian players from her time in the sport of leading young players into "parties and things".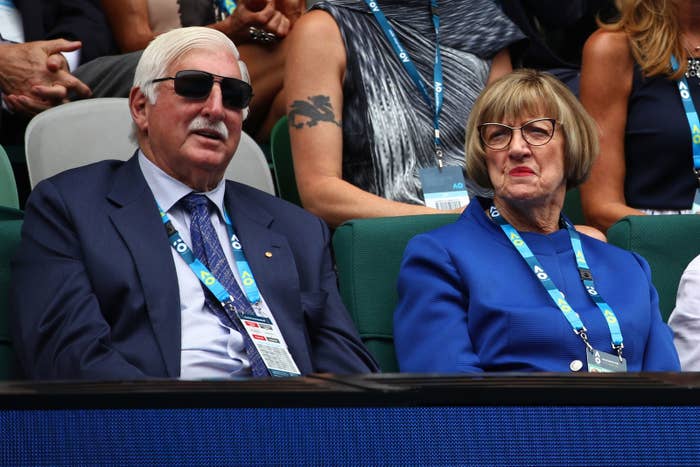 Court, who is now a Christian pastor in Perth, was swept up in controversy last week after declaring she would boycott Qantas over the Australian airline's support for same-sex marriage.

In an interview with Neil Johnson on the 20Twenty Vision Christian Radio program earlier this week, Court said "I mean, tennis is full of lesbians".

"Even when I was playing there was only a couple there, but those couple that led, that took young ones into parties and things... because they like to be around heroes," she said.

"And you know, what you get at the top is often what you'll get right through that sport."
The comments were in response to a question about transgender athletes and what it means for the future of sport.
Court also took aim at transgender children, saying the idea of being trans or non binary is "all the devil", and suggesting it is part of a Hitler or Communist-style plot to "get the minds of the children".
"With the literature, the bullying, the stuff that's put out today to children's minds – I tell you what, if you haven't got parents who bring you up that way and you've got parents that don't care, and you're hurt and offended if somebody's saying something to you... your child can just start to think, 'Well maybe I am a girl' when they're a boy, or 'Maybe I'm a boy and I'm a girl'," she said.
"That's all the devil ... but that's what Hitler did and that's what communism did – got the mind of the children. And there's a whole plot in our nation, and in the nations of the world to get the minds of the children."
In the wake of Court's comments last week, many called for Melbourne's Margaret Court Arena to be renamed.
Prime minister Malcolm Turnbull even intervened, saying the arena recognises Court's tennis achievements and should therefore keep its name.
Liberal backbencher Tim Wilson told Sky News on Tuesday that the same-sex marriage debate has descended into a "national silliness" because parliament won't resolve the issue.
"I think a lot of what's happening at the moment is people are expressing their frustration in other ways because the issue isn't being resolved," he said on The Bolt Report.
"Frankly, the discussion around marriage for same-sex couples has descended into a kind of national silliness where people are just taking more and more extreme and absurd positions because they're not actually debating the issue."