The Aboriginal Group Who Sued Over The "Sunrise" Stolen Generations Panel Will Get A Payout And An Apology
Exclusive: Channel Seven has agreed to publicly apologise and pay an undisclosed sum to 15 Aboriginal people from a remote community over a breakfast TV discussion about the Stolen Generations.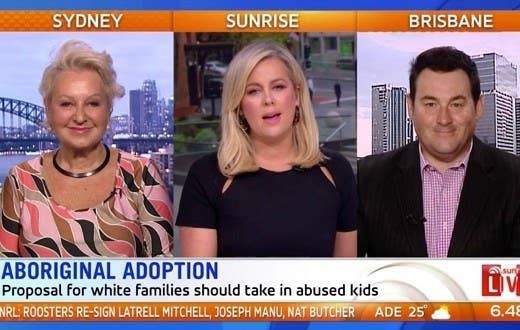 Channel Seven will broadcast a public apology and pay an undisclosed sum to 15 Aboriginal people from a remote community who sued the network after they were shown in blurred footage during a now infamous panel discussion on breakfast TV show Sunrise.

A settlement has been reached between the Australian commercial TV network and the group of nine adults and six children from Yirrkala in the Northern Territory, led by Yolngu woman Kathy Mununggurr, a Federal Court judge said on Thursday.

The Yolngu group were depicted in blurred overlay footage — originally filmed for a health promotion video — that played during a panel discussion about the adoption of Indigenous kids broadcast in March 2018.
During the panel, hosted by Samantha Armytage, commentator Prue MacSween said of the Stolen Generations that "we need to do it again, perhaps", and Ben Davis, a radio host at the time, said Aboriginal kids are getting "abused" and "damaged".

The comments made by the all-white panel sparked protests outside the Sunrise studio in Sydney's CBD and were found by the Australian Communications and Media Authority (ACMA) to have breached broadcasting standards and provoked racial contempt.
The Yolngu group filed their lawsuit in February 2019, alleging they were identifiable in the blurred footage, and saying it defamed them by suggesting they lived in an abusive and dysfunctional community.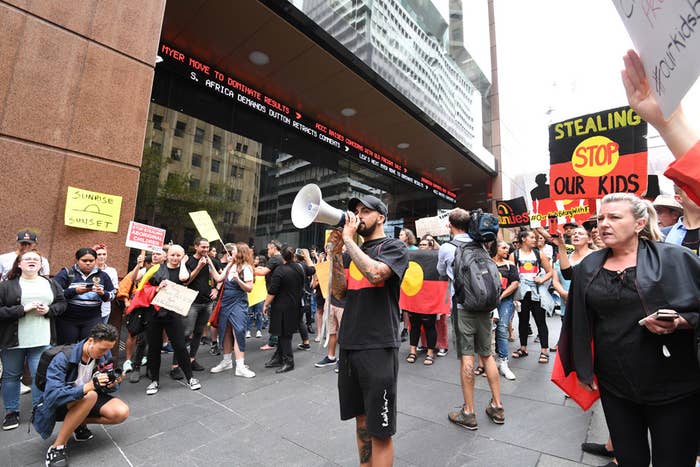 In a Federal Court hearing on Thursday morning, Justice Steven Rares said the payouts and public statement were an "appropriate apology" in the circumstances.

The terms of the settlement include a public apology to be broadcast on Sunrise at a later date.

Payouts to the six children, who are aged between five and nine, will be held in a trust fund until they turn 18, with the trustee able to extract money earlier as appropriate to be used for "the advancement in life, education or welfare" of the child concerned.
The sums are confidential until 2033, which is the year after the youngest child turns 18.
Rares is yet to formally approve the settlement, saying he needed further information about how to set up the trust, but confirmed in court that the terms were agreed and said he would make orders in the coming days.
He congratulated the parties on reaching agreement in a "difficult piece of litigation" and noted that it would have otherwise resulted in a three-week trial held in a remote community.
The Yolngu group's lawyer, Stewart O'Connell of O'Brien Criminal & Civil Solicitors, told BuzzFeed News his clients were "extremely happy" the proceedings had been resolved.
"The broadcasting of a public apology by Channel Seven will go a long way to resolving the hurt, shame and distress that our clients and the Yolngu people generally have endured as a result of the misuse of this footage," he said.
"It is our hope that media companies generally will exercise more care and respect in the future as to the use of footage of Aboriginal persons."
A spokesperson for Seven told BuzzFeed News in a statement: "The settlement was mentioned in court this morning but as [it was] not finalised we're unable to say more at the moment apart from saying we're pleased."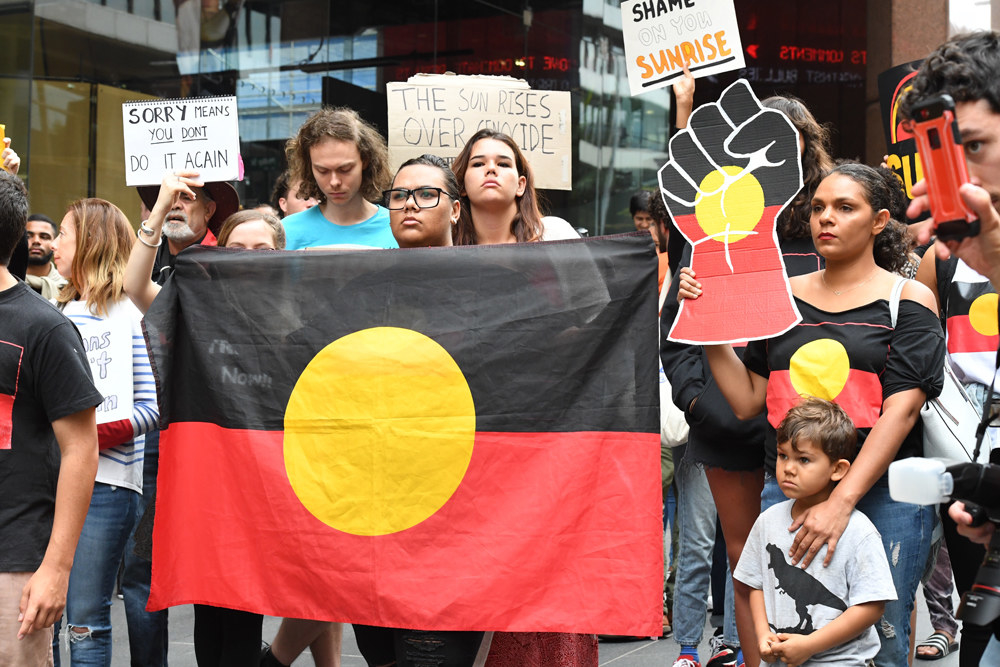 Introducing the segment on March 13, 2018, Armytage incorrectly stated that Aboriginal children can only be cared for by their relatives or Aboriginal carers. State and territory laws across Australia prioritise Aboriginal children being placed with relatives or Aboriginal carers, but children can still be placed with non-Aboriginal carers.
The blurred overlay footage played over the top of parts of the ensuing discussion.
At one point, MacSween said: "Please, don't worry about the people who decry and hand-wring and say this will be another Stolen Generation. Just like the first Stolen Generation where a lot of children were taken because it was for their wellbeing, we need to do it again, perhaps."

Davis said: "We need to be protecting kids, we need to be protecting Aboriginal kids, and putting them back into that culture… what culture are they growing up and seeing? Well, they're getting abused, they're getting hurt and they're getting damaged."
Mununggurr and the adults who sued argued they were identifiable in the footage and that by playing it during the discussion Sunrise had suggested they abused, assaulted or neglected children, were incapable of protecting their children, and were members of a dysfunctional community.
The children alleged the program defamed them by suggesting they had been raped and assaulted, and were so vulnerable to danger that they should be removed from their families.
The group had also sued for alleged breaches of confidence and privacy, as well as misleading and deceptive conduct and unconscionable conduct under Australian consumer law.
Seven had attempted to strike out the lawsuit entirely in June but was unsuccessful.
The network will pay the Yolngu group's legal costs.