Seven Is Being Sued Over That "Sunrise" Stolen Generations Panel Discussion
"If they had done the exact same story talking about child sexual abuse in the mainstream community and showed images of families in the Northern Beaches, Vaucluse, Point Piper, can you imagine the outrage?"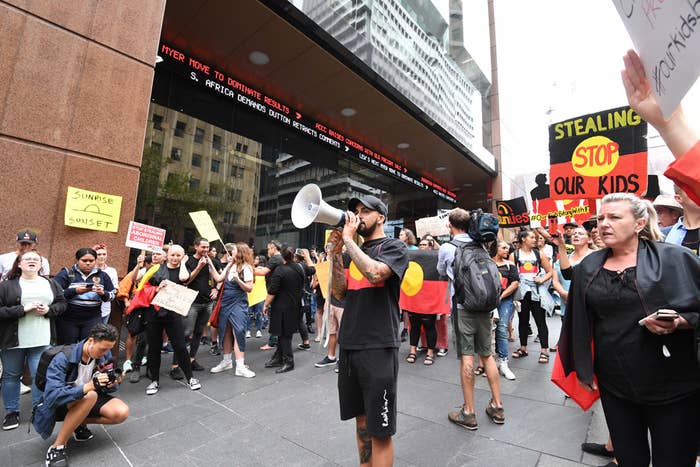 Channel Seven is being sued for defamation by a group of Aboriginal people from the remote community of Yirrkala over a segment on breakfast TV show Sunrise in which three white people discussed the Stolen Generations.

The lawsuit, filed in the Federal Court in February, alleges Sunrise defamed Yolngu woman Kathy Mununggurr and 14 others when it played background footage of them, with a blurring effect, as the panel discussion took place.
Mununggurr and the other applicants argue they were identifiable in the footage and that by playing it Sunrise had suggested they abused, assaulted or neglected children, were incapable of protecting their children, and were members of a dysfunctional community. Seven intends to defend the lawsuit.
The segment in question was broadcast in the early morning of March 13, 2018 and discussed a news story in which government minister David Gillespie had made comments about adoption of Indigenous children who are removed from their parents.
The panel was hosted by Samantha Armytage and included commentators Ben Davis and Prue MacSween.
Introducing the segment, Armytage incorrectly stated that Aboriginal children can only be cared for by their relatives or Aboriginal carers. State and territory laws across Australia prioritise Aboriginal children being placed with relatives or Aboriginal carers, but children can still be placed with non-Aboriginal carers.
MacSween said during the segment: "Please, don't worry about the people who decry and hand-wring and say this will be another Stolen Generation. Just like the first Stolen Generation where a lot of children were taken because it was for their wellbeing, we need to do it again, perhaps."

Davis added: "We need to be protecting kids, we need to be protecting Aboriginal kids, and putting them back into that culture… what culture are they growing up and seeing? Well, they're getting abused, they're getting hurt and they're getting damaged."
The comments provoked protests outside the Sunrise studio in Sydney's CBD.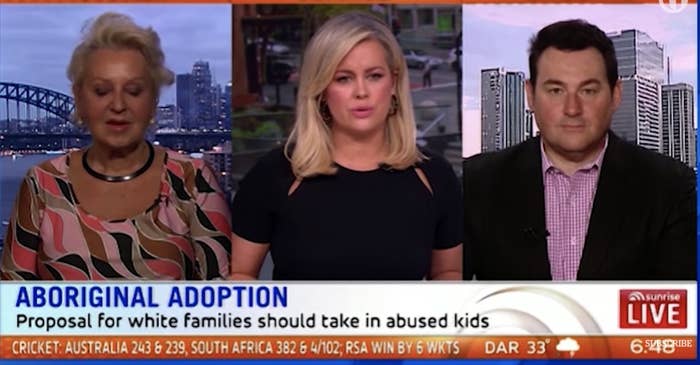 Sunrise was also rebuked by the Australian Communications and Media Authority (ACMA), which ruled it breached the TV industry code of practice, as the segment was premised on a factual inaccuracy and provoked "serious contempt on the basis of race".
Solicitor Stewart O'Connell of O'Brien Criminal & Civil Solicitors told BuzzFeed News his clients felt "this happens to them all the time".
"We're not just talking about being portrayed in the background to stories about dysfunction, but just this lack of care in how they're portrayed," he said. "This recklessness. They're sick of it, but they're used to it."
He said the footage was filmed as part of a health promotion and described his client's view as: "Without our permission they take that very footage which is meant to show those positive things, and use it to highlight dysfunction and child sexual abuse."
O'Connell said lawyers representing the group had not been able to find similar examples of file footage of non-Indigenous Australians used in this way.
"If they had done the exact same story talking about child sexual abuse in the mainstream community and showed images of families in the Northern Beaches, Vaucluse, Point Piper, can you imagine the outrage? It's because these are Aboriginal people living in a remote community that there's this thinking: 'Oh, it doesn't matter'."

O'Connell said the Yolngu group's case is that they are "extremely identifiable" in the footage, despite the blurring.
The group is also seeking to add alleged breaches of the Racial Discrimination Act and privacy and consumer law to the claim.
A Seven spokesman told BuzzFeed News: "The proceedings relate to some footage used in the background to the story which was blurred to prevent any person being identified and Seven is able to defend the case on that basis.
"It is unrelated to the ACMA ruling which is being dealt with separately. We can't comment further as the matter is before the court."