The "yes" campaign has stopped calling, emailing, and knocking on the doors of prospective voters in the same-sex marriage survey, saying the time for an intensive field campaign is over.

But the "no" campaign has declared it will continue its efforts until the final minute.
The survey, which has been running since September 12, is canvassing all voting Australians via the postal system on whether same-sex couples should be allowed to marry.

The absolute last day for forms to be back at the Australian Bureau of Statistics (ABS) is Tuesday November 7.
But the ABS gave a guarantee that they would be counted if they made it in the post by Friday October 27, leading to a final push on Friday to get last votes in.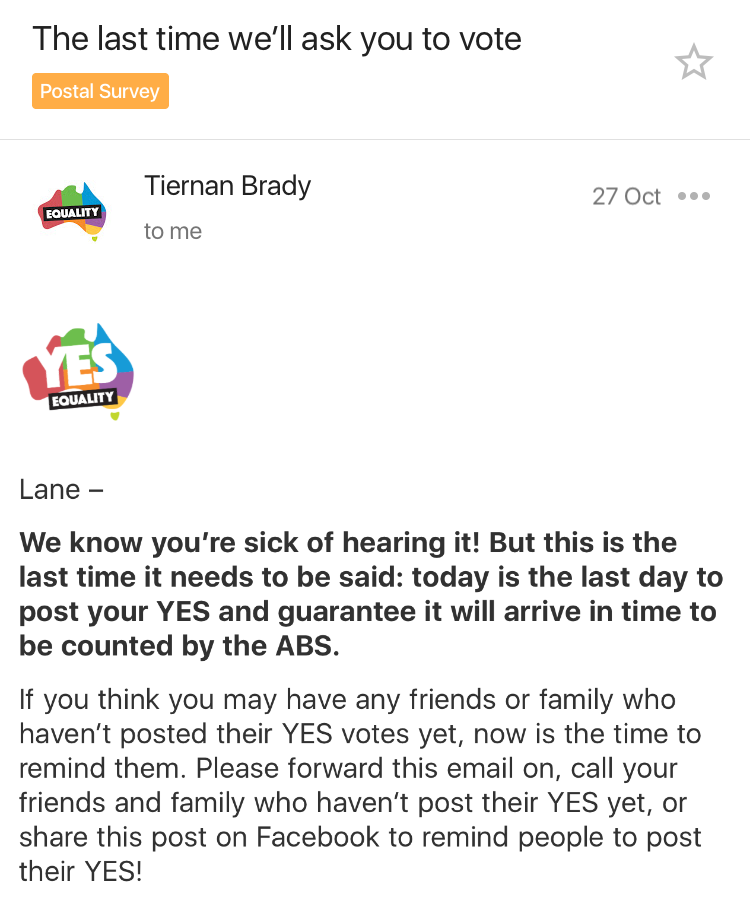 Director of The Equality Campaign Tiernan Brady confirmed to BuzzFeed News that the "yes" field campaign had stopped, but said it would still be reminding people to get any remaining votes in the post.

"The ABS has said to be sure it would be counted, it had to be posted on Friday," he said. "That depends on where you live. But if it's still on your kitchen table, don't put it in the bin, put it in your postbox.
"We're going to be saying all week to keep posting. Once you get into Thursday and Friday, it's a 50/50 call."

Asked if the decision to pack up was based on practical factors or an indication the campaign was confident it had won, Brady said the message had simply shifted.

"It's not so much shutting up shop as the message has changed now," he said. "All that is left in terms of the message is to say, put it in the postbox."
The last email from the "yes" campaign was sent out Friday and the nightly phone banking also ended last week.

In response to questions on the "no" campaign plans, Coalition for Marriage spokesperson Monica Doumit told BuzzFeed News: "We will be campaigning right up until 6pm on November 7".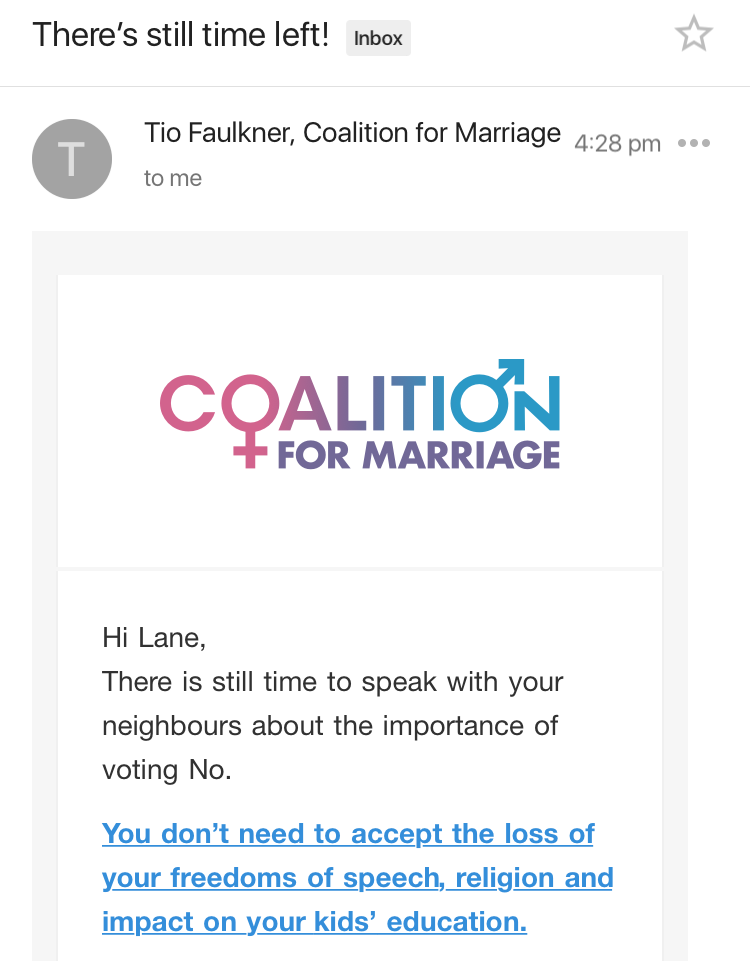 In an email from the Coalition for Marriage on Monday afternoon, spokesperson Tio Faulkner wrote: "There is still time to speak with your neighbours about the importance of voting 'no'."
Brady later told BuzzFeed News: "Thanks to the huge voter turnout, we get to refocus on finding those few remaining surveys, thanking our supporters and getting supporters ready to re-engage with their MPs."
According to an ABS estimate last Tuesday, almost three in four Australians eligible to participate in the survey have posted their forms back.