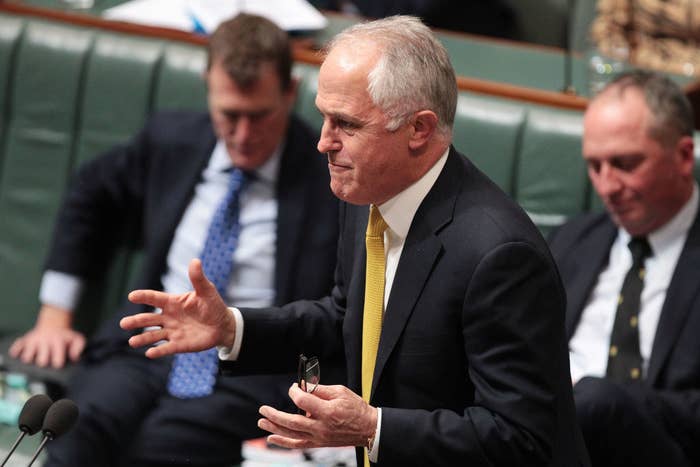 Prime minister Malcolm Turnbull has advised people to "put their arms around" their LGBT friends who are upset by anti-gay materials being circulated as part of the Australian government's voluntary postal survey on the issue of same-sex marriage.

Responding to unverified reports of a poster allegedly found in Melbourne saying "Stop the fags" and citing a discredited study claiming gay parents are more likely to abuse their children, Turnbull told Australians to rally around their friends and family who are in same-sex relationships.

"If you have friends, whether they are young people or old people, who feel threatened and a bit shook up by any debate like this, this is a time to put your arms around them and give them your love and support," he told 2Day FM radio.
"I deplore disrespectful, abusive language whether it is directed at young gay people or people of other religions or other races," he said.

The postal survey will be conducted from September 12 to November 7. The deadline for enrolling with the Australian Electoral Commission is this Thursday, August 24.

Turnbull, who supports same-sex marriage, has repeatedly rejected the argument that a national vote on the issue would be a harbinger for hate, saying he trusts the Australian people to have a respectful debate.
But in the just over two weeks since the postal survey was announced, there has been a barrage of comments, flyers and comparisons denigrating the LGBT community and same-sex relationships.
In the interview with 2Day FM, Turnbull urged Australians to "focus on the substance of the debate".
"Social change takes time, it takes debate and discussion, and you should not be distracted by a handful of extreme posters or flyers," he said.
"One of the problems in this debate is the tendency to caricature each side. The vast majority of people involved in this debate — and of course the vast majority of Australians, 99.99 per cent or whatever — are very respectful of each other."

BuzzFeed News has not been able to independently verify the "Stop the fags" poster about which Turnbull was asked.
However, similar claims about same-sex parents have previously been made by groups which are part of the leading "no" group, the Coalition for Marriage, including the Australian Christian Lobby, and Marriage Alliance.
In July 2016, Marriage Alliance wrote, "Continuing to raise children in a same-sex parent household amounts to child abuse" in a blog post on its website citing the same study as the reported poster.
The group also published a picture of a woman about to hang herself at work with a rainbow noose earlier in the year.
Comprehensive research reviews from, among others, the Australian Institute of Family Studies and Columbia Law School, have found there is no significant difference in wellbeing between the children of same-sex parents and opposite-sex parents.
Labor senator Jenny McAllister, who is chairing a Senate inquiry into the postal survey, has called for the community to submit offensive material to the inquiry.