People Are Angry About Woolworths' Anzac Day Website
UPDATE: Woolworths removes Anzac website and expresses "regret" it caused "offense".
A website launched by Australian supermarket giant Woolworths to commemorate the centenary of Gallipoli on Anzac Day this year has been slammed on social media.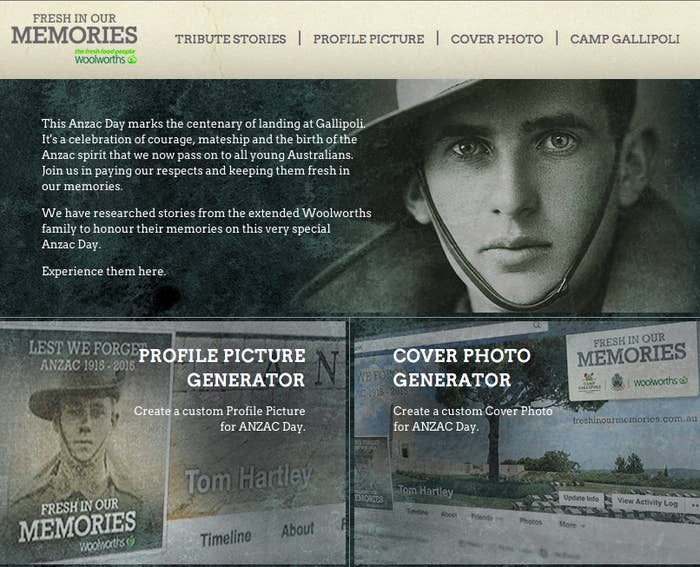 Titled "Fresh In Our Memories" – similar to Woolworths slogan "The Fresh Food People" – the website features the stories of soldiers linked to Woolworths employees.
Visitors can create their own Anzac-themed profile picture or cover photo for Facebook, using the generator to add the phrases "Lest we forget", "Fresh in our memories" and the Woolworths logo.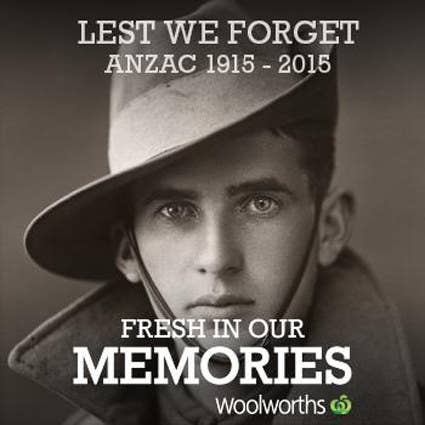 Many people on social media have mocked the campaign, labelling it cynical and tasteless.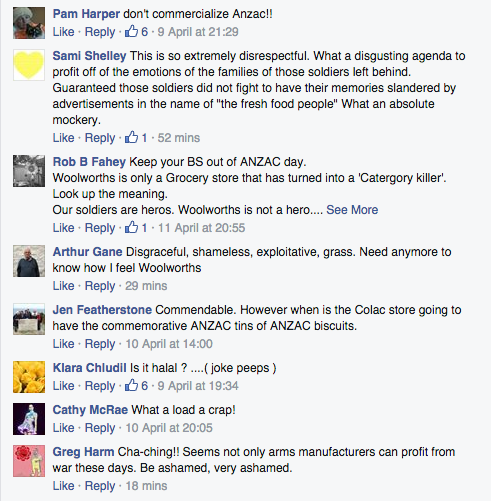 People are also harnessing Woolworths' generator for other means, posting a range of less-than-relevant "Anzac" themed pictures with the hashtag #FreshInOurMemories.
The Fresh Prince of Bel Air turned up...
Madonna and Drake's recent kiss made an appearance.
And who could forget Janet Jackson's nip slip at the SuperBowl?
Former PM John Howard's appalling bowling skills even got a mention.
Howard wasn't the only political figure on show – many tweets highlighted memorable moments from Prime Minister Tony Abbott's political career.
Like the much-loved Head-Desk Boy.
And this questionable fashion choice.
And, of course, The Onion.
A Woolworths spokesperson told BuzzFeed News the site was designed for "people to share their photos, stories and memories" and the company gained no financial benefit from it.
"As an Australian company since our creation more than 90 years ago, we are very happy to support our diggers," they said.
"Like all Australians, we pay our respects to service people past and present and it's appropriate that to do that with a small logo on the site."
Woolworths is a national partner of the Returned and Services League and a principal partner of Camp Gallipoli.
"Last November we raised over $900,000 for the RSL in their poppy appeal, and over the past two years we've raised more than $1.5 for Legacy," the spokesperson said.
National President of the RSL Ken Doolan told BuzzFeed News he was not familiar with the "Fresh in our memories" website, but that Woolworths was an important supporter of the RSL.
"Woolworths is one of the firms which is very supportive of the RSL in our fundraising activities," he said.
UPDATE 9.30pm AEST: Woolworths removed the website and in a statement expressed "regret" that it caused offense.
The Fresh in Our Memories website has been taken down this evening. The site was developed to give our staff and customers a place to put their stories to mark the Centenary of ANZAC.We regret that our branding on the picture generator caused offense, this was clearly not our intention. Like many heritage Australian companies, we were marking our respect for ANZAC and our veterans.We continue to be proud supporters of the RSL and Camp Gallipoli in this important year and look forward to working with them in the future.
Like BuzzFeed Australia On Facebook