The leader of far right Australian political party One Nation, Pauline Hanson, entered the parliament dressed in a black burqa on Thursday.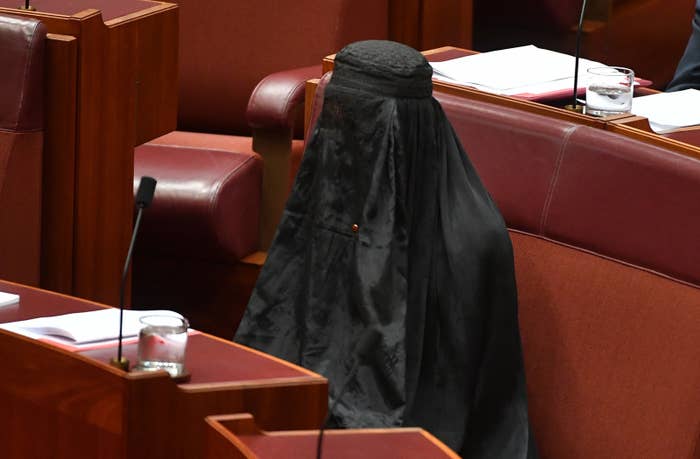 Senators reacted in open-mouthed shock as Hanson, who is not Muslim, walked into the chamber with her One Nation colleague Brian Burston shortly after the beginning of Question Time.

"What on earth," one senator said, as others sighed and complained to the Senate president, Stephen Parry.
Hanson, who is vocally anti-Muslim and anti-immigration, warned in her inaugural speech for her second stint in the Senate in 2016 that "we are now in danger of being swamped by Muslims whose culture is incompatible with our own".
Parry said he had been advised by the clerk that Hanson's identity was known before she entered the chamber and he would "reflect on her mode of dress" as questions continued.

Hanson later removed the burqa in order to ask a question about whether the government would consider banning the burqa.
In response, the government leader in the Senate, George Brandis, slammed Hanson for the stunt.
"I'm not going to pretend to ignore the stunt you tried to pull today," he said. "We all know you are not an adherent to the Islamic faith."

Brandis warned Hanson to be careful of the offence she was doing to the "religious sensibilities" of other Australians.
"We have about half a million Australians in this country of the Islamic faith and the vast majority are good, law-abiding Australians.

"To ridicule that community, to drive it into a corner, to mock its religious garments is an appalling thing to do. And I would ask you to reflect what you have done."
His speech earned a standing ovation from Labor, the Greens and independent senator Lucy Gichuhi. Some government senators also applauded Brandis, but did not stand.
Politicians from all sides were quick to reject Hanson's stunt and praise Brandis for his speech.
Australia first female Muslim MP Anne Aly told BuzzFeed News, Hanson's stunt made a mockery of the Australian parliament.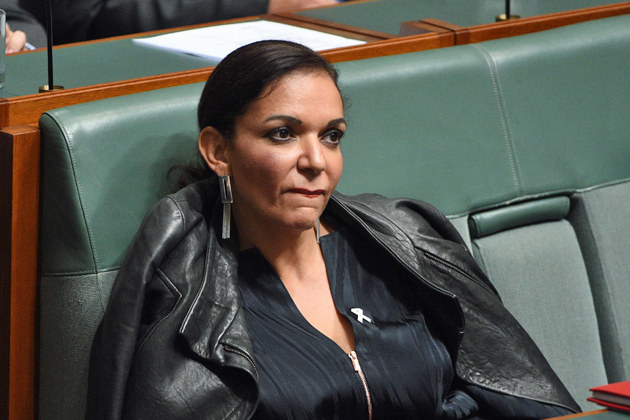 "It is a debasement of this institution," Aly said. "It makes a mockery of parliament, it is a mockery of the people's Senate and I think it crosses a line."

Aly also played down concerns that the burqa ban could cause offence within the Muslim community.
"Muslims aren't sitting around to see what Pauline Hanson does next," she said. "If anything they are just rolling their eyes and are exasperated at her.

"People already have a view that the Australian parliament is a bit like a circus, she's just proved it."

Greens senator Peter Whish-Wilson ran into Hanson wearing the burqa outside the Senate before Question Time.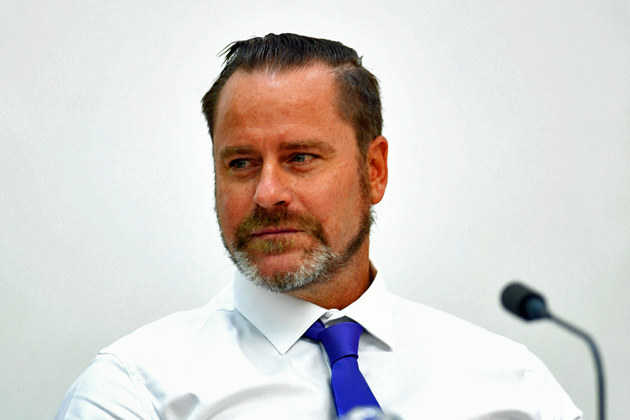 Whish-Wilson told BuzzFeed News' political podcast "Is it on?" that he was fooled into shaking her hand:
I was walking to go to Question Time. I see a woman in full Muslim dress and in burqa surrounded by five burley security guards who looked really pissed off. My initial reaction was anger and a bit of frustration, 'why are these guys following a woman in a burqa, who is allowed to be in that dress in parliament house?'. This all happened really quickly. So I either have a go at the security guards, which is not the right thing to do because they were just doing their job, or show some solidarity. I went up to her and said, 'good on you' and put my hand out and it was just an instant thing. I didn't think about it, it was my way of coming to her aid, I suppose as a bloke, seeing five other big burley blokes following her around, I thought, 'she's a protestor'. It looked like she was being harassed... I was definitely in solidarity with someone coming in, in what they're entitled to wear and when you see them being pursued by security guards. It's a bit weird. I am totally weirded out by it.