Six Days After The Christchurch Terror Attack, New Zealand Is Banning Military-Style Semi Automatic Weapons
"In short, every semiautomatic weapon used in the terrorist attack on Friday will be banned in this country."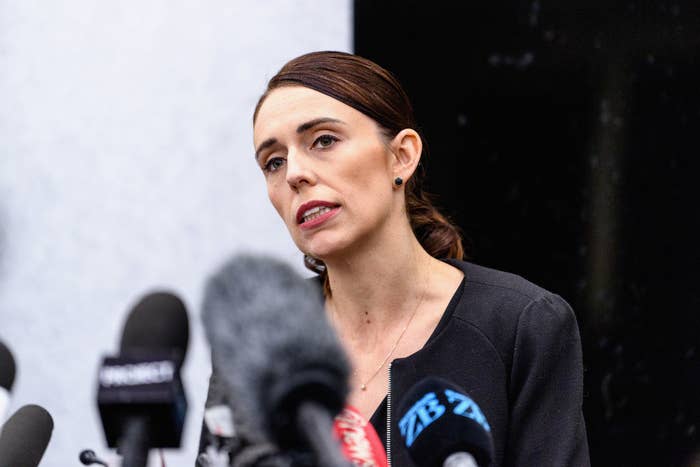 New Zealand will ban all military-style semiautomatic weapons and introduce a gun buyback scheme following the deadly terror attack in Christchurch.
Prime minister Jacinda Ardern announced the ban on Thursday afternoon, six days after 50 people were killed as they attended two mosques in Christchurch for Friday prayers.
She said legislation is being drafted and will be introduced urgently.
"I absolutely believe there will be a common view amongst New Zealanders, those who use guns for legitimate purposes, and those who have never touched one, that the time for the mass and easy availability of these weapons must end," she said.
"And today they will."
Ardern said military-style automatic weapons, assault rifles and high capacity magazines will all be banned, as well as parts that can convert guns to military-style semiautomatic or automatic weapons.
"In short, every semiautomatic weapon used in the terrorist attack on Friday will be banned in this country," she said.
The details of the buyback scheme are still being developed, but Ardern said its estimated cost was between $100 million NZ and $200 million NZ, and that authorities were "in the dark" about how many of these guns were in circulation.
The government has also introduced an interim measure to ensure no guns of this kind can be purchased after 3pm Thursday New Zealand time.

Ardern said cabinet would consider exemptions for some uses of these weapons — for instance large-scale culling of animals — but that they would be "tightly regulated".
She thanked dealers who had already pulled these guns from sale and told others: "Sales should essentially cease".

"My expectation is that these weapons will be returned to your suppliers and never enter into the New Zealand market again."
People who presently own these style of guns are urged to visit the New Zealand police website for more information.
"Do not arrive at the police station unannounced with these weapons in your possession," Ardern warned. "I can [assure] people that there will be time for the returns to be made and that they will not be criminalised overnight."
Following the deaths of 35 people in the Port Arthur massacre in 1996, Australia banned rapid-fire guns and introduced a gun buyback scheme that saw more than 640,000 firearms surrendered.
Ardern said she had sought advice from Australia and was "trying to learn" from the experience there.
"What we hope with the buyback is that you stop a black market emerging around them by paying a fair and reasonable price that incentivises people to bring them in to the police rather than seeking another way in which to sell," she said.

She said getting military-style semiautomatic weapons out of circulation was the "most critical" problem, and that a second tranche of reforms would address licensing, registration and storage.

Under New Zealand's current gun laws, owners must have a license, which requires a background check and a safety course, but most individual weapons do not have to be registered.
Ardern acknowledged that there are responsible gun owners in New Zealand, particularly in rural areas.
"I have been steadfast in my belief that the vast majority of these owners will support what we are doing here today because it is about all of us," she said.
"It is in the national interest and it is about safety."
The New Zealand opposition leader, Simon Bridges, released a statement saying he supported the proposals and would "work constructively" with the government to make changes.
"We agree that the public doesn't need access to military style semi-automatic weapons. [The National party] supports them being banned along with assault rifles," he said.
"We also support the Government's proposals to limit the access to other high powered semi-automatic weapons and ammunition."