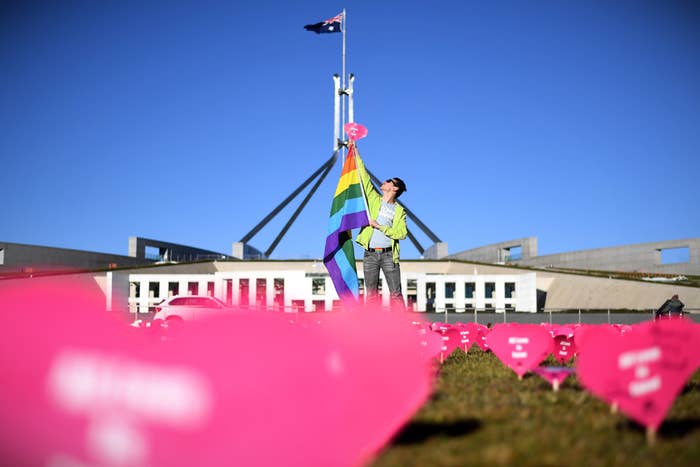 Members of parliament are planning to dip into their electoral budgets and use taxpayer money on the "yes" and "no" campaigns in Australia's postal vote on same-sex marriage.

The government has said it will not be funding either side of the public campaign — but millions of dollars of taxpayer money could be spent on material using a loophole in the Parliamentary Entitlements Regulations 1997.
Under the rules, every member of parliament can spend up to $160,000 per year on "printing and communications" in their electorates.
The entitlement includes printed flyers, online advertisements or videos, billboards, and the like — but can't be used for radio or TV advertisements.
Finance minister Mathias Cormann confirmed to BuzzFeed News in an interview on Wednesday that politicians would be able to use their printing budgets to campaign in the postal vote.
"The usual rules will apply in relation to communication by members of parliament," he said.
"Obviously members of parliament can express views in relation to all sorts of matters, and so the usual and normal rules would apply in relation to their use of their work expense arrangements."
The material must be used for "parliamentary or electorate purposes", which, as Cormann confirmed, would include a national vote on same-sex marriage.
Material printed under this budget can't solicit people to vote for, join, or donate to a particular political party.
Federal politicians from both sides of the debate have already told BuzzFeed News they plan to use taxpayer funds on the postal vote campaign.
BuzzFeed News understands that some pro-same-sex marriage Labor MPs will use their communications budget to campaign for "yes".
Conservative senator Eric Abetz will use part of his electoral budget to make the case for "no".
He told BuzzFeed News he looks forward to working with people around Australia to "make the case for marriage".
"I spend a lot of time engaging with constituents and welcome any opportunity to spend even more time in the community," Abetz said.
"I will continue to advocate for marriage to protect our children, and will work hard to make the case along with dealing with the many other issues facing Tasmania and Australia."
The Australian Greens has not yet clarified whether or not it will boycott the plebiscite.
The full interview with Mathias Cormann will feature in BuzzFeed Australia's podcast 'Is it on?'. You can listen to it from Friday. View it on iTunes and subscribe here.