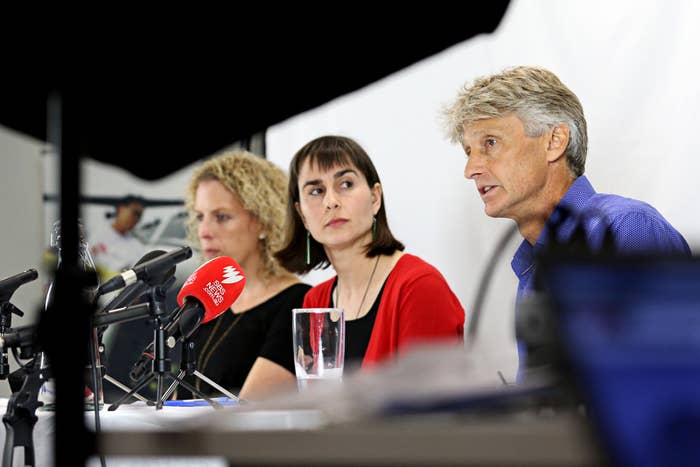 It was 7pm on Friday when a letter was delivered to the Médecins Sans Frontières (MSF) clinic on Nauru, informing staff that their presence on the tiny Pacific island was no longer required.
It had been a long week, and tired staff were in a meeting. The respected international medical organisation had been on Nauru for 11 months, treating mental health issues among both local Nauruans and the hundreds of refugees and asylum seekers detained on the island by the Australian government under its offshore processing regime.
There are severe mental health problems on Nauru. The locals often presented to MSF with chronic untreated psychotic illnesses such as schizophrenia and bipolar, while the refugees and asylum seekers most often suffered depression, anxiety and PTSD. Among the refugees, MSF had seen 78 patients – a conservative estimate, a staff member said – who had attempted suicide, had suicidal thoughts, or inflicted self harm.
MSF's testy relationship with the Nauruan government had worsened over recent months.
There was a memorandum of understanding, but some it was lost in practice. Discussions and collaboration were difficult, and MSF was increasingly blocked from visiting the Republic of Nauru Hospital, and the community camp settlements where some refugees lived, said MSF Australia director Paul McPhun. The charity was never able to access the detention centre run by Australia.
And then the letter arrived. The Nauruan government told MSF it had 24 hours to pack up as its services were no longer needed. No reason was given.
Dr Christine Rufener, an American clinical psychologist who had worked on Nauru for about a month, was at the clinic when the news came. She told BuzzFeed News it was "completely shocking".

Another staff member, the MSF field coordinator, gathered the worried team together to establish a plan. It quickly became clear there was a big problem: how would they tell their patients?
"As a psychologist, to have looked your patients in the eye the day before and said 'I am here to support you, MSF will support you' and then to think 'I will never see these people again' is devastating," Rufener said.
Ideally, the grim news would have been shared face-to-face. But the 24-hour window given by the Nauruan government made this impossible. The MSF team worked through the night to try and do the best rapid shut-down they could, Rufener said.
"We tried to problem-solve every single way, but there was no way to inform all our patients face to face," she said. "So we had to send them a message."

The message, sent Saturday, told patients what had happened, saying MSF had suspended its services while it sought a reason from the Ministry of Health and asked what alternate provisions would be put in place.
"We know this sudden news may be very difficult to hear and we deeply regret any challenges that this presents to you, all of our patients, and to the community," the message said.
Less than an hour later, the message had made it onto social media, and travelled across the Pacific to Australia, where the news broke on Saturday night.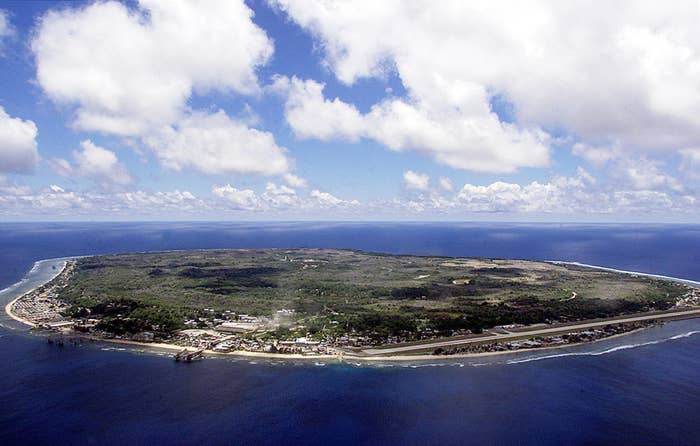 Back on Nauru, MSF tried to negotiate with the Nauruan government, but its plan to bring a senior delegation onto the island to try and hash out a way forward was met with no response.

On Wednesday MSF announced its services had officially been terminated, and all international staff had left the island. The departure means only medical staff contracted by the Australian government – those working for International Health and Medical Services (IHMS) – are available to treat refugees and asylum seekers.
At a press conference in Sydney on Thursday, Rufener, McPhun and psychiatrist Beth O'Connor told the Australian government in no uncertain terms that it needed to get refugees and asylum seekers off Nauru now. Many have been detained on the island for more than five years.
"Australia's policy of indefinite detention should be immediately stopped," McPhun said. "And I absolutely emphasise it should never be looked upon as a model for other governments to replicate."

McPhun declined to speculate on the possible reasons for being handed marching orders, besides saying the notion of simply not being needed anymore was ludicrous.
"It cannot be that 11 months ago we reached an agreement that there was a significant need for mental health services on Nauru, and MSF with its background of over 45 years of working exactly with these kinds of patients was the ideal organisation to fill that gap, and that 11 months later that gap is somehow filled," he said.
Rufener and O'Connor, who was on Nauru for almost the entire 11 months with MSF, told of what they had seen during their time on the island.
Rufener has worked with refugees on the island of Lesbos in Greece and with refugee survivors of sexual violence and torture. The difference on Nauru, she said, is the "utter destruction of people's sense of hope".

"It's this hopelessness. It's this nothing," she said. "Trying to find coping strategies when they've tried everything, and it's for what? To improve your life to continue to stay here? And not have opportunity? And not being able to live the life you want to live – not a fancy life – but just to have basic human freedoms?"
Rufener said the word she heard most often in her sessions with patients was "destroyed".
"People feeling that their sense of self and any hope that they have about living a meaningful future has been irrevocably destroyed. I heard it in their words and I saw it in their eyes."

The separation of families in offshore detention was an ongoing problem, she said.
"Fathers told us, 'I wasn't there to support my wife during pregnancy. I wasn't there in the hospital to support her while she was giving birth. I wasn't there when my baby took his first breath. I wasn't there when my child said his first words. I wasn't there when my child took his first steps'. Every day, these fathers lose the last remnants of hope that they will ever be allowed to meet, to touch and to hold their own children."
O'Connor witnessed a serious decline in health after more than 70 people were rejected from a resettlement deal with the United States in May.
"We saw patients who previously had some life, some spark, come into the clinic and their faces were dull," she said. "There was a real dullness in their eyes. And I never saw that spark return. I never saw the energy or life for these people return, right up until I left."
There were also children on Nauru O'Connor got to know. They'd come up to say hello when they saw her in the settlements or in a shop, but over time she saw them deteriorate into a catatonic state with resignation syndrome.
"They became more depressed and they withdrew socially," she said. "When I went to visit these children at home, they had taken to their bed. They were no longer eating or drinking sufficient amounts to keep themselves alive. Many were no longer able to toilet themselves, they were incontinent of urine and of faeces. And when I tried to talk to them, to these children who would previously talk back to me, they would not respond. They would just stare through me."
She told BuzzFeed News the children with the syndrome would have occasional episodes of acute agitation — another symptom of the rare psychological disorder that has been recorded among refugee children in Sweden.
"A child lying in bed would suddenly become very agitated and difficult to control, and then fall back into this state," she said.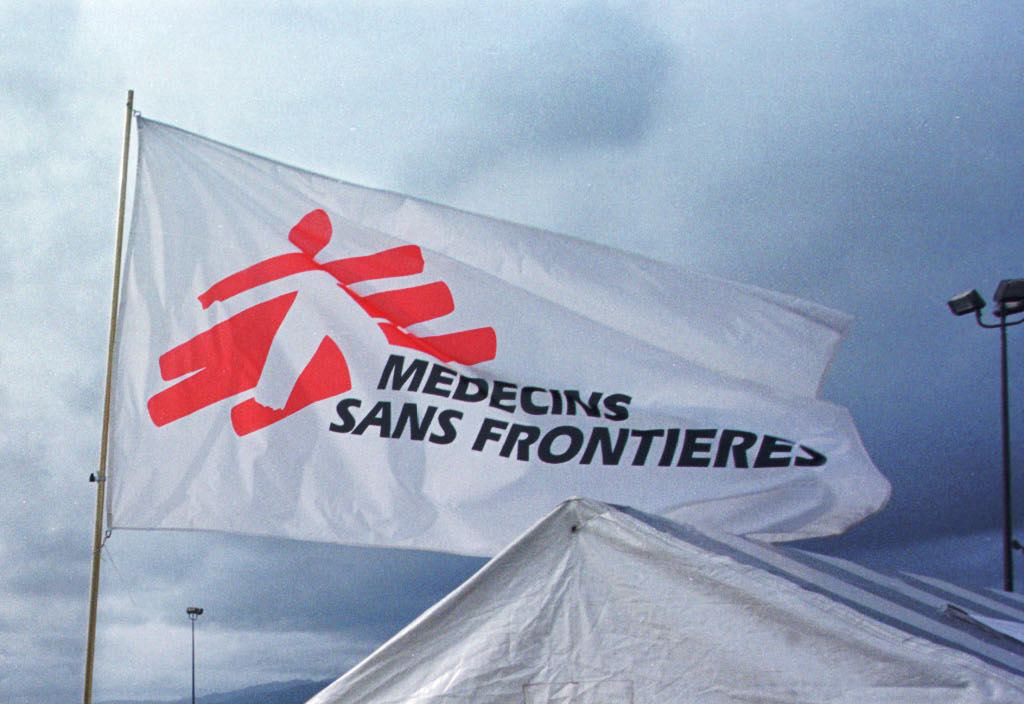 Asked about MSF's shock ejection on Wednesday, immigration minister Peter Dutton said as he understood it, MSF was not involved in providing medical services to refugees and asylum seekers.

"[MSF] were invited onto Nauru by their government to provide medical services to local people in Nauru," Dutton said. "They were upset at the high level of medical support being provided to [refugees and asylum seekers] on the island. MSF were never contracted, as I advised, to provide medical support to [refugees and asylum seekers] on Nauru."
Dutton said there were 64 health professionals or medical staff contracted by Australia on Nauru at the moment.
McPhun said Dutton's comments were "surprising".
"Quite clearly he was ill-informed," he said. "What I can say is the first page of our memorandum of understanding categorically spells out to whom we will be providing healthcare on Nauru and the conditions and purpose of being there. And it specifically includes refugees and asylum seekers."
O'Connor said it was difficult for refugees to trust IHMS medical staff, because they see them as inextricably intertwined with the Australian government that has detained them on Nauru for years.
Whistleblowers formerly employed by IHMS on Nauru have also told of facing bureaucratic delays on their medical decisions, and not being able to carry out their work independently.
"We were the only independent organisation on the island," O'Connor said. "Everyone else was contracted by the Australian government. We just hope there will be no deaths as a result."
There are also concerns for MSF's Nauruan patients with chronic conditions, who McPhun said had improved but needed ongoing care.
Advocates have increasingly used legal action in the Federal Court to force the Australian government to remove critically ill refugees and asylum seekers and members of their families from Nauru. More than 35 children, and a number of adults, have been medically transferred in the past year.

Reports written by Médecins Sans Frontières psychiatrists were sometimes used as evidence in those court proceedings.
But McPhun would not be drawn on whether this played a role in the organisation being kicked out: "I don't want to get into speculation. It could be, but it's not for us to say."
O'Connor said that she fulfilled her obligations as a doctor by providing summaries and reports to patients when they asked for them. Some of those reports ended up in court, she said.
O'Connor believes MSF leaving could affect the number of people who are transferred for treatment.
"There is a lack of independent opinions, and that is problematic," she said.
The Australian government has also argued that because the detention centre is "open" – meaning people can come and go as they please – that the refugees and asylum seekers are not really detained, per se, on Nauru.

To that, O'Connor offered a simple fact: "We're talking about an island that you can drive around at 40 kilometres per hour in half an hour.
"We're talking about a very small place for these people to be. And maybe they're not detained by a fence, but they're detained by the ocean."