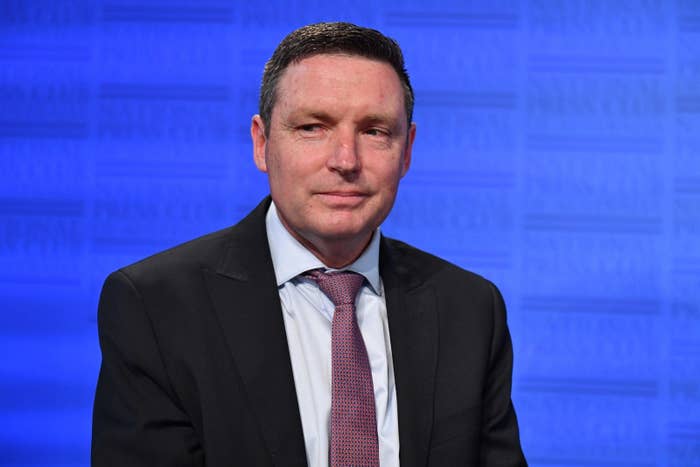 Leading "no" campaigner in Australia's same-sex marriage survey, Lyle Shelton, says parents should have the option to send their kids to gay conversion therapy.

In an interview with the BuzzFeed News political podcast Is it on? on Thursday, Shelton, who is the managing director of the Australian Christian Lobby (ACL), said that while he did not think adults should be forced into conversion therapy, it was up to parents as to whether their children should be counselled about same-sex attraction.
"I think anyone who wants to seek help for any issue they might be facing in their life should be free to do that," he said.
"Should people be forced to go to conversion therapy? No, absolutely not. Now, children — they are under the care and responsibility of their parents, so I think if someone's a minor, it is up to their parents. And I think parental rights should be respected.
"There's obviously got to be context and care and compassion in all of these situations, but ultimately children are in the care and the legal responsibility of their parents."
In January this year, a submission to a same-sex marriage Senate inquiry from the ACL and the Human Rights Law Alliance said the Labor party platform of protecting young people from conversion therapy is "cause for concern".
"The platform states that Labor will make it
unlawful for certain discouragements of homosexual behaviour by parents in their children," the submission reads. "Such
action may be deemed 'serious psychological abuse' and 'domestic violence'."
Due to its underground nature and the various forms it takes, conversion therapy is notoriously difficult to legislate against.
Earlier this year the Andrews government in Victoria introduced a new health complaints commissioner, with expanded powers to crack down on dodgy health practitioners, including gay conversion therapy.
Conversion therapy is opposed by the Australian Psychological Society, the Australian Medical Association, and the United Nations, among numerous other professional health and human rights bodies.
A Columbia Law School project collating conversion therapy research found there was "no credible evidence that sexual orientation can be changed through therapeutic intervention" and that there is "powerful evidence that trying to change a person's sexual orientation can be extremely harmful".
But Shelton maintained it should be an option for parents with same-sex attracted kids.
"I don't think there should be any diminution of parental rights," he said.
Shelton said he hadn't looked at all the research or statements from medical bodies saying that conversion therapy is harmful. He also criticised "conversion therapy" itself as a "loaded term".
"I don't think anybody should be forced into anything. I can see how forcing somebody in any therapy is not a helpful way to approach anything," he said.
"If a parent wanted to take their child to a counsellor for help, I think that should be up to them. I don't think that's unreasonable."
Shelton criticised the Victorian Labor government for its attempts to crack down on people offering gay conversion therapy.
"The trouble with some of this is that certainly Labor in Victoria was looking at banning even people being able to access any counselling for issues of unwanted sexual attraction," he said. "That's not freedom either."

"There's plenty of people who want to get counselling for a whole range of issues, and there should be no limitations on what people are allowed to get counselling for. The Victorian government was wanting to ban people of their own free will accessing counselling, I mean that's ridiculous."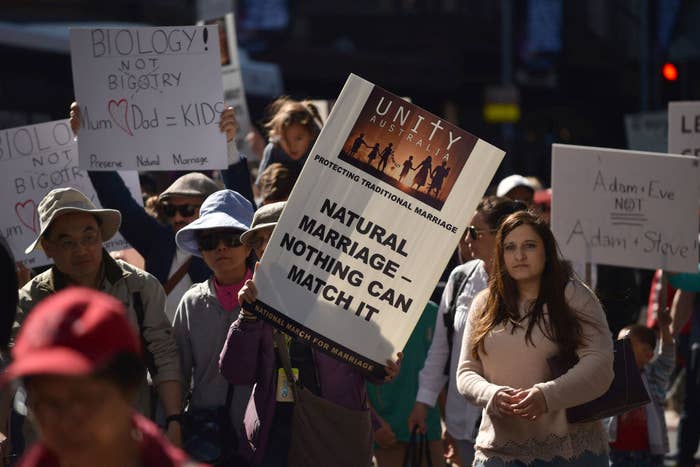 Shelton also said the Coalition for Marriage would push for government employees — for instance people working for state Births, Deaths and Marriages registries — to refuse to process the marriage papers of same-sex couples if same-sex marriage is legalised, on both religious and secular grounds.

"Reasonable accommodations should be made for people who have that conscientious objection," he said. "That's something that's become an issue for people in the United Kingdom and the United States.
"If someone is working in a bureaucratic capacity and they're asked to process forms that are going against their conscientiously-held beliefs about marriage, and there's someone else in the department who is able and willing to do that sort of work, I can't see why someone who has that strong belief shouldn't be allowed to be rostered onto other duties, or that case given to someone else."
Asked what would happen if no-one else was available to do the work, Shelton said, "That would be an extremely unlikely situation".
The interview with Lyle Shelton will feature in BuzzFeed Australia's podcast 'Is it on?'. You can listen to it this weekend. View it on iTunes and subscribe here.
The Australian Psychological Society is opposed to gay conversion therapy. An earlier version of this post misstated the name of the organisation.