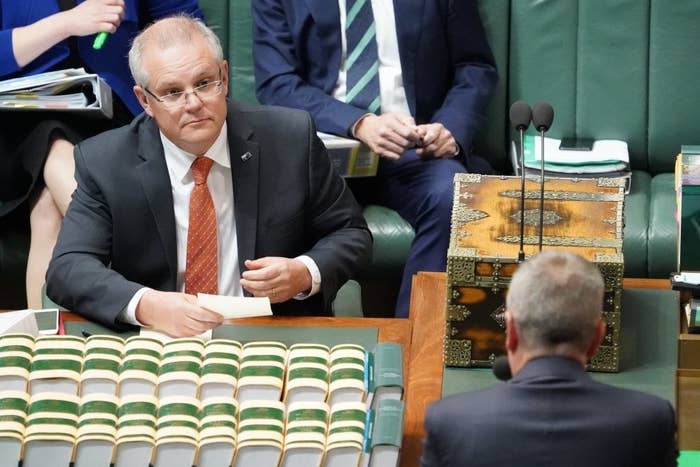 Australian prime minister Scott Morrison says he has met with Liberal colleagues concerned about the plight of refugee and asylum-seeker children detained on Nauru, and is "acting on these issues" in private.

Calls from doctors, advocates, and the general public to remove around 85 children who have been held on the tiny Pacific island for years have escalated in recent months, as a series of critically ill children have been medically evacuated to Australia following legal action.
The shock ejection of respected international charity Médecins Sans Frontières (MSF) last week, and its doctors' revelations about the "beyond desperate" conditions on the island, added to the public clamour.
Now, government backbenchers Craig Laundy, Julia Banks, and Russell Broadbent have gone public with their concerns, telling the Herald Sun they had asked Morrison to bring the children on Nauru and their families to Australia temporarily, before resettling them in a third nation.

The situation on Nauru was at a "tipping point", the backbenchers said.
On Tuesday morning, Morrison said: "I have been meeting with the colleagues, as have the relevant ministers, and we have been acting on these issues."
"We haven't been doing it by making public statements about it every day, but we will always consider each and every case on its merits and in the interests of the child and we will continue to do that."
Home Affairs minister Peter Dutton has fought in the federal court against the medical transfer of a number of children, including kids as young as 10 who are suicidal and others suffering resignation syndrome, a condition caused by trauma in which children shut down completely and cease to talk, eat, walk, and use the toilet.
These court bids have largely been coordinated by the Asylum Seeker Resource Centre (ASRC) and fought by pro bono lawyers.
Advocates at the ASRC say they are working with about 30 children, with 20 more on a waitlist, all in a "critical" mental health condition.
"Children and their families cannot wait for case by case emergency transfers via legal intervention. As doctors have warned, a child will die if this process continues," said a statement released by the ASRC on Tuesday.
An ongoing offer from New Zealand to take 150 of the refugees Australia has detained on Nauru and on Papua New Guinea's Manus Island has been rebuffed by the government, which says people smugglers will use the prospect of entering Australia via the "back door" of New Zealand as an advertisement.
But Morrison suggested the government would take up the offer if Labor, the Greens, and crossbenchers supported legislation that would prevent refugees resettled in New Zealand from coming to Australia.
Asked by independent MP Cathy McGowan "what would it take" to accept the offer from New Zealand in Question Time on Monday, Morrison referenced this legislation and said it had been stalled in the parliament since 2016.
"Until that back door is shut, these issues only run the risk of inviting more people to risk their lives at sea and of us having to stop the boats," he said.
Last week, doctors with the international medical charity MSF were ordered by the Nauruan government to stop its work providing mental health treatment to refugees, asylum-seekers, and Nauruan locals.
MSF Australia executive director Paul McPhun described the charity being forced off Nauru as "very unusual", even taken in the context of MSF's work in insecure and difficult places around the world.
MSF psychiatrist Beth O'Connor and psychologist Christine Rufener expressed grave concerns for the patients they had had to leave behind on the island.
"Australia's policy of indefinite detention should be immediately stopped," McPhun said. "And I absolutely emphasise it should never be looked upon as a model for other governments to replicate."
CORRECTION
Beth O'Connor's name was misspelled in an earlier version of this post.