Bill Shorten Will Move A Bill To Legalise Marriage Equality On Monday
The bill will be moved in the House of Representatives.
Opposition leader Bill Shorten will move a bill in the House of Representatives on Monday to legalise marriage equality.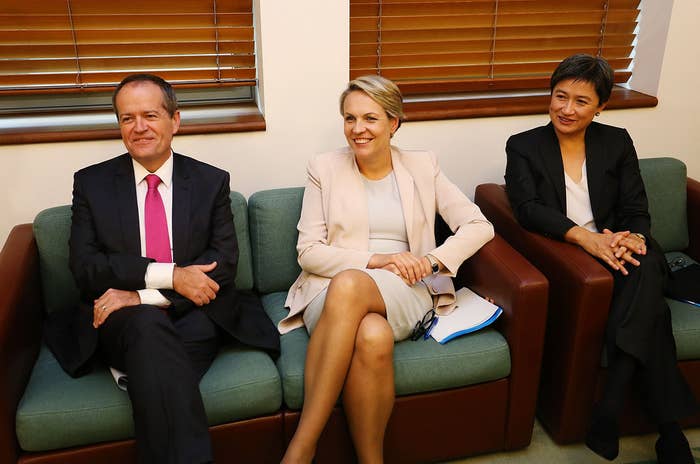 "I believe the time has well and truly come for the Parliament to debate marriage equality," Shorten told BuzzFeed News.
"Our current law excludes some individuals – and to me, that is unacceptable," he said.
"It says to them: your relationships are not equally valued by the state, your love is less equal under the law."
"It excludes couples that are already together in loving relationships – have been for many years - and are entitled to have that love recognised equally under the law."
Shorten's announcement comes just days after marriage equality was legalised via a popular vote in Ireland.
The bill will be seconded by deputy opposition leader Tanya Plibersek.
Although Labor party policy is in support of marriage equality, MPs are not bound to vote for it, and some Labor MPs continue to oppose the reform.
"I know this Private Member's Bill will not have the universal support of my colleagues," Shorten said.
"It will challenge the deeply held personal beliefs of MPs and Senators on both sides of politics."
Shorten also urged for prime minister Tony Abbott to allow Liberal MPs a conscience vote, a sentiment shared by advocacy group Australian Marriage Equality.
Shorten's bill will increase pressure on Abbott to hold a party room discussion on a free vote for marriage equality.
Presently, Liberal MPs vote with the party policy, which supports the current definition of marriage.
The office of chief whip for the Liberal Party, Scott Buchholz, this morning told BuzzFeed News they had "no idea" when the Liberals might have such a discussion.
Shorten's announcement comes after Greens senator Sarah Hanson-Young said this morning she would bring debate forward on a marriage equality bill in the senate.
Like BuzzFeed Australia on Facebook