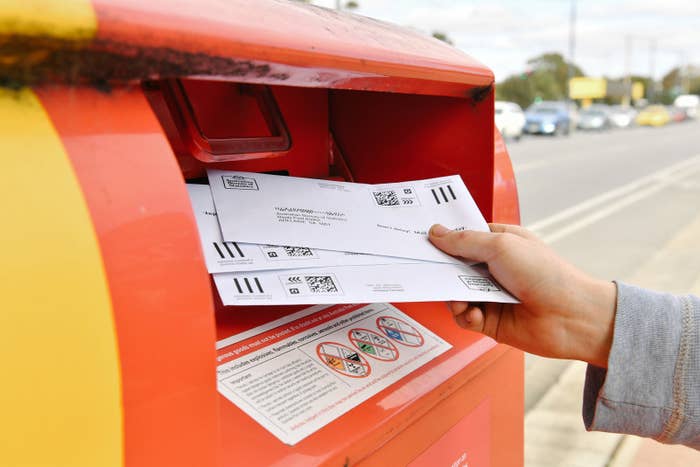 The Labor Party has demanded answers from the government about accountability in the same-sex marriage survey, amid multiple reports of forms being stolen, destroyed and put online for sale.

The Australian Bureau of Statistics (ABS) announced on Tuesday that forms had been sent out to all 16 million Australians on the electoral roll. People are asked to answer the question: "Do you support a change in the law to allow same-sex couples to marry?"
But the survey has been marred by a stream of reports of survey forms being removed from people's letterboxes and found dumped on the street; allegations of one person filling out multiple forms; and countless forms arriving at out-of-date rental addresses. Other people have put their survey forms online for sale.
Labor senator Jenny McAllister, who is chairing a Senate inquiry into the postal survey, wrote to special acting minister of state Mathias Cormann on Wednesday saying the information available to the public about these incidents is insufficiently clear.
"There is no clear procedure for concerned members of the public to report interference with survey forms. There is no reference to sale, theft or destruction of survey forms on the safeguards page on the ABS' website," she wrote in the letter seen by BuzzFeed News.
"It is not clear who would have responsibility for handling such a complaint."
BuzzFeed News understands people have contacted the senate committee to ask where and how complaints relating to theft and destruction of ballots, or the sale of survey forms, should be submitted.

The ABS referred BuzzFeed News to the FAQ page of its marriage survey website, which does contain information on how to report a stolen survey form.
The safeguards page contains information on how to complain about authorisations, broadcasters, bribery, threats, vilification, interference with or discrimination against someone casting their vote, misleading advertising matter, and ABS officers influencing the response. It not specifically mention how to complain about forms allegedly stolen, destroyed, or put up for sale.
In a committee hearing on September 15, ABS deputy statistician Jonathon Palmer said incidents of alleged survey destruction or theft could be reported to the ABS, or to the police, or to Australia Post.
He also said the ABS was yet to meet with the Australian Federal Police to develop a policy for dealing with these reports.
McAllister wrote to Cormann that the committee had been told at the outset there were protections against interference.
"Despite this, the ABS confirmed at our last hearing that almost a month after the postal survey was announced it was still yet to establish a policy for referring matters to the police," she wrote.

McAllister told BuzzFeed News "the least the government could have done is establish processes to ensure the public could have confidence in the integrity of the survey".

"Instead, more than a month in, there's no still no clear process for these types of complaints. The government forced agencies to undertake a massive logistical exercise with little warning, few resources, and to a rushed timetable – this is the result," she said.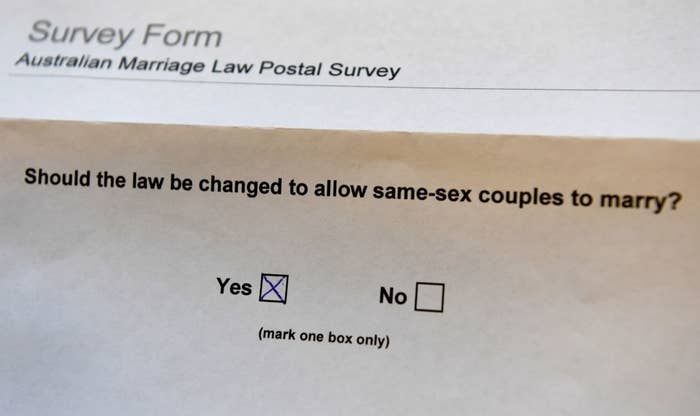 Meanwhile, two parliamentary committees have been formed so each side of the campaign can select "observers" for the survey.

These observers will have to undergo a police check and will be able to collectively view a sample batch of more than 200,000 survey forms and give feedback on whether the ABS is correctly counting "yes", "no" and invalid responses.
The two committees are both chaired by government MPs — the "no" committee by former resources minister Matthew Canavan and the "yes" committee by senator Dean Smith.

The "yes" committee is made up of Smith; MPs Tim Wilson, Trent Zimmerman, Cathy McGowan, Julian Hill, and Terri Butler; and senators Jane Hume, Janet Rice, Skye Kakoschke-Moore, Derryn Hinch, Sam Dastyari and Louise Pratt.
The "no" committee consists of Canavan; MPs Luke Howarth, Andrew Hastie and Bob Katter; and senators Cory Bernardi and David Fawcett.
Cormann told BuzzFeed News it was up to each committee "to liaise with relevant organisations or individuals, to identify appropriate people to serve as observers on behalf of each side of the debate."
"In inviting party representatives and independents from across the parliament to form nomination committees, the Statistician did not set requirements for how different campaign groups should be involved," he said.
Last week, the Coalition for Marriage sent an email to supporters asking for volunteers to be observers in the survey.

UPDATE
The Australia Bureau of Statistics said on Wednesday afternoon that it has established a process for referring suspected illegal activity — such as form theft or tampering — to the police.
"All such matters brought to the attention of the ABS are assessed and, where appropriate, referred to the AFP or local police for investigation," a spokesperson told BuzzFeed News.
"The ABS has been in contact with the Federal Police Commissioner and all State and Territory Police Commissioners in relation to the Marriage Law Postal Survey."